Best summer picnic recipes
This is our pick of the best picnic recipes from our chef's and homeowners. Just add sunshine, friends/family and a beauty spot.
Summer picnic food recipes
When the weather is good you can't beat eating outside. We've carefully curated our favourite outdoor picnic recipes, perfect whether you want to please a crowd, feed a family or impress your friends.
The ultimate in easy picnic recipes, this delightful Middle Eastern dish gives you all the healthy benefits of chickpeas which are a nutritional powerhouse of protein, fibre, vitamins and minerals. Pack in a pot with batons of cucumber, celery, carrots, falafel and breadsticks or stuff in a pitta or vegan/vegetarian sandwich with roasted veg.
Get the recipe.

For a picnic that goes the extra mile, why not bake your own bread? The McCarthy Stone Bread Book is brimming with brilliant options including easy Irish Soda Bread, Moroccan Ksra and Courgette and Oat Bran loaves – perfect with our hummus, tomato recipe or with a cheese board. Download the bread book.
As a picnic centre piece, this quiche recipe beats a soggy sandwich hands down. Buttery pastry filled with a tangy yet creamy mature cheese and spinach filling, this quiche is delicious. Get the recipe.
Spoon this fragrant and colourful tomato recipe straight from the Tupperware – it's great on top of bread or as a side salad. Get the recipe.
Amazing additions
Green and/or potato salad, pork pies or sausage rolls, hard boiled eggs – pack some salt, olives, sliced meats, fancy crisps, fresh fruit slices and lashings of ginger beer, actual beer or an ice cold bottle of white.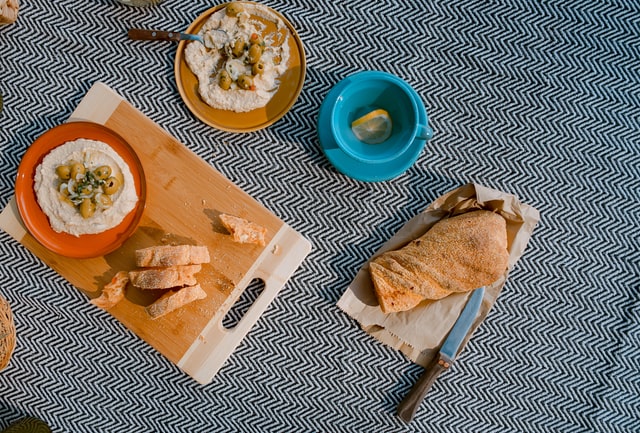 A selection of sweet treats
What better way to end a picnic?


The ultimate gooey chocolate brownies – they taste even better outdoors! Get the recipe
Moist and delicious - your friends won't guess it's diary free, gluten free and low in sugar. Get the recipe
Delicate, fragrant, flavourful and very pretty to look at, this pear tart will bring a definite wow factors to every outdoor event. Get the recipe
Homeowner Evelyn Currie from Cartwright Court, Malvern shared this more-ish melt-in-the-mouth recipe for traditional Scottish shortbread, made with plenty of butter. Get the recipe
These delicate honeyed shortbread biscuits are soft, sweet and simple to make. Get the recipe
Picnic recipe menu ideas by type:
Posh picnic recipes
Roast tomatoes with anchovy and basil recipe
The McCarthy Stone Bread Book recipes with a cheese board
Lemon and thyme pear tart with apricot glaze recipe
Honeybee biscuit recipe
Healthy picnic recipe ideas
Home-made hummus recipe
with crudities
Roast tomatoes with anchovy and basil recipe
Gluten free, dairy free blueberry loaf
Vegetarian picnic recipes
Home-made hummus recipe with crudities
Mature cheddar and spinach quiche recipe
Triple chocolate brownie recipe

Like this article?
Find more delicious recipes. Explore our favourite National Parks to eat them in. Or discover more articles about the McCarthy Stone lifestyle. You may also want to browse our retirement developments across the UK.