Our guide to buying property 'off-plan'
We explain everything you need to know about buying a McCarthy Stone retirement property off-plan, including how we can help you to visualise the property before it is built and the unique benefits of buying - or renting - a retirement home months before it is completed.
What is buying off-plan?
Buying off-plan means buying a property while it is still being built - usually around six months before it is finished. It may sound daunting but you'll get lots of help to visualise life in your new home, including the chance to visit similar properties nearby - and there are major advantages too! You'll get first choice of properties, meaning you can secure the position you want, as well as the pick of features like private patios, balconies and parking spaces - so you get exactly the right fit for your retirement. Buying off-plan means the properties are usually cheaper than they will be once they are finished, so you're likely to bag a bargain. And you'll have plenty of time to prepare for your move too.
Find retirement homes for sale near you
The benefits of buying a McCarthy Stone retirement property off-plan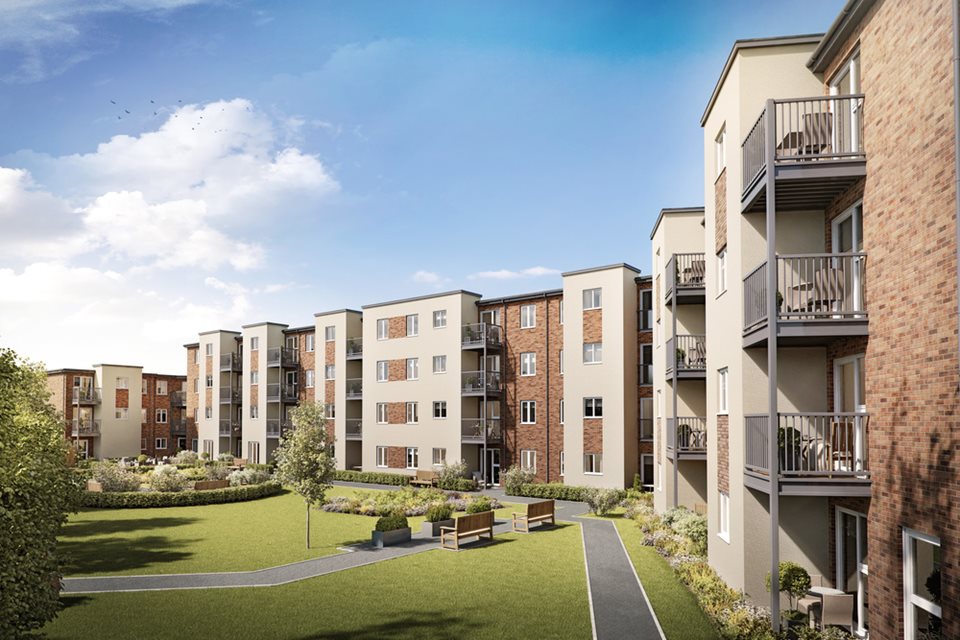 It's cheaper. Buying off-plan usually allows you to purchase or rent your property at a lower cost, as normally prices will increase once the development is ready to view.
You'll get first choice of properties. This means you can secure the aspect, position, views, and, in the case of a retirement apartment, floor, that you want. You will also have more choice of properties with additional features like patios or balconies.
You know it's yours. For a small deposit, you can secure a new home in a sought-after location before they sell out.
The build is guaranteed. Your new off-plan home is covered by the NHBC Buildmark warranty, which provides deposit protection; a two year builder warranty period, plus an eight year insurance policy against build defects.
Bringing your new off-plan retirement home to life
If you're more used to period properties then the idea of buying a home that is still under construction can feel a little odd! That's where our expert team step in. Your consultant will take you through a computer generated video which will show you an accurate representation of the exterior and interior of the new retirement development. You will be shown detailed floor plans for each apartment as well as things like carpet samples, kitchen cupboard and worktop samples, pictures of all the finishings and even images of the views from the properties. The consultant will also talk you through the lifestyle, communal spaces and services which will vary depending on whether it is a Retirement Living or Retirement Living PLUS development.
Experience the lifestyle for yourself
You'll also be offered the chance to visit a comparable McCarthy Stone retirement development. You'll be able to view similar retirement apartments, experience how the space works and inspect the quality of the fixtures and fittings for yourself. You'll also be able to explore the communal areas, gardens and grounds and talk to homeowners and employees – they'll give you an in-depth and candid understanding on the kind of lifestyle and community events you can expect to enjoy. As well as a visit, you may get the opportunity to stay overnight in one of our luxurious hotel-style guest suites and if there is a bistro (Retirement Living PLUS developments only) you can enjoy a delicious meal on us. This truly immersive experience will really help you to envisage what life could be like in your beautiful new retirement home.
7 steps to buying – and moving into - an off-plan property with McCarthy Stone
You've found your potentially perfect property and it is either in the early construction stages or now available to buy or rent off-plan, so what do you need to do next? Follow our simple step-by-step guide.
1. Sign up for updates
Your first step is to go to the 'send me updates' link on the right hand side of your chosen retirement development page and fill in the contact form. This means you will be kept informed about the progress of the build, timings and all significant stages including news about when properties are available to buy or rent off-plan. Alternatively give our team a call on 0800 201 4811.
2. Talk to the development's consultant
Each development has a dedicated consultant, who is an expert in the local area as well as the specific site features and services. Friendly and approachable, they are here to help you make the right choice for you. With your agreement, they will be in touch to arrange a chat about the properties. Here they will talk you through all the details, sharing images, floorplans, videos and samples.
As well as lifestyle and services, your consultant will be able to advise you on all the practical things too – like whether you want to buy outright or rent, for instance. They will also take you through affordability checks – you can also access our free entitlements advice service to ensure you are getting all the money you are eligible for in your retirement.
3. Ask lots of questions
Here's a few to consider:
What is included in the property price? Usually in a McCarthy Stone property you can expect carpets, a fitted kitchen with oven and hob and full height fridge freezer to be included as a minimum, but be sure to ask for specific details.
What communal facilities and services are planned? This will depend on whether this is a Retirement Living or Retirement Living PLUS development, but also varies by individual community.
What is included in the service charge – and how much will it be? Again this will depend on whether this is a Retirement Living or Retirement Living PLUS development, but your consultant will be able to give you the full picture. You can find more information about service charges here.
When will I be able to see finished properties? You will be invited to visit the show complex as soon as it is open. You'll also be invited to visit comparable developments. Ask your consultant for details.
When will the development be finished and what happens if it is delayed? Usually a site is finished around six months after properties start to be sold off-plan but you will be kept fully informed of progress.
4. Come to events and visit other developments
5. I'm ready to reserve – what happens next?
You can secure your off-plan property for a small deposit. This is usually £1,000 if you are buying and £500 if you are renting, although there are variations in Wales and Scotland.
6. Selling your existing property
If you're putting a property on the market, your consultant can help you find estate agents, and take you through the process. They can even recommend a solicitor to look after the legal side. Ask about Part Exchange if you are looking for a hassle-free house sale.
7. Moving in
Your consultant will keep your fully informed throughout the process so you have plenty of time to prepare for moving in. With our Smooth Move service, our specialist removals partners can help you declutter, pack, transport your possessions and unpack them. We can even help you with things like putting up shelves and pictures, so you can get on with enjoying life in your new home.
Sign up to our mailing list to keep up to date with the latest news, offers and promotions.