Homeowner testimonials: telling it like it is
We believe we create great places to live. Beautiful award-winning retirement apartments in brilliant locations with thoughtful, reassuring, services on tap and a thriving friendly community on the doorstep.
But what do people living in our communities think? We regularly ask for feedback on everything from the sales and moving in process to the lifestyle and services. Here's what our homeowners have to say: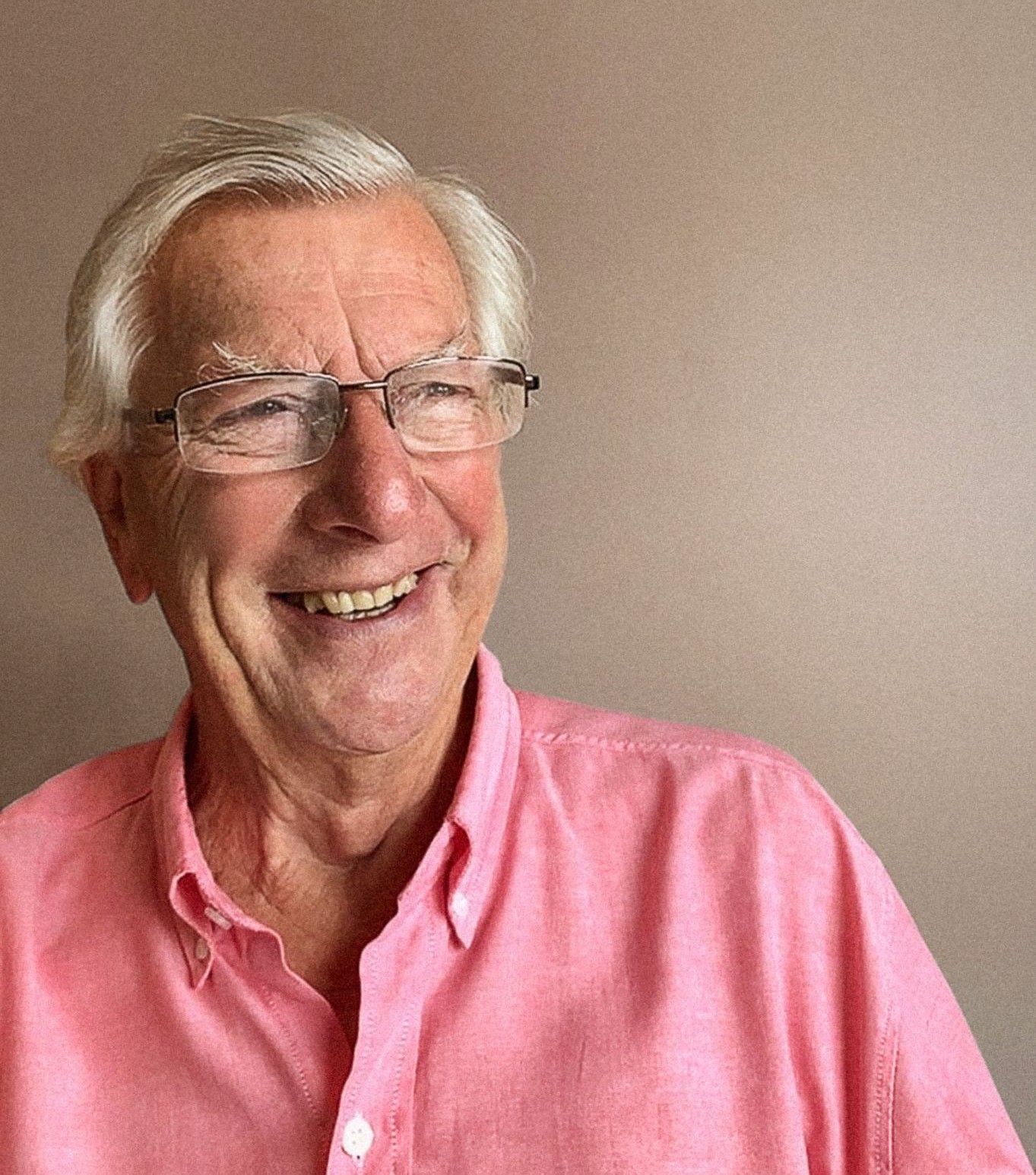 John Pritchard, McCarthy Stone Homeowner
"You can't beat a bit of balcony banter."
McCarthy Stone communities are made of more than just bricks and mortar. They're made of lively lock-ins during lockdown. Enjoyed by John and his friends and neighbours, who coined the phrase 'brilliant balcony banter' to describe the safe distance tipples and laughter they shared to keep spirits up. Determined as they were to not let a pandemic get in the way of their fun.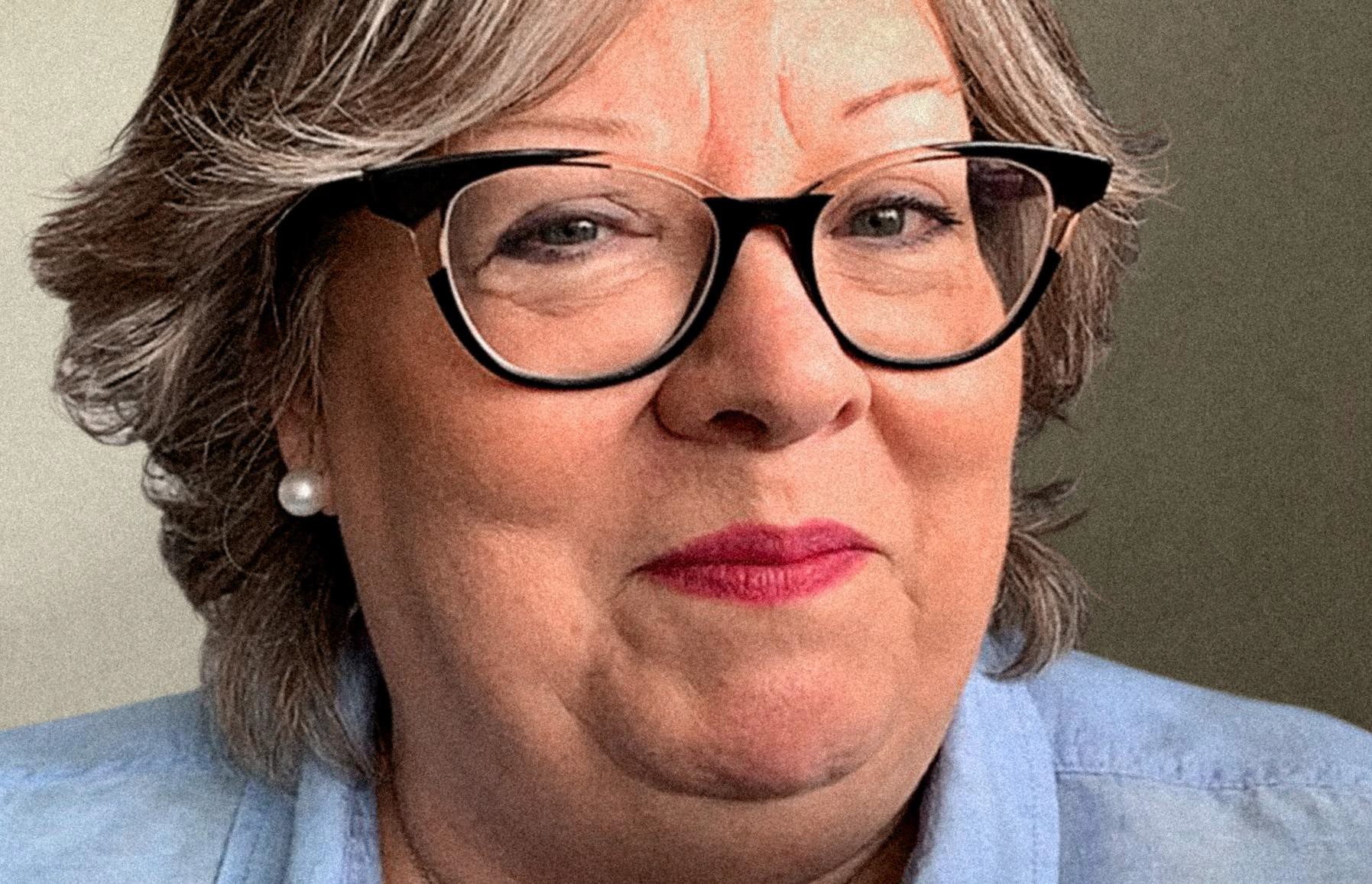 Cheryl Bissett, Daughter of McCarthy Stone Homeowner Isobel
"Huge peace of mind."

That's how Cheryl sums it up, knowing that her mum is in a safe, secure place with help on hand if needed. "And it's been really amazing, going there to deliver shopping, you end up standing in the garden and talking to a dozen people on their balconies. And if someone is able to go out, they'll come back from the shops with a job lot for everyone. It's neighbourly, like an old-fashioned street without being on a street."
John and Pat Harris, McCarthy Stone Homeowners
"A piper, some reels and a ceilidh."
An act of kindness wearing a kilt made Pat and John's day. The tartan ensemble in question belonged to a highland piper. Hired to make sure that Scot, Pat and husband John felt special on their wedding anniversary during lockdown. A great day that, luckily for the bagpiper, wasn't too cold and windy.
Maggie, McCarthy Stone Homeowner
"Gardens bursting with colour and laughter."
Lockdown was made bearable thanks to gardens filled with fragrant blossom, and raucous peals of laughter. From homeowners like Maggie, whose infectious chuckling can often be heard on video calls, making the most of the wi-fi coverage as she enjoys a lively al fresco natter.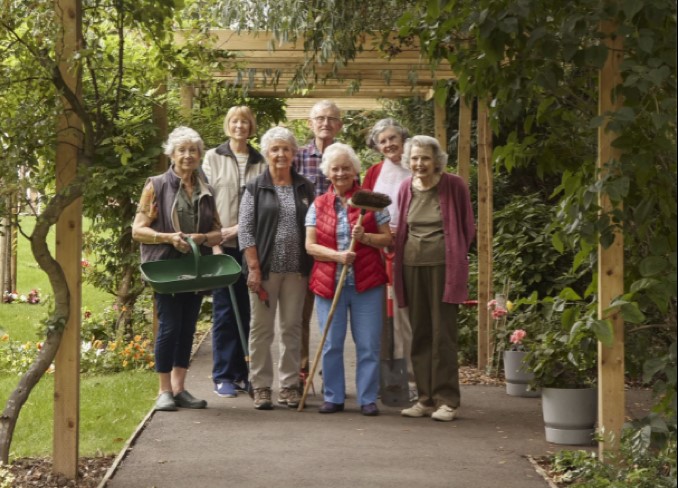 Maureen and "The Land Girls", McCarthy Stone Homeowners
"The garden project has given us so much pleasure."

"Over the period of the Covid epidemic, the garden has, for so many of us, been our salvation, both working and enjoying it. The garden project has given us so much pleasure - both for those of us doing it and others observing."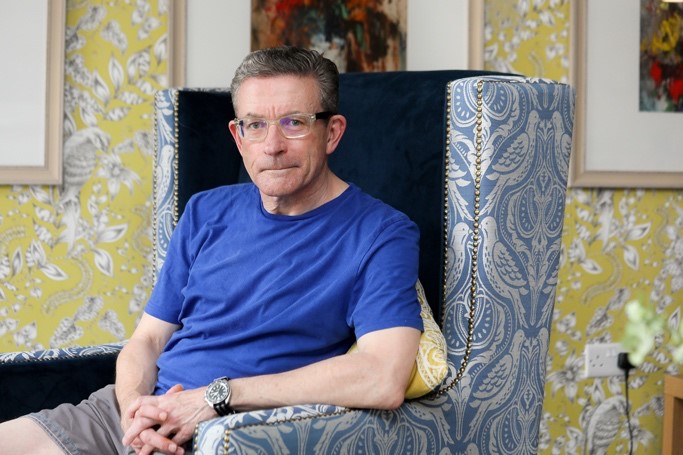 Adrian Hill, Brindley Gardens
"My neighbours are a great bunch."

"I've felt safe in my apartment throughout the pandemic, and McCarthy Stone introduced extra cleaning and sanitation procedures, so I've always felt safe in the Brindley Gardens building. My neighbours are a great bunch and we all look after each other. Our House Manager, Caroline Williams, has been brilliant throughout – she's a diamond!"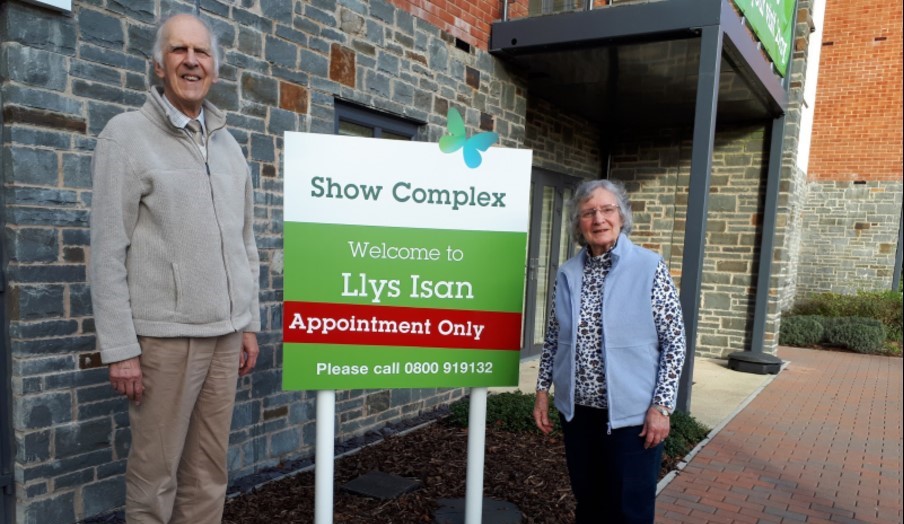 Dr. and Mrs. Learner, Llys Isan, Cardiff
"Do it while you're still able to enjoy the facilities."

"We feel very lucky to have everything on our doorstep here – the bank, doctors, shops – so we don't have to travel very far to get what we need, which has proven to be invaluable over these past few months.

"I'd also just like to say a huge thank you to the team at Llys Isan for all they have done for us; I really can't speak highly of them enough. My advice to someone who is looking to downsize to a new home is to don't leave it until the last minute – do it while you're still able to enjoy the facilities, the community spirit and the added safety and support you get at a McCarthy Stone development."
Brian and Margaret Luxford, Southborough Gate, Tunbridge Wells
"It's what you do for your friends."

"We've felt very safe here during the pandemic. McCarthy Stone have been very good at keeping us informed on the latest guidance and regulations and we've fortunately not had any Covid cases at Southborough Gate. They've kept us safe and we've been checking-in on our neighbours and looking out for each other – it's what you do for your friends."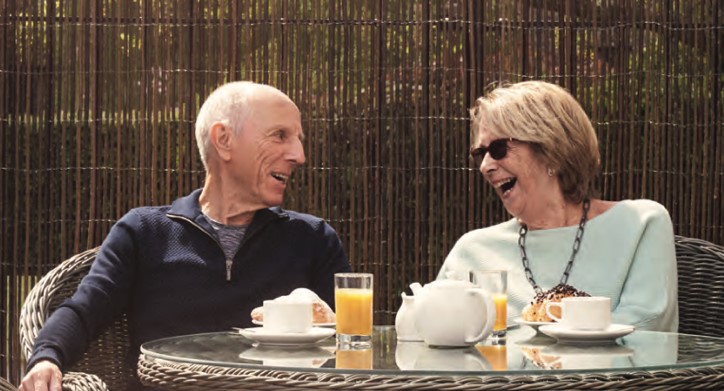 Barry and Anita Smith, Highclere House, Hatfield
"It was actually was a lot easier than we expected."

"We've spent the last month unpacking boxes!" Barry continued. "We'd been living in our four-bedroom detached house in Cuffley for 30 years and we weren't actually considering a move, but then we saw the new McCarthy Stone building going up in Hatfield. It's very close to where our daughter lives and we pick our grandchildren up from school three days' a week, so it got us thinking."

"Once we'd got the idea into our heads, we had the year-long cycle of lockdown and restrictions to do our research and to really understand whether we were doing the right thing. We decided to go for it, and it has absolutely been the right move for us at the right time." Barry and Anita used McCarthy Stone's Part Exchange and Smooth Move assistance schemes to help make their move easier. "We moved during lockdown and it was actually was a lot easier than we expected."
Elaine McGuiness, The Apartments at Royal Gardens, Buntingford
"I wanted to be a part of the community."

Although lockdown measures are in place across the country, Elaine no longer feels isolated. "When I first moved in, there was a little bit of activity. We couldn't all meet in the homeowners' lounge because of the Covid-19 restrictions at the time, but I did get to meet all of my neighbours. Everyone is really friendly. One of the reasons I wanted a new build apartment was because I wanted to be a part of the community from the beginning, rather than having to find my way in. It's worked out very well."
of McCarthy Stone homeowners said that moving there has improved their quality of life.
More Homeowner Testimonials
"Enjoying it immensely"
"Everything about the move worked perfectly, despite Covid restrictions…we have lived our new life for a while now and are enjoying it immensely."
- Homeowner feedback, Augustus House, Virginia Water, Surrey.
"Guest room"
"I have just spent 2 nights in the guest room of Riverview Court in West Bridgford visiting my sister.
The decor is superb, the catering is excellent and most important of all, every member of staff I met was welcoming, very helpful and exceptionally kind.
I cannot praise them enough."
- Homeowner's family feedback, Riverview Court, West Bridgford
"My only complaint is that I am not old enough to live there."
"You would think that my parents are the only people ever to buy a property, they have been made to feel so special by Andrea. They have been treated well and every step of the process has been explained carefully to them so they have not felt overwhelmed. The rest of the staff have also shown a warm welcome, my parents can't wait to move in next week. The apartment itself is beautiful, I now have zero worries about them if I am not there and know they have people on hand in an emergency. Anyone thinking of their parents needing extra support in their later years should look at McCarthy Stone. My only complaint is that I am not old enough to live there. I may also have to book an appointment with them to visit I don't know how they will have time to see me with their amazing new social life!"

- Homeowner's family feedback, Llanishen Cardiff
"Excellent support services"
"I want to thank Andrea Batty for all her help and advice during our meeting to discuss my purchasing a property at Beck House. She really took the time to take into consideration my personal needs and wishes and explained in great detail about the properties available and all the other additional excellent support services in place to facilitate moving from my current home to Beck House - it suddenly made everything seem too easy."

- Homeowner's feedback, Beck House, Isleworth
"Nothing was too much trouble."
"My partner and I moved to Jupiter House in Milton Keynes in June and the help we received from McCarthy Stone was wonderful. Jasmine Turner was so helpful, nothing was too much trouble. She kept in regular touch with us during the purchase process and was always available at the end of a telephone line. Bishops Removals were wonderful and the service they provided was excellent. I cannot praise their crew too highly. We are so glad we made the move and are sure we will be very happy in our new home. Sarah, our site manager, has also been very helpful and friendly."
- Homeowner feedback, Jupiter House, Milton Keynes
"Everything went smoothly"
"I have just rented a flat in Ottery St Mary, Devon, in fact, I am collecting the key tomorrow. The whole process, from beginning to end, was handled by Ms Lyn Constantine. She was always friendly, helpful, professional and she has a good sense of humour. Everything went smoothly, no hiccups or complications and I would like to thank her for all she has done. It helped me at a difficult time in my life."
- Homeowner feedback, Ottery St Mary, Devon
"The ambience is perfect."
I moved to Jupiter House back in June having decided that I wanted to downsize. The prospect of living in a modern apartment conveniently located for the local facilities was a great attraction. I had found that tending to the garden etc was becoming a great chore! The McCarthy Stone development seemed to offer just what I wanted.

I viewed the development back in January and was welcomed by their very friendly on site sales person (Jasmine) who showed me around within the constraints of the Covid restrictions. She facilitated contact with removal agents (provided free) and to reduced legal costs from a choice of lawyers. All very painless and efficient.

I settled on an apartment which offers me everything I was looking for. I was able to select the particular apartment I wanted and the sales process went through without a glitch. Since moving in I have found the House Manager to be so helpful. I am selective in choosing the activities I wish to participate in and I am able to involve myself in as many or little as I choose. The ambience is perfect. I believe I have made the right choice."

- Homeowner feedback, Jupiter House, Milton Keynes
"She is so happy living there."
"I found the apt on Monday had a chat with Lyn regarding it's suitability for my mom. We did a WhatsApp viewing on the Weds and reserved. Came down the following week to view and moved in 6 weeks later. Lynne was so helpful and dealt with my mom with endless patience and kindness. She is so happy living there. Just looking forward to being able to socialise more!"

- Homeowner's family feedback, Pen Morvah, Bude, Cornwall
"Friendly, safe and sociable."
"My mum moved into Arden Grange in Knowle on lock-down day in March 2020, aged 90 and recently widowed it - it was a stressful time. Despite everything going on, Tracie could not have been more helpful and supportive to help her settle in, and in the time since. Always smiley - nothing seems to be too much trouble, and it's a huge relief to the family that mum lives in a friendly, safe and sociable environment, which Tracie helps create. It's a lovely flat, and the central coffee lounge opens onto a pretty garden, so now that residents' activities are starting fully again it seems like a great place to be, and mum is very happy there. The guest room is very nice too!"

- Homeowner's family feedback, Arden Grange, Knowle
"Peace of mind"
"With the help of lovely Samantha Davidge on the sales team (who was so helpful and informative regarding the facilities, the apartments, the services, costs, admin, etc) we were persuaded that Hampton Place in Southampton was the right place for our Mum. She moved in earlier this year and we are very pleased with how she has settled into her beautiful apartment. She loves it there.

She has brand new appliances in her fitted kitchen, plush carpets, a lounge with Juliet balcony, and a roomy bedroom with built in wardrobe and storage area, her own separate laundry room, and a very easily accessible bathroom. There is an intercom system, and alarms throughout so she can call for help if she needs it. We are so relieved that she is comfortable, safe, and happy there. There is a very swish coffee lounge for all residents, and they have social get togethers, coffee mornings etc, organized by Maxine, who is the house manager. She is very friendly, nothing is too much trouble for her, and will happily spend time chatting to residents making them feel at home. She will help with anything you need to know. Very happy with our decision and worth the cost for the peace of mind."

- Homeowner's family feedback, Hampton Place, Southampton
Meet some of our remarkable homeowners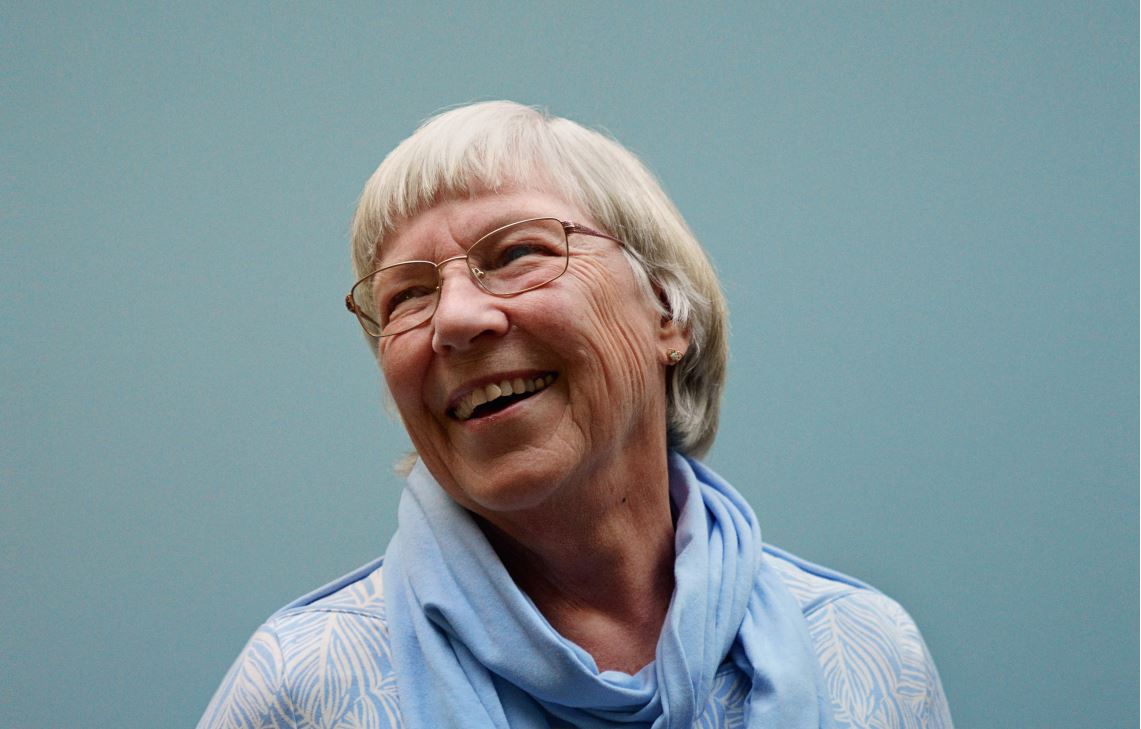 Publishing her first novel in her 70s
Retirement stories: publishing your first fiction novel as a 72 year-old grandmother of three is quite a coup
..read more