According to data from the Census 2021, nearly a fifth of the UK population (18.6%) is now over 65, including over half a million people aged 90 plus. As well we know, this growing group is as diverse as any other, with different needs and desires. But we also know that finding the right retirement community and retirement home makes a huge difference to health, wellbeing and happiness as we age. This guide will help you to research your retirement living options and understand the differences between independent living, assisted living facilities and care homes.
Types of retirement communities and care
Ageing affects everyone differently, while some people remain fit and active, others live with health or mobility issues. But whether we find ourselves struggling to maintain a large family home, or needing bespoke personal care, almost all of us will need to reassess our lifestyle as we get older. Fortunately, there are many different types of retirement living options available. These offer different facilities, amenities, care and support to suit different levels of need. The terminology can be confusing with descriptions including 'sheltered housing', 'extra care' 'assisted living' and 'retirement village', but there are three main types of retirement communities – independent living, assisted care and care homes.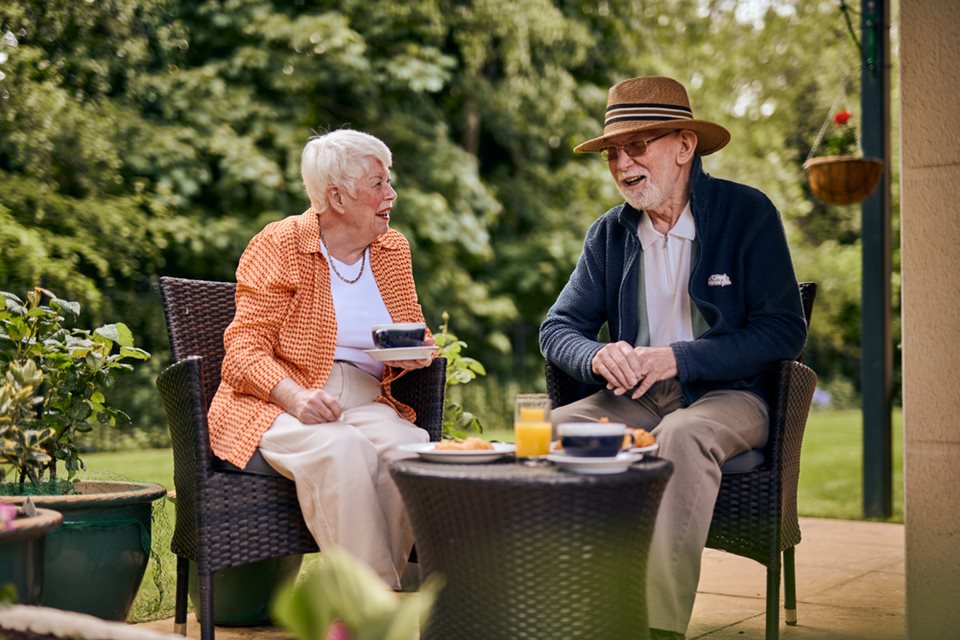 1. What is independent living?
Independent living retirement communities are developments that are specifically designed for older people. They will have an age restriction – meaning that at least one of the people moving into the property has to meet an age criterion. This varies but it's usually over 55 or more.
Independent living is ideal for single people or couples who can look after themselves but want to downsize to a more practical retirement property and join a friendly neighbourhood with people of a similar age.
What facilities does independent living offer?
These vary according to the individual retirement development, but you should look out for things like:
Future proof features: maintained gardens, exteriors and grounds; low maintenance, intelligent and ergonomic property design; accessibility, for instance lifts instead of stairs.
Security and safety features: 24-hour emergency call systems, integral fire detection, integrated alarms, door camera entry (so you can see who it is before answering the door), a manager onsite to sort out issues.
Financial benefits: many people find that downsizing into a modern energy-efficient retirement home saves them money, allowing them to enjoy life to the full.
Location: close to transport links and amenities such as pubs, supermarkets and leisure centres.
Community: shared spaces for you to meet your neighbours and friends, as well as events, clubs and activities onsite.
What kind of independent living properties are there?
These are usually contemporary homes that are designed to make life more enjoyable, now and in the future. McCarthy Stone has three types of independent living options.
Retirement Living apartments: exclusive to the over the 60's, these developments provide secure, luxurious and low maintenance one and two bedroom apartments in great locations
Our brilliant bungalows offer secure, low maintenance - and stair-free – living, usually with a private garden and garage/parking.
Our new retirement villages, for instance at Wimborne in Dorset, offer a mix of housing: coach houses, cottages, bungalows and apartments, often with other amenities too.
2. What is assisted living?
Assisted living (also known as extra-assisted living or extra care housing) is essentially a step up from independent living. You'll still live independently but can relax knowing that help is available should you ever need it. Exclusive to the over 70s, our Retirement Living PLUS developments, are an example of assisted living.
What assisted living facilities are included?
With Retirement Living PLUS you enjoy all the benefits of a Retirement Living apartment but with thoughtful added amenities and services. McCarthy Stone's assisted living facilities include:
A manager onsite 24/7 for your security, safety and peace of mind
A subsidised chef-run restaurant or bistro serving fresh food and drinks
An hour of domestic support a week
Bespoke personal care and support services available if required
Communal facilities – these vary but can include things like fitness studios, hairdressing salons, putting greens or arts and crafts rooms.
3. What is a care home and how is it different?
A care home or residential care home provides accommodation, usually a single room or small suite, alongside meals and personal care. Care homes are for people who rely on continuous support with anything from getting dressed to eating. For more complex medical needs, a nursing home, or nursing care home, has qualified nurses onsite too. You can also find care homes that specialise in dementia support. If you are looking for a care home, you can check the quality of care provided on the Care Quality Commission website.
Frequently asked questions
Should I choose a retirement community or care home?
Independent living or assisted living retirement communities are ideal for people who do not need much – if any - assistance in day-to-day life. With assisted living, care and support is available to book as and when it is needed, but not continuously. Care homes or nursing care homes are recommended for those who rely on intensive support.
Retirement communities vs care homes: How much do they cost?
Retirement communities and care homes are very different, so the comparison is tricky. In retirement communities you buy or rent your own private home, while in a care home you rent a room/suite for as long as you need to and care and meals are usually included. Saying that, our research shows you could save around £13,000 a year if you chose McCarthy Stone's assisted care over a care home. That's because the average person in a residential care home pays £32,000 a year, while someone in a McCarthy Stone Retirement Living PLUS apartment with eight hours of care support per week pays on average £18,730 a year*.
Of course, it's not all about money. We believe that life in the right retirement community can prolong independent living by removing barriers and giving people the perfect environment to thrive.
Did you know? McCarthy Stone can help you with your financial planning for a new retirement home, including free advice that could increase your income.
*Research carried out by Laing Buisson, 2018
Join a vibrant retirement community near you
Find independent living or retirement homes with assisted living facilities in locations across the UK.
Want to know more? Find the answers to your questions in our FAQs or contact us today.