Thinking of downsizing?
According to research by The International Longevity Centre, one in three homeowners aged 55+ are considering downsizing – and that's excluding the 15.6% who'd already done so. Over half gave 'lower maintenance' as the most important consideration while almost a third had – or expected to - freed up over £100,000 in equity. So what is downsizing and is it right for you?
What is downsizing?
In housing terms, downsizing is simply moving into a smaller property. While you can do it at any age, and for many reasons, it can be particularly appealing as you get older - perhaps when your children have left home and/or you no longer want the hassle of maintaining a large house and garden.
What are the benefits of downsizing in retirement?
Downsizing offers a range of benefits including an easier lifestyle. Here are a few:
Less time on maintenance – more time for you
One of the major benefits of downsizing is the reduction in maintenance. Less rooms means less housework, decorating and repairs and being freed from the upkeep of a large garden means more time to do the things you love.
Retired IT specialist, Adrian moved to Brindley Place, Codsall, West Midlands and now has more time to spend on playing competitive hockey. He explains, "The simple fact was, I didn't need a three-bedroom semi-detached house. It was too much space for me, whereas an apartment is just perfect for the stage in my life I'm at right now. I've now got a low maintenance home, which doesn't require a huge amount of upkeep, and I overlook landscaped gardens – not bad for someone who hates gardening!"
You can free up your finances for fun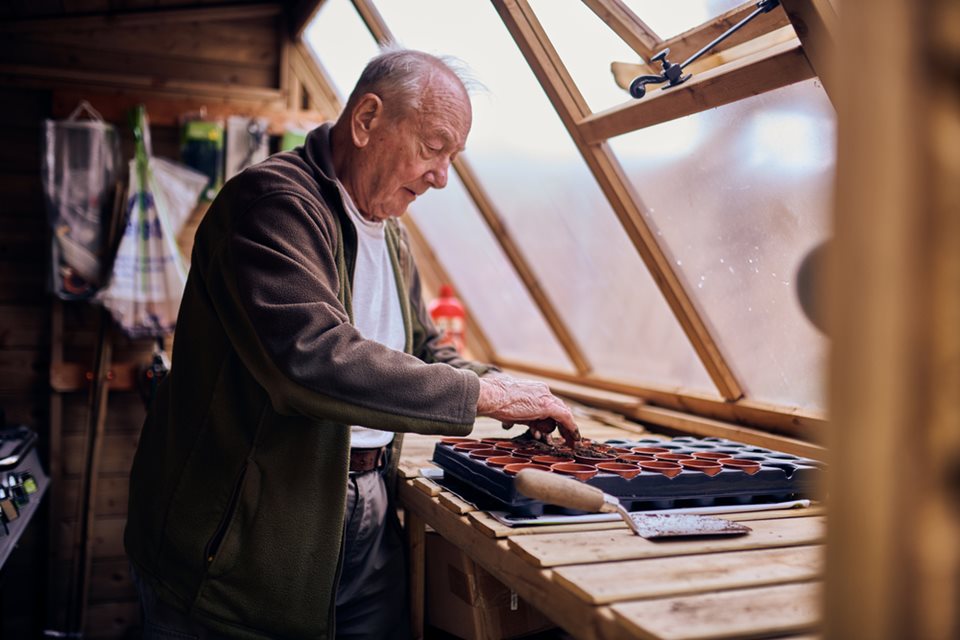 As well as the potential to free up equity, there are many ways downsizing can save you money. Less maintenance means spending less on redecorating and DIY. You'll save on your energy bills by having less space to power and heat – better still, if you move to a modern property, it should be much more energy efficient so you'll also feel much warmer.
The money you save (or free up) through downsizing can make your pension go further – useful if you are worried about the cost of living – but also to finance a new hobby perhaps or to treat yourself to a trip of a lifetime.
It can mitigate mobility or accessibility issues
Not having to deal with uneven surfaces or lots of steps can be a big practical benefit of downsizing. McCarthy Stone retirement living developments and apartments are carefully designed to be beautiful to look at but with thoughtful touches to make them easier to live in and get around – for instance, you'll find a scooter storage room in most developments as well as lifts to all floors.
It's a chance for a clear out – and to embrace a bold new look
Downsizing is an excellent excuse to declutter and enjoy a fresh start. After decades in a family home, it can be hard to know what to do with all of the stuff you've accumulated, from large items of furniture to book collections, unworn clothes or sentimental knickknacks. However, many people find the act of decluttering has emotional as well as practical benefits and it gives you the chance to reinvent your look and perhaps create a stylish contemporary pad. Find design inspiration.
Read our tips to help you to declutter or if you use McCarthy Stone's specialist removals service they can help you to declutter as well as pack and unpack your belongings.
Downsizing is good for your health!
Downsizing won't only improve your financial health, it can seriously boost your physical and mental health, too. Gary Fitzgibbon, a chartered occupational psychologist who studies retirement, and Margaret Wilson, a former psychiatric nurse and professional declutterer, explain how downsizing could even help you to live longer…
It reduces and worry and stress
Gary says, "Downsizing relieves you of many onerous tasks, and it allows you to free up time and financial resources so that you can structure your life in a way that is healthier." Margaret agrees, "While moving does present practical and emotional challenges, the long-term consequences often far outweigh them."
Planning makes you examine your worries and work out ways to manage them. "Probably the greatest health benefit downsizing can bring is the reduction in worry," Margaret adds.
It can reinvigorate your social life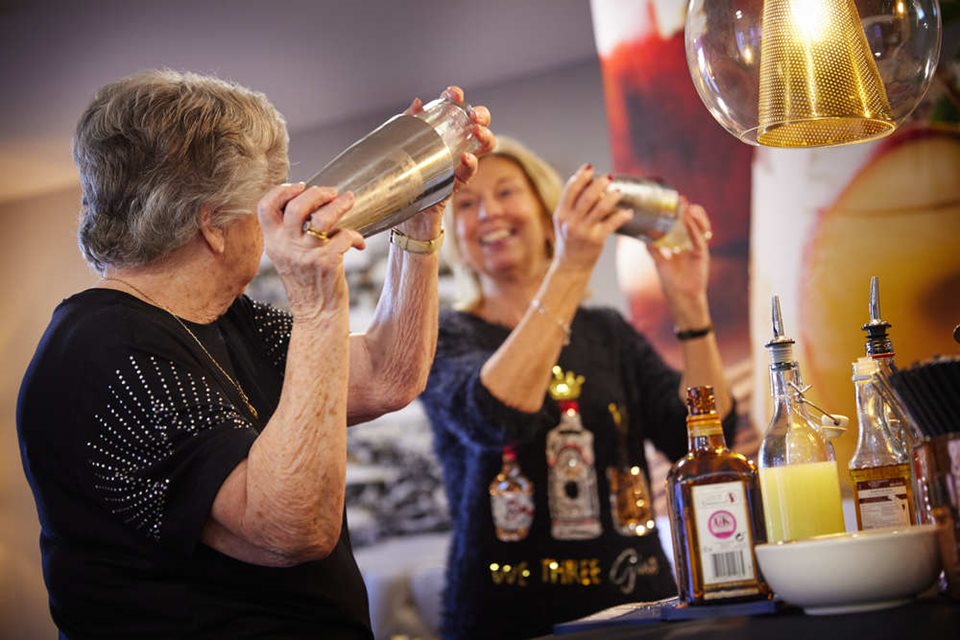 Downsizing to be nearer family, friends or a friendly community can have a very positive impact on health. Studies reveal that people with a strong social network have a 29% lower risk of heart disease and 32% lower risk for stroke. Conversely, social isolation can cause cognitive decline, high blood pressure and obesity – it's potentially a bigger health risk than smoking. "We are social animals and we need social activity – without it, we become quite depressed," says Gary.
Nigel and Janice Morris have certainly benefited. As Nigel approached his 80th birthday, they decided to move to a McCarthy Stone development in Litchfield, Staffordshire.
"One of the biggest advantages of Scott Place for us is the community feel and social side. You can't help seeing people as you go about your daily business, so you never feel isolated. During our time here we've enjoyed some excellent parties and gatherings." says Nigel. "There are three experienced thespians living at Scott Place, who worked with a number of us to create some light-hearted entertainment for our Christmas party...This was followed by a New Year party, which went on until 2 am! There are also groups who get together to do jigsaw puzzles, yoga, handicrafts and gardening. I never thought at the ripe old age of 81, I would meet so many new people!"
It makes life easier
A new, low maintenance and more practical living environment makes life more enjoyable. For example, a better designed kitchen might make cooking easier. Less stairs helps those with mobility issues and a modern energy-efficient home is simpler – and cheaper – to keep warm.
It helps you to live in the present and look forward to the future
Moving home, buying new furniture or choosing new décor can foster optimism and motivation. "Too much nostalgia can be socially isolating," says Gary. "If you're surrounded by memories – even pleasant ones – nostalgia becomes a way of life. It's important to see later life not as an ending but as the start of a new journey and downsizing can play a positive part."

The maintenance of a larger property was something that we no longer wanted to deal with, and to come here where we have lovely, landscaped gardens without the hassle of constant maintenance is a huge relief - we can just sit back and enjoy.
- Mr and Mrs Booth, McCarthy Stone Homeowners

I feel so much more liberated now that I don't have the constant worry and stress of all the little jobs and work that needed doing to the house. Now it's all done for me and I have the real gift of having my time back to focus on myself and my family.
- Mr Nicholson, McCarthy Stone Homeowner
How to downsize
Downsizing has lots of similarities to the other moves you've made, but if you're looking for a retirement property to suit you over the longer term, there are some extra things to consider.
Find your perfect retirement property
There's a lot to think about when choosing a property to downsize to, from location to home type – house, bungalow or apartment? Period charm or modern? A contemporary new build often has the edge when it comes to things like security, fire safety, warmth, energy-efficiency, soundproofing and accessibility and they are carefully designed with modern comforts in mind. You should also think about the type of services and amenities you want nearby or onsite. Read our tips for finding the perfect retirement property.
Think about your options for moving in. Do you want to buy or rent?
With a McCarthy Stone retirement property, there are a range of ways to move in, including: buying outright, renting or part buy, part rent. These options give you the financial flexibility to suit your circumstances and they all give you equal access to our fabulous lifestyle and services.
Take time to prepare your house for sale
From decluttering to redecorating, there's likely to be a lot to do in your existing home to get ready for a move. But support is on hand! We have decades of experience of helping people to move home. Our specialist removals firm, Bishop's Move can help you to declutter and pack – and with our Smooth Move service this is free – we'll even contribute to your estate agent and legal fees. And, if you want to avoid the hassle of selling your property on the open market, ask us about Part Exchange. There are a number of benefits, including no estate agent fees, no viewings, no chains – and no need for DIY.
Think creatively about your new space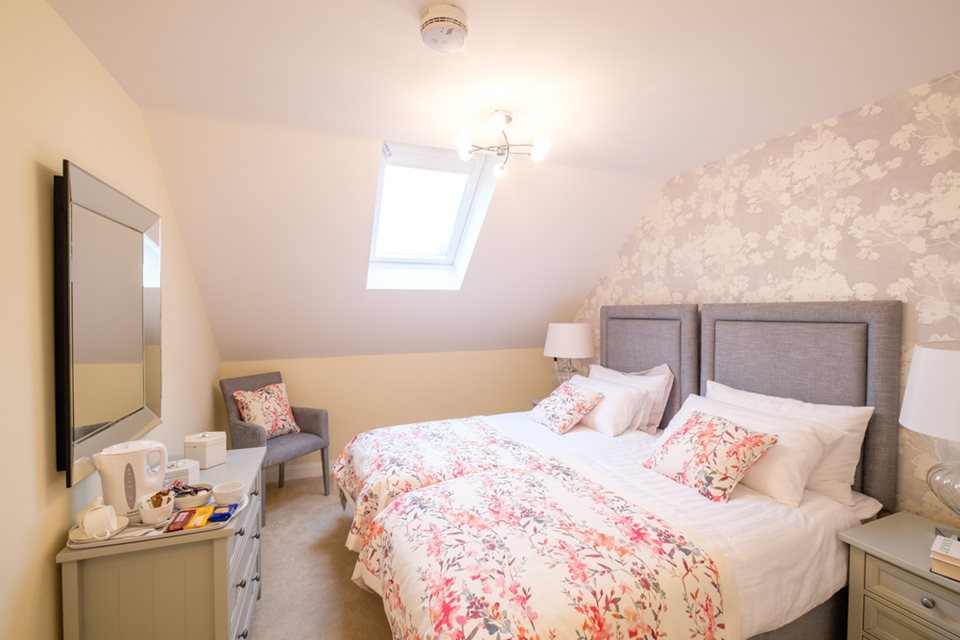 Clever storage solutions and multi-functional furniture will make the most of a smaller home. For example, drop leaf or extending tables save space. Ottoman beds are perfect for hidden storage. Sofa beds are great for overnight visitors. McCarthy Stone developments also offer an onsite hotel-style guest suite to make visits even easier.
Downsizing: the start of a new adventure
The thought of downsizing can be stressful, but ultimately it could be better for your health and your finances. It can also be the start of a brilliant adventure, or perhaps the chance to fulfil your ambitions to live in the countryside or by the sea. There are lots of ways to make the move much easier. If you'd like to find out more about how McCarthy Stone can help you to downsize, call 0800 201 4811 or browse properties here.