Where in the UK are the best locations for nature lovers?
Nature, green parks and wide-open spaces – it's what we live for isn't it? In our day-to-day, technology-filled lifestyles, set against a backdrop of smartphone notifications and compounding unread emails, it seems all we really want is a place for some relief.
As a nation, we're drawn to our country's parks, nature reserves and National Trust sites, seeking them out for weekend downtime and relaxation. In our recent study, we set out to find the UK's top 10 best locations for nature lovers, and the results might not be quite what you'd expect.
To find out who comes out top for all things green and natural, McCarthy Stone ranked each city and awarded points out of 500 based on five key factors: the number of rare animal species, National Trust sites, stargazing spots, National Parks and Areas of Outstanding Natural Beauty and Outdoor Activities.
In terms of scoring highest overall, residents of Plymouth find themselves with the best variety and amount of nature on their doorstep, scoring 345 out of a possible 500 points. Southampton followed in second place with 297 points, whilst residents of London will be pleasantly surprised, with the city showing its greener side with 255 points. Although the top three locations are in the south of England, the overall top 10 also includes Newcastle, Wolverhampton and Birmingham, confirming that all corners of the UK are full of natural wonder.

The National Trust: A British pastime favourite
As Brits, our nation has lots to offer in terms of staycations, and favourite domestic pastimes include camping, walking, trying to avoid the bad weather, and of course, exploring National Trust spaces.
National Trust sites are a staple of the British outdoors, and when looking at the top scoring cities for them, Plymouth comes in on top with 100. Gloucester takes second with 90 points, thanks to its seven National Trust sites, along with Newcastle and Wolverhampton, with Bristol following with 65 points and six sites.
Top-scoring Plymouth has Plymbridge Woods on offer to visitors, a wooded valley with a rich and interesting history of industry, and the dramatic cliffs of Noss Mayo. Whilst the joint-scoring cities of Gloucester, Newcastle and Wolverhampton play host to Haresfield Beacon & Standish Wood, Souter Lighthouse and Wightwick Manor & Gardens, respectively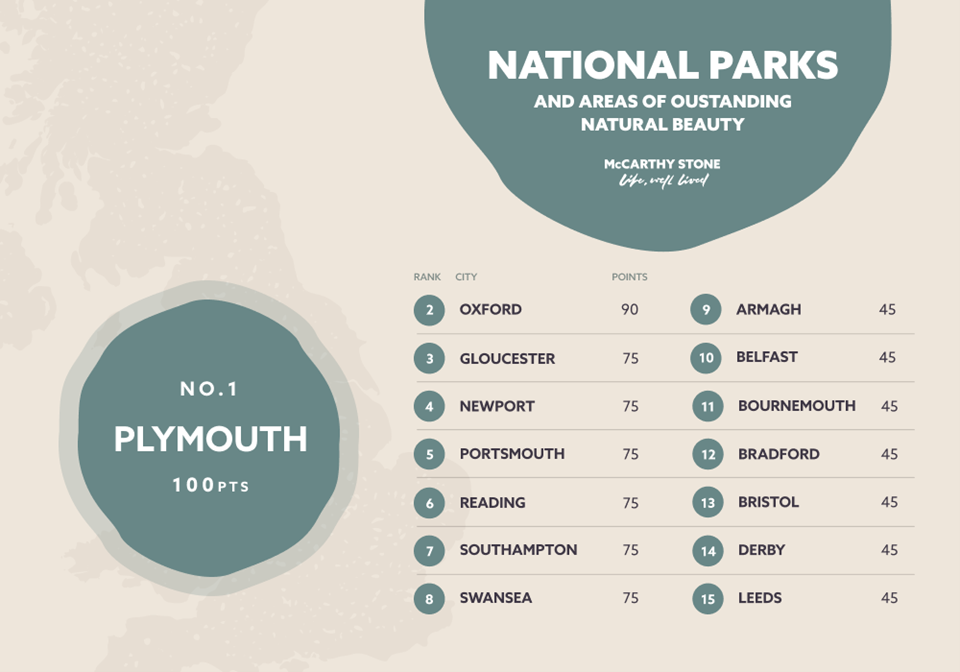 Areas of Outstanding Natural Beauty punctuate every corner of the UK
When it comes to the UK's National Parks and Areas of Outstanding Natural Beauty (AOONB), Plymouth once again claims first place, boasting its position as a fantastic all-rounder when it comes to natural wonder - and who could argue when looking out over the grassy, rolling landscape of Dartmoor National Park? Whilst Plymouth's four parks and AOONB take it to 100 points at the top spot, Oxford is just 10 points behind in second place, with three national parks, with Gloucester, Newport and Portsmouth (all with 75 point and two sites) following in the top five.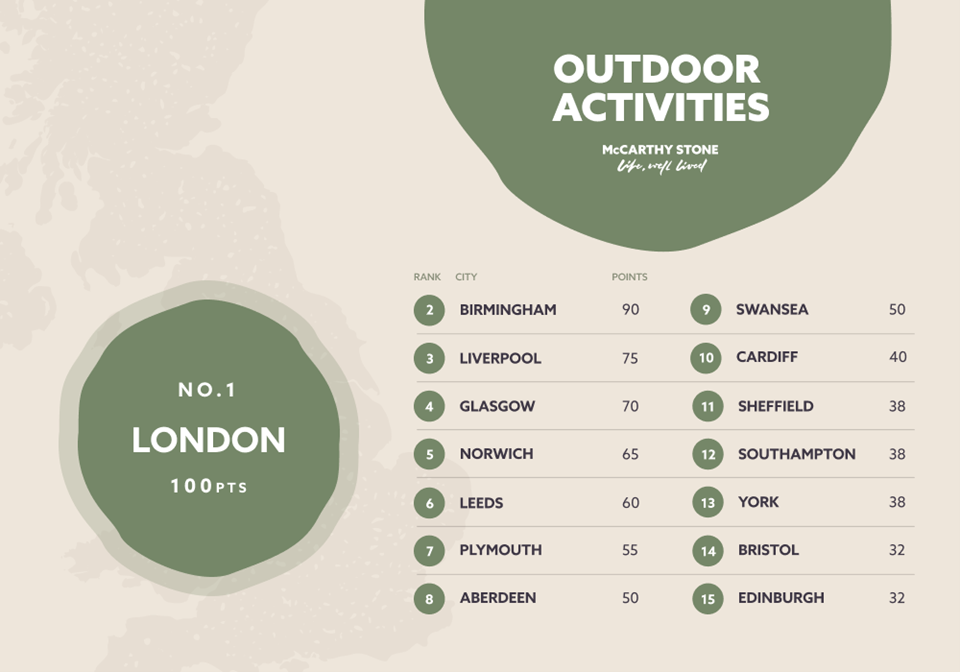 Moving onto nature, wildlife activities, parks and gardens, London claims top position with 240 sites. The results prove the well-known point that although busy with taxis, commuters and towering office blocks, the capital is bursting with nature and green spaces like Regents Park, St James' Park and Hyde Park, among others.

Second place Birmingham has 44 areas, offering sites such as Victorian Canon Hill Park, as well as Handsworth Park. Those visiting Liverpool, taking a close third for nature with 40 sites, will be pleased to see the memorial park, St John's Gardens, as well as the picturesque Wavertree Botanic Gardens.

Living next to nature: Can you have your cake and eat it?
Of course, it's all well and good to live near endless nature, National Parks and green, open spaces, but it can come at a cost.
From our research above, which calculates the average price of a property based against the number of points of natural wonder in each city, it reveals that an array of natural wonder is on offer across the country, and on a variety of budgets.
Plymouth's abundance of nature on its doorstep, takes first, with amazing value of £636.23 per point of nature. Southampton and Newcastle follow in second and third place, with £798.65 and £961.17 per point, respectively, making them prime candidates for fantastic value places to live in terms of nature attractions available.
However, if you were looking to rent a property, Plymouth and Southampton remain at the top, with average monthly rent prices crossed with the nature index points, mean that those in the city get all that natural wonder at £2 and £3.77 per point, respectively.
Renters in Wolverhampton come third, which is two places better than their price per point for homeowners in the area. Aberdeen's great rental prices meant that the Scottish city is one of the country's best value locations for natural hotspots, with Swansea making up the top five.
Look to the stars for amazing nighttime nature
When the day turns to night, and hopefully the skies are clear, us Brits love a spot of stargazing. Whether by an open fire at a camp site, sitting on a park bench, or just lying down on the grass, heads together - looking up towards the great cosmos is one of nature's most astonishing sights. But where should we go to see the best light show in the universe?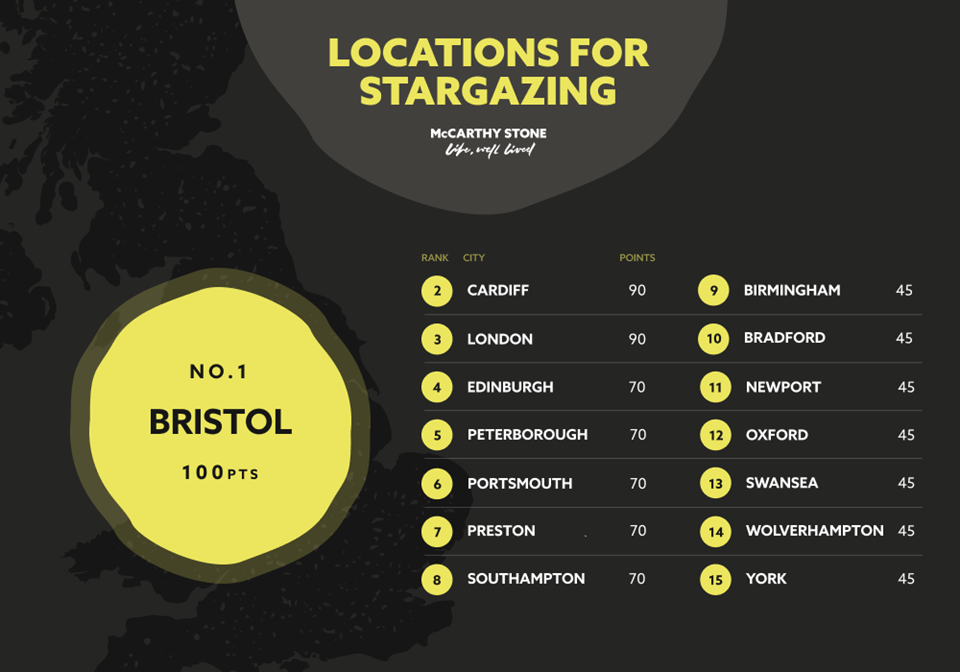 The historical maritime city of
Bristol
comes out on top for best for stargazing, with four recognised nighttime vantage points. Whilst the Welsh capital
Cardiff
joins London to follow with three locations each. Edinburgh and Peterborough come next with two each, making all three countries of mainland Britain great locations for catching a glimpse of the outer reaches.

Rare species can be found across the country
Of course, ranking the UK's cities in terms of natural wonder isn't just down to the views, it's also down to the animals that inhabit it. Catching a glimpse of a rare red squirrel or a stealthy Scottish wildcat can make a trip into the great outdoors priceless and forever memorable.
Newcastle takes the lead for number of rare species, as the best place to spot red squirrels. Aberdeen follows in second place along with Bournemouth, Norwich and Plymouth. Joint-second place cities Aberdeen and Norwich boast remarkable locations for sightings of rare animals, with Aberdeen's Bullers of Buchan home to puffins and Norfolk's Horsey Gap a gathering place for grey seals and harbour seals.
McCarthy Stone:
McCarthy Stone are the UK's leading retirement housebuilders. We have over 51,000 apartments and bungalows nationwide and if you'd like to find out more about what we currently have available, take a look at our properties to rent or buy outright.
About the research:
McCarthy Stone conducted research into the UK's best overall cities and best value cities for natural wonder by gathering data, to create an index, as well as researching average house and monthly rental prices from the UK's 40 most populous cities in July 2021.

The index was compiled from five varied factors, including: National Trust sites, rare species of animals and stargazing spots. The number of instances for each of these factors was included within a 15-mile radius of the city. Stargazing data shows sites across the UK where regular stargazing events are held or at sites where the Milky Way and, during the winter, the Orion constellation can be seen by the naked eye.

Trip Advisor data was used to see how many Outdoor Activities there were in each city, the data collected for this was found using the filter including nature activities, wildlife, parks, and gardens that are on offer in each city.

To account for differing units of measurement between the five variable factors, each measure was awarded a weighted value to create a points system, with the minimum value of 0 and maximum value of 100 for each factor, and then totalled for the overall ranking system.

Once correlated, the overall scores were divided by the average property prices and average rental prices for each city to give the UK's best value cities for nature.