Dancing queen gets friends moving from her property in Sunderland
McCarthy Stone homeowner Lynne's dance class for the over 50s is just across the road from her retirement property in Sunderland. She says, "it keeps us young".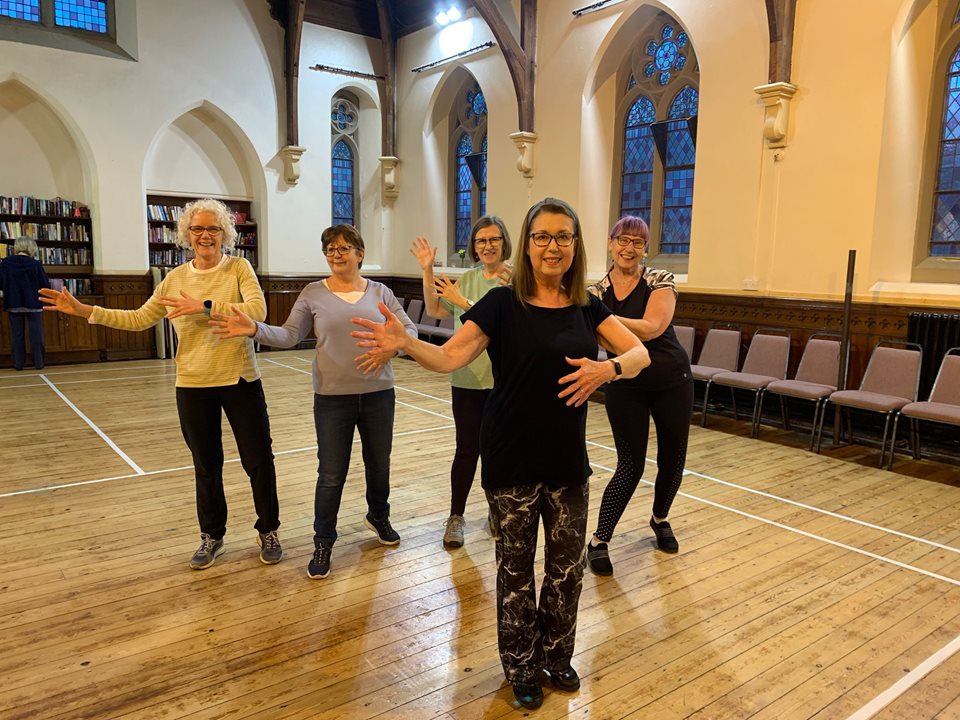 Born and bred in Sunderland, 70-year-old Lynne Casey became a qualified dance teacher aged 28 and spent many years juggling her full-time job with teaching an evening dance class. Now retired, Lynne has put her dancing shoes back on to help others to discover their own passion for dance at Herriot Gardens Retirement Living development for the over 60s in Sunderland.
Lynne taught a weekly Laban dance class (based on the work of pioneering choreographer Rudolf Laban) for 43 years while working a demanding full-time job as HR Manager for Education and Children's Services in Sunderland until she retired at 60.
Lynne had lived with her husband in a large three-bedroom detached bungalow for 32 years, but when he sadly passed away in 2015, she felt it was time to downsize as the home grew 'empty'.
She added: "I am a very sociable person and so I knew moving into a retirement community would be the best fit for me. I went on a tour of Herriot Gardens and simply knew straight away I wanted to live here as I was able to continue living my active and social lifestyle amongst like-minded people. I've always lived in Sunderland – in fact, I'm only a mile away from my old house. My new apartment is also just across the road from the church hall where I teach my weekly dance class, so when I moved into Herriot Gardens last December, it seemed like it was just meant to be!"
Keen to showcase her dancing talents to her new neighbours at the development, Lynne decided to put a notice on a bulletin board welcoming anyone interested to come along to her class. To her delight, six ladies decided to give it a try – and have attended every week since.
"Having taught amateur dance at a high level, I now specialise in teaching more mature participants, which focuses on helping them to keep fit and active, but also ensuring they have fun and have a chance to socialise".
"I teach various dance styles for different fitness levels so there is something for everyone. Most of my class are aged 50 and 60 plus, but I have ladies in their 80s too. We dance jazz with hats, lyrical movement with scarves and many different forms from Latin to Country – it really is a tremendous amount of fun."
Lynne's teaching comes from years of experience, and she has achieved a lot since becoming a qualified dance teacher in 1980. She trained and choreographed teams for championships and festivals, including the Keep Fit Association Championships, becoming the first UK winner in 1991. Lynne recently retired from championship training, but just this year, a group of dancers she previously trained went on to win first prize – something she's incredibly proud of.
Lynne says: "I am proud of everything I have achieved throughout my life with dance, and I often wonder how I managed to fit it all in. If I were to pick a highlight, it would be making three dance Fitness Videos in 1993 called 'BODYMUSIC', which were home fitness videos encouraging everyone to 'get up and dance' - which is definitely still my mantra. I'm also very proud that I have produced several of the Keep Fit Association National Festival shows at the Royal Albert Hall, and I continue to produce the festival to this day, with the last four taking place at the Birmingham Symphony Hall."
When asked about her experience of teaching other homeowners at Herriot Gardens, Lynne comments: "It's been a real pleasure. I have got to know my class members a lot more, and the homeowners here are a very social and a supportive group of people. I would love to see even more of the homeowners get involved – that goes for the gents too!"
"I just love to dance – it's just in my blood. It also helps to provide somewhere to escape to. I may not be able to move as I once did, but I will always keep going in some shape or form! I also encourage anyone and everyone to start dancing. It's never too late, and if you're local, come join my class – I think it keeps us young!"