How a fish and chip shop owner from Peterlee, spends just as much time on the dancefloor as behind the fryer, and at the age of 70 isn't ready to hang up the apron, just yet…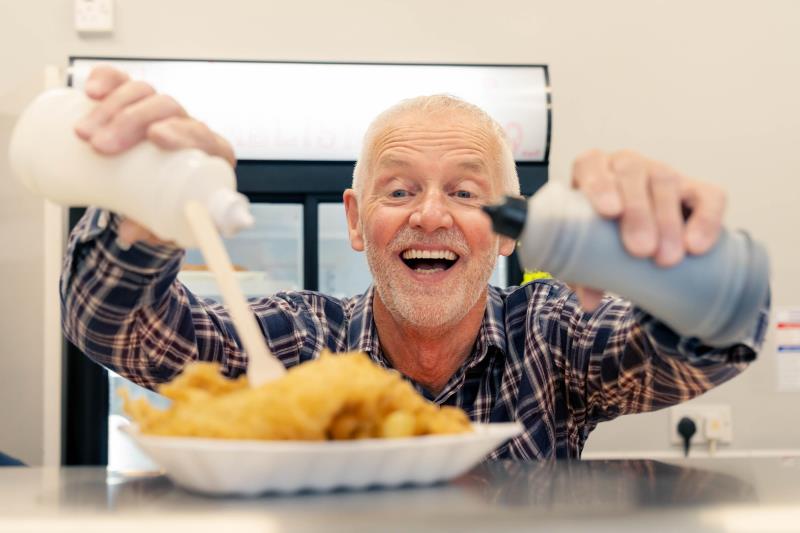 Nearly 62 years after his parents first opened Farley's famous fish and chip shop in Horden in Peterlee, Richard Farley may have moved to live in a retirement community, but he doesn't plan to lay down the chip scuttle just yet…
The 70 year old has been serving up the nation's favourite at his fish and chip shop on 3rd Street since 1959 when he helped his parents Meggie and Eric out as a young boy. A family business, he took over the shop in 1987 after his parents had both passed away, and is now joined behind the fryer by third and fourth generations of the Farley family, his daughters Kelly and Lesley, and granddaughter Rachel.
The eatery's interiors and traditional menu has barely changed over the years. And that, according to Richard is a major factor in its longevity.
Richard comments: "I've had opportunities to change suppliers over the years and implement cost-cutting measures but it has never seemed worth it. And we've also kept things simple: dishes that people enjoy and will come back again and again for.
"Cod and chips remains the suppertime staple, but we also sell a lot of our home-made patties and fishcakes which are made using the same traditional recipe as my mother used back in 1959. It has only developed marginally since then. My granddaughter and I prepare them in our shop and they do seem to have stood the test of time. Simple, but really tasty"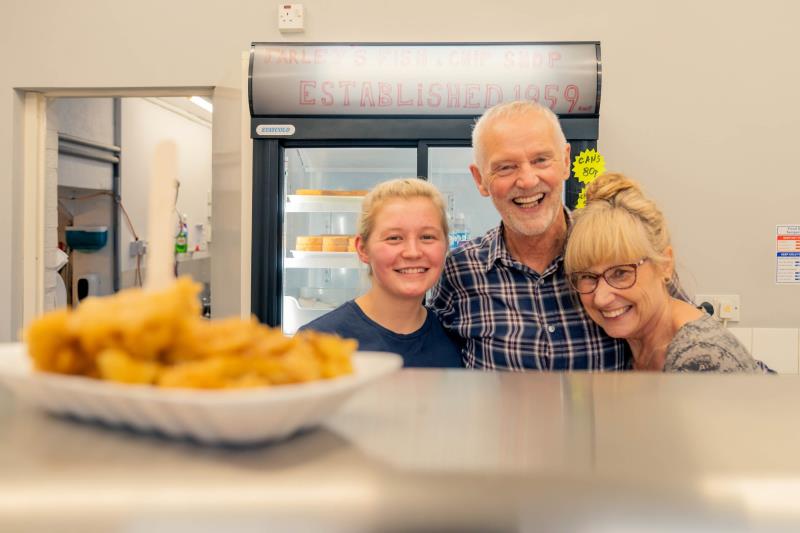 Earlier this year, Richard and his wife of 23 years, Susan, decided that after many long hours and late nights keeping their business ticking over, they should start to think about their retirement. They made the decision to downsize to a smaller property at the McCarthy Stone Retirement Living development, Herriot Gardens in Sunderland – just 12 miles from their beloved shop.
However Richard insists: "I am not one to hang up my apron just yet!"
"Instead I have taken a bit of a step back from the shop. I still run it and I still work there part-time usually two lunchtimes and two evenings per week and my daughters help out the remaining time."
Richard was just eight years old when his parents bought the chip shop. "My mother had to drag me there", he says. "I think I would have much rather been out playing with my mates at the time."
Richard never once dreamt that one day the business would be his.
"I always had aspirations of going to university to study electrical engineering, but after my mother passed away in 1973 my father began to count on me a lot more, so at the age of 22 I gave up my studies to help keep the household, and from there it's been at the centre of mine and my family's lives ever since."
In 2003 Richard's wife Susan joined the business and together the pair make an unstoppable team. So much so they have recently found a new enthusiasm for ballroom dancing.
"We are strictly retired, get it?" jokes Richard, "but we are still keen to find some new moves."
From the Cha cha cha, to the waltz and the quick-step, the couple regularly competes on the ballroom circuit travelling up and down the North East performing at Blackpool's famous Tower Ballroom, but also in places like Newcastle and Middlesbrough.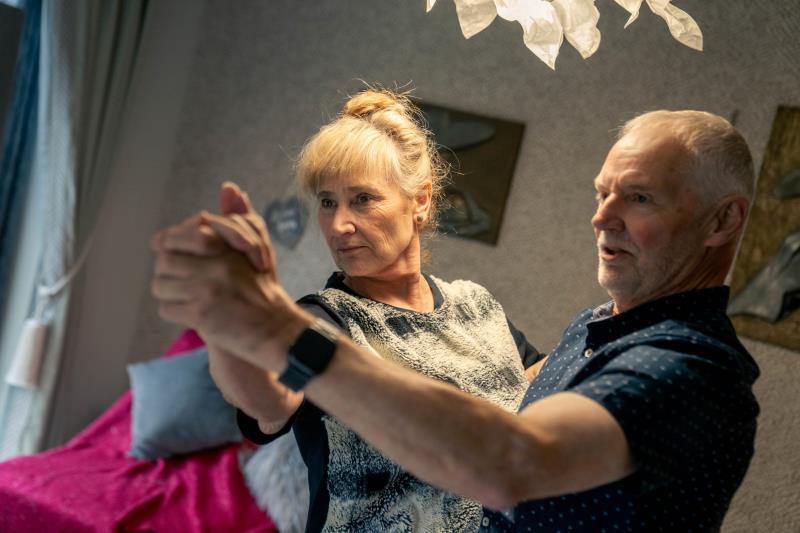 Richard describes it as a great way to stay healthy and looking good.
"I do eat regularly at the chip shop", jokes Richard. "Fish and chips isn't about health; it's about treating yourself and we all need to do that every once in a while!
"That said finding ways to stay active now I'm in my 70s is incredibly important, and for us dancing is just the ticket – it feels so good moving around the dancefloor holding my lovely wife, and getting lost in the music.
"We get such a thrill from dancing together. It's all for pleasure, nothing too serious. But we are hoping for a few medals in the not too distant future and I have been told on more than one occasion, we look pretty good on the dancefloor!"
On what the future holds for the fish and chip shop, Richard wants to keep it in the family.
"Over the years customers have become good friends and we've always been at the centre of the Peterlee community."
He continues: "You need to be a very good listener working as a 'chippy'", laughs Richard. "And ready for anything – we've seen all sorts over the years.
"We've always made a comfortable living from it and it would be nice to see my parent's legacy live on."
Away from the dancefloor, the couple has been getting stuck into life at Herriot Gardens, where McCarthy Stone's mantra of independent living is suiting them down to the ground (literally). Since moving in Susan has taken an active role in the planting of new shrubs and flower beds in the communal gardens there, and is really enjoying the flexibility and freedom to work alongside McCarthy Stone's landscape gardens.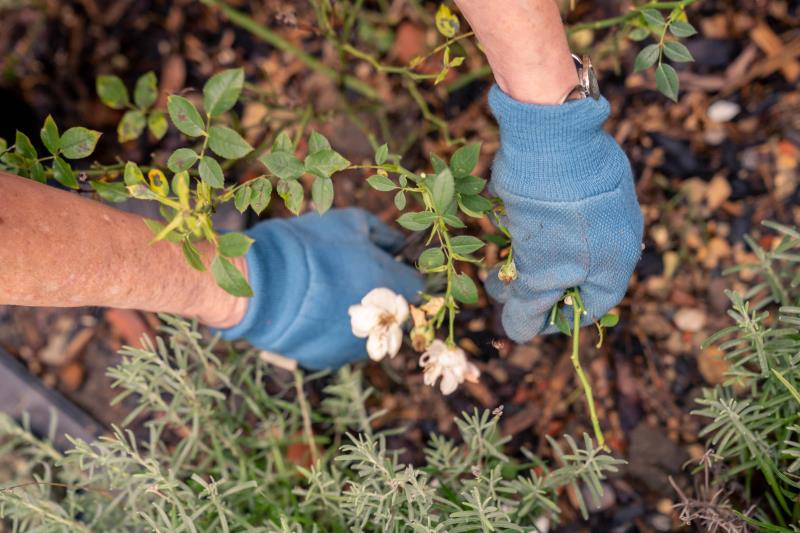 "When we moved, we did leave a large garden behind", says Richard, "something my wife would miss greatly.
"So when McCarthy Stone said we could bring some of our established shrubs from our old garden and plant them here it was a real delight. Susan hasn't looked back spending lots of her spare time out there planting and tidying and it really shows in the garden – it is looking beautiful!"
Richard has also kept busy, uncovering a creative side he never knew he had for sketching and painting. During lockdown he began to create canvases using acrylic and watercolours and was surprised how many people liked them. From a colourful giraffe's head to a portrait of actor and comedian Bill Bailey, Richard's paintings have been popular with his daughters and sister who have both acquired them for their own houses, but has also seen him display some of his works in the hobby room at Herriot Gardens.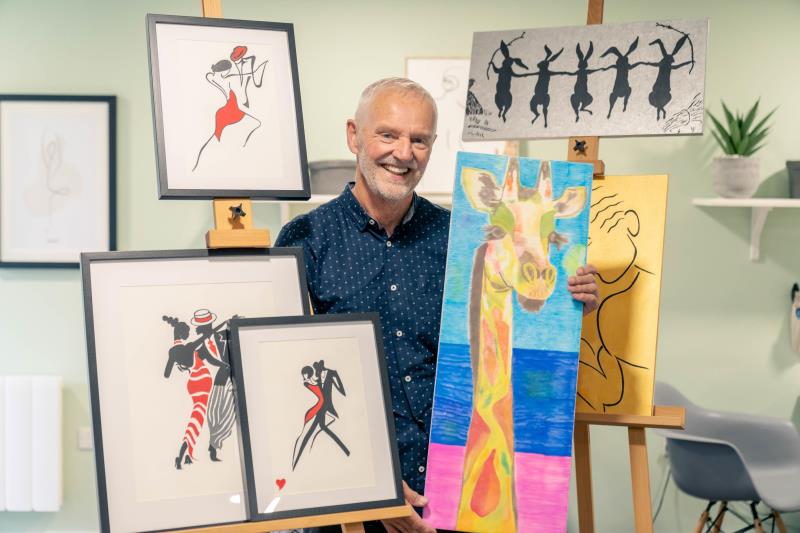 "The hobby room is fantastic", says Richard. "It's a communal, creative space where anyone can come and draw, paint, build things, sew, play board games – you name it. Living within a community we each have our own different skills and passions, so I like to be able to see what other people are up to, too."