How to Keep Fit in your Retirement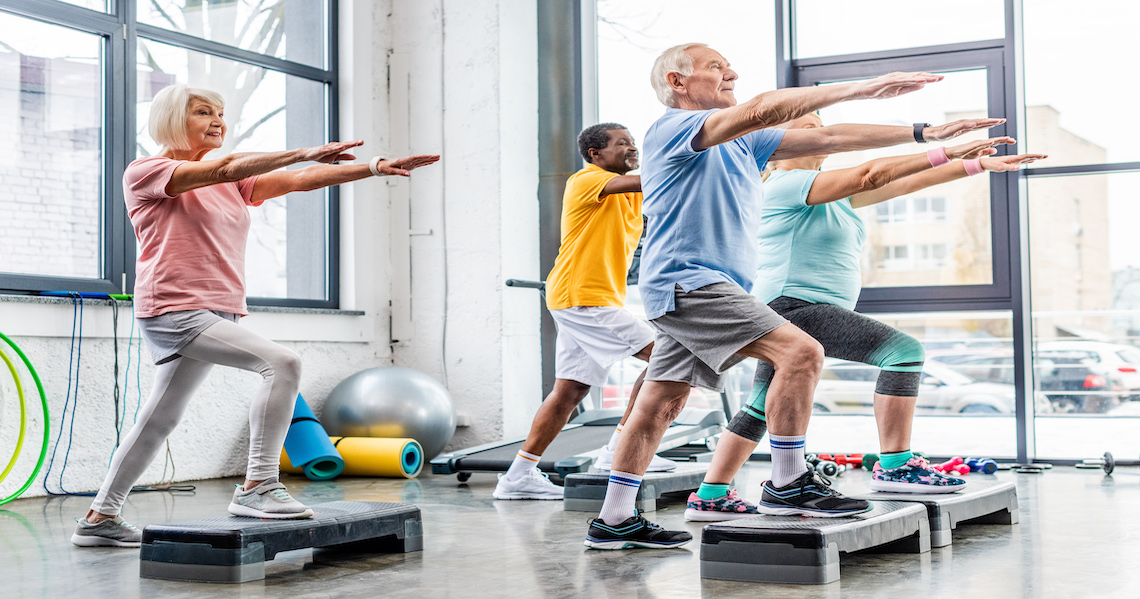 From a short stroll to the shops to a gentle swim or an exercise class, there are numerous ways you can keep fit in retirement. Here are some of the best retirement exercises to try.
How Much Exercise Should I Do?
Regular exercise is important as we get older, as our metabolism slows down. A fit and active retirement can burn off excess calories, helping keep the weight off.
In retirement, the government suggests that we take part in 'moderate-intensity activity', and government guidance suggests that adults aged 65 and over should do 150 minutes of 'moderate-intensity activity each week'. You can break this up however you like, from 5-minute bursts to longer exercise sessions.
Let's take a look at the best retirement exercises that are 'moderate-intensity activity'.
Walking
Did you know that May is National Walking Month? Walking is a great way to stay fit and active in your retirement, as it's fun, flexible and free. Plus, it's a great way to get out, see new sights and meet new people.
If you're concerned about your joints and are wondering how to keep fit without running, then walking is a great option. As long as you're walking at a pace intense enough for you to be slightly out of breath but still able to hold conversation, it's classed as a 'moderate-intensity activity'.
Walking doesn't have to be about setting off on long hikes, either. You can:
Take the stairs instead of elevators and escalators
Walk to the shops
Plan a longer walk or a ramble at a weekend
Join a walking group
If you haven't done much walking previously, you can start slowly and build the intensity at a rate that suits you.
In addition to this, if you need a little more inspiration for your walks, then take a look at our list of recommendations of some of the best walks in England.
Swimming and Water Aerobics
If you have joint or mobility issues, then swimming can be a good alternative to walking, as it places far less stress on your joints. When you swim, around 90% of your body weight is supported by the water, providing a relatively weightless environment that is particularly useful if you have painful joint movements or arthritis.
If you don't fancy swimming lengths, then water aerobics could be a good alternative. Many public leisure facilities offer classes specifically designed for retirees and, as well as burning up to 300 calories per session, these water workouts provide a great social atmosphere.
Cycling
There's no reason why growing older means having to slow down. Cycling is great for your cardiovascular health and can help to keep your heart healthy. Plus, much like swimming, it's a low impact exercise.
The Guardian revealed that cycling also helps to slow down the loss of muscle mass, stabilise cholesterol levels and improve immunity.
However, if you choose to take up cycling, then it's best to start slowly. Begin on an indoor bike and flat ground, before gradually adding inclines and monitoring your heart rate. When you're ready, you can then hit the open roads. If you're interested in making new friends or challenging yourself, then join one of the many local cycling groups. Many of these are located
close to our retirement properties
, too.
Tennis
If you'd like to mix your exercise with a competitive edge, then tennis could be the perfect solution; particularly if you join
Seniors Tennis GB
, who host regular competitions throughout the year.
Whether you're just taking up the game or hoping to hone your skills, tennis is a great retirement sport as it keeps you active and social. It can also help you improve your balance, coordination and flexibility. Plus, the creativity and agility required to play tennis help keep your brain active.
Exercise Classes
A gym can be a great place to build muscle, take part in cardiovascular activity away from the cold and rain, or make new friends at an exercise class. You'll find specialist keep fit classes for over 60s, too. So you don't need to worry about being pushed too hard.
Yoga
Yoga does not count towards your 150 minutes of 'moderate-intensity activity' per week, but it does count as strength training and is an effective way to improve flexibility, core and balance. If you're worried about falls as you get older, then yoga is a good solution, as studies show that it can help to prevent falls by strengthening your lower body - particularly your knees and ankles.
Yoga is commonplace in leisure centres and health clubs, but you can also find NHS approved exercises online.
All of these sports and activities are great solutions for retirees of all ages. Plus, as well as keeping you fit and active in your retirement, they can also help you meet new friends.
Like this article?
Find more inspiration for keeping fit, nutritious food ideas and articles about life at McCarthy Stone.