Couple swap renovations for relaxing retirement flat in Buxton
When Gerri and Malcolm wanted to retire from a huge renovation project, retirement living in McCarthy Stone's Devonshire Place, Derbyshire proved the ideal move.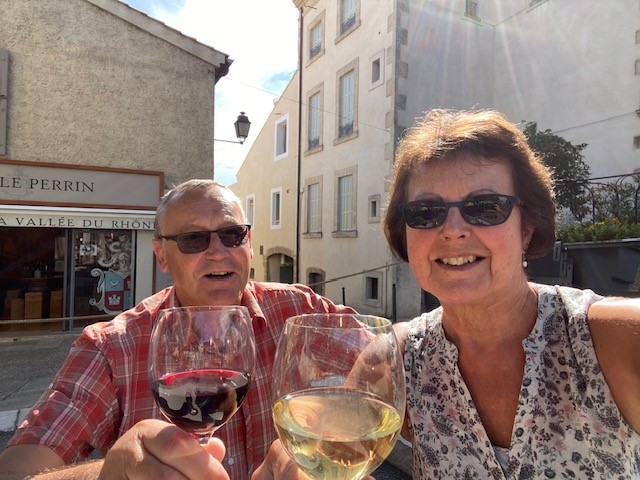 Gerri (now 72) a former Officer with Manchester City Council retired in 2011, and Malcolm (now 74) an Aircraft Engineer in the RAF, retired in 2009 and immediately embarked on renovating an old house with their family. But when their children decided to take on another big project in Scotland, the couple decided they wanted a more relaxing retirement. Having worked hard all their lives, they were excited about their next chapter.
A friend introduced them to Retirement Living PLUS
"Initially, we never had any intentions of moving, but it became more important to us to futureproof our later years," says Gerri.
Malcolm adds: "We knew the Buxton area well and were keen to stay here but it wasn't until one of our friends invited us to take a look at the new McCarthy Stone Retirement Living PLUS development, Devonshire Place, that we realised what we were missing out on! We were sold from the get-go. It was right in the centre of town meaning we could pop to the shops whenever we liked without having to climb in the car, and all the maintenance was taken care of so I could finally put my toolbox away.
"There was also a fantastic atmosphere with lots of friendly couples and people just like us. Every time we visited, they would be on the way to somewhere, catching the bus or having a coffee and a chat in the lounge. They had the right idea, and we could really see ourselves fitting in well!
"If our friend had not introduced us, we would have ended up with another property and begun the endless task of renovating and decorating all over again, not to mention all the tedious ongoing maintenance involved too."
The couple are now an integral part of the new community, often volunteering to show other retirees around.
"We only wish we'd made the move sooner"
"We're so eager to help others get the very most out of their retirement years." Says Gerri. "Moving can be such a stress at any age and we'd know having moved 14 times while Malcolm was in the RAF. But we can both hand-on-heart say that this was by far the best decision we ever made, and we only wish we made it sooner."
Malcolm says: "Our advice would be not to waste your precious years doing things that make you unhappy. We spend so much of our lives working for others, stressed out on the job, providing for our families etc, we deserve to have the opportunity to have a more relaxed pace of life in retirement, but sometimes that means making a difficult decision that you need to make a change."
Moving is made easier with Smooth Move
The couple used McCarthy Stone's Smooth Move service which meant all the packing and removals was taken care of for them.
Gerri says: "If our friend hadn't showed us that there was another way of life that day, we would probably still be in our old home, which as much as we loved it, we were finding it hard to keep up with the work needed to maintain it.
"Now we want to be that person for someone else. To show them the alternatives that are out there and that you don't have to put up with something if you don't want to. It can be a big life change and it can be daunting, but I think it helps to meet other people who have been in the same position and turned things around for the better, to show that you can too."
Downsizing not an issue with a spacious new home
Malcolm adds: "The one topic we always get asked is 'how did you handle downsizing because the apartments only have one or two bedrooms. What happens to all your stuff?'. Since moving, we've found people do tend to get hung up on storage space, and our generation are the worst for this fear. But it's not been an issue for us at all. Our apartment is very spacious, and we have everything we need."
"It can often be a good excuse for some serial offenders to have a proper clear out and a fresh start!" he jokes. "In all seriousness, it's very rewarding that we can help provide peace of mind a level of reassurance to others."
The on-site restaurant is a big draw
One of the places the couple love to show visitors around at this assisted living community for the over 70s is the popular Bistro. Gerri says: "Families are always welcome to visit their loved ones who have moved here, and the Bistro is great for helping to allow for more quality time together including dinner that doesn't involve having to slave over a hot stove."
Holidays are no hassle with a House Manager on hand
Malcolm continues: "Safety was a major factor for us too. We love our holidays, so being able to simply lock up our apartments and venture off on holiday was really important to us. We have recently enjoyed a lovely holiday to the South of France and we knew the entire time that our property was being looked after. Our House Manager would often drop us a text to say she's been in to water our plants and make sure everything was as we left it, and that added touch really makes the difference."
Gerri adds: "Now we've managed to get some time back in our lives the move has given us a new focus. It's filled us with such confidence that we are now planning a special holiday to Singapore, where we first met 57 years ago when our parents were stationed out there in the RAF. While we are that side of the world, we also plan to visit Australia and possibly another country in between."
The couple are making the most of holidays in the guest suites too
Reminiscing on their recent trip to Southern France, the couple even broke up the drive with a stop at a the hotel-style guest suite at a McCarthy Stone development in Dover, Kent and Poole, Dorset on the return leg. Malcolm explains: "Each McCarthy Stone development includes a guest suite, which is great for when you have family visit. But what's even better, is that we can hire the guest suite for our own benefit like a hotel – knowing that we are staying somewhere safe, with like-minded folk, and not having to worry what to expect on arrival. The guest suites are our home away from home."
Gerri adds: "The benefit of the guest suites has really given us the nudge to act on impulse and go where we like, whenever we want. We recently stayed at a development in Stratford-upon-Avon, Warwickshire for a staycation when we went to the Royal Shakespeare Theatre."