Supergran moves closer to family in Hook
'Cerebral palsy is my superpower' says Lorraine, who moved back to hook to be closer to her family. Find out how it helps her to help others.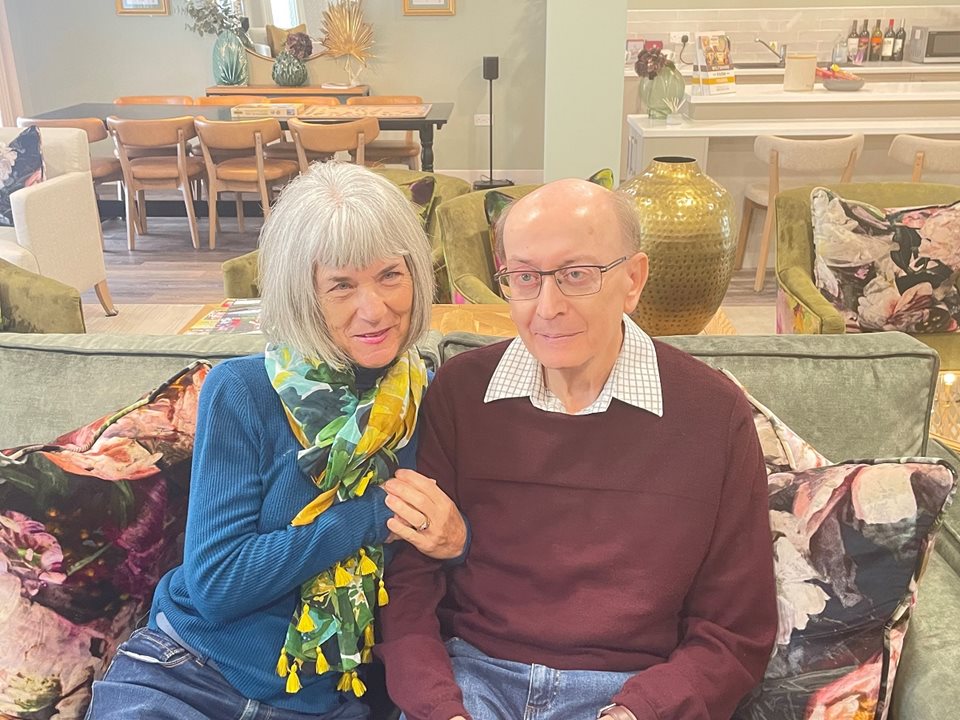 Cerebral palsy can affect movement and co-ordination, but homeowner Lorraine, who lives with this lifelong condition, has never let it define her. The retired grandmother of six moved back to Hook in May this year to be closer to her grandchildren. Her move to an apartment in Roslin Place, a Retirement Living development for the over 60s, has made her feel re-energised and ready for new adventures.
A life spent helping others
As a teenager, despite experiencing several physical setbacks, Lorraine surprised everyone by getting a Gold Duke of Edinburgh award and as part of the process she volunteered at a local hospital looking after younger children with cerebral palsy. She explains: "The experience was a really positive one and it led to me becoming a Learning Support Assistant in my adult life at a local school in Hook – which is actually the same one that my grandchildren attend now. I worked there for 18 years helping local children with autism – it was incredibly rewarding, and it showed me that I could do anything if I put my mind to it, and that I could use my cerebral palsy as a force for good to help others, something I've been doing ever since. I guess you could say it's my superpower."
Reaping the rewards of retirement
Fast forward, and Lorraine and her husband Peter have become popular members of the new community that has steadily formed at Roslin Place. The 70-year-old says: "I'm relishing the opportunity to spend more time with my family. We found Roslin Place at just the right time - our six beautiful grandchildren all came in quick succession, so we really wanted to move back to Hook to be closer to them.
"We were living at another McCarthy Stone independent living development at the time, Walmsley Place in Bishops Waltham, which we absolutely loved as it had had such fantastic community spirit, so when we heard they were building a new development in our hometown of Hook, it just seemed like it was meant to be. After living in Hook for 30 years, we have so many fond memories that we cherish – it's where our roots and our family are so made perfect sense to relocate back here."
Moving closer helps their family out
Lorraine and Peter aren't the only ones to make the decision to uproot in order to be nearer to family. A national study of grandparents by Prospectus Global for McCarthy Stone found as many as one in four have recently moved closer to their children to lend a helping hand, with three in 10 (31 percent) grandparents and great-grandparents also pledging to take a more active role in their grandchildren's lives.
Lorraine says: "Two of our grandchildren, Dylan and Evelyn, now come to stay with us after school which is lovely. Not only does it help out our son, Gary, and daughter-in-law Lisa, who both work full-time, it also has a real positive impact on my health and overall wellbeing too as it's such a great feeling to be able to support them both when they need it."
And the moving was easy
First-class customer service shines through every aspect of McCarthy Stone, including the moving process, which Lorraine can certainly advocate for.
"During both times we moved to a McCarthy Stone development, the team have been wonderful, and they really couldn't do enough for us. For example, the day after we moved in, we had a lovely lady who came along to lend a hand with unpacking, which certainly made a real difference. Everyone has been so helpful, and we truly couldn't be happier."
Building a new community
As well as helping her family, Lorraine has taken it upon herself to set up a crafting group at Roslin Place.
She comments: "We really appreciate getting together and taking the time to slow down and relax, while doing something we enjoy. We've had a few prospective homeowners have a sneak peek at our creations when they've come to look around the development and have already shown a keen interest in what we're doing – so, you never know, if they do decide to move in, we may already have some new members!
"There has been a real eclectic mix of people who have arrived here, and we've had lots of opportunities to get to know one another with regular coffee mornings and fizz every Friday. It's so easy to make friends. I've also been able to meet up with some of my friends that I haven't seen for years, which I'm delighted about. I'm so busy now I really don't have time to dwell on my illness."
Security, support and social events that are "second to none"
Besides the close-knit community, Lorraine has also been impressed with the level of security at Roslin Place.
"The beauty of living in a McCarthy Stone development is that it gives you and your family peace of mind when you go away. I've been away several times and when I come back, I know that everything is safe. I really appreciate our House Manager, Alison, who keeps a close eye on everything – she's a great comfort."
Lorraine says it is lovely having her on-site and her social events are second to none.
"She organises a host of activities for homeowners to enjoy, from games days to fish and chips nights. Just a few weeks ago, there was croquet in the shared gardens."