Our survey says…grandparents to the rescue
McCarthy Stone's survey of 2,000 grandparents nationwide found over half (52%) believe that there's more pressure on parents now than when they were young. According to the findings, as many as 53% of working parents have had to take on extra hours to cope with the rising cost of living, meaning that their parents have had to step in. One in four grandparents are moving closer to family to offer support. 26% of grandparents have moved house in the last five years to help their time-poor kids with their offspring.
40% of grandparents have pledged to take a more active role to help out
While most retired people are happy to help – and there are many benefits to them as well as their children, many grandparents see their role as an essential rather than a choice.
These are the headline stats:
43% want to help because they can't stand watching their children struggle with the pressures of work, finances and family life.
69% say they are more than happy to help.
41% believe it is their role as a parent to help in any way they can.
18% admit that 'needs must' in these difficult times.
16% worry that if they don't help, no one else will.
34% say helping out has brought them closer together as a family.
32% enjoying being needed by the family.
24% say they are proud to be able to help.
One third (34%) of grandparents say helping out has brought them closer together as a family.
Grandparents help with everything from the school run to DIY
Grandparents are now taking on an array of tasks they may have thought they'd left behind in retirement and while most love spending time with their grandchildren, they admit to finding chores such as building work, decorating and laundry the most tiring.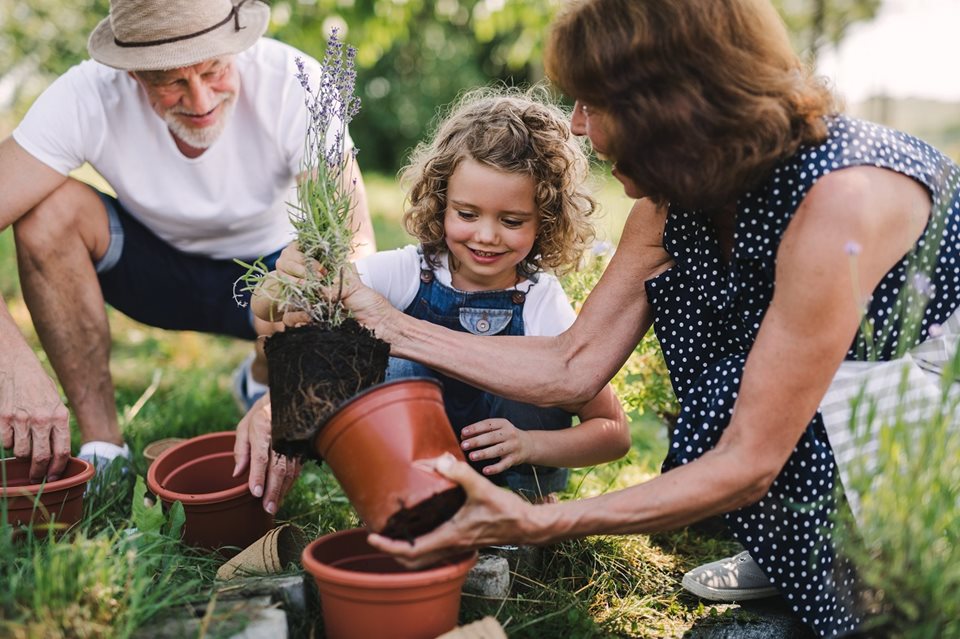 Here's what's keeping grandparents busy:
42% of grandparents are helping regularly with the school run around five times a month.
46% are hosting their grandchildren for sleepovers at least three times a month.
39% do weekly trips to the playground.
35% cook evening meals for the family.
28% do the bath and bedtime routine.
28% are doing the laundry.
28% walk the family dog.
21% do DIY in their children's home.
Grandparents are helping with finances too
As the cost of living crisis bites, 16% of older parents have helped with their children's weekly shop, while 12% have put money towards their children's household bills and mortgage.
Despite doing so much already, 44% of grandparents wish they could help out more, but are prevented due to money (39%), time (32%), health worries (31%) and living too far away (26%).
Homeowner Christine loves looking after her grandson
When her husband died in 2020, retired hospital administrator, Christine Holdsworth, 75, decided to move closer to her family, choosing McCarthy Stone's Cranberry Court in Peterborough, Cambridgeshire.
Downsizing has removed so many of the demands on Christine's time that she is now better able to support her busy family, which includes taking care of her fourteen-year-old grandson, Thomas, during school holidays and most weekends while her daughter Alison works.
Without her Alison says: "I would probably have to give up my job as a carer and get a job in school hours, but these are few and far…so in the current climate I'm not sure how we'd cope."
Christine adds: "It gives me huge happiness knowing I'm making a difference and I never tire of it."
McCarthy Stone helps you enjoy the benefits of moving closer to family
Fiona Carleton, Managing Director of Services, McCarthy Stone, says, "With parents facing increasing financial pressures they are leaning on grandparents more than ever, but they don't always live close enough to be able to help their families as much as they'd like."
"At McCarthy Stone many of our homeowners move to be closer to families. By living somewhere more suited to their needs they can balance the enjoyment of a relaxing retirement with providing practical help to their children in these uncertain times."
If you're feeling inspired by the benefits of moving closer to family read our tips on having the conversation – it covers everything you need to consider.
Ready to make the move?
McCarthy Stone developments span across the UK conveniently located in the heart of the local community and with plentiful amenities on the doorstep.
Browse our retirement properties now or to speak to the team get in touch online or call 0800 201 4811.
Research of 2,000 UK grandparents was commissioned by McCarthy Stone and conducted by Perspectus Global in March 2023.

Search for your perfect property