Priest Gillian loves her coastal retirement in Whitley Bay
After a tough year, retired priest Gillian says moving to one of our new retirement homes in Whitley Bay was "the best thing I ever did".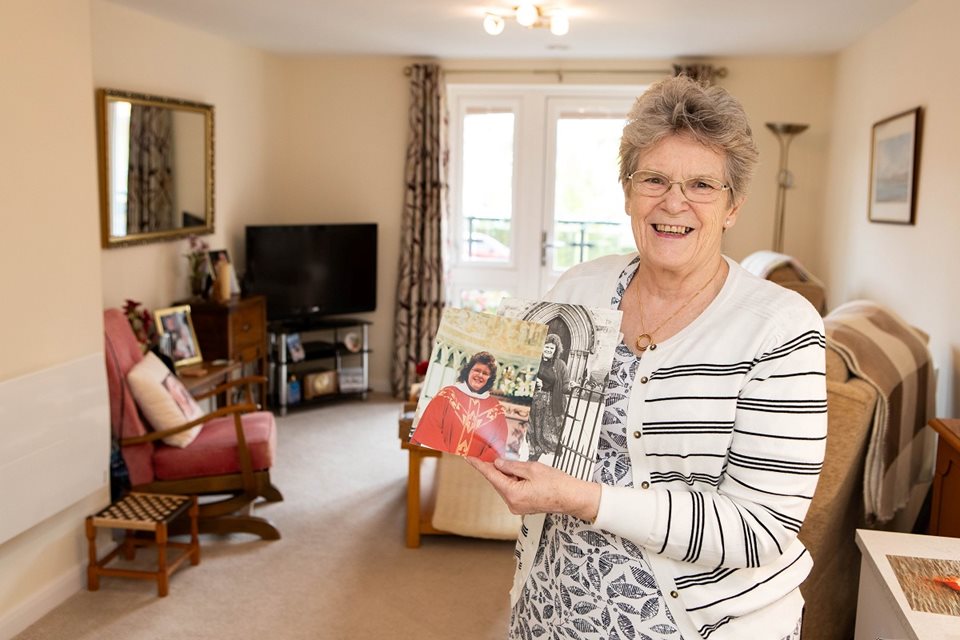 Gillian greatly recommends life in our retirement homes in Whitley Bay
Now 71 and a homeowner at McCarthy Stone's Elderton Place Retirement Living Plus development in Whitley Bay, Gillian Harwood was one of the UK's first female Church of England priests enjoying a rewarding career in the North East.
Having spent time in parishes in Rothbury and Morpeth, Gillian was given her own parish in the fishing village of Amble, near Alnwick, Northumberland, where she spent seven highly enjoyable years and met her second husband Mike. Sadly her plans for retirement with Mike were cut short when he passed away last year. The couple had been considering downsizing to a retirement apartment by the coast for a while – and Gillian decided to press on with this plan.
"It was the best thing I ever did – I had a ready-made group of friends at a time when I really needed them. I'm now part of a group who has been asked to arrange events to bring everyone together, most notably a Burns Supper Evening, which is perfect for me. I'm not greatly involved with leading any religious activities, but I was asked to say Grace at our Burns Supper!"
She adds: "Last year was really tough – as well as my husband, I also lost another constant in my life when my dog died, but the gap has at least, in part, been filled by the wonderful people here at Elderton Place."
Being one of the first female priests was a challenging career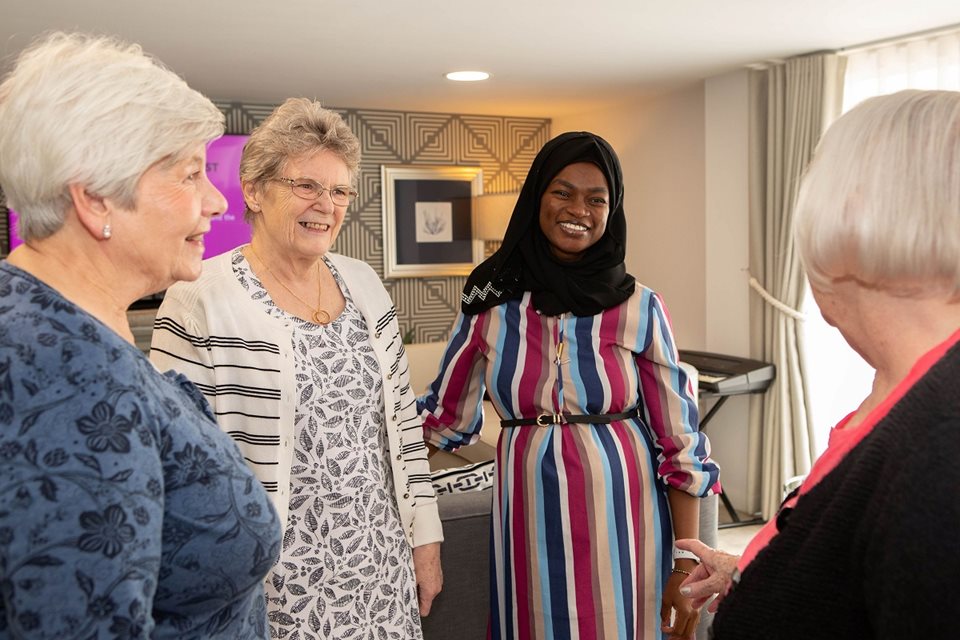 Taking part in a canoe race around Coquet Island, Northumberland and arranging a bungee-jumping event for teddy bears may seem a strange combination – but they were once all in a day's work for Gillian.
"Fundraising was a big part of my role – and it was fantastic as everything was so varied. The canoe race around Coquet Island was certainly an experience – I hadn't been in a canoe since my school days! I'd also managed to persuade a local boatyard to lend us their crane at the time, with people paying to watch their favourite cuddly toy to perform a bungee jump, which is something you don't see every day!"
Gillian grew up in Ashington and the church has been a constant part of her life. When she was young the feelings that she should take this further would not leave her.
Gillian explained: "At that time, women could not become priests - only deacons, so when I became a deacon in 1990, that was as far as I thought I could go. But the Church of England changed its rules – and eventually I, along with 16 other women, was ordained as a priest in May 1994 while serving in Morpeth – the first group in the Newcastle Diocese. It was carried out by the Assistant Bishop and it was such a special occasion."
This was just a couple of months after the very first women were ordained in Bristol. Gillian says training for the priesthood: "was rather like the Open University – lots of home study and assignments, alongside weekly meetings, summer schools and weekends away.
"It's not for everyone and not something you can just decide to do – you need help and support around you. There will be lots of questions you have to answer as you discern your vocation."
Find retirement property for sale in Whitley Bay
Elderton Place retirement community is ideally placed near the beach, harbour and attractions such as St Mary's Lighthouse and the nature reserve and wetland. As Retirement Living PLUS development, it's exclusively for the over 70s and offers independent living with assisted living facilities on-site including a bistro which provides a range of tasty and healthy meals each day. As well as retirement homes for sale, this retirement development also offers shared ownership in Whitley Bay. Take a look around now.