Thinking about moving parents into assisted living? Here's 5 tips to get the conversation flowing
It's not a simple thing for your parents to acknowledge that they might need a bit of support from you, especially when they've been used to doing the looking after. But whether you're just starting to think about their needs or already find yourself caring for elderly parents, having a positive plan for their future will help all of you. You want to make their lives easier, happier and more independent in the long term – and the best way to achieve that is to talk to them openly about their options. Read our five tips on to how to talk to elderly parents about assisted living.
1. Prepare yourself for the talk
If you're contemplating moving parents into assisted living housing, it's likely that there's been a trigger – you've noticed they have health or mobility problems or you've found yourself caring for an elderly parent more often. You know you need to find a solution before these issues really start to take a toll. But how do you broach this tricky topic?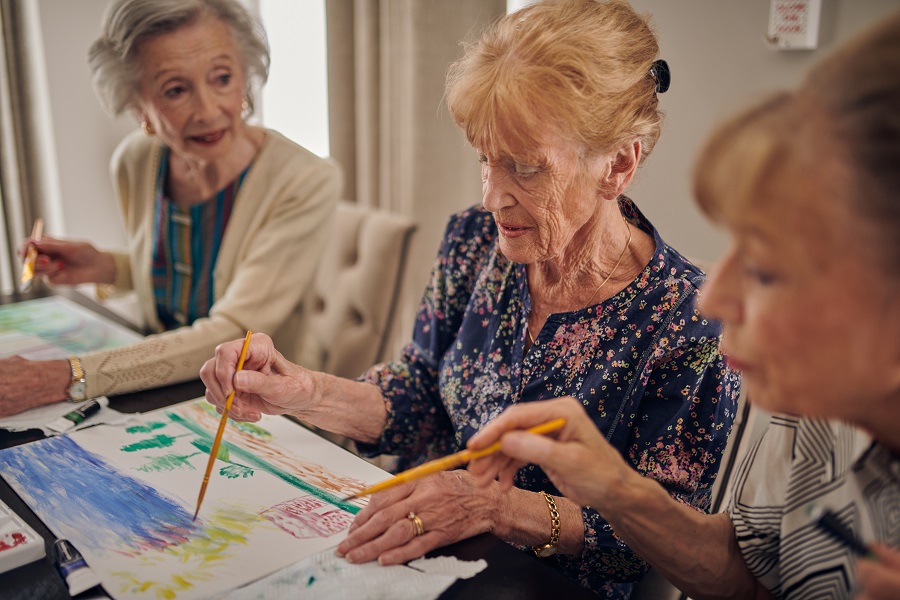 Do it sooner rather than later…
It may feel like there's never a good time to talk about help for elderly parents, but the sooner you start the conversation, the better it'll be for everyone. If your parents' housing is becoming unsuitable, for instance, it has steep stairs or it's cold in winter, it could be making their health worse. Likewise, maintaining a large home can be a lot of work. By having the conversation early, you give yourself and your parents more time to plan and it will give them the chance to enjoy the benefits of retirement living earlier too.

Write down your worries
What are you worried about? Whether you're anxious about a parent's health, wellbeing or that they're feeling isolated, making a note of your concerns can help you to articulate your feelings to them and to find solutions too.
Research the right help for elderly parents
Appropriate support can make a huge difference to your parents' quality of life.
"I am so pleased my Father moved here. Lovely community, ideally placed and has a safe, warm and friendly feel to it. I would also like to say a huge thank you to the Team lead by Lynn, they have been nothing short of excellent, kind, compassionate and fully supportive. Highly recommend."
Homeowner's daughter, Monument Place, Salisbury
2. Speak from the heart
Speaking to elderly parents about assisted living isn't always easy, but with the right approach they will at least understand that you're only trying to help. Start by explaining how you're feeling: 'I am worried that it's hard for you with all those stairs' and ask them how they feel, 'How are you managing with all the maintenance?'. Explain that you have been thinking about solutions that could help.
3. Keep calm and carry on
Make sure you're in a comfortable and calm setting. Remember the conversation may come as a surprise to your parents. They may feel that they're coping fine or start to worry that they're becoming a burden to you. Be empathetic. Reassure them that you just want what is best for them and that it's important that they are happy.
4. Really listen to their concerns
It's likely your parents have worries - or even misconceptions - about assisted living. Respect their opinions and talk through their fears. Listening carefully to and acknowledging their thoughts will help them feel supported as they come to terms with this new concept. Be upbeat about the benefits of assisted living too – fewer chores, an easier life, friendly neighbours and more time to do things they enjoy. Rather than this being a negative decision, the aim is to give them a new lease of life.
5. Give it time
It may take your parents time to process the idea of moving to an assisted living community, so be patient. Let them come to their own decision at their own pace and support them where you can. Offer to take them to a McCarthy Stone open day or event to get a feel for Retirement Living PLUS communities. If your parents find a property they like, they may be able to arrange an overnight stay on-site so they can 'try before they buy'.
Assisted living homes provide peace of mind
With a range of services on offer, our Retirement Living PLUS apartments give your parents the support they need to live a comfortable and independent life in a beautiful, safe and secure privately owned - or rented - home. An hour of cleaning or domestic support is included, but for an additional fee, our services can be tailored to support people if needed, whether that's help with hoovering, laundry, shopping, getting out of bed, shaving or more. Read about our independent lifestyle support services
Moving parents into assisted living with McCarthy Stone
Often the thought of the actual moving process can be a huge barrier to older people, but our experienced and friendly teams are here to make things much easier. We provide help for elderly parents at every stage including dealing with solicitors and estate agents. Part Exchange gives the option of a hassle-free house sale and our Smooth Move package offers financial support and free specialist removals including help with decluttering, packing and unpacking. There's even a handyperson service to help with things like putting up shelves and pictures once your parents are settled in. And they can bring their pet along too. Read our pet policy. With retirement homes for sale or rent in fantastic locations across the UK, you're bound to find the right one for your parents.
Want to know more? Browse our retirement properties near you, read our FAQS or get in touch with our friendly team.
Search for your perfect property