SHOW SUITE NOW OPEN.
Tuesday to Saturday, 10.30 - 5pm.
Make an appointment with our friendly Sales Consultant Paula and take a tour of the spacious one and two bedroom apartments and communal lounge. Find out about our purchase options including shared ownership.
Located next to some of the area's most desirable shops, this Retirement Living development is in a prime location for anyone who is over the age of 60 and wants to relocate to a scenic Hampshire surrounding. 24 stunning one-bed apartments and 18 two-bed apartments have been expertly designed to offer residents the utmost in comfort, style and functionality.
Residents will benefit from thoughtful design features in each apartment, such as raised ovens and plug sockets to save them from lifting or bending. Additionally, slip-resistant flooring and lever taps in the bathroom make for effortless use and added daily comfort. Tasteful decor and elegant touches create a luxury feel in each room, while a balcony will give residents an extra space to relax and make their own.
Ease of access is essential to this development and as well as having a dedicated scooter room, there are lifts to every floor. A dedicated House Manager will be on hand to provide residents with the organisation of social events and activities that they can be as involved in as much, or little, as preferred. For those who prefer something different, a lovely communal lounge and communal garden make an excellent place to kick back and relax with a cup of tea. There is also a stunning on-site landscaped garden, perfect for peaceful strolls in any season.
To ensure the safety of all our residents, this development has an intelligent video entry system and 24/7 emergency call system. Residents can also rest easy with the knowledge that the building has a dedicated management services team who provide excellent maintenance of the building, year round.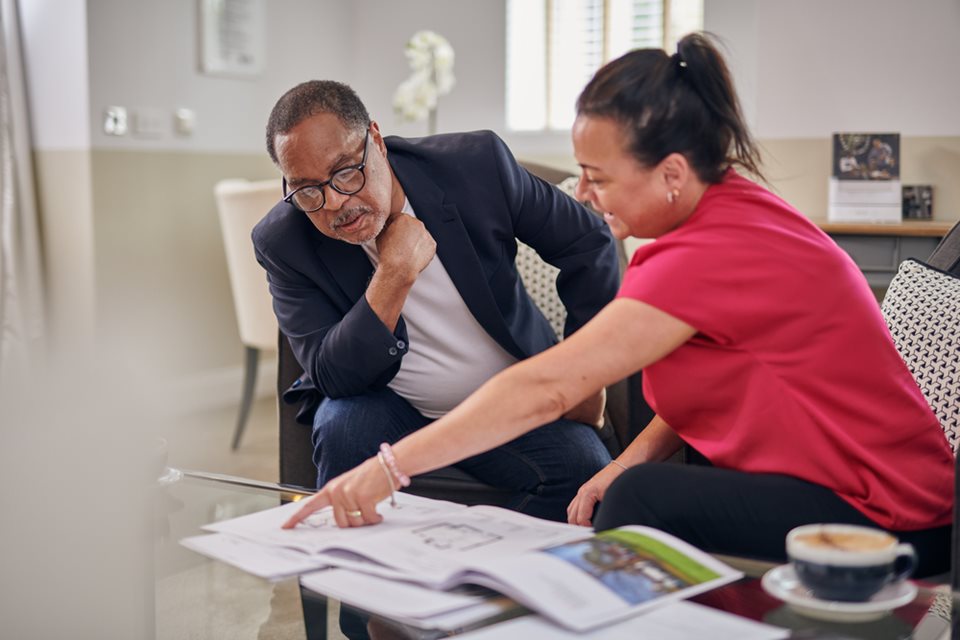 Get the 'off-plan' advantage!
'Buying off-plan' means buying a property around six months before it's finished. From first choice of features to early bird offers, there are loads of benefits.
Development Highlights
Close to Tadley Town Centre

Near Bishopswood Golf Course

Close to scenic fields and woodland

Stunning landscaped gardens and communal lounge

Dedicated House Manager

Pets are welcome
Key Features
Wheelchair access

Lifts to all floors

Camera entry system

Lounge Wi-Fi access

House Manager

Guest suite

Communal lounge

Mobility scooter room

Landscaped gardens
Interactive Site Plan
Our interactive site plan allows you to easily find available retirement properties. Click the tabs to view each floor. You'll see that one-bedroom homes are in yellow and two-bedroom homes are in purple. When you click on a property, you'll find out whether it is available for sale, rent or shared ownership, as well as pricing. Click on 'view property' to find out more. Retirement homes shown in red are already reserved, sold or rented out, but may be available on our Resales website.
Explore properties
Occupancy options
Found a property that takes your fancy? Find out more about the practical details including information on service charge and FAQS.
The properties at this development are leasehold properties with a term of 999 years from and including 16/06/2023
You can buy part of your home and pay rent on the rest, so you can move in and enjoy the benefits of the McCarthy Stone lifestyle without committing to outright purchase. The Shared Ownership scheme is run in conjunction with Homes England, our government approved partner.
Electricity, heating and lighting (communal areas)

Water and sewage (communal areas and apartments)

Maintenance of building and gardens

Building insurance

Development staff

Future maintenance fund

Professional fees

Emergency call system

Income to guest suites and sundry income
What's not included?
Electricity, heating and lighting (apartments)

Home and contents insurance

Council Tax

Phone / broadband

TV licence / TV service
You can enjoy the McCarthy Stone lifestyle without paying the full purchase price.
Buying a percentage share of the property allows you to manage your finances to cater for possible future needs.
If you buy 75% of the value of the property, there is no rent to pay on the outstanding share.
If you buy 50% of the value of the property, you will pay rent on the outstanding share.
You could claim up to £500 a year to help with essential repairs in the first 10 years.
With this scheme, you can purchase up to 75% of the value of your property – and if you own 75%, you won't pay any rent on the outstanding 25% share. It provides a more affordable way to buy one of our retirement properties.
What is Shared Ownership and who are Homes England?
Shared Ownership is when you buy part of your property and rent the rest. It enables customers to enjoy a McCarthy Stone property without committing to purchase 100% of the property value. Homes England is the government approved provider of Shared Ownership schemes which enables us to deliver the ownership option. They regulate rental charges and fees applicable to the homes within this scheme.
Is Shared Ownership available at all your locations?
No, Shared Ownership is available at selected developments and exclusions do apply. Speak to a Sales Consultant to find out more.
Who will own the share of the property I don't buy?
McCarthy & Stone (Shared Ownership) Limited will become your landlord on the share you don't buy.
Do I need financial advice?
Before entering into the Shared Ownership agreement, we recommend that you obtain independent financial advice so you know what your new home will cost and that you can afford it.
Will a financial review be needed?
If you take up our Shared Ownership offer, we require you to have a financial assessment with an Independent Advisor to make sure you can afford the ongoing costs both today and if your circumstances change. We will put you in contact with an advisor who has experience of Shared Ownership schemes and can assess your eligibility.
What will it cost upfront?
You should plan for some one-off costs associated with your purchase, including, but not limited to the following:
• Reservation deposit (which is deducted from your final purchase)
• Solicitors Fees and disbursements
• Stamp Duty Land Tax (SDLT) in England.
Your solicitor will be able to tell you if the tax applies and how much it will be
• Estate Agent fees if selling a current property
Can I purchase a parking space?
Car Parking spaces are available at some developments. Please ask the Sales Consultant for more details.
What does the £500 essential repairs include?
This covers items in the home that supply water and electricity such as basins, baths, toilets and also cables, but not fixtures, or appliances such as ovens or washing machines. Pipes and drainage items for heating and hot water are also included.
You can buy properties on this development. If you'd like to own your retirement property, we can help make the move as stress-free as possible, including support with packing and removals. If you have a home to sell, we can even act as a cash buyer, so you'll avoid chains and estate agent fees.
Electricity, heating and lighting (communal areas)

Water and sewage (communal areas and apartments)

Maintenance of building and gardens

Building insurance

Development staff

Future maintenance fund

Professional fees

Emergency call system

Income to guest suites and sundry income
What's not included?
Electricity, heating and lighting (apartments)

Home and contents insurance

Council Tax

Phone / broadband

TV licence / TV service
Is it more expensive to live in one of your apartments than my current home?
Many of our homeowners are pleased to find that the service charges for their apartment tend to work out at less than what they were paying in like-for-like costs at their previous property.

Energy bills often turn out to be lower thanks to the modern construction methods we use at all our developments. Your new apartment is also likely to be a more manageable size and so cheaper to run.

When Customers discuss the purchase of a McCarthy Stone apartment with us, they receive a service charge leaflet and our Sales Executive sits down with them to help them fill in the costs, review what is covered in the management services and compare them to day-to-day running costs in their current home. Our Sales Executive ensures that they have a detailed knowledge of ongoing costs before a sale is completed
How long from putting down a deposit do I have to purchase the apartment?
Usually this can take between 12 to 16 weeks. We understand that some customers may have a time period that will more suitable for them and we aim to be as flexible as we can.
Do you offer Part Exchange?
Yes. If you want a quick, simple way to sell your home and move into one of our retirement properties, then Part Exchange could be the answer. For more information please click here.
We have an expert resales team for people selling our retirement properties, with an extensive database of customers waiting to move in. This helps us to sell faster and at a better price than traditional estate agents. On average the McCarthy Stone Resales team achieve a net price increase on the retirement properties they sell. For example, for properties bought new in the last three years and since resold, the net increase averages 6%. View resale retirement homes.
Video
About Retirement Living at Yelland Place, Tadley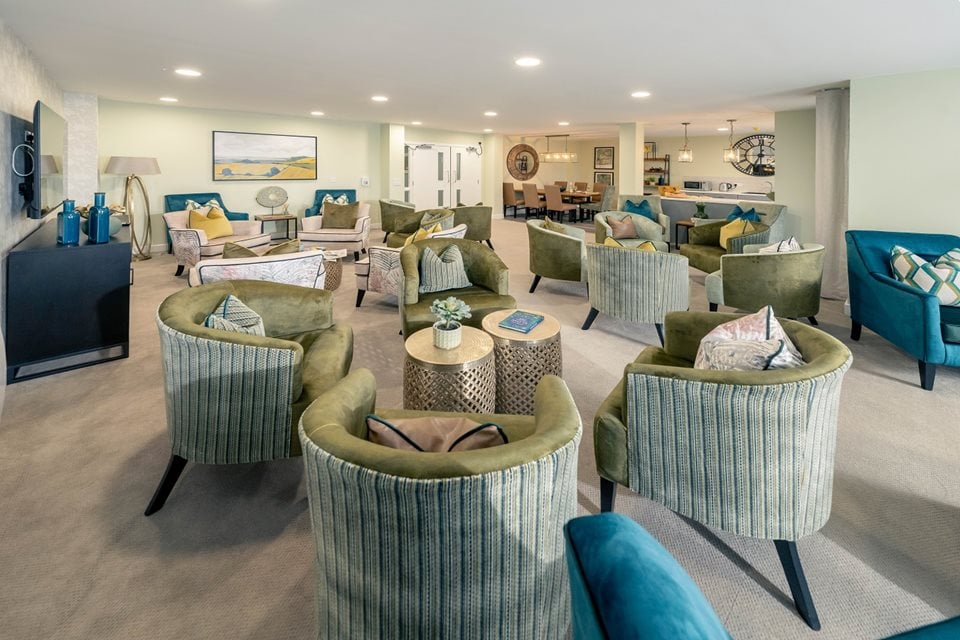 Send me a brochure
Tell us how you would like to receive your brochure: by Email, Post or PDF download.
Send me a brochure
Join us at one of our events
You're invited to take a tour!

46 New Road, Tadley, Hampshire, RG26 3AN

Take a tour around our stunning new show suite including the spacious one and two bed apartments and communal lounge.

Discuss the purchase options including shared ownership with Paula, our friendly Sales Consultant.

Show suite open Tuesday to Saturday 10:30am to 5pm.

Book your tour today on 0800 201 4811.

Welcome Wednesday

Every Wednesday

Next event: 6th Dec

Yelland Place, 46 New Road, Tadley, Hampshire, RG26 3AN

Come and experience life here at Yelland Place. Join us for coffee and light refreshments in the communal lounge and discover the McCarthy Stone lifestyle.

You'll meet the lovely Paula and while you're here, you may wish to take a tour of our stunning show apartments. Feel free to bring your family and friends along too.

Call 0800 201 4811 or book below by filling out a quick form.

You're invited to our Christmas Open Week!

Yelland Place, 46 New Road, Tadley, Hampshire, RG26 3AN

Come and join us for our Festive Open Week! We're opening up our apartments for you to come and view with a mince pie and a hot drink. If you take a tour, you'll also be treated to a box of chocolates by artisan chocolatier Chococo.

As always, friends and family are more than welcome, so bring them along as well!

Spaces are limited, book your place today on 0800 201 4811 or fill out the form below.

You're invited to our Sparkling Opening Event!

Yelland Place, 46 New Road, Tadley, Hampshire, RG26 3AN

We'd love to see you at our Sparkling Opening Event for Yelland Place.

We'll welcome you with drinks, then sit back and enjoy tasty nibbles and fabulous entertainment from a leading jazz vocalist.

Our Team will be on hand if you wish to take a tour of the stunning one and two bed apartments.

Spaces are limited so book yours today on 0800 201 4811 or fill out the form below.
THE LOCAL AREA
Living in Tadley
Positioned in the scenic countryside of Hampshire and just a 12-minute drive to Basingstoke, Tadley is a bustling village with rural qualities and plenty to do. Developed in the 1950s and 60s to accommodate an influx of new residents, Tadley has a peaceful, laid-back feel and a strong sense of community.
Just east of Tadley and a 10-minute drive away, visitors will find the remarkably well-preserved remains of Calleva Atrebatum, a once-important Roman town. Thanks to its excellent location and the fact that it has never been built over, it has been subject to decades of archaeological investigations, revealing a surprisingly in-depth portrayal of Roman Life. Continuing the historic sights that surround Tadley, a Tudor mansion, The Vyne is also close by. This National Trust property is a glorious example of Tudor architecture, tapestries and gardening, and it has plenty of seasonal activities and things for every age to do.
Closer to home, Bishopswood Golf Course is just a 2-minute drive from this development and is a striking 9-hole course carved through the natural woodland and peaceful water hazards of the area. There are plenty of countryside walks nearby too, with a variety of cosy local pubs to recharge in, dine in and enjoy a relaxed drink (or two) in.
This development is tucked away in a residential hub, with a surgery next door and Tadley Pool just down the street. Koala, the local convenience shop will provide residents with essentials, while a 15-minute walk or 2-minute drive down to the road will take them to a large Sainsbury?s. There are also some lovely places to dine next to Sainsbury?s, including a charming cafe, while the public library is located here too.
Conveniently situated close to these local amenities:

Cafe

Doctors

Sainsbury's
Our Tadley development is located only 600 feet from a convenience store. Slightly further afield, you'll find a wider range of shops, supermarkets and eateries.
For sports fans, Tadley Health and Fitness can be reached in only 0.2 miles. You'll find a range of exercise classes, a gym and a swimming pool available here. Also, Bishopswood Golf Course is just 0.9 miles from the development.
Getting to Location
If you are using a Sat Nav system you may need the full address of this development. The postcode may be newly created by Royal Mail and may not be accurate for some months.
Our people
The Team at Yelland Place Working For McCarthy and Stone is so rewarding. I have the pleasure in guiding and supporting our Homeowners through their journey from start to finish. My job gives me the opportunity to have a positive impact on their lives and make a difference everyday.