Baby grand piano brings music to retirement homes in Edgbaston
Music fills Ryland Place, an assisted living development for the over 70s in Edgbaston thanks to a homeowner who moved her baby grand piano into the lounge.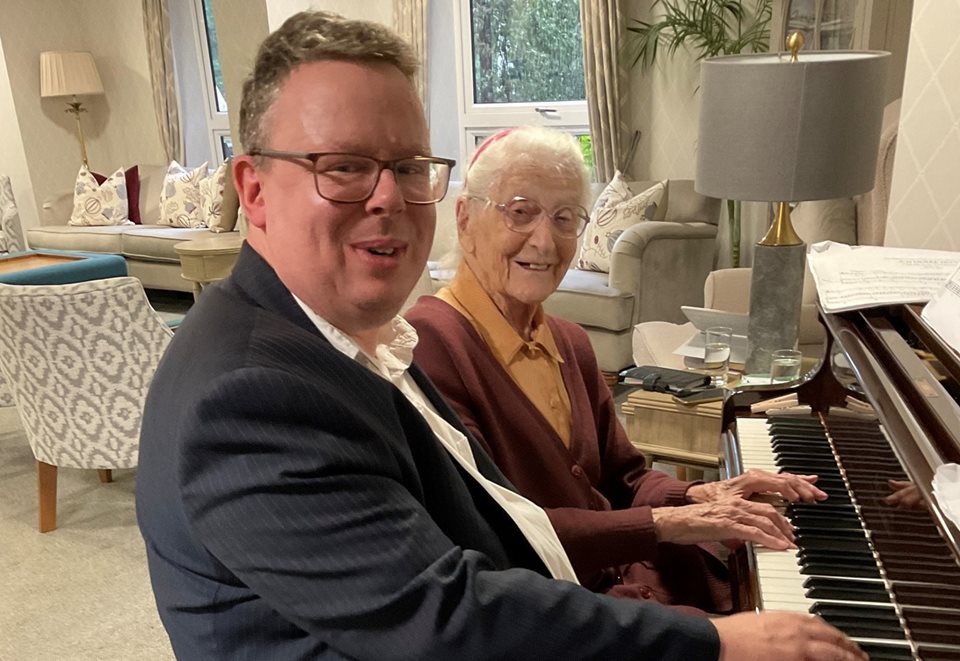 When Rosemary Chrimes, a retired lecturer and ex-Olympic athlete, decided to downsize to Ryland Place in December 2021, she couldn't bear to part with her baby grand piano, which had belonged to her late husband, Brian.
So she asked the Manager Sharon Clark whether it would be possible to keep the piano in the communal lounge - and it has now become the centrepiece.
Rosemary says, "it fills me with such joy to see it each and every day. But better than that, it is so heartwarming to see how it has brought all the homeowners that bit closer together. I'll start to play and notice others gather around and listen, which reminds me of when I used to play, and my late husband would come and sing by me with his lovely singing voice."
Sharon observes that it's "been so lovely to see the joy the piano has brought to the entire development. The team and I think it was so incredibly thoughtful of Rosemary to gift the piano to the shared lounge."
Rosemary adds, "The piano has become a great way for us to all reconnect with our love for music and has bought us closer together. We share and perform our favourite songs, although my favourite, 'The Bonnie Banks o' Loch Lamond,' sometimes lowers the mood, however beautiful the Scottish tune is. I also have a brilliant piano teacher who visits the development and invites his musician friend from the ballet school to often perform for us, which has been a real treat."
Rosemary has been having weekly piano lessons with Mikael Petersson for over 22 years, making her one of Mikael's longest standing students.
Along with teaching students, like Rosemary, Mikael is the Head of Accompanying and Royal Birmingham Conservatoire Pianist Placement Scheme Coordinator at Elmhurst Ballet School in Birmingham. Mikael often invites musicians to join him to perform for the homeowners.
Mikael comments, "I now create a monthly concert for the homeowners. They are always well-attended, and we get some amazing participation from the homeowners."
He continues, "It has been a privilege to be a part of the community at Ryland Place, there are so many kind and interesting individuals that make it, from both staff and residents."
Rosemary adds, "With me being a widower and my family all grown up, there was no point living in a big house anymore, so I moved into my apartment for the support I knew I'd get if I needed it and I feel safe here. I've enjoyed getting to know the staff and the other homeowners and am as sociable as ever. I'm also fortunate to see my twin sons, their partners and grandchildren plenty, and they love visiting the apartment."