Portland Grange is a stunning McCarthy Stone Retirement Living development in the attractive town of Leek, close to the town centre, local amenities and transport links. With just 20 one bedroom and 29 two bedroom apartments available, residents can enjoy being part of a close-knit community.
We ensure the security of our residents throughout the development, with camera entry systems, intruder alarms in all apartments, and an on-site House Manager. We also ensure safety and peace of mind, with smoke detectors fitted in all homes and communal areas, as well as a 24 hour call system and lifts to all floors for easy access.
Every high quality apartment is fitted with a thoughtfully designed kitchen including a fridge freezer, oven, hob and hood, as well as telephone and television connection points in the living room and main bedroom for an easy set up. All windows are double glazed for energy efficiency and warmth. Some apartments have a walk-in wardrobe and an en-suite as additional features.
Residents at Portland Grange enjoy access to the entire complex, including the landscaped gardens with seating areas, a Mobility Scooter Store, sociable Communal lounge with Wi-Fi, and the exclusive roof top terrace - perfect for catching some sun and admiring the views over Leek. There's also a Guest Suite available for visitors to spend the night.
Leek is located close to the Peak District and Staffordshire Moorlands, half way between Stoke-On-Trent and Macclesfield. An attractive town with plenty of character, Leek has a wealth of independent shops, cafes and restaurants.
Development Highlights
Located close to town centre and amenities

Communal lounge opening to roof terrace with views over Leek

Communal lounge with access to beautiful, landscaped gardens

Communal craft and hobby room

Privately gated with parking

Guest suite for friends and family
Key Features
Roof terrace

Intruder alarm

Camera entry system

House Manager

Guest suite

Communal lounge

Landscaped gardens

Car parking

24/7 call system
Virtual Tours
See for yourself what Portland Grange has to offer with virtual tours of our one bedroom apartment, two bedroom apartment, Communal area and Guest Suite. To get the best experience click the full screen icon with the four arrows below in the bottom left menu bar.
Interactive Site Plan
Our interactive site plan allows you to explore the properties on this retirement development. Click on the arrows to switch between floors. Properties in green are available and those in red are already reserved, sold or rented out. When you click on an available property you can see information about the sales and rental prices (all rental prices include service charges and ground rent). From there you can click through to the property page to get the full details.
Featured Properties
Great Homes for Sale and Rent
Explore properties:
Occupancy options
Found a property that takes your fancy? Find out more about the practical details including information on tenure type, service charge and FAQS.
You can buy properties on this development. If you'd like to own your retirement property, we can help make the move as stress-free as possible, including support with packing and removals. If you have a home to sell, we can even act as a cash buyer, so you'll avoid chains and estate agent fees.
Electricity, heating and lighting (communal areas)

Future maintenance fund

Water and sewage (communal areas and apartments)

Professional fees

Maintenance of building and gardens

Emergency call system

Building insurance

Income to guest suites and sundry income

Development staff
What's not included?
Electricity, heating and lighting (apartments)

Home and contents insurance

Council Tax

Phone / broadband

Ground rent

TV licence / TV service
Will costs increase after I move in? How are budgets set?
Our service charges are fixed on an annual cycle and reflect the costs of the services we procure on behalf of our homeowners.

We share the individual costs that make up the service charge with homeowners and outline the methods for calculating the resulting charge. The service charge for each year is agreed in consultation with homeowners through an open book budgeting process.

We do our very best to negotiate the best cost with third party service providers on behalf of our homeowners. As part of our system of checks and controls to ensure they are treated fairly, we regularly monitor service charges in our managed schemes against current market practices and third party providers to ensure we offer competitive rates. We have developed a simple chart to help Customers make a direct comparison for use during the sales process and a full breakdown of the service charge budget is available from our Sales teams and House Managers at all new developments
Is it more expensive to live in one of your apartments than my current home?
Many of our homeowners are pleased to find that the service charges for their apartment tend to work out at less than what they were paying in like-for-like costs at their previous property.

Energy bills often turn out to be lower thanks to the modern construction methods we use at all our developments. Your new apartment is also likely to be a more manageable size and so cheaper to run.

When Customers discuss the purchase of a McCarthy Stone apartment with us, they receive a service charge leaflet and our Sales Executive sits down with them to help them fill in the costs, review what is covered in the management services and compare them to day-to-day running costs in their current home. Our Sales Executive ensures that they have a detailed knowledge of ongoing costs before a sale is completed
Do I need to pay ground rent, how much is it and how is it set?
Ground Rents are fixed for 15 years. They are reviewed on the fifteenth anniversary of the date of commencement of the term and each successive fifteenth anniversary from that date. Increases are linked to either the movement in the Retail Price Index (RPI) since the last review, or if greater, by 2% per annum, and is compounded yearly.
There are differences between one and two bed apartments. McCarthy Stone sets the difference at a figure which it considers fairly reflects the size difference in apartments. While it would be possible to base the difference on actual square footage, this would be a complicated exercise and would lead to minor variations in ground rents between comparable apartments within any given development which would be administratively complex and could cause confusion.
The ground rent does not increase after the 125th anniversary even though our new leases are for a term of 999 years.
In January 2021, the Government announced plans for removing ground rents for all new retirement properties. These proposals have not become law and the Government is not proposing to make them retrospective. As these are proposals there will be no immediate change to how we sell our apartments, but this may change in the future.
Do your service charge budgets proposed at the start of the year prove to be accurate?
The service charge budgets represent those costs that would be expected to be incurred in a normal year of operation with a full development. It is the intention of McCarthy & Stone Management Services to ensure the service charge budgets are set as accurately as possible. Where possible, we try to keep annual increases in line with inflation although certain costs such as Utilities can have inflationary pressures that are outside of our control. Typically, our developments have shown a slight surplus to date, which is refunded each year to homeowners within six months of the end of the period.
Are there any fees that are payable on selling or letting?
It is important that customers do not face any unexpected financial burdens in their new home resulting from, for example, the need to undertake any major refurbishment or structural repairs on the development. In order to provide confidence that there is enough money available to meet this work, the service charge includes a small charge to help cover unexpected costs such as these. This is called the Contingency Fund, and is similar to a 'sinking fund'. It is a specific fund kept in the development's own bank account. It is held in trust and its use is restricted to the maintenance of that development and cannot be accessed by McCarthy Stone. It is there for the benefit of all homeowners and finances the replacement of carpets and furniture in the shared areas and longer-term repairs and renewals such as roofs, window frames and replacement of lifts.

In order to keep this weekly cost – and hence the service charge – to a minimum, the development's specific Contingency Fund is 'topped up' by a one-off charge of 1% of the resale price upon the sale of the apartment, in addition to a small charge in the service charge.
With regard to subletting on leases prior to October 2014, we will charge a concessionary rate (irrespective of the provisions in the lease, which may be higher) of one month's rent for each year that the apartment is sublet (or pro-rata for less than a year).

This is a concession from the terms of the lease which are in essence one month's rent for each six month sublet period. This concession will apply for a maximum period of two years, after which time we will revert to the terms of the lease.

For leases from October 2014, the subletting contingency fee has been reduced to a contingency fee of 1% of the annual rent (or pro-rata for under-letting of less than one year). Where the underletting is for more than a year, the contingency fee is 1% of the annual rent payable annually on the anniversary of the commencement of the term.

There is also a small administration fee collected by MSMS / YLMS to cover their costs to check that the incoming occupier meets the terms of the deed of conditions (i.e. meets the age criteria and is capable of leading an independent life) and provide information about the development, the service charge and insurance. Contact our Property Transfer team on 01202 508299 for more details.
We are determined to provide positive resale values and to this end, we have changed dramatically since 2010 to make a big difference to our products and services. We have a dedicated resales team to deal with all future resales and to achieve the best prices, we also maintain an extensive database of prospects who are looking to buy our properties in the desirable areas we have located ourselves in over the past four decades.
You can rent a retirement home on this development. Renting is an easy, flexible and quick way to enjoy life in a McCarthy Stone community. While for some it's a chance to 'try before you buy', you'll benefit from long term security too. Did you know? Our retirement rental prices include the service charge and ground rent.
Communal area costs inc. electricity, heating and lighting

Future maintenance fund

Water and sewage (communal areas and apartments)

Ground rent

Maintenance of building and gardens

Emergency call system

Building insurance

Active social calendar of events and exclusive discounts

Dedicated on-site team
What's not included?
Electricity, heating and lighting (apartments)

Phone / broadband

Council Tax

TV licence / TV service

Home and contents insurance
What is an Assured Tenancy?
Assured Tenancy means that you agree to rent the property for a minimum term of 12 months, but after that you can leave at any time as long as you give two months written notice. We can't ask you to leave unless you have broken the terms of the agreement.
I want to rent. What checks do you carry out and what do I need to prepare?
We'll ask you to complete a Rental Application Pack and an Income and Expenditure form to get the information we need to do standard background checks. You'll be asked for proof of income, savings and/or pensions, along with copies of your last three months' bank statements. You'll be asked to provide identification documentation that complies with the latest Government Right to Rent regulations – our sales consultants will talk you through what you need.
Do I need to pay a reservation deposit?
Yes, you will need to pay a small refundable reservation deposit to reserve the property. You will also have to pay a security deposit equivalent to five weeks rent when you move in.
What do I have to pay before moving in?
Before you can move into your property, you will need to pay the first month's rent together with your security deposit, minus the reservation deposit you've already paid.
The security deposit is equivalent to five weeks rent. Don't worry, we'll make sure you know the exact amount you need to pay in plenty of time.
McCarthy Stone is part of the Tenancy Deposit Scheme, membership number G10625. Download the Tenancy Deposit Scheme leaflet.
What date are rental payments due?
All rental payments are due on the 1st of each month and must be paid by direct debit. Your rent includes all of the development's service charges, ground rents and property maintenance.
You have the option to part buy, part rent your retirement property. It's an affordable way to enjoy all the benefits of our retirement apartments without committing to the full purchase price. If you want more financial flexibility, this could be the right option for you.
It's an affordable approach to owning a stunning new retirement home:
You may be able to access cash tied up in your existing property (known as 'equity release')
You can choose to buy a bigger percentage of the property in the future – this reduces the rent you pay
If you want, we can buy your existing property as a part exchange
You'll be eligible for our free Smooth Move removal service, plus a contribution to legal and estate agent fees
The rent is set at the point of purchase. Annual rent review on the date specified in your lease will be indexed to movements in the Retail Price Index (RPI) subject to a minimum 0.5%. RPI has been in the range c.1-4% since 2013 and was 3.3% in March 2018. 3.3% is equivalent to an extra £1.98 per week for typical rent of £60 per week.
What is Part buy, part rent?
A flexible, affordable alternative to outright purchase, with all the benefits of ownership. For more information call: 0800 201 4811
How it works
You purchase a minimum 50% share in a brand new McCarthy Stone retirement property and pay rent on the part you don't own.
Benefits include:
It's an affordable approach to owning a stunning new retirement home
You may be able to access cash tied up in your existing property (known as 'equity release')
You can choose to buy a bigger percentage of the property in the future – this reduces the rent you pay
If you want, we can buy your existing property as a part exchange
You'll be eligible for our free Smooth Move removal service, plus a contribution to legal and estate agent fees
Is private shared ownership available at all McCarthy Stone developments?
No. This offer is available at selected McCarthy Stone developments, so make sure you check with the sales team on site.
What % of the property do I have to purchase?
70% is the standard option – there are options to increase this over time, known as staircasing.
What is staircasing and how does it work?
What further costs and fees are involved You can purchase further 10% increments, based on valuation at that point. You can staircase to 100% at which point the property would be wholly owned. You would stop paying rent, but service charges and ground rent continue to be payable to McCarthy Stone.
Each time you staircase you need to plan for additional costs such as valuation fee, legal expenses, SDLT*/LTT** if applicable.
*Stamp Duty Land Tax **Land Transaction Tax (LTT) has replaced SDLT in Wales from April 2018
Do I pay Stamp Duty Land Tax (SDLT) or Land Transaction Tax (LTT) on a private shared ownership property?
You will need to pay SDLT*/LTT** on a private shared ownership property, but you may have less to pay than if you had purchased outright. You should seek advice from your solicitor to confirm how much SDLT you have to pay.

*Stamp Duty Land Tax **Land Transaction Tax (LTT) has replaced SDLT in Wales from April 2018
How much rent will I have to pay and how will that change over time with rent reviews?
The rent is set at the point of purchase. Annual rent review on the date specified in your lease will be indexed to movements in the Retail Price Index (RPI) subject to a minimum 0.5%. RPI has been in the range c.1-4% since 2013, and was 3.3% in March 2018. 3.3% is equivalent to an extra £1.98 per week for typical rent of £60 per week.
Video
Living at Portland Grange
Send me a brochure
Tell us how you would like to receive your brochure: by Post or PDF download.
Send me updates
Upcoming events
Come and Visit Us
Summer Garden Party

Portland Grange, Portland Street, Leek, ST13 6LY

Join us at our Summer Garden Party on Wednesday 7th July from 1pm until 3pm.

You'll be treated to drinks and nibbles hosted out on the terrace at Portland Grange. Throughout the afternoon you will have the opportunity to take a guided tour of our beautiful show apartments and the stunning communal facilities and meet our friendly community who are the heart of this fabulous development.

Don't miss out, call 0800 201 4811 to book your place today.
THE LOCAL AREA
Living in Leek
Leek is an ideal location for retirement, close to the stunning countryside of the Peak District and boasting plenty of local pubs, cafes, shops and attractions. The town centre has a traditional feel, with cobbled stones and many attractive historic buildings.
Leek is a market town, and hosts a range of markets to this day. The general outdoor market is held every Wednesday, while the indoor market takes place Wednesday, Friday and Saturday each week. Saturday also hosts an outdoor antique and collectors' market, and once a month on a Saturday the ancient marketplace holds an award-winning fine food event.
Leek hosts several popular annual events, including Leek Art Festival, Leek Blues & Americana Festival, and Leek District Show, which are attended by residents and visitors of all ages.
There are a number of historic local attractions in and around Leek, including Brindley's Mill - a mid-eighteenth-century water-powered mill which was owned by James Brindley, a canal engineer. Cheddleton Flint Mill and Churnet Valley Railway are also interesting exhibits of the area's industrial heritage.
For those who enjoy the outdoors, a trip to Rudyards Lake is well worth a visit, where fishing and walking are popular in the picturesque setting. A rocky outcrop known as The Roaches promises panoramic views over the area, while Tittesworth Reservoir is one of Staffordshire's most popular tourist attractions.
The town is situated ten miles north-east of Stoke-On-Trent, and has a comprehensive bus service, connecting residents to surrounding towns and villages like Stoke, Macclesfield, Ashbourne, Cheadle, Buxton and Hanley. There is a bus stop only 0.1 miles from the Retirement Living development.
Leek Facts:
10 miles
from Stoke-on-Trent
Conveniently situated close to these local amenities:
Cafe Boutique
Hair Lounge
Leek Library
A Hurd
Leek is an attractive town surrounded by natural beauty. The Staffordshire Moorlands are nearby and the Peak District is just 2.5 miles away.
The development has a wealth of amenities within the vicinity. It's 0.2 miles from Stockwell Street, which is in the heart of the town centre. Here, you can find plenty of independent shops, supermarkets, cafés and restaurants.
Getting to Location
If you are using a Sat Nav system you may need the full address of this development. The postcode is newly created by Royal Mail and may not be accurate for some months.
Offer
Offers Too Good To Miss
Spotlight Property - Apartment 47

Apartment 47 is our last available top floor property at Portland Grange. This beautiful two bedroom apartment is ideally located for easy access to the stunning top floor lounge and roof terrace, a perfect combination for the coming summer months.

The light and airy lounge offers views over the Roche Hills, as does the kitchen which is thoughtfully designed with a range of integrated appliances. The master bedroom boasts a walk in wardrobe plus an en-suite shower room meaning your second bedroom can be used an ideal space for guests, or even a quiet study.

The shower room is completed with modern tiles, an illuminated vanity and slip resistant flooring.

What's more if you reserve and legally complete on Apartment 47 at Portland Grange on or before 31st July 2021 and you'll receive £10,000 off the list price.

Don't miss out on this stunning property, call 0800 201 4811 to arrange your viewing.
Our people
The Team at Portland Grange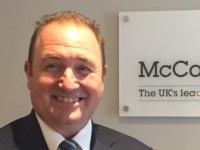 Over 25 years in property related business such as Estate Agency, New Homes, Land and Retirement Living. Very much customer focused throughout career and enjoys the personal touch with McCarthy & Stone, helping all homeowners through the process from purchasing to settling in.
Please note that images are for illustrative purposes only. Images may include upgrades and optional extras which may be available for you to purchase at an additional cost. Please click here for further explanations. Floor plans and pricing are accurate at time of publication. Floor plans are for guidance purposes only and are subject to change. Prices may fluctuate depending on market conditions and availability.