Welcome Dermot and Sue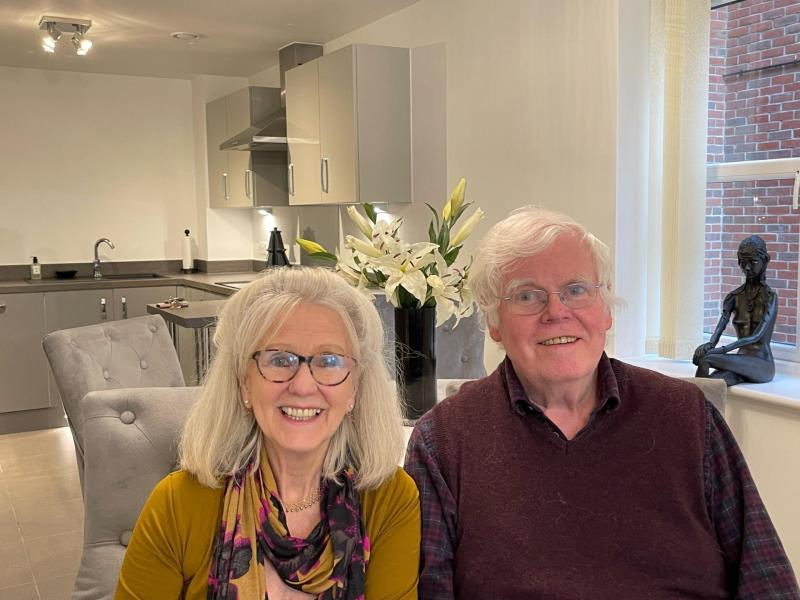 When Twyford retirees, Dermot and Sue Bradley, made the decision to downsize from their five-bedroom house after 15 years, they found the comfort they were looking for at McCarthy Stone's Twyford retirement living development, Loddon House.
Fast forward to today, and Dermot and Sue are enjoying spending time in their new home. Dermot adds: 'We definitely have no regrets about moving into Loddon House. We had to go back to our old house a couple of weeks after moving to pick up something we'd left behind, and we didn't miss it at all. I'd 100 per cent recommend downsizing into a McCarthy Stone property – you won't look back.' Loddon House has been carefully designed for the over 60s to provide the very best in independent living within a safe and secure environment, with the opportunity to benefit from companionship when desired, as well as privacy when needed. The running of the development is overseen by a House Manager, and, for added peace of mind, there is also a 24-hour call system and camera entry system. Facilities include a spacious communal lounge and stunning landscaped gardens. Over 50 per cent of apartments have now been sold at Loddon House, with rental and part-buy part-rent options also available.
Dermot, 76, says: 'We had been living in our detached house for many years – it is a large house with a big garden. As we are getting older, it was beginning to become difficult to maintain the upkeep ourselves, so we wanted to move into a more low-maintenance home. We had searched on and off for a new apartment for several years, but when we saw Loddon House, we thought it was perfect for us. We loved the location, our apartment was fitted with high specification fixtures and fittings with adequate storage space, and there was also a team of experts to help take care of us.' When the time came for Dermot and Sue, 75, to move into their apartment, the couple took advantage of McCarthy Stone's part exchange scheme, which made the move easier for them. 'It was a huge amount of help,' Dermot says. 'Moving can often be stressful, so using the part exchange scheme made everything run so much smoother. We didn't have the bother of estate agents and prospective buyers coming to view our house and didn't need to worry about any chains collapsing either. 'We were able to complete the sale within three weeks and move in within five, which is testament to the sales team at McCarthy Stone. They truly put our minds at ease and made the whole process really seamless – I don't know what we would have done without them'.