'Golden Girls' bond at their retirement homes in Standish
Anne, Pamela and Rita found that their friendship flourished the moment they met at McCarthy Stone's Retirement Living development, in Standish, Wigan.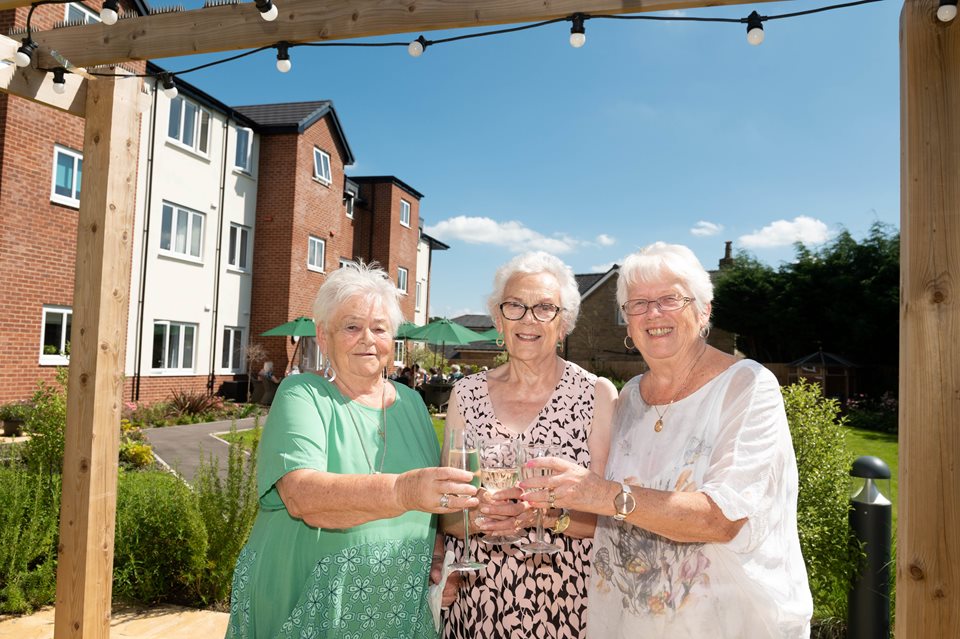 'Golden Girls', Anne, Pamela and Rita – aged 82, 80 and 88 respectively – have becomes best friends since moving to independent living apartments in
Brideoake Court
in
Greater Manchester
a year ago.
"We've always felt so comfortable with one another. As soon as we met, we felt an instant connection," shares Pam.
Joined at the hip, the trio enjoy going out for lunches and dinners, but it is each other's company that they value most.
Rita comments: "It's not very often that we're ever apart. We can chat for hours on end without ever getting bored - the time simply flies when we're together.
"We love going out, but just being in each other's company is enough for us all. We've all become incredibly close and it's such a lovely feeling."
"Brideoake Court is such a fantastic place to live. There's a great sense of community spirit and camaraderie, whereby we all do our bit to take care of one another. Whether that's checking in when someone is feeling under the weather, attending doctors' appointments together, or providing a lift if someone is unable to drive, we can always rely on each other," tells Pam.
"One of the things I love most about Brideoake Court is that it offers the best of both worlds, meaning you can be involved in as much or as little as you like. I was worried I'd be quite lonely when I first moved here, but that couldn't be further from the truth," says Pam.
Pam, who moved from Bolton to Brideoake Court to be nearer her daughter, adds: "My apartment is beautiful, and the layout is fantastic. It's got a real wow-factor to it!"
"There's always something to do. Gemma, our lovely House Manager hosts a number of exciting events, from cheese and wine evenings to a Wimbledon-themed afternoon with strawberries and cream. I'm so thrilled to call it home."
Describing the move to Brideoake Court as 'the making of her', Anne says she has found a new lease of life.
"The move has done me a world of good. It's so handy having everything on site or nearby, not to mention that my social life is better than ever. My own family are even jealous, as they can rarely get hold of me, as I'm always out and about."
"I live with my dog, Ollie. He's such an important part of my life and everyone here loves him too, – he's the centre of attention."
More time to enjoy doing the things they love is just one of the many perks that Anne, Pam and Rita have benefitted from as a result of their decision to downsize.
Situated just off the high street, Brideoake Court is ideally located to take advantage of all the local delights, including several eateries, boutiques and international food houses.
Rita tells: "The location is simply perfect. We have everything we need right on our doorstep, including a great bus and taxi service, as well as a host of lovely shops. I've even given up driving because of how convenient it is. Without a doubt, this is the best move I have ever made."
Anne says: "We recently hosted a joint birthday party at the development, where we enjoyed a glass of wine and a delicious food spread. I encouraged everyone to come along and sample some haggis, as many had never tried it before, and now they want me to do it every year!"
"We had a great time arranging the party together, and not only did it bring the three of us closer together, but it also brought the entire community closer together," adds Pam.