Queen's Platinum Jubilee: The cost of the royal property portfolio
The Queen's Platinum Jubilee is here. A feeling of national celebration is in the air and naturally, the royal family and all its prestigious history is in our minds. Here in the UK, with our varied landscape of towns and cities, vast countryside and nature, we're surrounded by extravagant royal architecture and endless tales of history.
There's Windsor Castle, a breath-taking fortress constructed in the 11th Century after William the Conqueror and the Normans' invasion of England. Still standing in all its glory today, it truly is a sight to behold. Windsor Castle is so grand, vast and opulent that when a fire which destroyed 115 of its approximately 1,000 rooms in 1992, it required a painstaking recovery effort to restore just over 10% of its structure. Kensington Palace, the current residence of the Duke and Duchess of Cambridge, would cost an estimated £558.2 million if it were up for sale in its entirety. And who could forget Buckingham Palace? A property so iconic, and home to the Queen for most of her platinum reign, that it simply needs no introduction.
Historic castles, palaces, and intricate listed buildings - the Queen has an extraordinary estate that is world famous, and our findings show it may be collectively worth up to £3.7 billion pounds today! In celebration of the Queen's Platinum Jubilee, we used our property expertise and insights here at McCarthy Stone to estimate the value of the monarchy's property portfolio, based on research, to demonstrate the sheer scale and size of her majesty's abode.
We're also taking a deeper look at the history and detail of the Queen's properties, along with the estimated cost to buy and rent each of Her Majesty's royal residences, and how long you'd need to save up for. Not that it's possible to purchase a royal residence, but it sure is fun to imagine owning one.
The money involved to consider snapping up these properties reflects the build quality of some of the intricate residences themselves, carefully passed down through generations of British royalty. It's also not exactly something that can be put in a piggy bank or even saved up for over several decades.
How much does a royal residence cost?
If you've ever asked yourself 'How much is Buckingham Palace worth?', it may come as no surprise to announce that the top 10 royal residencies are all calculated to be valued in the millions and even billions of pounds. Buckingham Palace, in fact, the most famous royal property in the UK, is the most highly-valued at a worth of £1.3 billion. We knew the Queen's main residence was something special, but we didn't quite imagine billions!
Located in the city of Westminster, the one-of-a-kind, breath-taking Buckingham Palace was converted to its current form in 1820, after King George lV requested the existing Buckingham House be turned into a palace. And although Queen Victoria was the first monarch to live there, with it being Queen Elizabeth ll's main abode, the iconic palace soars high above any other royal residence on our list in terms of value.
Up next in second place is St James's Palace, which although is estimated to be valued at less than half the price of Buckingham Palace, still clocks in at an impressive estimated £600 million. St James's Palace was completed in 1536 and was the official residence of the monarchy from the reign of King Henry Vlll, right up until Queen Victoria ascended to the throne in 1847. Home to many crucial points of royal history, such as the death of Henry Vlll's illegitimate son Henry Fitzroy in 1536, St James's Palace has seen history first-hand. Today, the remarkable St. James' Palace is used as a ceremonial meeting place, and the Royal Court.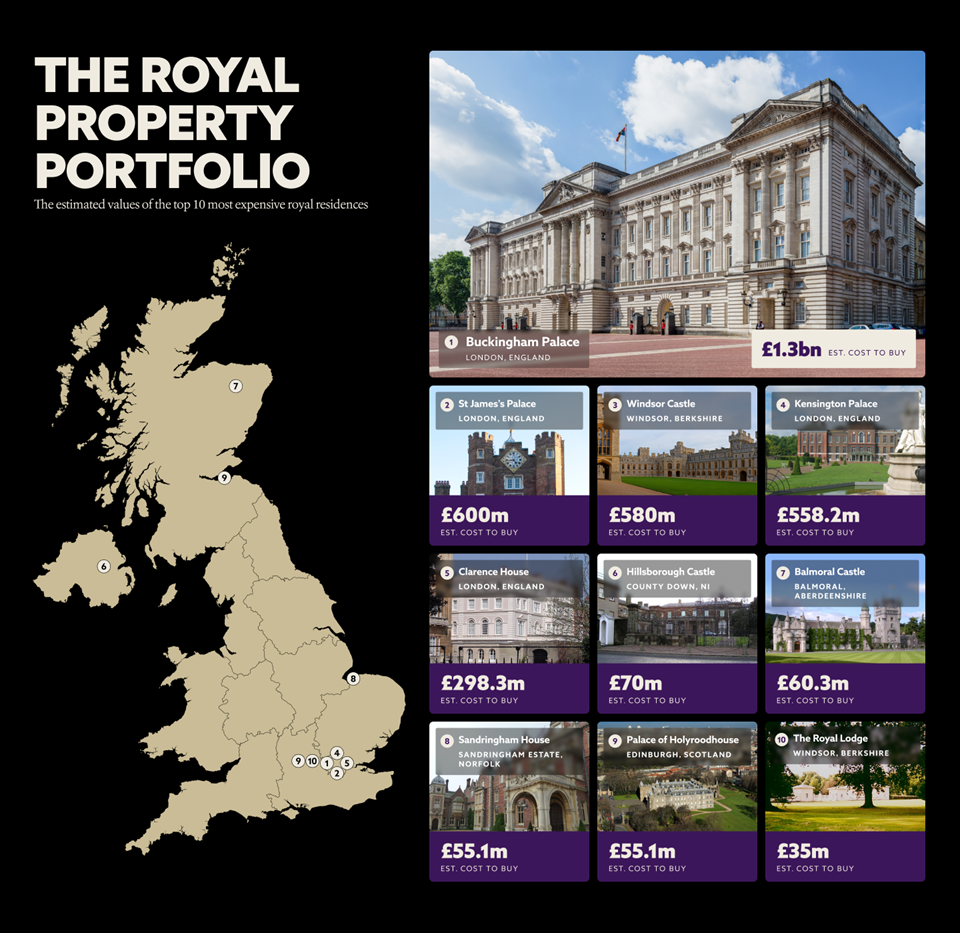 In third place, coming in at an estimate of £580 million, is the Windsor Castle price - this is a royal gem. The castle, built in 1070, almost 1,000 years ago, once survived a two-month siege during the Barons War in the 1200s. Although now it needs much less security, the permanent residence of the Queen still looks as dramatic, powerful and prestigious as it would've done all those centuries ago.
In fourth place is Kensington Palace, located in the Royal Borough of Kensington and Chelsea, and the official residence of the Duke and Duchess of Cambridge, Prince William and Kate. Kensington Palace is thought to be worth around £558.2 million, which, with the highly desirable location and extensive number of lavish apartments within it, definitely adds up.
Rounding off the top five is London's Clarence House, at £298.3 million, and where the Prince of Wales and Duchess of Cornwall call their home. Clarence house is a striking Georgian Townhouse, designed and built by the famous architect John Nash during the Regency period, which was famed for its stunning neoclassical architecture. At the time of its construction, the neoclassical style was modern and ground-breaking. Today, the prestigious presence of the regal building exudes a proud disposition and timeless character.
In sixth place we have Northern Ireland's Hillsborough Castle, situated in County Down, worth £70 million, followed by Balmoral Castle in Scotland at £60.3 million. In eighth place it's Norfolk's Sandringham House, worth an estimated £55.1 million, then in ninth it's the Palace of Holyrood House in Edinburgh, at £55.1 million, with Windsor's The Royal Lodge rounding off the top 10 at an estimated £35 million.
Just to give you a sense of the value of these properties, with the average British wage, to place a 15% deposit on Buckingham Palace would take 7,933 years! And while the average house price in the area may be a high £799,974, it shows the grandeur of the royal landmark.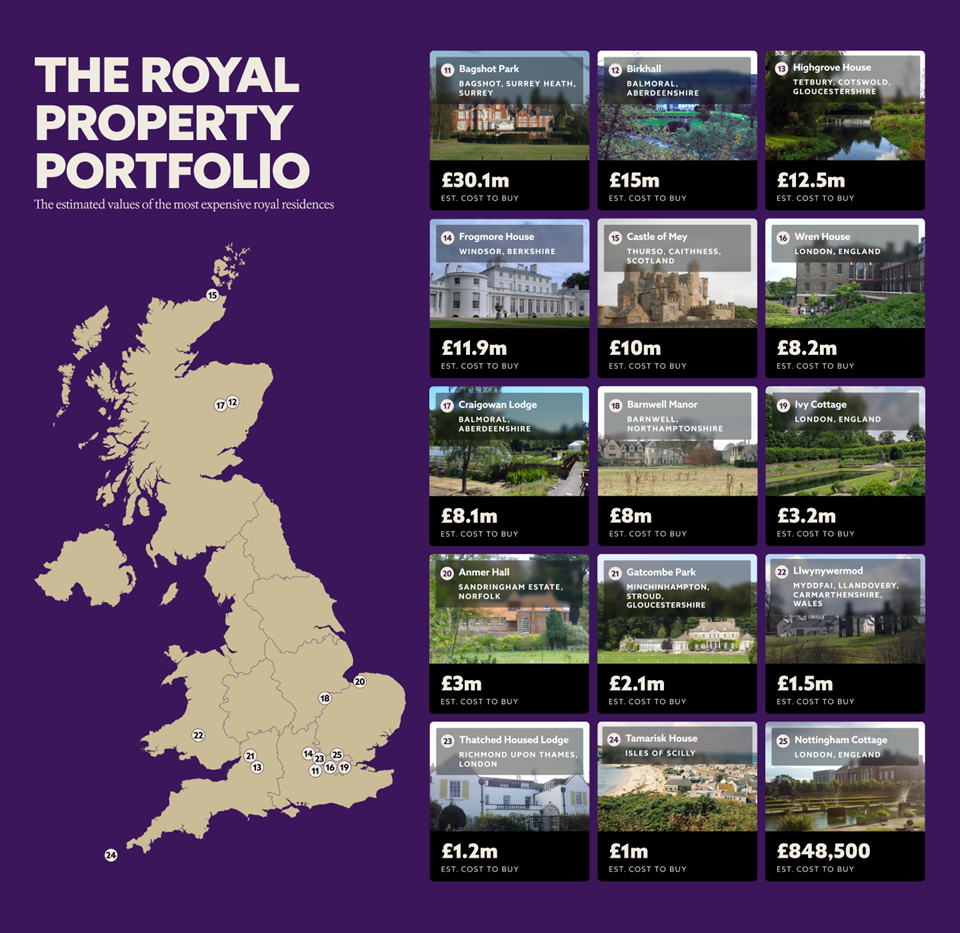 In second place, Westminster's St James's Palace would take you 3,661 years to save up for a deposit. In third, it's Windsor House at 3,539 years, followed by Kensington Palace in fourth place at 3,406 years, and then Clarence House in fifth at 1,820 years.
Living in a country that offers so much variation in property to rent or buy, from bungalows to apartments, we may not – obviously - be able to offer royal properties, but there are plenty of exciting developments to choose from.
Search for your perfect property
The cost to rent the royal residences
As well as estimating the value of the Queen's properties, we also delved into seeing how much the going rate would be if looking at the monthly rent.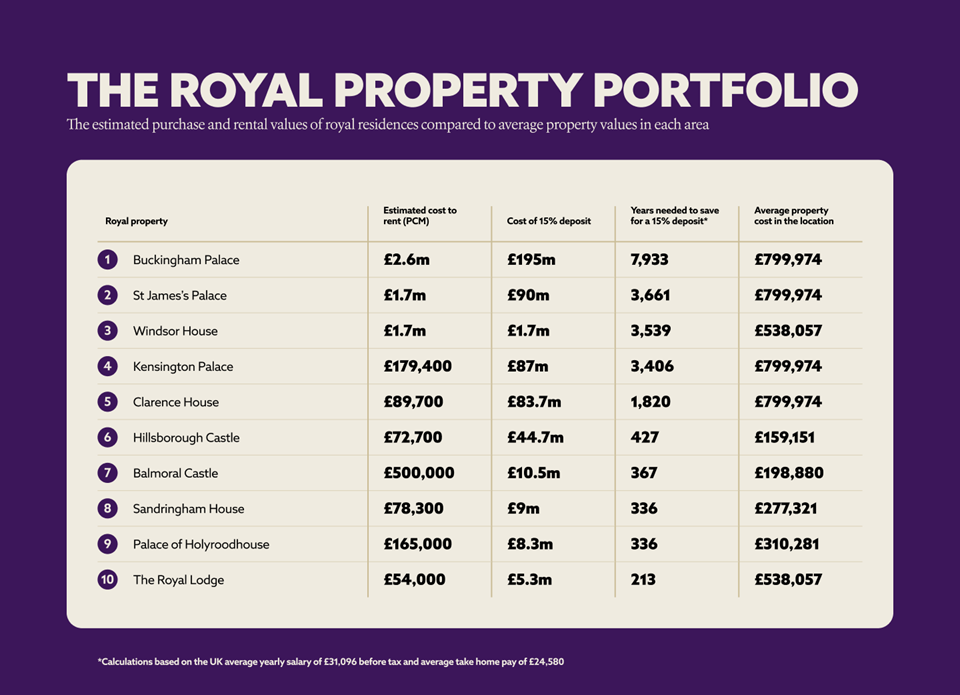 For example, we estimated that it would cost £2.6 million in rent each month for Buckingham Palace. St James's Palace is next, clocking in at £1.7 million per calendar month (pcm) in second place. In third, you could also rent Windsor house for the very same amount, or if it's too much, try Balmoral Castle in fourth place at £500,000 pcm. Bagshot Park (£500,000) can be had for the same amount, and in sixth place it's a cool £250,000 for Birkhall.
In seventh place it's Kensington Palace at £179,400. In eighth, ninth and tenth place are the Castle of Mey (£165,400), Palace of Holyrood House (£165,000) and Craigowan Lodge (£134,000) respectively. If you're wondering what the cheapest slice of royalty is in the country out of curiosity, then it's Nottingham Cottage, which is just £7,900 to rent per month.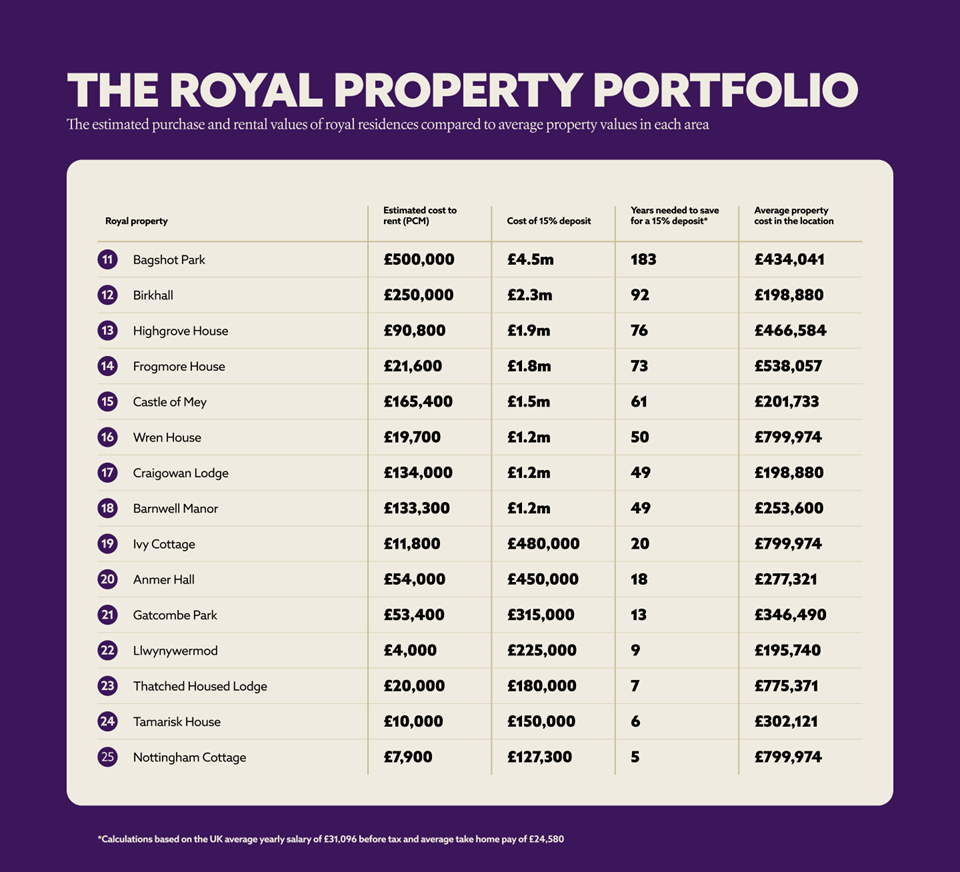 While Her Majesty celebrates the Platinum Jubilee this year, we should also consider that these national treasures are available for us to enjoy in all their splendor. Of course, it's fun to fantasize about living in an imposing royal castle or a striking regal townhouse, the occasion is a chance to celebrate the towering achievements of Her Majesty. As Elizabeth ll becomes the first British Monarch to reign for 70 long years, join us in thinking of those majestic castles and palaces, that have been around for centuries throughout Great British history. Maybe you'll be lucky enough to visit one this year.
Methodology
As part of the McCarthy Stone study, estimations of royal properties and rental costs have been created after reviewing online sources and research around each property, its size, number of rooms and location.
Property price estimations for some of the smaller royal residences have also been conducted after researching current house prices in each area and selling prices of similar-sized properties using Land Registry data. The value of properties has also been estimated in comparison to nearby royal residences, using calculations relative to the size and number of rooms.
Average salaries in each location and the average UK salary have been sourced using PayScale and taxable income has been calculated to understand the average take home pay which comes to £24,580. Average price of houses in the same city or town as the Royal Residences was also used through house price data. We used 15% deposit calculations for the average mortgage, in line with the rules for lenders set by the Bank of England and current policies of leading mortgage lenders.
Sources: