Interior Design Inspiration 2023: expert tips for updating your home
Trends and fashions sweep us away in almost every aspect of our lives, and interior design is no exception to that rule.
Whether home décor trends are a continuation and development of previous fashions that have been bubbling under the surface, or a fresh, new outlook created from the unique requirements of the present, one thing's for sure: interior design inspiration is constantly evolving.
Every year a host of trends, colours, moods and accessories influence our ways of thinking about interior design and the way we live our lives.
In the last two years, we've spent more time at home, and so naturally we now appreciate the feel of the home, how it affects our well-being and our day-to-day living. We've come to appreciate the quiet calm that comes from relaxing indoors in our very own homes – a concept that 2023's new design trend puts at the forefront. We've looked at what new tones, colours, fabrics and trends are in style for interiors in 2023.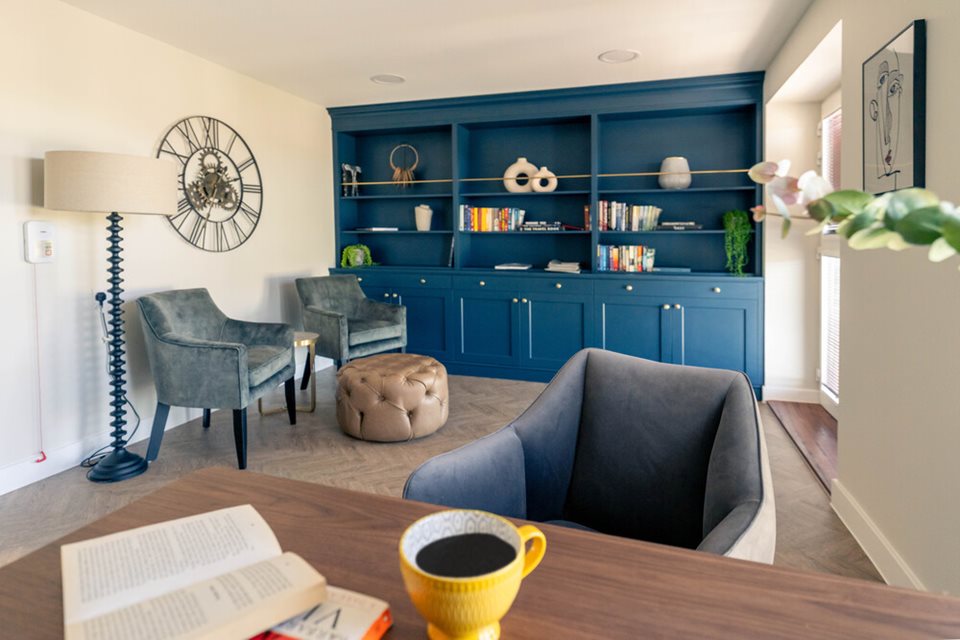 Interior trends 2023 - so what exactly is in?
We sat down with Katie Russell, our interior designer, to gain some of her expert insights into some of the biggest home decor trends of 2023. Katie has provided us with some useful interior design tips, from larger overhauls in your newly-bought home, to easy furniture and accessory hacks you can implement in a rented property.
So what exactly is in? Earthier, more natural tones are expected to become mainstays in our homes, as we look towards natural colour palettes. Some trends have also expired by necessity, such as open plan living. With many of us spending more time indoors, lack of room separation is becoming unpopular by default. Add in a healthy dose of upcycling second-hand furniture and you've got a movement that reflects where we are today as a society.
Earthy tones are in, greys are out
As we touched upon earlier, we're seeing an overarching shift away from the once hugely popular grey and white neutrals that dominated the homes of the last decade. Whilst this previous palette created a subtle modern look with clean lines, Katie says we're going to be seeing greens and browns replace this for a more natural look.
"Earth colours bring warmth and comfort to home spaces whilst offering a natural, effortless vibe," she says. "The golden rule though is not to overdo it with brown hues, balance this out with a contrasting lighter shade elsewhere in the design.
"People will start to experiment with colour again, however the palette will stay very close to hues you'd find in nature."
Katie adds to this by noting that today's 'biophilic' design trends will place emphasis on texture and touch, giving our homes a multi-sensory design experience for maximum enjoyment and comfort.
"Texture will be seen everywhere," she says. "From bouclé sofas to fringed lampshades, even smooth walls will soon be a thing of the past with textural treatments through techniques such as lime-washing becoming increasingly popular."
This trend of picking out shades that reflect the natural world around us is about bringing us closer to nature, with a focus on planting greenery within the home, utilising natural light to create gentle hues, and exploration of multi-sensory design – how an item looks, feels and affects your mood or stress levels.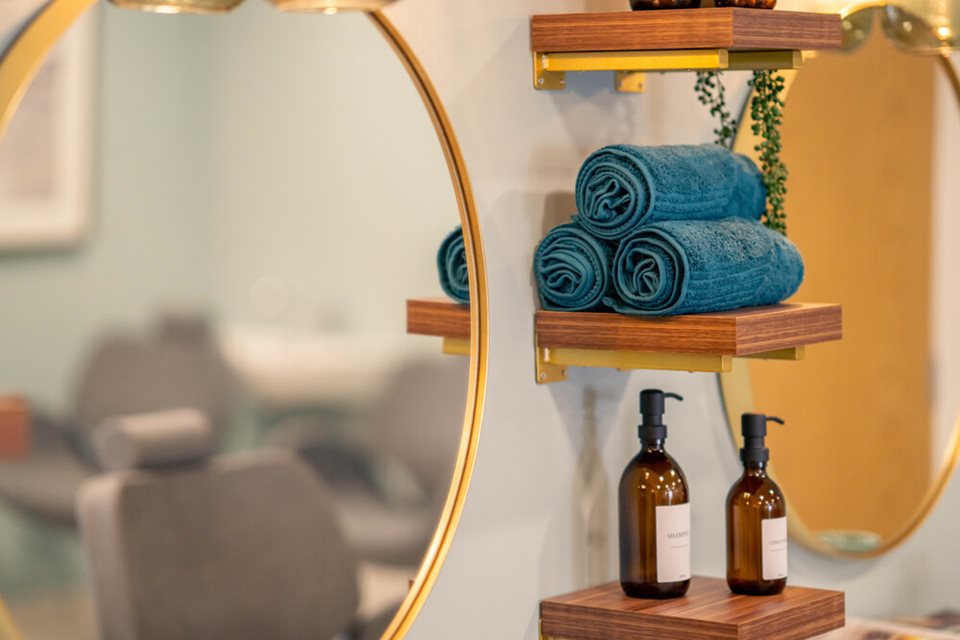 Soft textures, soft colours
Following the trend of earthy hues and natural light, Katie advises to boost our wellbeing by letting light and colour dictate our mood.
"When decorating, select a calming colour scheme complemented with soft fabrics and gentle patterns," she suggests. "I would steer away from any design items which are too bold as this can prevent you from switching off. Clearing away any clutter within the room can instantly change your mindset, clutter can make us feel anxious and depressed.
"Choosing the right lighting options within a room is also important, different size rooms have different lighting needs. A dimmer switch can change your room from productive workspace to relaxing haven within seconds.
"Open fires are extremely relaxing to look at, especially on a cold winters night however they can also be enjoyed in the warmer seasons by replacing burning logs with a selection of church candles so that you can benefit from the atmospherics without the heat."
"Plants are a great way to add colour and interest to a room. They are also known to increase happiness and reduce stress!"
All year-round comfort matters
Katie advises us to embrace each season and adapt our homes to suit. She suggests adding lighter touches to rooms in the warmer months, especially to our bedrooms, removing any items that may restrict natural air flow and give the room a stuffy feel.
"Getting the design of the room right is essential: it should raise your mood when you wake up and relax you when you are going to sleep," she explains.
"In the Summer months I would keep the space light and airy. Changing your window treatments to a set of linen curtains will allow the natural light to come through, breathable and lightweight bedlinen will keep your cooler and if you remove your rugs from the room this will allow the air to cross the space as much as possible."
In the colder months, simply reverse the changes and enjoy the feel of that cosy, textured rug under your feet again!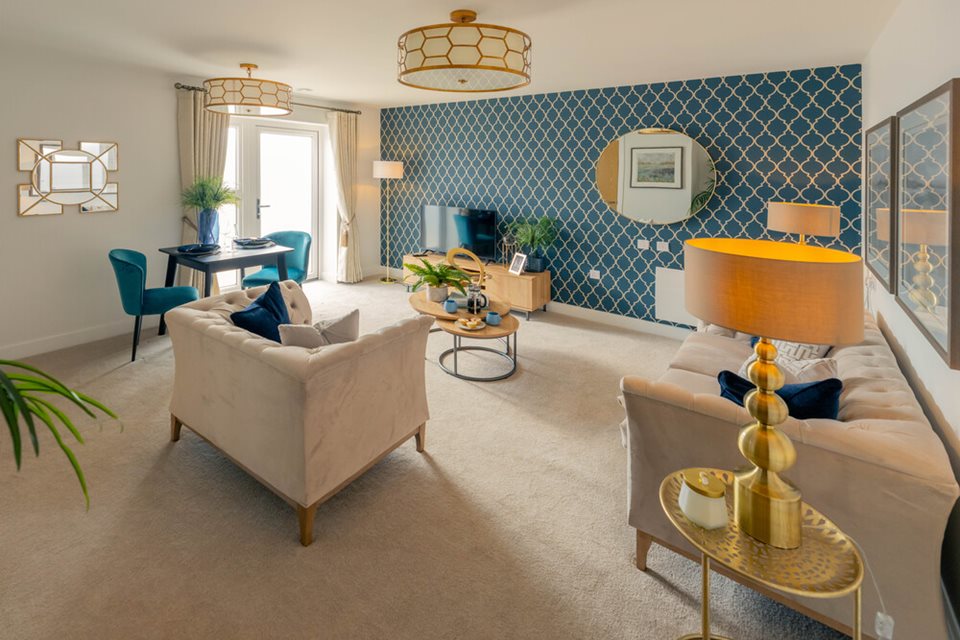 Remember that trends are cyclical
As with fashion, interior décor trends often come back around, sometimes with a modern twist. A classic red dress or button-down shirt that looked great fifty years ago and will continue to do so today, so it's sensible to apply that logic to interior design. But Katie also adds to allow yourself to enjoy trends, balancing them with timeless pieces.
She says: "We are all influenced by trends, but you should try to be objective when you buy and avoid trends which are fads and will not stand the test of time. Personally, I invest in key pieces which are timeless and won't look dated within a year or so, then I style these pieces with low cost, on-trend accessories which I don't mind moving on from when these are no longer in fashion."
Comfort is on the cards today, with the curved, natural shapes and angles of two classic 21st Century design eras leading the way.
Katie says: "Design inspiration often comes from the past and you may already have seen the shapes of furniture begin to change. Sharp angles have been making their way out of homes for a while, straight lines in furniture and architectural details are now being replaced with more organic and curvaceous lines designs which is reminiscent of the 1970's and art deco-era."
"We have all been forced to slow down and spend more time in our homes over the past two years and as such we are now looking for designs with softer features that instil a sense of calm and comfort whilst offering a playful element that enhances our moods and induce joy."
Our attitude to climate change is influencing the home more than ever
Previously we've seen pop culture and television influence how we dress our homes, but today, Katie reveals it's a different kind of influence affecting interior design trends: sustainability.
"We are now seeing that our increased exposure to climate change through the news and social media channels is feeding into the interiors industry and is changing the way we design our homes with people making more eco-conscious decisions when they buy," she says.
"Sustainability and the rise of the 'biophilia' trend – a design which is a scientifically proven way to improve both physical and mental wellbeing, is predicted to be a dominant design trend of 2023. Soft hues of green and natural tones will dominate interior stores throughout the Summer along with sustainable furniture items made from reclaimed woods and recycled materials.
"Using re-purposed items of furniture is not only more eco-friendly but it allows there to be a juxtaposition between old and new in a space."
We're now thinking more about recycling, protecting planet Earth, and since the pandemic forced us to re-think day-to-day living, it's clearly left an impact on our new needs in the home.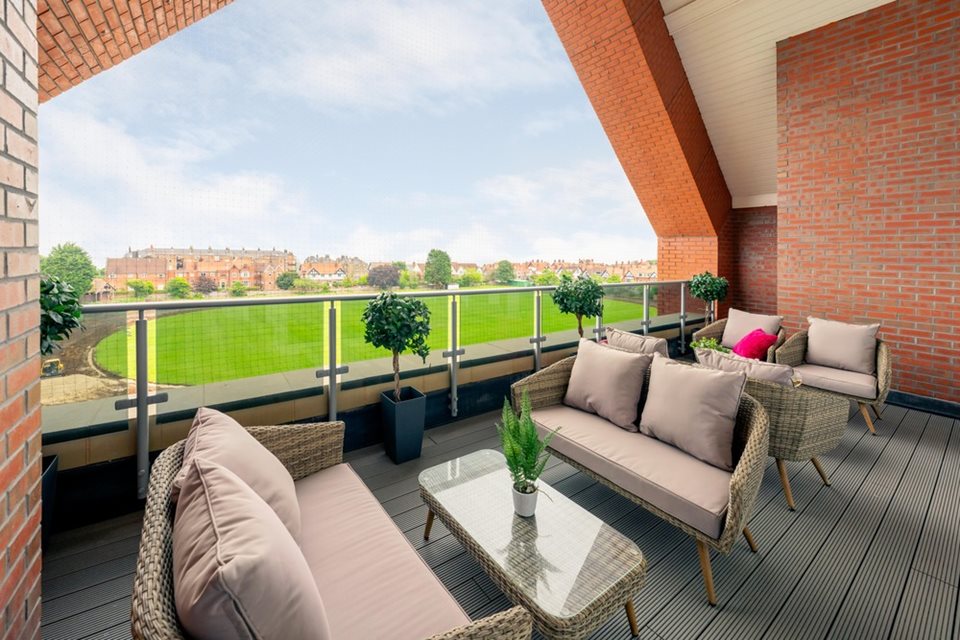 Open plan is out, divided areas are in
With many of us spending much more time at home over the last couple of years, and carrying some of those living habits into our current day-to-day, there's much more need for comfortable, purposeful spaces within our homes.
This means having areas marked out – if only mentally – for different activities requiring different energy levels. You may have a reading area well away from spaces that may be social hubs, such as the dining room or kitchen. Equally, a home gym may benefit from being removed from relaxation areas, providing a sense of arriving and leaving a certain mood, activity or task.
Rental tips: take your property on-trend
If you're currently living in, or planning to move to, a rented property, then Katie suggests that accessorising can be a fun way to inject the latest trends and moods into your apartment, bungalow or house.
She says: "Rather than committing to something bold and permanent like wallpaper or a painted feature wall, restyling a room to create a whole new ambience can be achieved by injecting seasonal colour schemes through the use of accessories and soft furnishings."
Katie recommends:
Seasonal bedding
Rugs
Throws
Cushion covers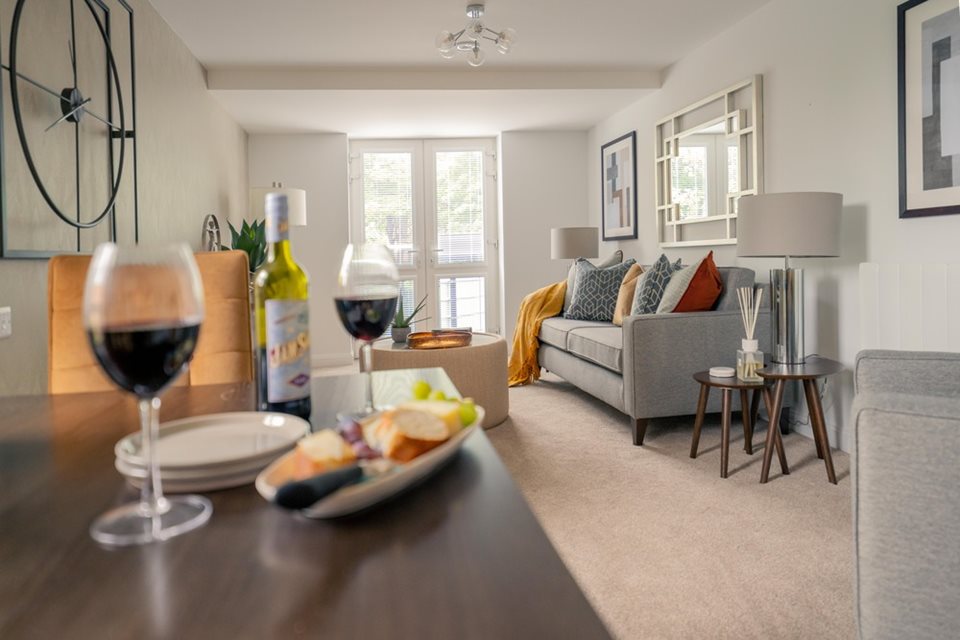 Use statement lighting
"Statement lighting pieces are a great way to enhance the look of a room and make a room appear more lavish. Adding a large overhead lighting piece such as a chandelier in a bedroom makes a focal point within the room and will make a room feel much more luxurious."
Wall décor is your friend
"Wall décor can also dramatically transform the look of your home. When selecting artwork pieces, opting for one large piece of art which covers 60-70% of the available space will look more extravagant than a selection of small prints."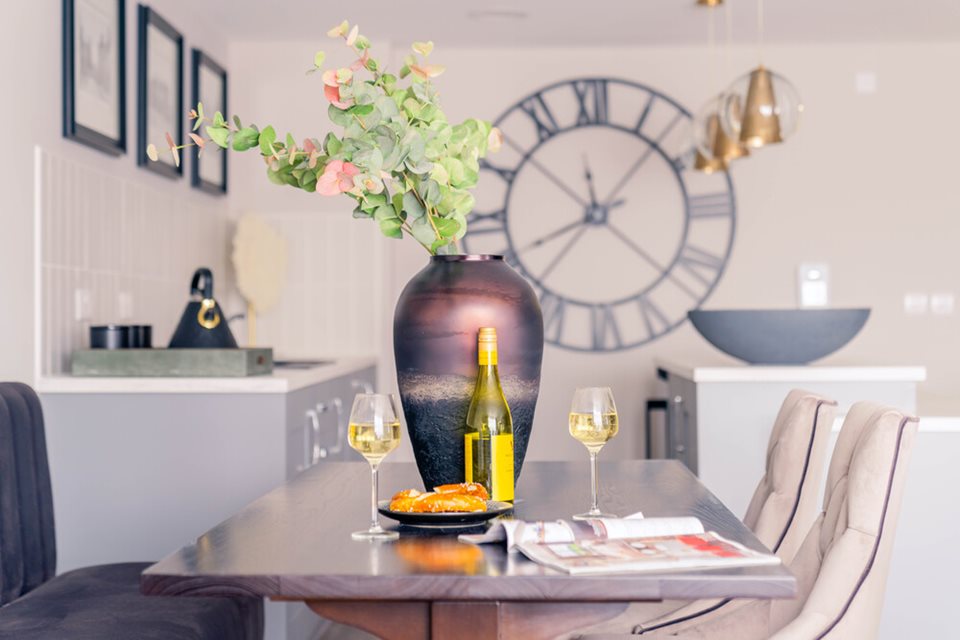 Get textural
"Interior Designers also use texture to determine how a room looks and feels. Adding varying luxurious textures such as a sumptuous rug or a selection of plush mixed fabric cushions will add warmth and elegance to spaces which feel flat and will certainly add an opulent feel to your room."
Accessorise when on a budget
"Home accessories are artwork prints are a brilliant way to try out an interior trend without having to commit to forking out for furniture and other large items. House plants will continue to become increasingly popular this season and are an inexpensive, stylish, and therapeutic way of bringing the outside in and adopting the biophilic trend."
Tips for moving house
Declutter before you sell
This one is a great tip from Katie for those selling their homes or downsizing: "When it comes to selling your home, de-cluttering and simplifying the space [can] make it easy for buyers to envision themselves living in your home."
Try:
Removing oversized pieces of furniture
Illuminating the room with bright light
Read our moving tips article here for more de-cluttering content.
Finish one room first:
Katie insists this will be your sanctuary when you need time away from painting, moving furniture and generally unpacking a heap of cardboard boxes.
"I would suggest choosing a room where you see yourself spending the most amount of your time," she says. "If the kitchen will be the heart of your home, focus on this area first to create an organised and inviting space for the family. If your bedroom is your sanctuary, decorate this first to create a finished space where you can close the door on the other areas and relax and unwind."
If you enjoyed these tips, and wanted to find out more about what we offer to rent, buy and part buy, part rent, contact us today and we'll be happy to talk with you.