Top tips for moving house: stress-free tips from experts
With this demand, costs have naturally risen, leaving the average house price to jump at the end of January 2022 to £274,000, according to the UK House Price Index. Social Housing, shared ownership is on the rise by almost 10% (2019-2020) and one in five of us rents property (according to Generation Rent), so however you're moving, the same advice applies.
As we head into spring, we may be getting the urge to move house. We've all seen that sun-kissed, south-facing garden and imagined summer barbeques, or been won over by the light shining through a kitchen-diner window, so naturally the sunnier months are when we're most inclined to be in love with our must-have property.
Let's not forget that moving can be stressful however, and so to make your next move as smooth as possible, we've put together some tips in partnership with removal company Bishop's Move, who have over 165 years' experience.
Our moving day tips
From sorting out your gas, water, electricity, and council tax bills, to packing in advance, there's always more you can do to be prepared to move.
Declutter your belongings
We all know the feeling, it's in the back of our minds. Hidden away, pushed to one side, in everyone's household there's an extra cupboard full of unused clutter. With Google trends data showing that searches for 'downsizing' are up by 400% this year, from January to February - it's time to declutter for good.
Try getting rid of:
Wardrobes full of unused clothes
Old furniture
Attic clutter/odds and ends stored away
To make the process easier, Richard Hohler, General Manager at Bishop's Move, recommends removing yourself from the decision making by asking friends or family to help you pick what to throw away.
He said: "They'll have less sentimental attachment to items, so can encourage you to downsize more effectively."
You can also try tackling one room or area at a time. Try simply setting yourself a goal of clearing out that one cupboard that's been bugging you all those years.
Give your clutter a new home
If you've successfully decluttered your home of all unwanted belongings, you can start to think about:
Donating them to charities
Selling them online
Giving them away to friends and family
Children's charity Barnardo's has said that decluttering is expected to help up to 18,000 disadvantaged families throughout 2022.
Richard again advises: "Deciding what should go on the day of the move will add considerable time and stress to the process," he said. "Decide what is rubbish and put it out weekly for collection by your local authority."
Inform and update your utilities well in advance
To ensure that there's no unexpected late payments or bills left unsorted, we recommend informing and updating your energy and water provider well in advance of your move - this give you time to:
Anticipate any final outstanding costs
Pay off your balance
Start a clean slate in your new place
We recommend regularly reading your meters and providing readings to your provider, so you have a clear expectation of costs ahead of the big day.
Prepare your belongings in advance
Once you're ready to start thinking about your house move, and what you'll be taking with you, it's always a good idea to properly pack and label up your belongings. Doing this in an organised fashion, ahead of time, will ensure that unpacking becomes a walk in the park.
Richard advises to:
Make a detailed floor plan of your new home
Include measurements of large items you may want to take with you
Richard adds to this: "Keep essential documentation separate with your mobile and charger. Have an 'essentials' box or bag at the ready." These items will allow you to have the essential items to hand for when you need them quickly or before you've unpacked.
Search for your perfect property
Like decluttering, packing can be overwhelming if you think of it all at once. Richard recommends a 'start small' approach, which takes a smaller sized room first, such as a spare bedroom, and boxes that off (pardon the pun) first. The idea being that the positive sense of satisfaction from completing the easier, smaller task, will give you a boost to take on the next one.
Richard says: "Pack little and often each day and you will be surprised what can be done. Leave the kitchen until last as this area has those essential last-minute items, and by this stage you will be more accomplished at packing!"
Start small – pack a smaller room first
Use the positive momentum to tackle the next room
Leave the kitchen until last for essential items
Leave heavy, technical, and complex items to professionals
Some items may be large of difficult to move around, such as:
Anything wired into the mains
Plumbed-in items
Heavy/awkward shaped furniture
These things are not something you necessarily want to be worrying about when you already have enough to do on the weeks building up to your move-in date.
"Leave any items that are tricky to the experts, such as your removals company," continued Richard. "It will help avoid risk of damage or more serious and costly issues further down the line. They will arrange for handymen or electricians to dismantle wardrobes and beds, or safely disconnect light fittings or appliances.
Leaving your current property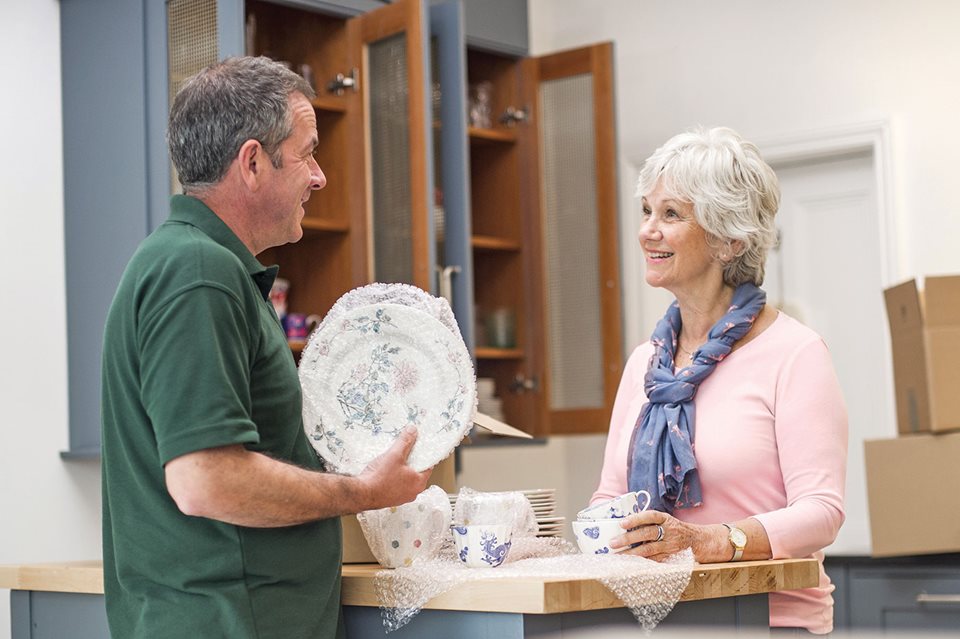 Buying and selling is never easy, with variable timeframes and many moving parts, it's no wonder we try not to do it very often! An obstacle you'll face when moving is the property chain, so timing everything well in advance is key to a smooth move. This could be anything from arranging temporary storage for items and keeping in touch with the sellers' legal team for updates, to allowing for crossover time between properties – if possible.
Richard advised: "Be aware of any longer periods between selling and moving into your new home - you may only need your summer or winter clothes handy so be organised and separate out your essential items early."
And if you're feeling kind, you could even make the new homeowner or tenant's life a little easier by:
Leaving clearly labelled spare keys out
Leaving notes for bin collection dates
Extra tips for moving home:
Keep talking with your estate agent to carry momentum on the move
Start to pack at least two weeks before the move, earlier if you can
Choose your removal company, and book well ahead of time
Inform and update your utilities well in advance
Look after your personal possessions – keep an essentials bag ready
Lock up and leave – be sure to secure all windows and doors when you move out of your home
Enjoy a smooth move with our moving day tips
Following these guidelines will go a long way to keeping your move as stress free as possible. And if you move with McCarthy Stone's
Smooth Move service
, you'll get help with decluttering, packing and moving from professionals. You can trust us – and Bishop's Move - to be there for you every step of the way.
"The Smooth Move service was so good, all we had to do was walk out the house, they did everything, if you leave a dishcloth on the side, they even pack that. I was delighted."
- Sheila Waters, Scott Place, Lichfield
"Our service has been fine-tuned with over 165 years' experience in the removals industry. We aim to ensure that customers' needs are met and exceeded – giving them a move that is stress-free! We want to be like a friend to our customers, so we are there, side by side, every step of the way."
- Bishop's Move