Geraldine and John Harrison, Farnham House, Quorn
"It was a chance of a lifetime" says John, "although we loved our apartment at Farnham House, this really enabled us to make our mark on the design throughout every touch point in our home."
Geraldine, a former Head Teacher, adds: "Emma came to visit us, to get a feel for each room and talk through our design preferences and tastes. We then met Emma at John Lewis and had a wonderful day looking at everything on offer, from fabrics to furniture. I was in my absolute element and was buzzing by the time we got home again!"
"I'm all about bright, bold colours, whether it comes to my clothes, home design or picking out artwork. Cobalt blue is my absolute favourite, but I also love oranges, reds and yellows – the brighter the better! In my first teaching post I used to have a sign saying 'have a yellow day' on my door, which just about sums me up."
"We like our home to have a sumptuous, opulent feel, but to also be cosy. It won't come as a surprise to know that as soon as we saw the orange armchair in John Lewis, we knew it would have a place in our home. It looks amazing with the navy-blue sofas and really stands out against the backdrop."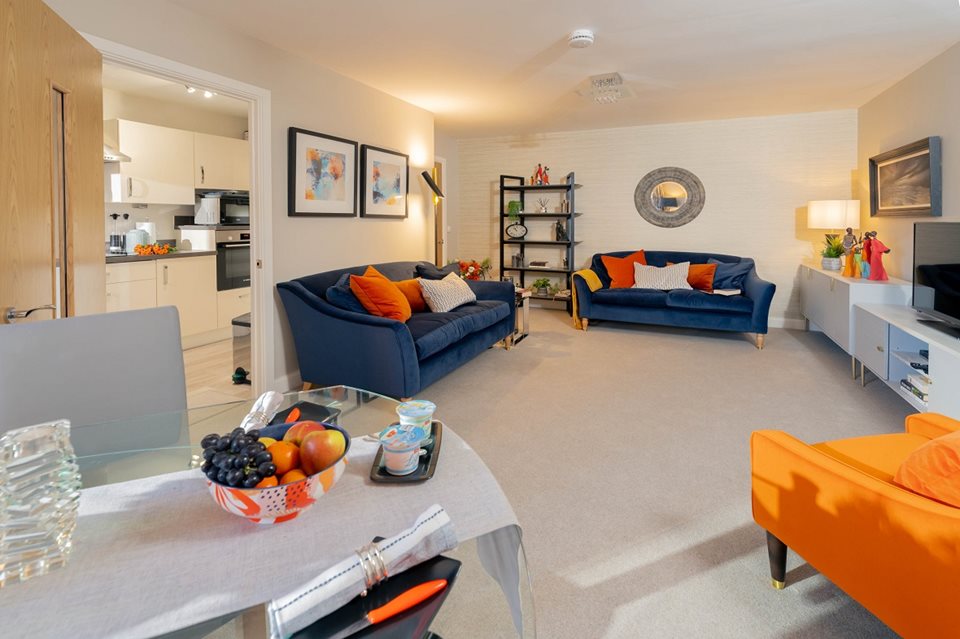 "It was also fantastic to see how a simple change in the colour of the walls could make our favourite features stand out. I have a mirror that my daughters and son bought for me that didn't really draw attention before but set against our new wallpaper it really catches the eye."
"We also have some Maasai figurines that are very precious to us, so we wanted to ensure they remained at the heart of our home. I loved how they were displayed before, but they look truly fabulous now, they really 'pop' against the richness of the wall colour and are a real focal point."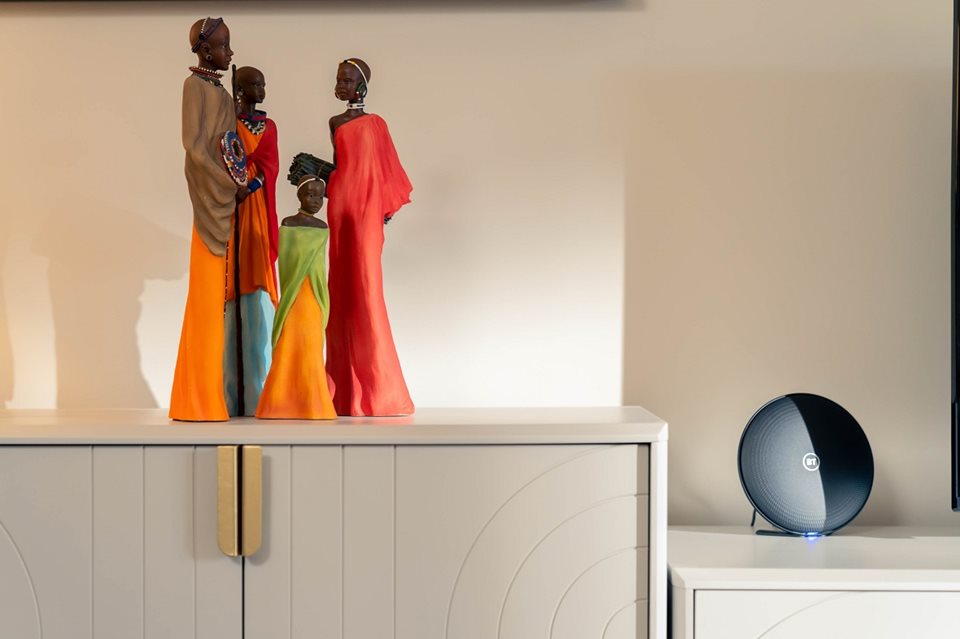 The Harrisons collaborated with Emma to ensure they kept a practical eye on their designs too as Geraldine explains:
"I love to cook and enjoyed a large kitchen in our last home. Emma suggested we extend the worktop and include some floating shelves for storage. It not only looks brilliant, but I have even more workspace than before which is wonderful."
"Emma also helped to shape the design around some of the pieces we wanted to keep. For example, we love to entertain so our extending glass dining table, and of course, our glass gin cabinet had to stay! We have also organised the repainting of our wooden sideboard and hall table so that it will complement our new colour scheme."
"Even though we both have a keen interest in interior design, it can be difficult to know where to start. We've always done the decorating ourselves and I'm always on the lookout for new things. In fact, I once went out for bread and came back with a new suite and no bread!"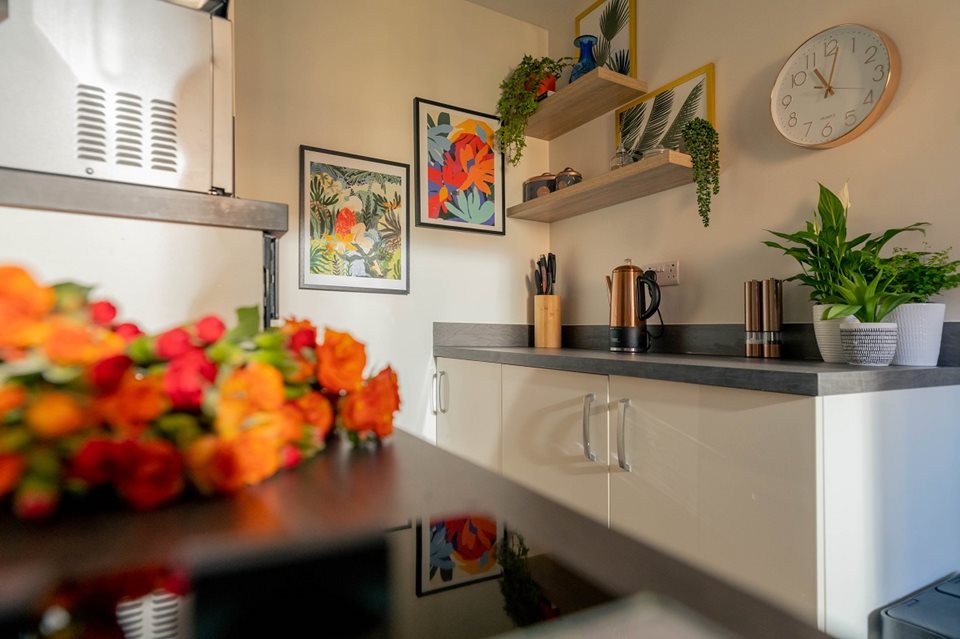 "Working with Emma not only helped to steer our choices, but it also opened our eyes to things we might not necessarily have chosen or thought we'd like. For example, Emma suggested a feather-patterned fabric for the blinds in the office, which we wouldn't have naturally been drawn to, but they look fabulous!"
"She also encouraged us to look at the little details such as door handles and how adding a few cushions to an ottoman can breathe a whole new life into a piece. "Even simply swapping the position of furniture can make a massive difference to the space and feel of a room. Our bedside tables also have a little extending tray, which is perfect for my morning cup of coffee which John brings in every morning."
"The finished design was better than we could have ever imagined. It's us through and through, all of our friends and family comment 'it's very much you' as soon as they walk through the door. It's just perfect."
Geraldine and John were first attracted to the lifestyle on offer at McCarthy Stone after visiting a friend at one of their retirement living developments in Scarborough. They instantly set about looking for something similar closer to home. Fortunately, McCarthy Stone's Farnham House in Quorn popped up at just the right time.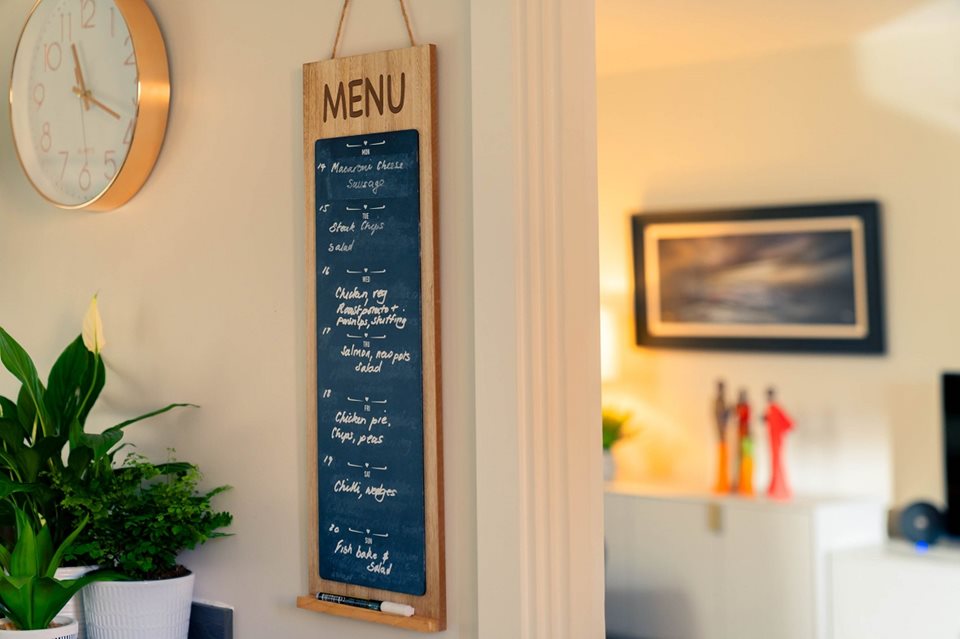 "Retirement living isn't just somewhere people of a certain age go to live, it's about becoming part of a vibrant and social community and freeing yourself from all the chores a larger property brings, so you are able to spend your time on all the things you love. I for one don't want to spend my retirement years cleaning!"
John and Geraldine first met in in 2003, as Geraldine explains:
"We first met after my oldest daughter signed me up to a dating website. We clicked straight away and were married 19 weeks later. 19 years on we're still the same soulmates that we were that day. We have such a laugh together and have never had a row, at least not a big one anyway! We love to travel, and when Covid first hit, we were enjoying a cruise around South America. We've already got our next trip booked and just hope Covid subsides enough so that we can start seeing the world again. Knowing that our apartment is safe and secure whilst we're off gallivanting is another big bonus for us."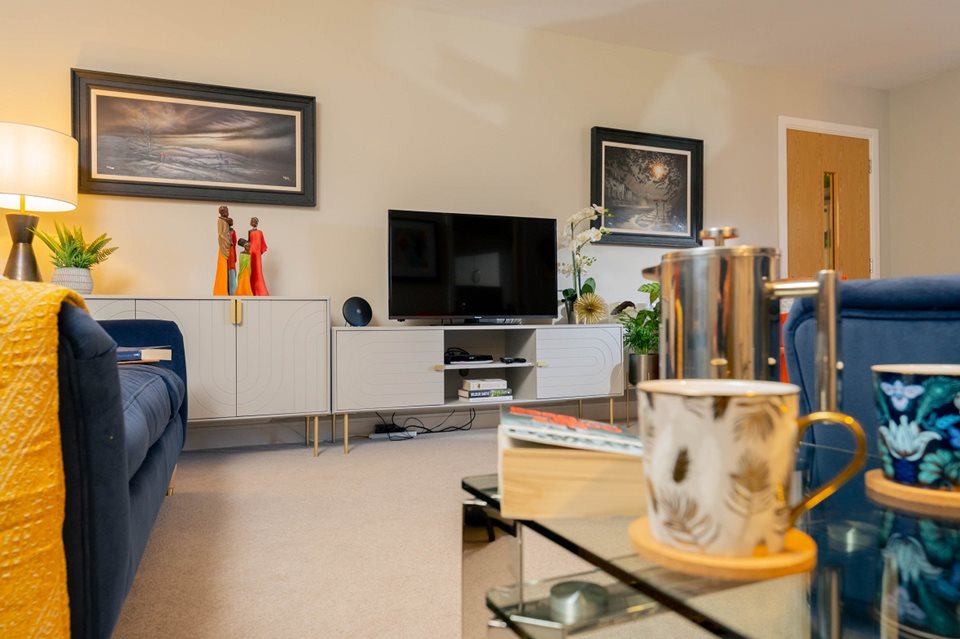 When they're not travelling, the couple keep busy visiting their grandchildren, cooking up a storm together and being active members of their church. John even fits in working part-time as a self-employed accountant, predominately working from home. With several long-standing clients on his books, he also holds an office space in Long Eaton that he commutes to when required and enjoys the social interactions that working with clients offers. John is also a member of Mensa, and regularly keeps up with news from the organisation and his peers.
John adds: "People often have the view that retirees just sit around doing nothing, but I can honestly say that some weeks we struggle for time. Between us we're so busy, that having a home we don't need to worry about the maintenance of is a real blessing."
John is also an avid fan of Nottingham Forest, and being a season ticket holder, attends all the home games with his sons:
"I love going to the football and enjoying my 'time with the boys' as Geraldine calls it. It's a great way to relax, even if my team lose. I've also got some tickets booked for some international cricket matches, and really hope nothing gets in the way of me going."
Geraldine finishes: "We couldn't have made a better choice in Farnham House. In fact, we feel as if we're on holiday! My oldest daughter is now in her forties, and often asks, 'when will I feel like a real grown up?' and my response is always the same, 'when I get there, I'll let you know.' No matter how many years go by, I'm still the fun-loving, even daft, person I've always been."