Inspiring Interiors - John Pritchard, Blyton House, Bourne End
"I wanted my apartment to reflect my character", says John. Although I'm not necessarily one for bright and bold, I've brought my own style into the design using complementary colours, chrome touches and modern furniture."
"My wife and I would always design our home together, but since I've been on my own, I wanted to 'take the reins' and create a home that fits my lifestyle today. I took inspiration from brochures, magazines and showrooms initially for how I wanted the apartment to look and feel. There are lots of grey tones and slivers throughout the apartment -some may label it as a 'man cave' but that suits me!
"I had most of my furniture made-to-measure, so it was exactly how I wanted it, including my fireplace which is the focal point of my living room. I eventually found a specialist supplier in Newcastle that could provide the modern design I was after.
"I'm an organised, yet social person and my interior tastes are certainly a reflection of this - clean and contemporary, but welcoming and comfortable. I have a large social circle so am always having guests over for a glass of wine or a cup of coffee and a natter, so it's important that they feel at home and relaxed too."
John is an active member of several local organisations, including the Marlow ex- Round Tabler's 41' Club, the 'Belchers' as he calls it - the Bourne End Gentlemen's Luncheon Club and organises the Harleyford Petanque (Boules) Groups' regular monthly meetings at a local pub. He also coordinates the Marlow Mayor's Charity Golf Day each year at the Harleyford Golf Club, so it was vital his apartment included a space for him to focus on his charity work.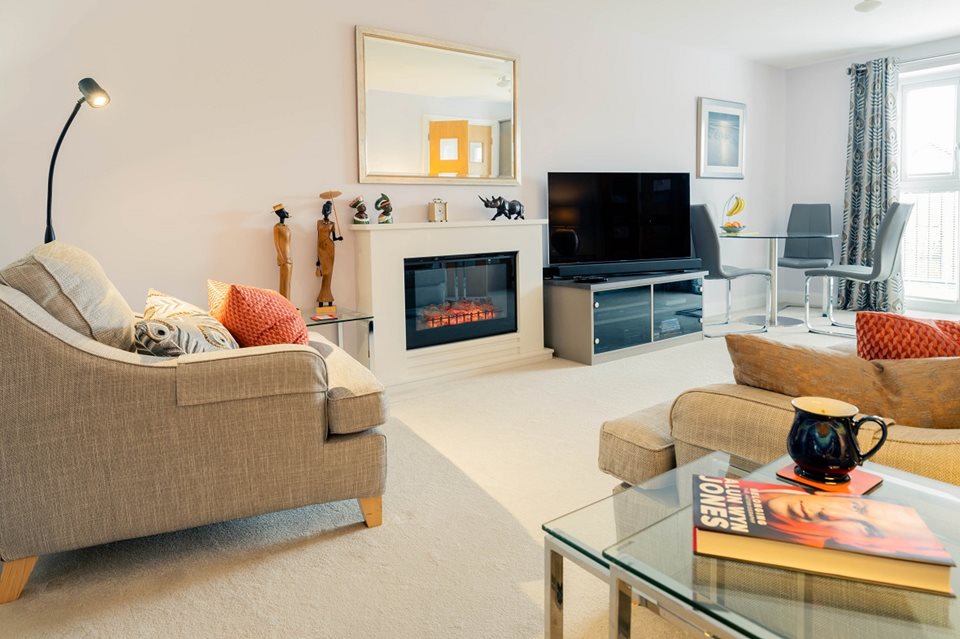 "I've never had a 'second bedroom' ", says John. "I quickly turned that space into my study. I drew sketches of how it could work and set about bringing it to life.
"It has the same modern feel as the rest of the apartment, but is very much my 'workspace,' although I did have a custom pull-down bed built in for when my daughters come to stay. When I've finished my work, I like to be able to close the door and instantly step into relax mode, so I made sure my interior design supported that.
"Even if I have a meeting with colleagues from the organisations I'm involved in, we hold it in my study, and then once it's finished, we move to the lounge or balcony for a drink so it's clear to everyone that we're off the clock!
"I also paid special attention to the lighting throughout, as this can make all the difference to your space. My study has bright lights for when I need to concentrate at work, whereas I have softer lighting in the lounge and a reading light if I want to relax with a good book. I was the first one to register interest in the apartments at Blyton House so I had my pick and made sure to choose one with a nice south-west facing aspect, so I get the best of the light and can enjoy the sunset from my balcony."
When he's not busy in his study, John can be found at his local golf club (playing or enjoying a pint in the bar with friends), at one of his club's many lunches and dinners or down the pub, as he explains:
"On a Tuesday evening I'm usually catching up with my golfing friends at the Royal Oak and Friday nights are always reserved for a drink and a catch up with my travel friends at the Prince of Wales. On Thursday's evenings I join in the game's night here at Blyton House. We have a great time, but it can get quite competitive!"
"My weekends are generally spent with family. My three grandsons are all football players and I'm their biggest fan, so can often be found cheering them on from the side-lines. Afterwards we all get together for a catch up and then on Sundays enjoy dinner together whilst putting the world to rights!"
"I'm an avid rugby fan too and have been a debenture holder for the Welsh RFU since 1968. I never miss a game and if I can't make it to the stadium, or my family pinch the tickets, I'll always catch the game on TV. I guess you could call me a 'permanent watcher' of Welsh Rugby, or any rugby in fact as I also follow the WASPs."
John is also a keen traveller and enjoys cruising round the globe when he can. After a 40-year career in the gas industry (33 years with Calor Gas), John went on to work for Saga Holidays for a number of years and would take clients on golfing trips all over the world.
His most recent trip saw him travel around the Falkland Islands, the Chilean Fjords, Uruguay and Buenos Aries and he's looking forward to planning his next trip as he explains:
"I'd like to travel around Italy next, perhaps the Amalfi coast and Scilly. I like to visit places with an interesting history and lots of cultural things to see and do. I enjoy cruises as not only do you get to experience lots of different places, but you get to meet interesting people. They have a wonderful social side and I originally met many of my good friends during my travels!"
If that's not enough to keep John busy, he enjoys relaxing with a good biography, travel book or piece of historical fiction.
John concludes: "Whenever my friends come over, they always say, 'you've got it made here John', and all I can say is 'I certainly have'!"