Inspiring Interiors - Gilly Tilden, Dukes Court, Wellington
"My style is an eclectic mix of traditional, antique and modern - like my fashion sense. I enjoy bright colours, the brighter the better, I say! And like my go–to jerseys and scarves, I love soft, velvety fabrics.
"I'd describe my space as warm, comfortable and happy. When people see it, they instantly say, 'oh yes this is very Gilly!'. To some people it's too much stuff, but to me, it's all part of life's experiences that surround me in happy memories every day. Why be boring when you can be interesting?"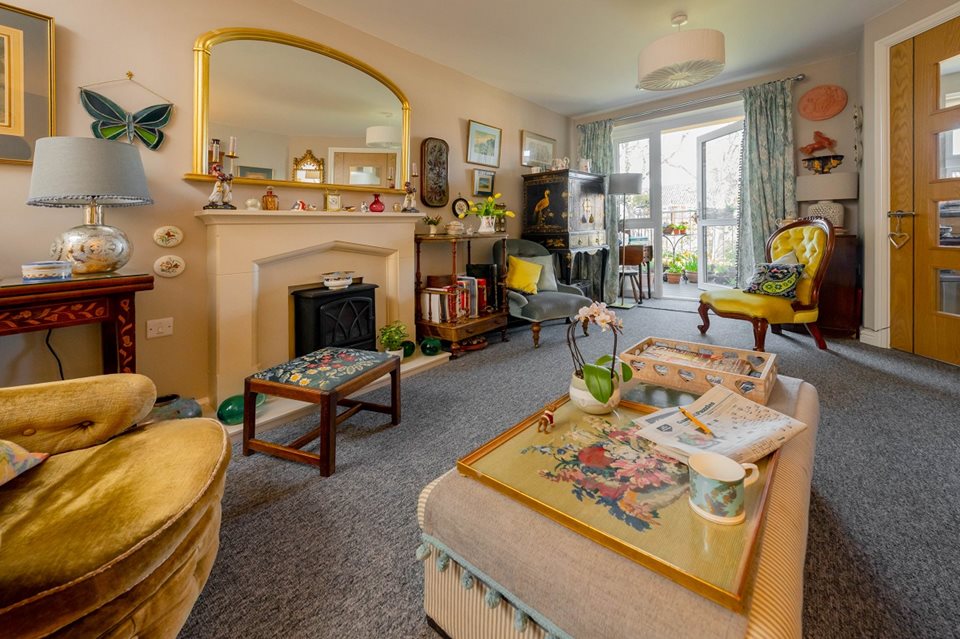 Born in Burma to English parents, Gilly fled with her family to India in the early 1940s, with just the possessions they could carry. Happily, many of the family's unique heirlooms have made it into her stylish apartment. "I was lucky enough to inherit lots of beautiful antique pieces from my parents," says Gilly. "The most precious things are those given to you by the people you are very fond of."
Her flair for design is something else she's inherited. "My mother was very house-proud and I learnt a lot about interior style from her. And it's a love I share with my daughter, too – she's a freelance interior designer… great on colour."
Gilly's career has been as varied as her tastes. As a newly-wed, she spent two happy years teaching English in India, then followed her passions into the equestrian world, teaching and competing. Three children later, she carefully tailored her working life around her family as a school cook and matron.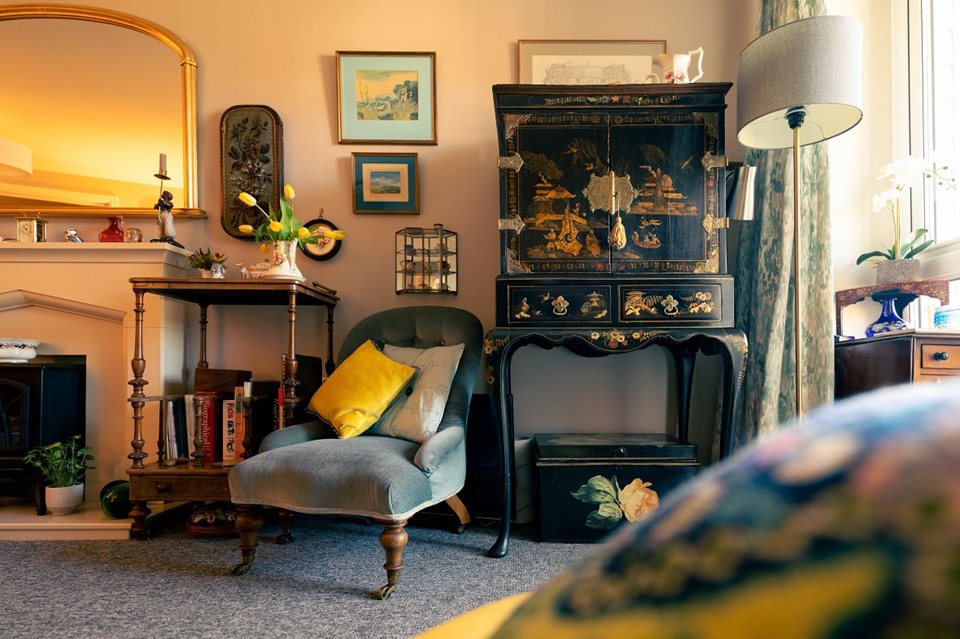 She and her husband were keen gardeners, opening the stunning garden of their Wellington home to the public as part of the National Garden Scheme. When knee trouble made gardening trickier, they moved to a smaller property, complete with a charming walled garden. Gilly then moved to a bungalow when she became a widow, before making the decision to move to Duke's Court.
"After my husband died, I began to feel cut-off and a bit lonely on my own. I wanted to have more people around me and be part of something again. I had a friend who had bought a McCarthy Stone apartment, so I went to have a look."
Not surprisingly, it was the scheme's lovely grounds that swayed it for Gilly. "I was really taken with the beautiful garden…and before I knew it, I'd reserved an apartment.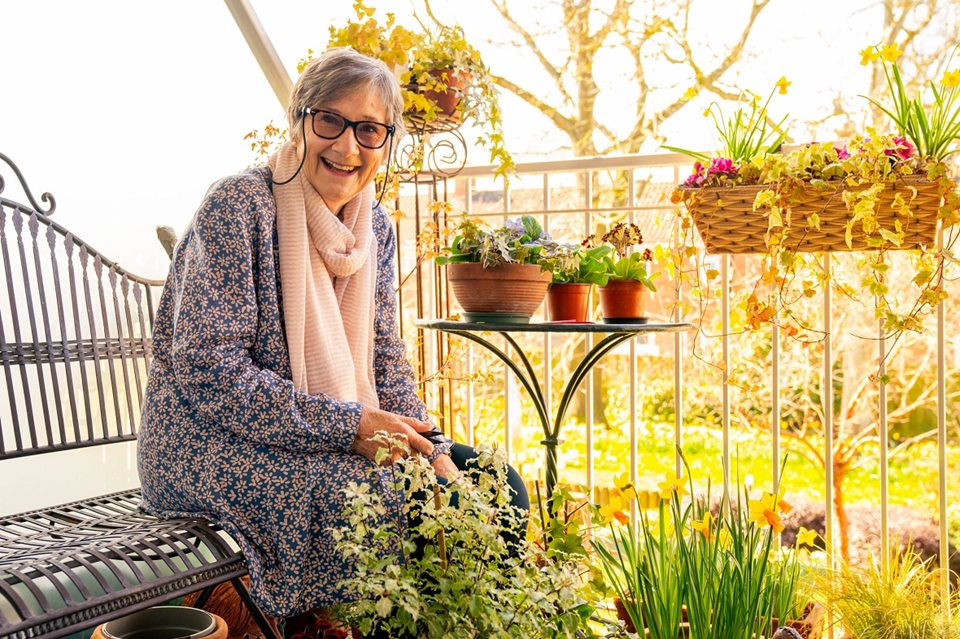 "I wanted to add my personal touch to the rooms right away, so I had it all repainted before I moved in. New dark grey carpets, new lights, a new fire. There hasn't been a single moment since, that I haven't thought I've made the right choice. I feel safe here, I can join in with the fun whenever I choose -and in five minutes I'm in town. I truly love my apartment."
She continues: "Your idea of where you want to be changes as you go through life. I thought to myself, I need to be where I'm happy - and now that means not having too much space to worry about."
Gilly knew it was time to scale down to the pieces she loved the most. "Straightaway, I decided I needed to be practical. I didn't want my children to be left with a great big garage or loft to sort through. So, I had a good clear out and declutter and only brought what I needed."
And what fabulous pieces they are. They include some truly special heirlooms that Gilly particularly cherishes. "I have a walnut chest of drawers from my mother with delicate brass handles - I can picture it in every house my parents ever owned. I also have a matching walnut armchair. There's a tall, black lacquer and gold cupboard - 18th or 19th century - where my father kept his drinks. I have a beautiful marquetry table I inherited from my aunt, and a Chinese chest in black lacquer and gold with Chinese figures.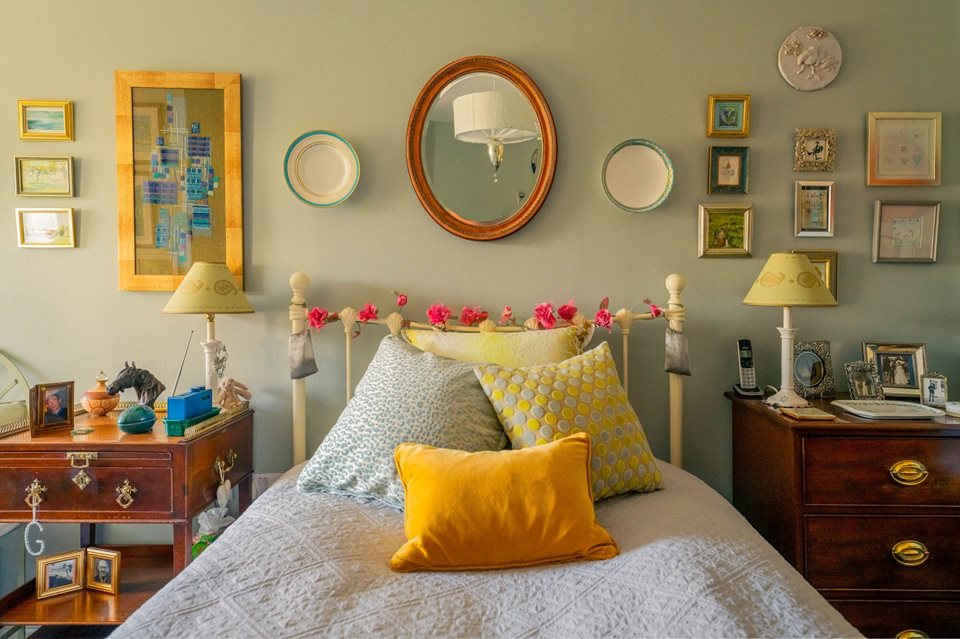 My walls are full of pictures and mirrors. I also have antiques and several tapestry cushions that I began in lockdown dotted around. My pictures mean the most to me, those of Berkshire, where I was married."
Gilly's paint choices are elegant and timeless – a warm, contemporary grey in the living room and hall and a tranquil pale blue in her bedroom. They make the perfect foil for her opulent velvet furniture – a grey sofa and three unique Victorian chairs in shades of green-blue and bold acid yellow.
"I get a lot of my ideas from magazines," explains Gilly. "My favourite is Homes and Antiques. I was actually flicking through it recently and, to my surprise, came across a collection of embroidered pictures with painted faces that I'd inherited from my mother. I'd sold them because I found them a bit creepy at the time… I wonder if I should have now!
"My passion is antiquing. Going round the little antique shops is great fun. I collect ruby glass, hand-painted china cups, pots, trinkets and floral-patterned plates to hang on the walls. You don't have to spend a lot… I certainly don't! A pretty little cup and saucer sets me back around £2.50 - I'm not deterred by a chip or two, it's all part of their character!"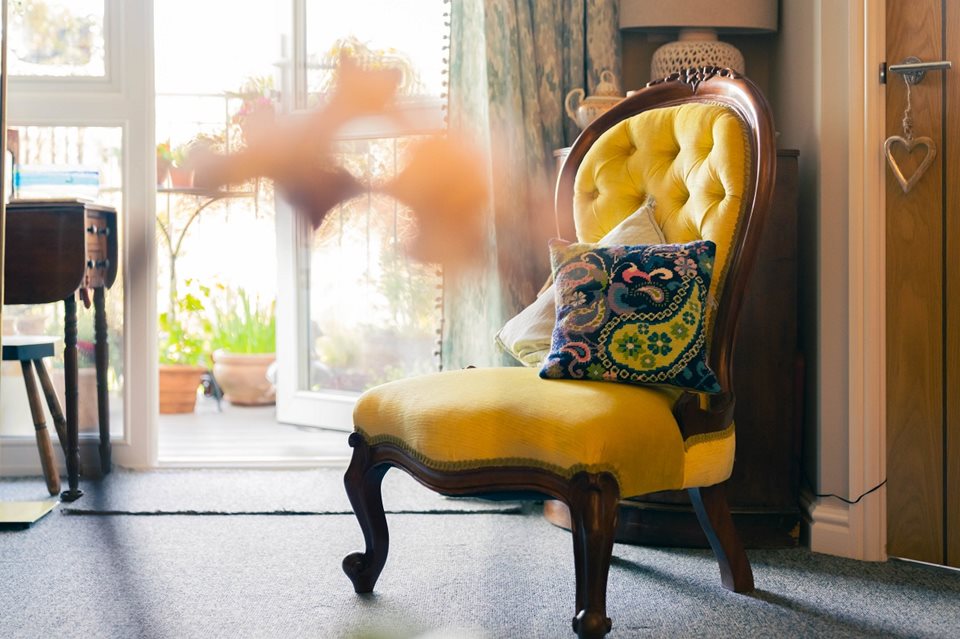 It's one of many hobbies that Gilly enjoys. "I'm a member of a thriving WI. I'm on the Parish Council committee, where I fundraise for our local church. I also support our local Stroke Club. I'm a member of a lunch club and garden club where we go out every month. I also belong to the Exmoor Extroverts – we go on mini breaks to stately homes and gardens and river trips.
"I like to start my day by talking a walk to the local shop to buy the paper and if I haven't got an event or meeting for one of the organisations I'm part of, like to meet one of my friend's for coffee. I've lived in Wellington for over 30 years, so have lots of friends I like catching up with. We take it in turns to host each other, but we also like nothing more than popping to the local garden centre so we can wander around the nursery and enjoy one of their delicious cakes on the way out. I enjoy helping in the garden here and have a range of nice plants on my balcony too.
"We also have a scrabble night every week, a coffee morning every Thursday and keep fit every Wednesday. In between all of that I like to challenge myself with crosswords and world puzzles!"
Having like-minded people on her doorstep has made socialising simple for Gilly. "This isn't an older people's home - it just so happens there are older people that live here. It's a place to meet people and to really enjoy yourself. It's a way of living the very best way you can."