Inspiring Interiors - Ann Carroll, Queen's Gate, Wokingham
After living in Spain for 15 years, fun-loving Ann was keen to bring a little bit of the sunshine to her new home with her. The neutral colour scheme has been the perfect blank canvas for her love of bright shades and bold art.
"I've added colour here, there and everywhere with my collection of Spanish flamenco dancer paintings – some of them specially commissioned. Everyone who visits loves the pictures, the colours and vibrancy," she says. "I couldn't live in an apartment with no colour. When I walk in, it uplifts me, I feel different. People who visit say it has that effect on them too. Life's just better in colour!"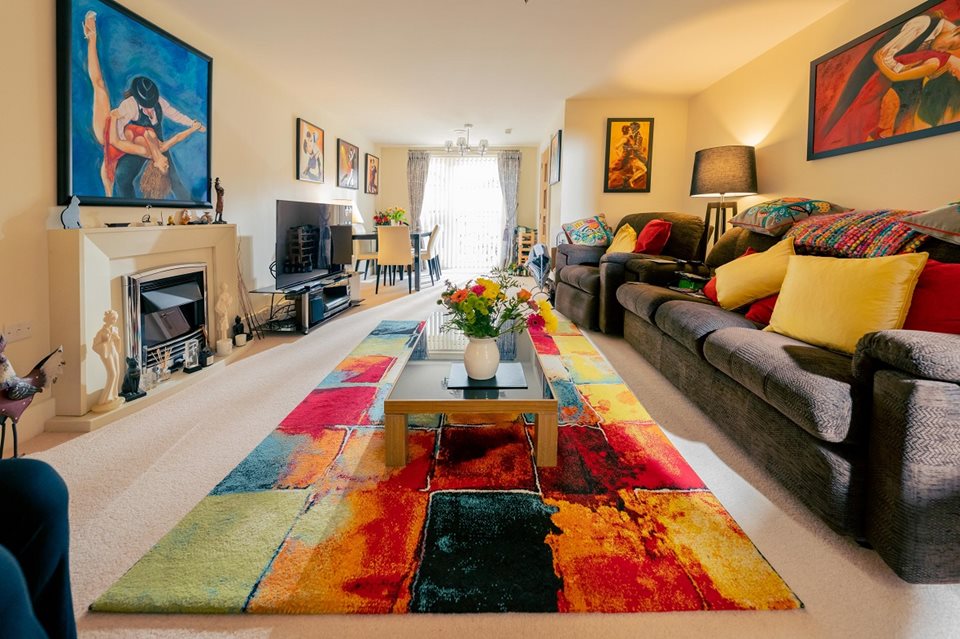 "When I moved in, the McCarthy Stone team helped me plan where to hang them and put them up for me too, so I could really add a personal touch."
She continues: "The painting in my bedroom is a bit cheeky. It's a couple embracing. I tell people it's me when I was younger, as a joke! I also have another painting in there of a couple kissing."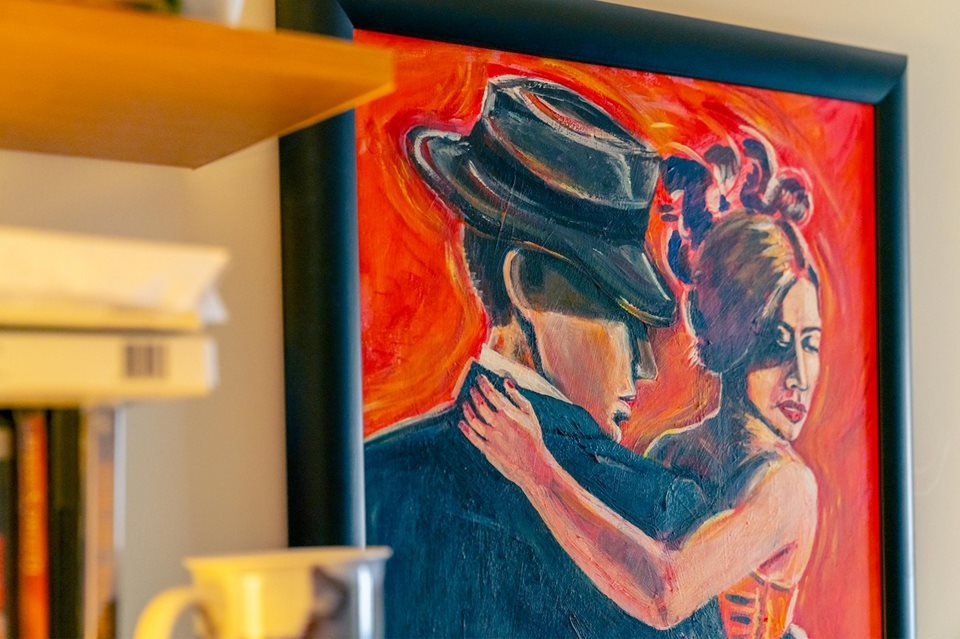 Pop into the washroom and you'll find a charity calendar of nude French rugby players. "With just a ball hiding their naughty bits!" says Ann.
Ann loves to colour co-ordinate, and the sunshine shades of Spain run through the whole apartment as a reminder of happy times there. "I've added more of the colour of Spain with red and yellow cushions and every week I buy flowers that match my décor - always yellow and red with accents of other colours. I absolutely love flowers and have to have ones which match. I've added ornaments and plenty of books too - I love reading."
Ann likes nothing more than to relax in the evenings and enjoy a glass of her favourite Spanish wine. "I have my wine rack – (my collection I call it), in my living room – less far to reach", she jokes. "It actually makes quite a nice feature."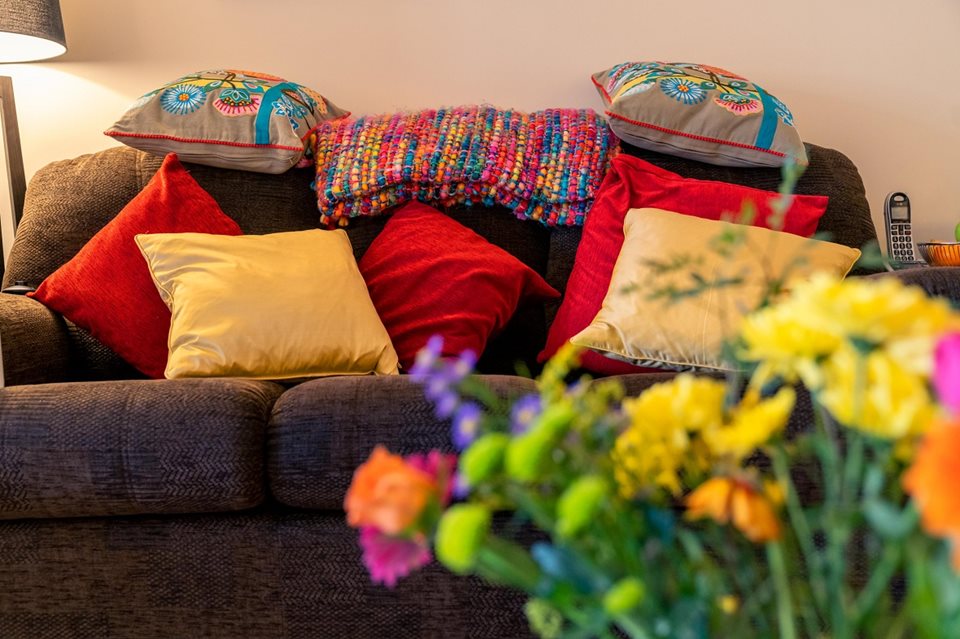 No stranger to travel, adventurous Ann has lived all over the world, from Germany, to the States, to Pakistan. The move to Spain came in 2002, after her divorce. "We had a lovely home but when we separated I decided what I needed was a change," she explains. "I felt like I needed to do something a bit mad and had a friend who lived in Spain, so I thought why not? I moved out there, near Marbella, and stayed for 15 years."
When she moved back from Spain to Wokingham, she found she couldn't manage the garden on her own – so her daughter suggested Queen's Gate.
"I liked it so much that I just thought, 'I'm doing it!'. I did a part-exchange on my home and everything went to plan. It was such an easy process for me - just move in and put my own mark on my new home. I love that I get to enjoy the outdoor space and watch other people doing the hard work. I have a cleaner here, too, who makes sure the place always looks its best."
"I was very lucky that the curtains when I moved in were from my favourite interiors shop, John Lewis – I like to buy bit and bobs from there - and I absolutely loved the lighting, it's beautiful. It was so easy - I didn't even need to repaint, just add my Spanish style."
She also bought some new furniture for the apartment, including a dining table and chairs – Spanish, of course! – and, to accent the space, a bold, colourful rug that's always a talking point.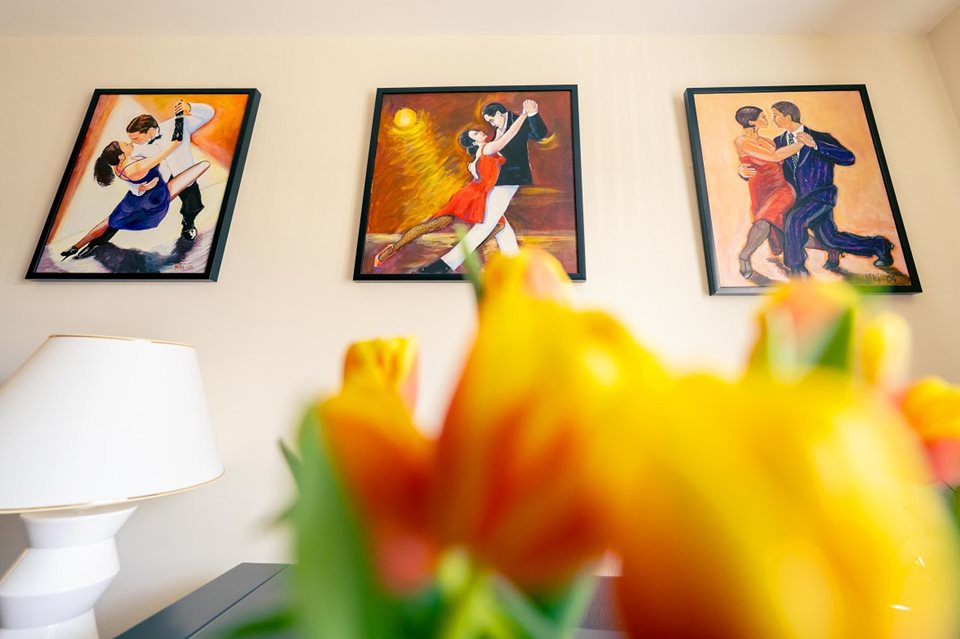 "One of the best things is having two bedrooms - my daughter and grandchild live in France and it's lovely they can stay with me when they come over. The reassurance that Sonja our House Manager is able to help and assist and the 24 hour careline is there when I need it. Plus I have lots of friends here and we all get on wonderfully."
Ann loves nothing more than to cook up a storm in her kitchen:
"I love to cook and will always have a go at making a dish I've seen on a cooking show or online, however over the top it might seem. I've been known to cook a whole duck just for myself before, as I wanted to try the recipe out!"
"My travels have also influenced my culinary skills and I've picked up so many recipes and tips. I learnt how to make a lot of curry-based dishes from scratch when I lived in Pakistan and friends are always complimenting me on them when I have them over for dinner."
"I also like to go out to eat for a treat. Côte is my favourite. I'm working my way through their menu but you can't go wrong with their steak frites! And of course, a nice glass of French wine."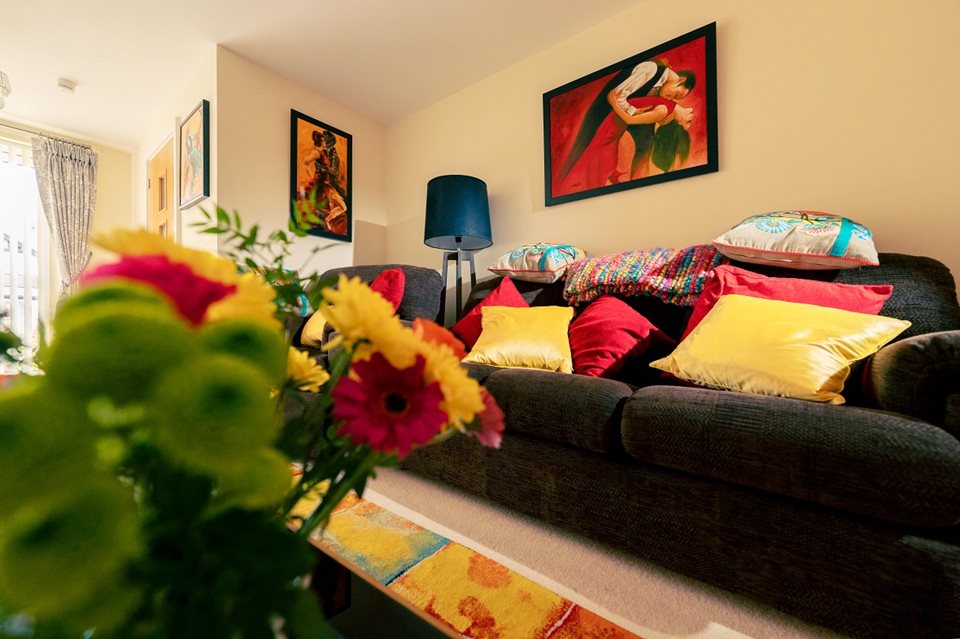 When she's testing out a new dish, Ann can often be found socialising with her friends from Queen's Gate at one of the development's regular coffee mornings or events as she explains:
"We always find a reason to get-together, whether it's a cheese and wine night or just drinks and nibbles. For New Year's Eve I made lots of delicious canapes for us all and we spent the night drinking champers until gone midnight."
"I've also joined the Queen's Gate singing group where we enjoy rehearsing numbers from musicals. It's so liberating just to sing your heart out, even if you might not be the best singer. We have the most wonderful time."
Ann is also a fan of online shopping, particularly shoes, as she says, "you can never have too many shoes, especially good ones!" and enjoys pampering herself by having her hair and nails done regularly.
If that's not enough to keep her busy, Anne is an ardent follower of the downhill and cross-country skiing when it's on, having a been a former cross-country skier herself.
"Life is what you make it - and I love to make people laugh and brighten up their day. My personal style is colourful and bright," she says. "People say it's just like my personality!"