What makes McCarthy Stone homes for retirement different?
At every stage of life, we want to live to the fullest. Retirement is a colourful new chapter, offering you the perfect chance to spend time doing the things you love, enjoying quality time with family, and connecting with friends old and new.
Our retirement apartments are made to ensure you have every opportunity on your doorstep, whether you use your new home for entertaining, relaxing, or taking up a new hobby. Thoughtfully designed to assist you as you grow older, our premium properties allow you to join a vibrant community of likeminded people.
Our newsletter is a great way to stay up to date with the latest McCarthy Stone developments, so be sure to sign up here.
Which types of homes do McCarthy Stone offer?
A form of specialist housing for older people, our premium retirement housing allows residents to live independently, with the additional peace of mind that support is on hand if needed.
We offer a number of stylish property options in our retirement communities, which suit every lifestyle. Choose between one of our modern bungalows or apartments which are designed to make day to day living more manageable.
Our bungalows are a popular property choice for retirees, especially those looking to downsize from a larger property. Their single-story layouts are ideal to cater to any mobility issues and our bungalows offer a garden to enjoy time spent outdoors.
With fewer rooms, your home will be easier to maintain, giving you more time to spend on the things you love. Our apartments and bungalows can also save you money on bills and utilities costs through their compact size, whilst each property has been expertly designed to maximise available space.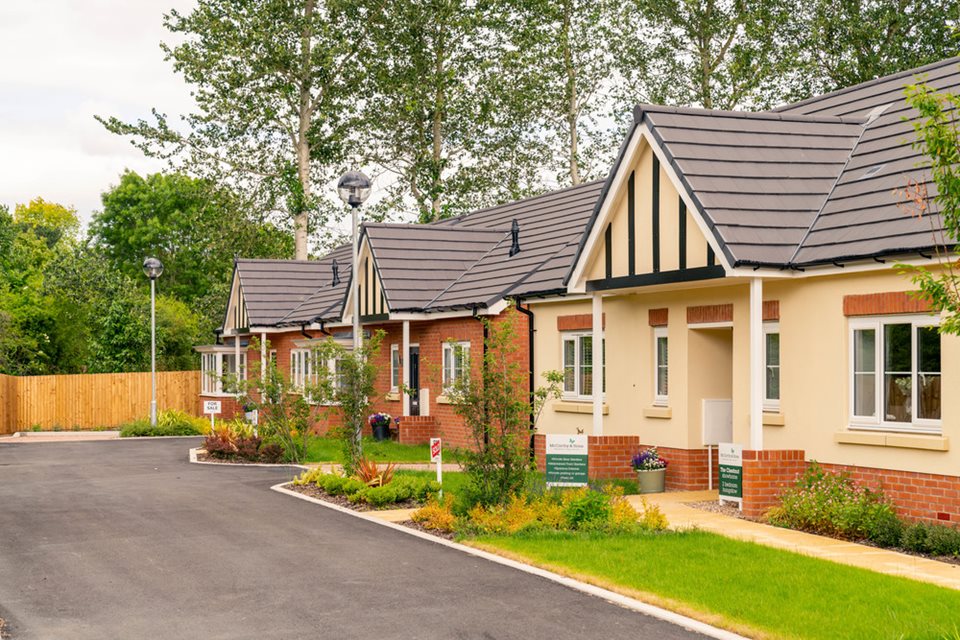 How can you choose your home for retirement?
Owning your home outright has great benefits, but when it comes to choosing one of our properties, we offer several occupancy options to meet your individual needs.
Most McCarthy Stone developments offer retirement homes to rent as well as for sale or part buy, part rent. Renting is ideal for people who don't want the commitment of ownership. Enjoy the freedom to try out a development and see if it suits, giving you less commitment and more flexibility to see where life takes you.
Of course renting one of our properties will still give you access to the community events, services and amenities on offer at your chosen retirement development, ensuring you are a part of the vibrant culture on site.
Part buy, part rent is also a great option for those who wish to enjoy life in our retirement apartments without committing to the full purchase. It's perfect if you want more financial flexibility, now or in the future.
Shared Ownership allows you to buy part of your home and pay rent on the rest, so you can move in and enjoy the benefits of the McCarthy Stone lifestyle without committing to a purchase. We believe that having these options available when moving with us, will allow you to manage your finances for possible future needs.
Where can you retire with McCarthy Stone?
Our contemporary properties are based across the UK, giving you the choice to live locally, move closer to your loved ones, or even take a leap and move to your dream location for a new adventure.
Whichever property type you choose, we offer locations which you'll love. Take your pick from rural or coastal retreats, to buzzing city centres and bustling market towns. One of the joys of retirement is the freedom to do more of what you love, and your new home will be close to shops, restaurants, tourist attractions and sport facilities so there's plenty to discover from your doorstep.
Our developments are carefully located near to transport links, making it easy to visit friends and family, or to entertain them at your home. If you'd rather stay home, you'll benefit from a vibrant community of friendly neighbours too.
You can learn more about our community of like-minded retirees.
What kind of support will you receive in the moving process?
When you choose a McCarthy Stone property, rest assured that you will receive support at every step of your moving journey to ensure a stress-free transition to your new home.
One of the unique benefits we offer a free removals service, Smooth Move. Our removals experts are on hand to help with anything you might need during the moving process. For example, they can:
De-clutter and safely pack your belongings
Transport and unpack, so you won't have to lift any heavy items.
Help with tasks such as hanging pictures and mirrors – so it feels like home in no time
Once you've made the move, you will be welcomed into you to your new home by one of our dedicated House Managers, who are on site in all our Retirement Living Developments during office hours.
House Managers help new homeowners to settle in and will support with practical things around the home, as well as introducing you to your new neighbours, inviting you to events and activities, as well as making sure you feel completely at home.
Once you are settled, the support does not end. House Managers are on hand to deal with any and every situation that arises on a development, from everyday duties such as welcoming your visitors and housekeeping, to changing lightbulbs and dealing with emergencies.
Find out more about how we can help you though the moving process.
Get in touch to find out more
If there's still more information you need on the types of accommodation we provide and the similarities and differences between McCarthy Stone's offerings and sheltered accommodation, feel free to contact us.