Christmas in the 1950's vs. today

A 1950s Christmas is something many McCarthy Stone homeowners will remember with fondness despite some hardships. The Second World War had left its mark, food rationing continued until 1954 and luxuries were in short supply. Yet Christmas was still a time full of celebration and joy. As we take a look down memory lane, what traditions would you like to bring back from Christmas past?
Here are five differences between a typical 1950s Christmas and our Christmases today:
1. There were fewer presents
For many people born in the 50s, a first Christmas memory is of stockings filled with sweet oranges and walnuts – luxurious items at the time, but unlikely to satisfy modern-day children. But post-war frugality combined with a scarcity of products and limited advertising, meant, generally, there was less desire for material things at Christmas. Of course, children would hope for lavish gifts such as a bicycle, dolls house or a Spirograph, but they wouldn't expect to wake up to a room full of presents on Christmas morning. With the cost of living rising and concerns over the impact of over-consumption on the environment, many people might pine for a time of fewer presents.
Bring it back tip: If you're looking for an alternative to toys for the children in your life this year, consider 'creating memories' by treating them to a special day out, or buying them an annual membership to a local zoo or attraction - something they can enjoy all year long.
2. Families gathered around the TV or radio
While nowadays, families are often found together at Christmas but glued to their separate smartphones and electronic devices, in the 1950s and beyond, gathering around the TV (if you had one) or radio (if you didn't) was a Christmas institution. With no other distractions the entire family would often get together to watch or listen to a Christmas special and it was common for friends and neighbours to join in too! On the radio, people enjoyed Christmas episodes of their favourite shows such as The Goon Show (1951-1960), The Archers (1950 - still going strong) - and Educating Archie (1950-1959)– an unlikely radio show about a ventriloquist's dummy that proved to be a huge hit.
Enduring popular Christmas TV shows of the 50s and 60s included 'Billy Smart's Circus' (1947 - 1982) and 'Christmas Night with the Stars' (1958-1972).
Then of course there was the Queen's speech. The first royal Christmas message was from George V in 1932. This first speech was broadcast on the 'wireless' and written by Rudyard Kipling. Twenty five years later, Queen Elizabeth II did the first ever live TV broadcast of the Christmas speech in 1957. While nowadays there are hundreds of TV channels and countless other diversions, the final Queen's Christmas message was broadcast simultaneously on TV, radio and online at 3pm in 2021 and still managed to command a live audience of around 9 million people on Christmas day. Now, King Charles III takes on the mantle of this 90 year old tradition.
Bring it back tip: If you'd like to create your own family Christmas TV rituals, there are still plenty of Christmas specials to enjoy, from Strictly Come Dancing to Eastenders. Or perhaps there's a favourite film you'd like to rewatch every year? Whether you love 'It's a Wonderful Life' or 'Elf', there are plenty of choices - you'll just have to persuade your family to put down their phones.
3. Games were not online
In the 1950s, Christmas night and Boxing Day would often be filled with parlour games played by the whole family. From Charades to Consequences, many of these games would require little more than perhaps paper and pencils and could provide hours of fun. Then there were endless variations of card games and the evergreen boardgames, Cluedo, Monopoly or Scrabble.
Bring it back tip: Get off the Xbox and persuade your family to get involved in a round or two of Who am I? (also known as the Post it Note Game) or Charades. You'll be rewarded with conversation and laughter that'll give you a Christmas to remember.
4. Christmas entertainment and shopping was local
Without as much competition for attention, traditional pantomimes, Christmas shows, choirs, brass bands and recitals flourished in the 1950s, as people sought festive entertainment in their local area.
Christmas shopping was very different too. Without the convenience of online purchasing, glamorous department stores like Harrods in London, Fenwick in Newcastle and Rackhams in Birmingham played a big part in the season's traditions with sparkling decorations, creative window displays and Santa's Grottos drawing huge crowds. While they're not as popular as in their heyday, many large stores still pride themselves on their creative and spectacular windows.
Bring it back tip: As well as organising a trip to an old-fashioned panto, why not get involved in the small Christmas events in your community – from amateur productions to local choirs, they'll be glad of your support and you'll get to know more people in your area. Read our recommendations for Christmas light displays and Christmas markets cross the UK to visit too.
5. A 'homemade' Christmas was the norm
Christmas decorations and presents in the 50s and 60s were often handmade or homemade. Handblown baubles, advent candles, advent crowns and nativity scenes sat alongside cuttings of holly, pine and mistletoe – and colourful paper chains. When it started in the late 1950s, the children's television programme Blue Peter showed popular tutorials of how to make Christmas decorations at home.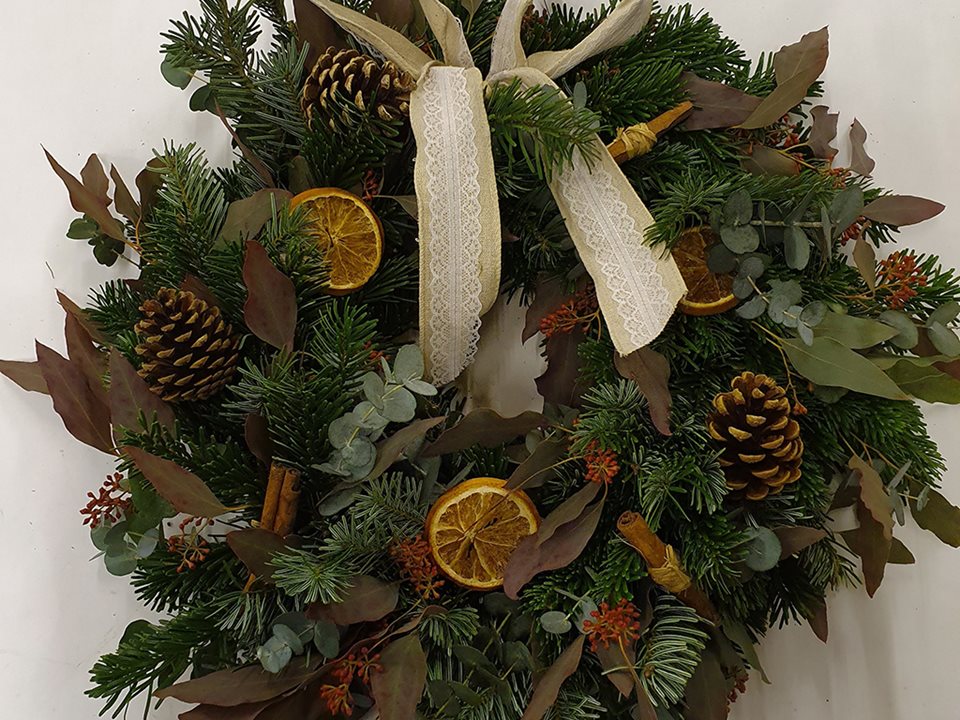 Knitted jumpers, gloves, scarves and hats were common presents as were homemade dresses, skirts and shirts. Baked goods, pickles, jam, wine or chutney also made popular gifts. The traditional Christmas dinner, however, was strikingly similar to nowadays: turkey or goose with roast potatoes and two veg – but everything including the Christmas pudding, cake and mince pies were much more likely to be homemade from scratch, portions would be smaller, and waste would be kept to a minimum. Find Christmas recipes that make great gifts.
Bring it back tip: Crafting and homemade gifts are back in vogue – a thoughtful antidote to too much consumerism combined seamlessly with an enjoyable hobby. We have lots of inspiration for DIY gifts, including candle making and a step by step guide to making wreaths.
At the core, Christmas remains the same
Although, for better or worse, much has changed since the 1950s, it seems that at its heart Christmas Day is still the same, with many of our traditions passed down through generations. Festive food and treats, glittering lights and decorations, thoughtful presents and the all-important presence of friends and family are all we really need to make Christmas truly special.
'Tis the season to be jolly at our Christmas open days
The McCarthy Stone communities are busy getting into the yuletide spirit with events up and down the country during November and December. A warm welcome awaits at our open days which offer seasonal delights like Christmas cocktails, festive baking and wreath-making workshops - accompanied by mince pies, mulled wine and the chance to look around our gorgeous retirement developments. Why not pop in and join us?