Retirement Properties near Southsea
Properties available
RETIREMENT LIVING IN SOUTHSEA
Discover a coastal resort with a rich history
If you're considering retiring by the coast, then our retirement properties in Southsea are a great choice. Southsea's a fabulous location that really is one of Britain's best. It's home to beautiful beaches, a stunning seafront and historical attractions that mean it's easy to fill the days.
The location of our retirement homes in Southsea means it's easy to enjoy your retirement. Located in the historic port city of Portsmouth, Southsea's beautiful views are the stuff of legend. Take a stroll along Eastney Esplanade to experience the best of these. On a bright, clear day, you can see as far as the Isle of Wight.
Retire to Southsea
Leisure Activities
Leisure Activities in Southsea
Southsea's seafront location means it's a great spot if you'd like to keep active on the water. Southsea Rowing Club is committed to providing a healthy, fun, competitive environment for rowers of all ages and abilities. Whether you're an accomplished rower or you're just getting started, they have a place for you.

On dry land, there's also Wimbledon Park Sports Centre. There's a sports hall here where you can keep active and a gym with over 20 stations. Five indoor courts mean there's a special focus on badminton, but they also have a range of outdoor activities, including pole walking sessions that are perfect for retirees.
Places of interest
Places of interest in Southsea
South Parade Pier
Reopened in 2017, South Parade Pier's an incredibly popular fishing spot. Although it's popular with fishermen, it also includes an amusement arcade that's great for when family come to visit and The Gaiety Bar where you can enjoy a relaxing drink.
Canoe Lake and Southsea Common
Canoe Lake's been open since 1886. The main highlight's an impressive boating lake that's surrounded by beautiful floral beds. In the winter, the lake's also a nursery for swans. When family visit, Canoe Lake's the place to be. It has a children's play area that comes with a zip wire, a sand pit and a water area.
Close by, Southsea Common's a fantastic place to take a stroll. It's four miles long and in summer it's usually packed with people flying kites, playing ball games and enjoying a picnic while making the most of the views out to sea.
Gunwharf Quays
In nearby Portsmouth centre, Gunwharf Quays is a paradise for shoppers. Overlooked by the iconic Spinnaker Tower, it's one of the UK's leading designer outlets. Located on the waterfront, the centre's home to over 90 different brands and over 30 different restaurants.
Southsea Castle
Reportedly built to specifications set out by Henry VIII, Southsea Castle's the most southerly point in Portsmouth. It overlooks the Solent and much of the city, offering fantastic views in every direction. If you'd like more of a history fix, then the D-Day Museum is only slightly further along the promenade.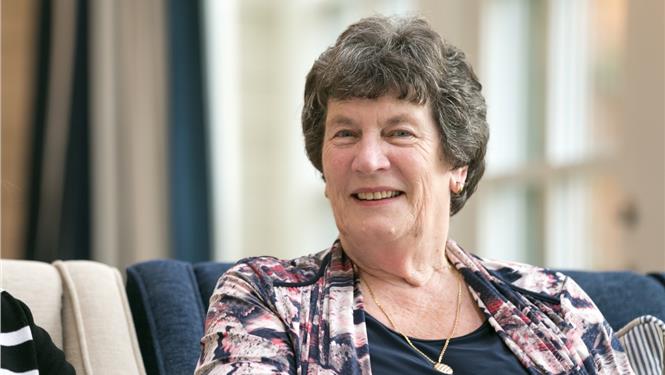 "As if moving into my beautiful new apartment wasn't enough, everything that led up to the move was handled by McCarthy Stone. I couldn't believe how easy it all turned out to be; I was left with just two boxes to unpack which suited me and Meira just fine"