Property 27, the Elm is a two-bedroom detached bungalow. Comprising of a living room which leads into the kitchen, dining area. Bedroom one has an en-suite and luxurious walk-in wardrobe. The bathroom is next to bedroom two and there is also one useful storage cupboard located in the hall. The property also benefits from a private garden with patio area plus a garage to the rear of the property.
Floorplan
The Elm Floor Plan
Energy Performance Certificate (EPC)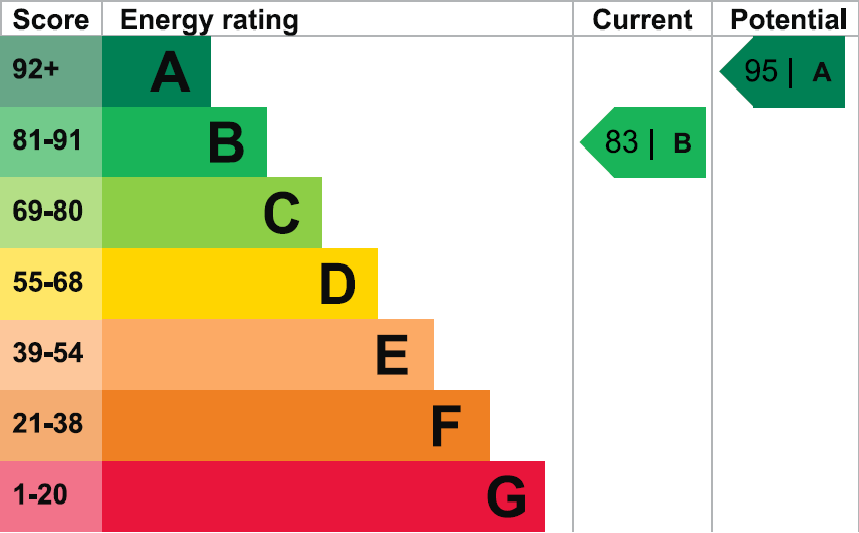 Energy Performance Rating
The graph shows the current energy efficiency of your home. The higher the rating the lower your fuel bills are likely to be. The average energy efficiency rating for a dwelling in England and Wales is band B (rating 60). The EPC rating shown here is based on standard assumptions about occupancy and energy use and may not reflect how energy is consumed by individual occupants.
Features
A modern living space
Fitted kitchen

We provide a range of quality appliances, including waist height oven, ceramic hob and integral fridge/freezer. Everything is laid out to make cooking and cleaning as effortless as possible.

Bedroom

Luxury and comfort are at the core of our bedrooms. We provide generous storage with either a walk-in wardrobe or fitted wardrobe to the main bedroom.

Living Room

Our spacious living rooms are both light and neutral décor, making it is easy to add your own personal touches to your living area.
Occupancy options
Found a property that takes your fancy? Find out more about the practical details including information on tenure type, service charge and FAQS.
This is a freehold property.
New build - Council tax band to be determined
You can buy properties on this development. If you'd like to own your retirement property, we can help make the move as stress-free as possible, including support with packing and removals. If you have a home to sell, we can even act as a cash buyer, so you'll avoid chains and estate agent fees.
Electricity, heating and lighting (communal areas)

Water and sewage (communal areas and apartments)

Maintenance of building and gardens

Development staff

Building insurance

Future maintenance fund

Professional fees

Emergency call system
What's not included?
Electricity, heating and lighting (apartments)

Home and contents insurance

Council Tax

Phone / broadband

Ground rent

TV licence / TV service
Do you offer Part Exchange?
Yes. If you want a quick, simple way to sell your home and move into one of our retirement properties, then Part Exchange could be the answer. For more information please click here.
Are your cottages and bungalows sold on a freehold or leasehold basis?
Our bungalow and cottage developments that are for sale are being sold on a freehold basis only as they are stand alone homes.
We are determined to provide positive resale values and to this end, we have changed dramatically since 2010 to make a big difference to our products and services. We have a dedicated resales team to deal with all future resales and to achieve the best prices, we also maintain an extensive database of prospects who are looking to buy our properties in the desirable areas we have located ourselves in over the past four decades.