Wine and cheese paired to please
A bulging cheese board is a classic Christmas treat, but if you want to take yours up to the next level, become an amateur sommelier and read our guide to matching different cheese types with their perfect wines.
While wine and cheese are both delicious on their own, the perfect pairing enhances the flavours of both. The trick is to find a wine that balances the strength and complexity of the cheese's flavours, without overpowering them - usually this means the wine should be sweeter and more acidic than the food it is paired with. Here are some suggestions to make your Christmas parties even more delicious…
Wine to pair with hard cheese
The strength of flavour is key here. Essentially lower tannin wines go with milder cheese, while punchy full-bodied wines are required to cope with the complexities of tangy aged cheeses.
Younger, milder variations of hard cheeses such as Cheddar, Parmesan, Red Leicester and Caerphilly match well with a dry white wine like a white Burgundy or a low tannin, fruity yet tart, red, like a Beaujolais. For medium strength cheeses go for a medium-bodied red wine, perhaps a Rioja or a Pinot Noir. For example, the dry cherry/raspberry flavours of Pinot Noir make it an ideal companion to nutty Gruyère.
As hard cheeses age, their flavours become deeper, richer and more complex and need to be balanced by bold, high tannin wines such as a plummy, chocolatey, Merlot, a blackcurranty, spicy, Cabernet Sauvignon or a smoky, peppery, Syrah. These make perfect companions to the likes of extra mature Cheddar, Manchego and Gouda.
Wine to pair with soft cheese
Soft creamy cheese like Brie, Burrata or a Camembert, balance well with wine that has a high level of acidity to cut through the fat content and create balance. For a white wine pairing, try a Chablis, Chardonnay or a Pinot Grigio. Chardonnay and Camembert in particular are a match made in heaven. If you'd prefer a red, try a light Pinot Noir or Beaujolais. Fizz is also a perfect pairing for soft cheese – try Prosecco, Cava, or, if you're feeling flush as well as festive, Champagne. They all compliment creamy flavours really well.
Wine to pair with blue and stinky cheeses
Blue cheeses like Stilton, Gorgonzola or Roquefort are so powerful in flavour, they don't tend to pair too well with red wine, even the bolder ones. Instead, for intense, creamy textured and stinky cheese, sweet wine is the way to go. Sweet and dessert wines like Gewürztraminer, Moscato, Riesling and Port create a tongue-tingling contrast between the saltiness of the cheese and the sugariness of the wine. The robust spicy sweetness and full body of a ruby and tawny port goes perfectly with a more pungent cheese too, and as a bonus, they are also a delightful match for the rich dark fruit flavours of Christmas pudding and cake.
Wine to pair with goat and sheep cheeses
With their mild yet earthy tang, goat and sheep cheeses are actually relatively easy to pair. As with soft cheeses, the younger the cheese, the easier it is to match to a wine. But in the main, as long as you have a fresh wine with a lively acidity, you'll create a beautiful pairing. Sauvignon Blanc, in particular Sancerre, is a fantastic choice with goat's cheese, but the ever flexible Pinot Noir provides a tasty red alternative.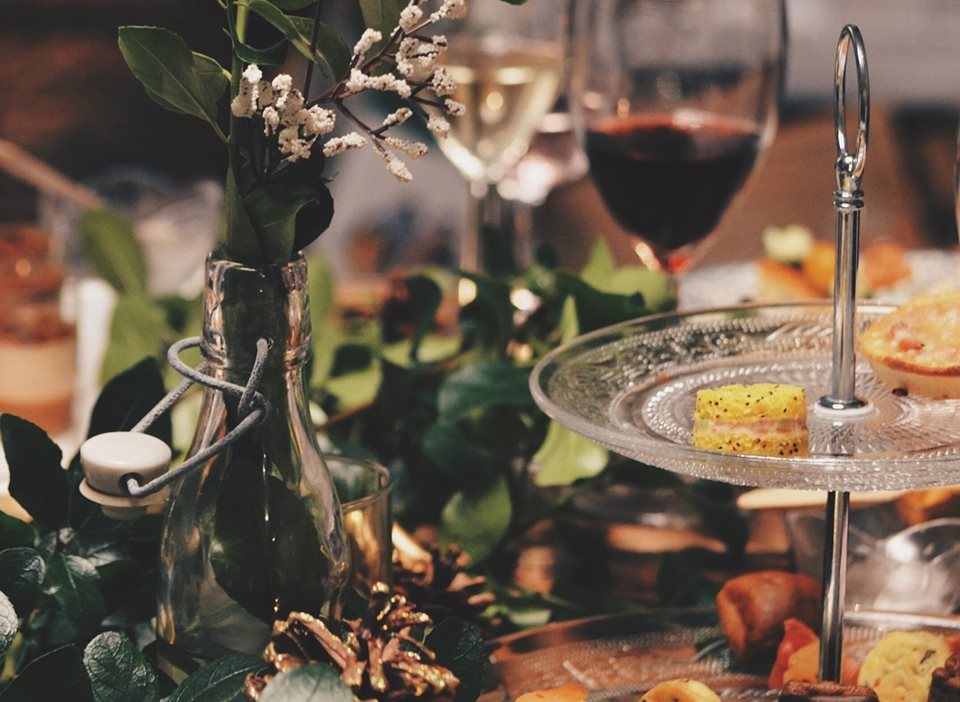 Cheese to match with a warm and spicy mulled wine
Mulled wine is a popular winter warmer and Yuletide treat. And, perhaps surprisingly, its robust cinnamon, nutmeg and citrus flavours can be paired quite easily with a variety of cheese. Strong, salty and aged cheeses work best. Try blue cheeses, ripe Camembert and aged Cheddar.
If you can only choose one wine with your cheese…
If you are hosting a wine and cheese tasting party, then a choice of contrasting white and red, low and high tannin, sweet and dry, light and full bodied wines will give your guests a chance to test out their favourite cheese and wine combinations. But if your cheese board marks the end of an already indulgent Christmas meal then you may want to narrow down your wine options to one or two.
Pinot Noir and dessert or pudding wines like Moscato are flexible choices. The former goes with all but the most aged of cheeses. And the latter is perfect with blue and pungent cheese while also complimenting your desserts. You could also match your cheeses to your preferred wine – serving a selection of soft, creamy cheeses with festive fizz, for instance.
But you want one choice to compliment a wide-ranging cheeseboard, then a tawny port makes the perfect crowd-pleasing companion. Strong, sweet but not too overpowering, the flavour profiles are similar to the chutneys, membrillo, pickles and dried fruits, traditionally served with a cheese.
'Tis the season to be jolly at our Christmas open days
McCarthy Stone is busy getting into the yuletide spirit with events up and down the country during November and December. A warm welcome awaits at our open days which offer seasonal delights like cheese and wine tasting, Christmas cocktails, festive baking and wreath-making workshops - accompanied by mince pies, mulled wine and the chance to look around our gorgeous retirement developments. Why not pop in and join us?