How renting in retirement gave Helen a new lease of life
"When I retired, I decided I wanted to fill my days with lots of things, and so I did! I've overfilled them actually!"
Currently Helen works about 20 hours a week balancing various volunteer jobs. Some of her time is spent with the Coroners Court Support Service charity, offering emotional and practical help to bereaved families and witnesses attending an inquest at the Coroner's Court in Ampthill. She explains: "You hear of some truly devastating things, but it's so rewarding to be able to make a difference on that one day just by being there to offer support."
Choosing a two-bedroom apartment at Clemens Place also allowed her to turn one of the bedrooms into a work area where she also takes calls on behalf of the Coroners Court Support Service telephone helpline.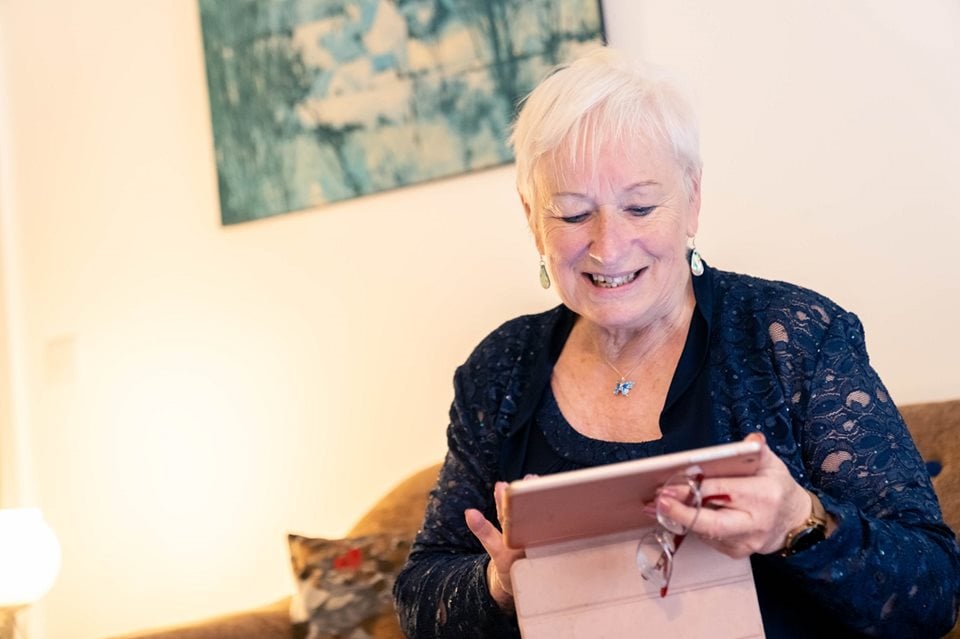 When's she not at the Coroners Court, Helen is a Police volunteer, something she has committed to for over 13 years in a wide variety of roles. Most recently she was asked to steward at one of the Platinum Jubilee street parties in Alameda Walk, and regularly takes part in organised street patrols working with Citizens in Policing. This year she was awarded 'National Volunteer of The Year' for her contributions by the British Association for Women in Policing, an organisation she says "is aimed at empowering the Police services' strong, hardworking women."
"To even be nominated was such a surprise", she says, "but to win and be embraced by other women within the service was just so humbling.
"I think it's very important to give back to others. Right now, I have the time, I have the health, and I'm comfortable enough that I can do it", says Helen.
Helen had wanted to find a property that would be more manageable for her on her own for some time, but she had been deterred on several occasions because she couldn't bear to leave her beloved hometown of Ampthill where she had lived for 20 years. "I'm totally wrapped up in Ampthill and all its town activities", she says.
Clemens Place, built on the site of the former police station where Helen used to once volunteer, presented the perfect solution for her – coincidentally it was also next door to the Coroner's Court so made her passion for volunteering there extremely convenient!
Last year, Helen's dedication to her local community of Ampthill was recognised when she was awarded the Roll of Honour by Ampthill Town Council after being nominated by Ampthill residents for her various volunteering roles.
"I had a sort of shopping list of things I wanted to do when I was no longer working and now that I've moved to Clemens Place I've done them all!", says Helen. "I sing as a Soprano in three different choirs. I join in with pilates and aqua aerobics and I even started learning to speak Greek and to play the Spanish guitar."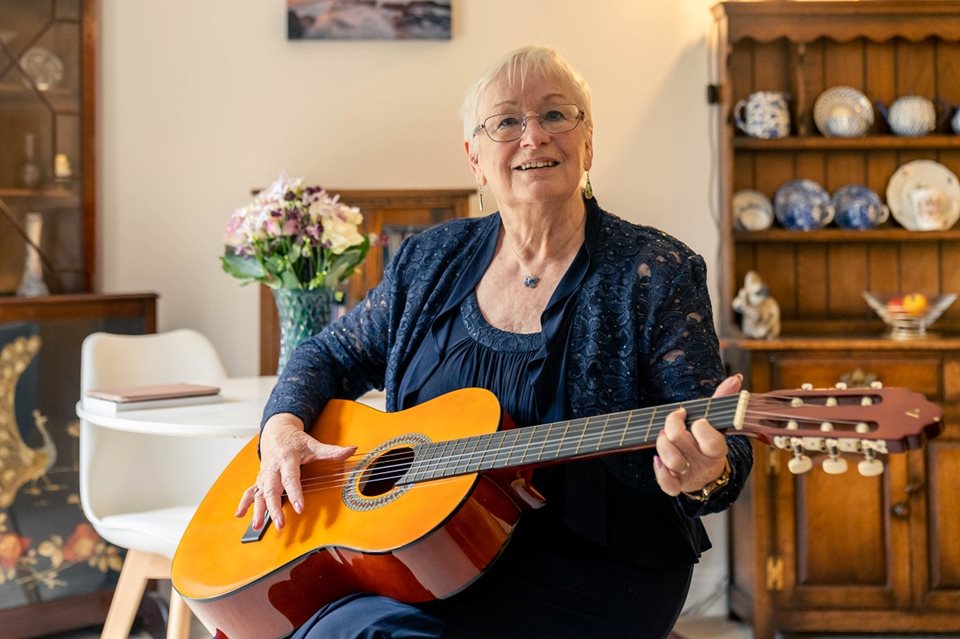 But one of Helen's biggest loves is quizzing. "I love quizzing", she says. "I have a quiz team and we quiz at least twice a week! I've also been a contestant on several TV quizzes including ITV's The Chase where I won £5,000."
Helen sold her previous property and the ability to rent her apartment at Clemens Place has freed her up to be able to manage her finances in a way that suits her.
She comments: "Now that I've made the leap – I've retired, I live in a joyous community and I've got support around me no matter what the future holds, I feel I can finally relax.
"I think the best time of your life is the time you're living now. And that's certainly true for me!"
How do your household running costs compare to your previous property?
"Before moving to Clemens Place, I used to live in a picturesque 17th century National Trust listed thatched cottage. But as you can imagine with such a property the maintenance and upkeep started to take its toll."
"It was 'leaking money'. The thatch roof had been patched up three times in the 20 years I'd lived there which wasn't cheap, and it was getting to the stage where it would need a complete rethatch. Something that would mean a big expenditure in the realms of £60,000-£70,000. "
"Likewise, I had an old wooden conservatory that I'd spent many a year painting over the cracks, but it needed knocking down really and rebuilding, As it was a listed building, it had to be hardwood and not modern more practical materials, and I'd been quoted a cost of around £40,000."
"When I also began to calculate the amount I was paying out each month on the garden – around £250 to keep the lawns and shrubs under control, tree surgeons to manage the holly hedging, and pond specialists to service my two large ponds, I found that sadly the joy of living there had begun to be offset by the cost of maintaining it."
"Added to that to that I'd been told that my electricity bills were about to be increased by several hundred pounds per month, so that was a real worry. My incomings and my outgoings simply didn't match up anymore. It was then I knew it was time to move."
"Since the move, not only do I not have the stress of keeping up with the maintenance anymore – if something needs doing I just tell Debbie the House Manager and it's done."
"Better still, I'm actually saving money day-to-day! My electricity bills are very much less, around £100 per month compared to the more than £300 per month I was paying in my old property. Saying that, you don't really need to worry about having your heating on all that much. Even in the worst of winter I only feel I need to have the one radiator switched on - it's so toasty and warm here."
Are the costs of living at Clemens Place in line with what you expected?
"The predictability of my monthly outgoings was one of the things that really attracted me to McCarthy Stone. The option to rent my apartment meant I could sell my old property and save the equity to fund my retirement lifestyle. I know exactly how much I'm paying each month and it's wrapped up into one single charge which makes things so much easier."
"The £2,600 per month rent that I pay for my apartment includes all the maintenance, gardening, on-site House Manager (that's Debbie), window cleaning, and our much-used communal lounge where residents meet over tea and coffee. So many things that would cost in a normal house are covered – it really does pay for itself."
"One of the things I didn't really appreciate until I moved here was just what a strong community it is. I've made so many good friends. Although there is no healthcare on-site because it's independent living, everyone looks after each other and the bond between us is so special."
"Another surprise was not having to pay water charges as that's included too. I've also benefited from a considerably lower council tax – around £100 per month better off now than I ever thought I'd be! It pays for the occasional long lunch with friends over a few too many bottles of wine, so I can't complain", Helen jokes.
Do you feel safe and secure at Clemens Place, and why so?
"My old property was quite remote, and I lived there on my own with my two dogs. My neighbours were lovely and very friendly but the distance meant I hardly ever saw them. You shouldn't think like this but I used to worry that if I was broken into or something were to happen to me, would they realistically be able to hear me to help me?"
"When I think about my outgoings at Clemens Place I feel it's well worth it for the security, the company and the comfort you get."
Why did renting appeal to you more than buying outright?
"Being on the property ladder at this stage of my life just wasn't important to me anymore. What appealed to me more was the freedom that renting offered. I wasn't going to be tied down and neither would my family with a property to sell. I could plan my monthly costs in advance, know exactly what I would be paying month to month, and with no nasty surprises."
"The Assured Tenancy offered by McCarthy Stone also gave me great peace of mind that I could live at Clemens Place comfortably for as long I choose."