80-Year-Old Doesn't Let Lockdown Stop Her Ticking A Tandem Skydive Off Her Bucket List
Bude resident Ann Maskell discovered her adventurous side in her early 60s.

In August this year she marked her 80

th

birthday in style with a tandem skydive

,

which was on her bucket list.

This was her second skydive after attempting one in November last year -

Ann tells her incredible story of how her plane

lost p

ower and

how

she didn't let

this

,

or the national

lockdown

,

stop her from taking on the exhilarating experience once more.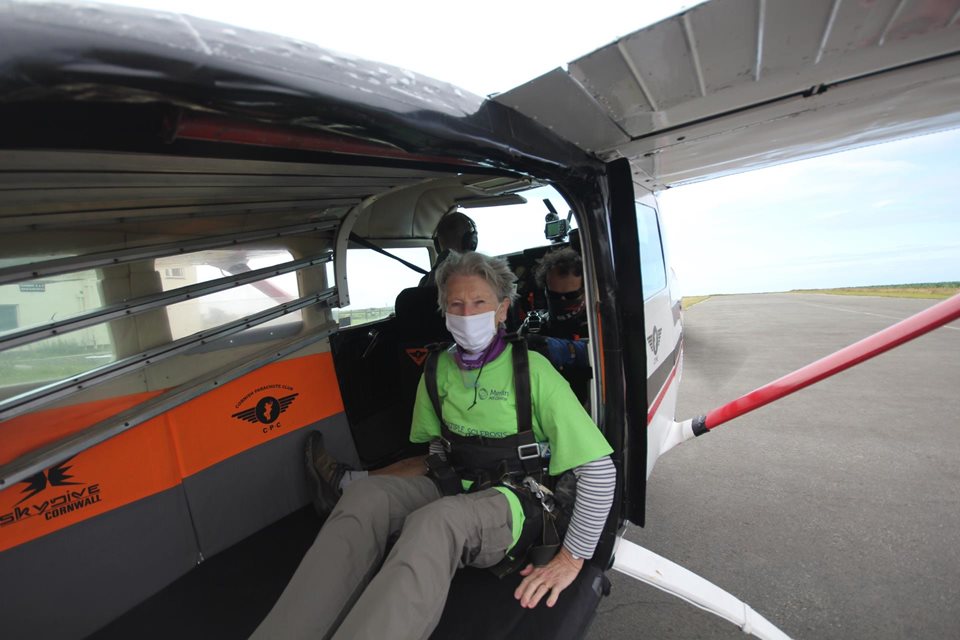 The last few months have been an uncertain time for us all, but this hasn't stopped 80-year-old Ann Maskell from Bude as one of the first things she did after the national lockdown was book a tandem skydive.
For Ann, a resident at McCarthy Stone's Pen Morvah Retirement Living development in Bude, a skydive was something that had been on her bucket list for some time. When her 80th birthday was drawing close she decided this was the perfect occasion to take her thrill-seeking to new heights and mark it in style.In Ann's words: "You're only 80 once!"
It wasn't until Ann turned 60 that she began to discover her adventurous streak. While in Australia visiting her brother, Ann booked a hot air balloon ride to celebrate her milestone birthday, and, joined by her sister-in-law, she flew over Alice Springs. Since then, she has completed five-day treks in Nepal and Peru, and in July last year, even soared above the Eden Project on England's longest and fastest zip wire.
"I enjoyed the zip wire", says Ann. "However, I felt it a little tame and it didn't allow me to see as much of the beautiful landscape from that height that I would have hoped for. That's when I knew I needed a new challenge."
Ann first tried a tandem skydive back in November of last year, in Cornwall to coincide with her now 80th birthday .Unfortunately, the skydive, which was over Perranporth, didn't go as smoothly as she'd hoped. The plane – a Cessna 206 – lost power during the flight so quite incredibly, before she knew it, Ann was tapped on the shoulder and told they needed to evacuate the plane, jumping out at 4,000 feet instead of the full 10,000 feet.
Ann comments: "It all happened so quickly, there wasn't much time to think about what was going on. I didn't feel frightened or worried, I was just excited! My tandem instructor, Lex, was really caring and looked after me the whole time. We ended up landing in a field, not the one we'd planned, but I was on such a high afterwards, so I was still really glad I did it."
She continues: "It wasn't until after the sky dive that Lex turned to me and said: Do you mind me asking how old you are? He didn't say a word when I told him, I think he was stunned."
Ann found the experience so exhilarating that she couldn't wait to book another one so she could do the full dive. She was just waiting for the Cornish Parachute Club Ltd to re-open in March 2020 after it had been closed for winter. But, of course, when March did come around Ann's world, like all of us, was turned upside down by the coronavirus pandemic. While the country locked down, Ann had to put her usual active lifestyle on hold.
She comments: "At the beginning of this year I was a bit poorly, so when it came to lockdown I stayed inside and didn't see many people. I had helpers for my shopping and for a while it felt quite nice not to be running around and relax a bit.Gradually I began to go out to the gardens and meet up with neighbours where we could socially distance, take a walk to the local park and I kept busy with reading and crafting."
When the national lockdown restrictions started to ease,Ann couldn't wait to get back to her active lifestyle and book her next skydive. She says: "I've always been a busy person,so I really wanted to continue trying new and exciting things and not let lockdown or a little pandemic stop me doing this. You just never know what life is going to bring next and I didn't want to wait around to find out!"
Her skydive was booked for the morning of Sunday 23rd August, and Ann made her way to the Cornish Parachute Club at Perranporth Airfield in a taxi from her home at Pen Morvah in Bude.
Unlike her first skydive, where she brought eight friends with her, Ann wasn't able to bring anyone along due to the coronavirus restrictions, and even kept it a secret from friends and family – only confiding in one friend ahead of the skydive. She says: "I didn't want to put anyone in a difficult position by inviting them to come and see me jump, so I decided to keep it to myself and let one of my friends know just in case anything happened – mainly because I would need someone to look after my cat!"
Ann describes making her ascent to 10,000 feet: "When we were getting ready for the jump, I was excited, but I also felt very relaxed. Andy, my instructor,said that people sometimes feel more apprehensive on their second skydive, but I wasn't even scared on the first one! He was really reassuring and made me feel secure."
She continues: "When we reached the jumping point I had to shuffle forward with my hands across my chest, put my legs under the aircraft and lean back. It's amazing how close you can sit to an open-door mid-flight; the photographer was half way out of it at times! He was the first one to jump, then after a couple of minutes I got a thumbs up and the crew wished us good luck – which I thought was lovely.
"When I finally did the jump, it was just as exhilarating as I remember. There's so much to see as you are flying through the air, I was just trying to take it all in. Andy kept pointing out the different places as we flew past them – St. Ives, Truro and then back to the coastline– it was such a beautiful view, particularly the waves crashing against the rocks and the blue sea. I also got to hold the two strings of the parachute this time which was really exciting. I didn't want it to end.
"The landing was a lot different to my last skydive, as this time we actually landed in the right spot! It was a lot easiertooas there were two crew there who were on hand to help us down.
"When the experience was over, I was on a real high and over the moon that I could complete the full 10,000-foot jump. I was eager to go and get my certificate and t-shirt, which I absolutely love – it's one of the best fitted t-shirts I've ever owned! I don't usually buy them, but now I will always have something to remember the skydive by – I might even wear it to my first walking group holiday!"
Later that day, Ann opened a bottle to celebrate with a glass of wine and decided to let the rest of her family and friends in on her secret. She comments: "All of us in the walking group email each other most days and talk about our various jaunts, so I decided to give them a clue about my skydive, and said "this little bird flew off and came back with a t-shirt!". But I think it must have been a bit too cryptic, as they didn't seem to get it – so I had to reveal it all the next day. They were all absolutely thrilled for me when they realised!
"I also told the other residents here at Pen Morvah, who have been really supportive, and I even typed up a little poster to say thank you,which our House Manager, Jodie, has put up in the communal lounge."
It was then just Ann's family in Australia left to tell. Her niece, Helen Irwin, 60, thinks she is "just amazing", while her brother, Jim Irwin,82, simply said; "you are fantastic".
To date Ann has raised over £1,000 for a charity close to her heart from her skydiving endeavours, the Merlin MS Centre near St Austell, which looks after people with MS, Parkinson's and other neurological conditions. This is a charity that is very personal to her, as she has friends who suffer from both MS and Parkinson's.
Ann says she hopes to raise further vital funds for the Merlin MS Centre."Every penny really does count", says Ann. "It would give me such a boost if people could get behind me and if I could inspire a few others along the way."
Sarah Snell, Interim Centre Manager at Merlin MS Centre, says: "We were amazed and delighted that Ann decided to undertake such an adventurous feat for our charity – after the problem with her first attempt we thought she might be put off, but far from it! We are incredibly grateful that she has chosen to raise funds for our charity, particularly at this current time when we have lost almost all means of raising funds during lockdown.
"The Merlin MS Centre is the only purpose-built therapy facility in Cornwall providing subsidised therapies and support for people living with long-term neurological conditions at the Centre in Hewas Water, near St. Austell. We receive no statutory funding so rely on voluntary income such as fundraising activities, donations and legacies."
When asked what her secret to staying young is, Ann says: "I don't feel my age. They say it's all in the attitude of the mind. That's not to say I don't have aches and pains – I do. But you can't sit and dwell on these things. I'm lucky health-wise. I come from a very strong-willed family that taught me to be very forward thinking. Not everyone is like me, and right now I know some people my age are feeling tired and frustrated after the lockdown. My message is to keep being cautious but not to let life pass you by! Look at all the wonderful veterans on VJ Day and the amazing Captain Sir Tom - what an inspiration they are to us. As they say, age is just a number."
Ann is already planning her next adventure and has set her sights on wing walking. She concludes: "Andy, my instructor from the skydive, asked if I would want to do another dive, but now that I've done two, I definitely feel like I've 'been there, done that!'. So, I want to take on the challenge of wing walking – I just need to save up the money for it first. Maybe I will do it to mark my 85th birthday!"
Ann was born in Malaysia in 1939 to British parents Dennis, who passed away aged 96, and Elizabeth, who passed away aged 92 – both hoteliers.
The family eventually moved to Australia when Ann was in her early 20s, where they settled on the Gold Coast, in Queensland. It was there in 1964 that she met and fell in love with her husband Peter -despite a 33-year age gap – when he tried and failed to sell her parents an insurance policy, but instead won her heart. She says: "We always laughed that he walked away without a deal, but with me in his arms."
Following a two-month holiday in Europe – which ended on the south coast of England in 1975 – the pair decided to return to Great Britain the following year. Moving to Peter's home county of Cornwall, they opened a restaurant near Bude and worked tirelessly for the best part of two decades.
Leaving the restaurant business in the early 1990s after Peter, then in his 80s, became too frail to keep running the business, Ann retrained as a care assistant. Without a business to run, Ann had to adapt to a new pace of life and started visiting friends more often and taking trips abroad.
Sadly, Ann lost her beloved husband Peter, in 1995 aged 85.She said: "He hadn't been in good health for a long time and eventually we lost him to heart failure. But you can never be fully prepared to lose someone." It was after this that Ann created her bucket list and began planning some of her adventures.