CHRISTMAS WRAPPING GUIDE
The joy and excitement of unwrapping presents never really wears off, no matter how old we get. Elaborate or simple, it's the attentive little details that make all the difference, and our gift wrap guide will make your presents stand out this Christmas.
PICK YOUR PAPER
Whilst some people like to opt for a theme with their annual Christmas gift paper, others prefer to vary the wrapping for each recipient. Whatever you prefer, one thing remains the same when it comes to picking your paper: experimenting with textures, finishes and embellishments is at the heart of happy wrapping. If you want to opt for recyclable or reusable too, we've got you covered.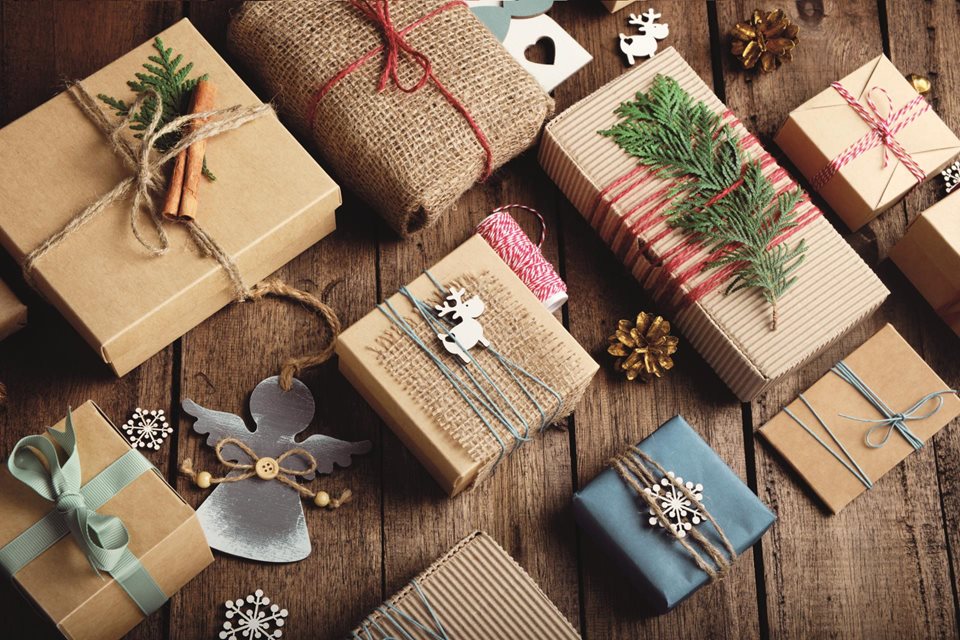 FUN AND FANCIFUL
The season of giving is the perfect excuse to go all out with your wrapping. From premium paper with delicate details to fanciful gift tags and trimmings, it's the one occasion where you get away with luxury styling. Textured parchments, perhaps with glimmers of gold foiling or vintage reds, and exquisite designs make a real impact. A nice little trick is to make a multidimensional feature on your gift, by accessorising with something that relates to your paper. For example, attaching a faux peacock feather to a gift wrapped in a gorgeous green peacock paper or an ornate star as a twinkling texture to a starry wrap. Remember that baubles are not just for trees, and a beautiful bauble attached to a present brings much joy – likewise with oversized bows and sumptuous ribbons!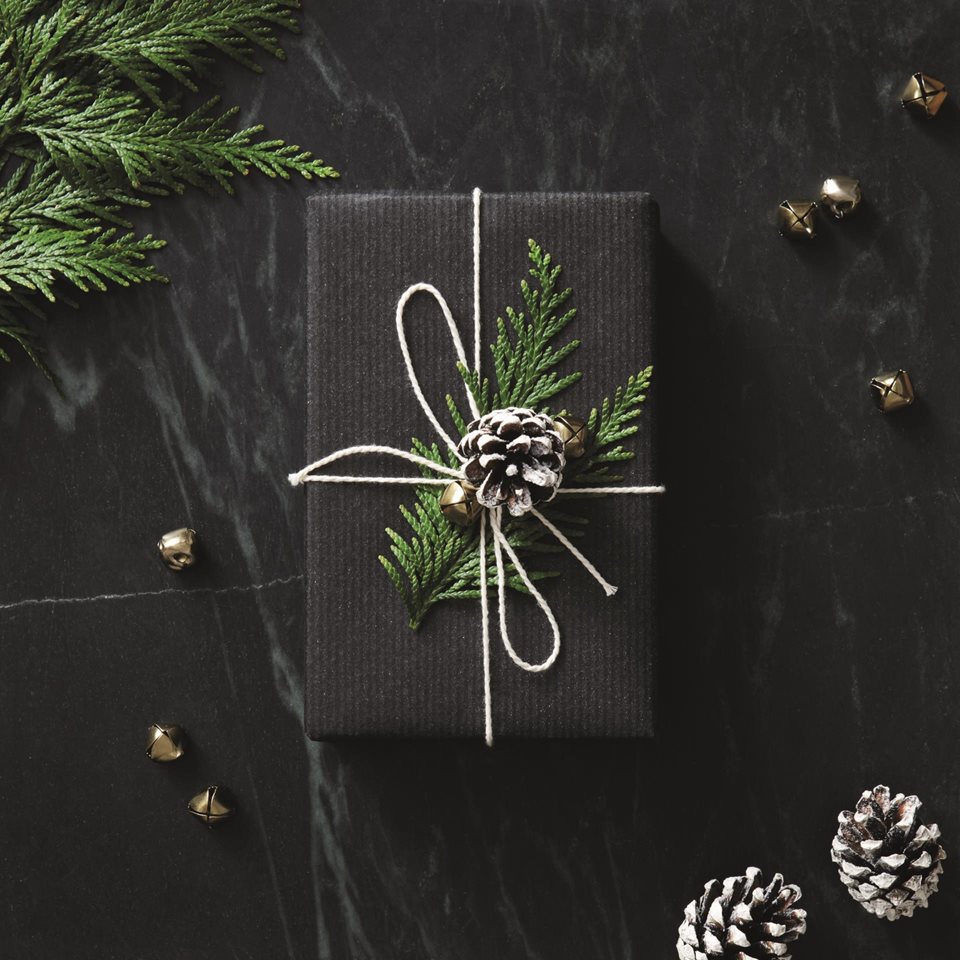 BOTANICAL BEAUTY
For a more natural look, do not underestimate the attractiveness of foraged foliage and sprigs of herbs to spruce up your presents. Either attached with twine or a length of ribbon, you can make a seasonal statement by borrowing the beauty of nature. Dehydrated orange slices and cinnamon sticks are also a pretty addition and offer a sensory experience for the recipient with their Christmassy scent.
MAKE IT ECO
As a rule, the more flamboyant the paper, the less likely it is that it can be recycled. Wrapping paper that is dyed, laminated or has non-paper elements, such as foiling, glitter, embellishments and plastics, sadly doesn't pass the recycling test. When in doubt, scrunch! Although most paper these days has product information on it. For those that do not, you can simply scrunch your wrapping into a ball – if it stays in shape, it's recyclable.
Fear not, there's plenty of sustainably produced paper. Plus, the true beauty of brown paper has really become somewhat of a trend over the last few years, acting as the perfect base for creativity whilst protecting our planet a little more at the same time.
So, we've picked out our two favourite ways with simple kraft paper: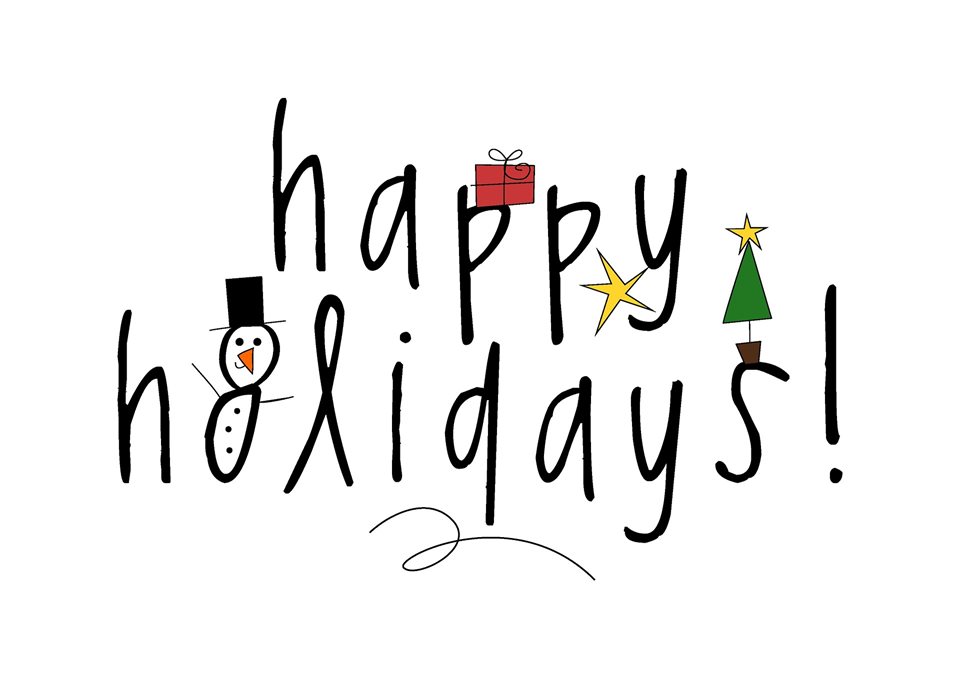 FESTIVE PHRASES
Simply pick up a pen, perfect your festive handwriting style, and write a Christmassy phrase directly onto your gift. Your presents will exude all the spirit of the holiday with a single turn of phrase. If you do not fancy your own handwriting, then you could stamp your sayings onto the paper for an equally charming, handcrafted feel.
WHITE ILLUSTRATIONS
There's something rather delightful about a classic white chalk pen drawn directly onto your brown kraft paper. For children's presents you can make it fun and perhaps draw woodland creatures or snowmen, and for the grown-ups you can try your hand at festive motifs such as sprigs of holly and intricate snowflakes.
THE FINISHING TOUCHES
As ever, the devil is in the detail and making personal tags attached with a pretty ribbon or twine is as satisfying as placing the star upon a carefully crafted Christmas tree. For something a little different, you could attach a photograph as a tag – perhaps your favourite snap of the recipient or a memorable moment of you both together. Instead of a simple 'to and from' you could write a song lyric or a festive line as a characterful touch. Similarly, something edible such as a little chocolate, a candy cane or a tiny tipple fixed to the tag is a jolly addition – just make sure that little hands or four legged friends do not get to them first!