If you want to live a healthy and active life long into retirement, then the overwhelming evidence shows that exercise is the key. People who do regular exercise lower their chances of developing many long term health conditions including heart disease, stroke, type 2 diabetes, some cancers and
arthritis
, as well as reducing the likelihood of depression, stress and
dementia
. Exercise helps you to keep your weight under control and can improve your self-esteem, mood,
sleep quality
and energy. It really is a wonder cure – and it doesn't have to be onerous: walking, dancing and gardening all count. It's about finding an exercise you enjoy.
How to stay healthy and fit as you get older
The NHS advises that over 65s should do 150 minutes of moderate-intensity activity (i.e. you are out of breath but can still hold a conversation) a week or 75 minutes of intense activity (you are very out of breath and talking is tricky) if you are physically able. You can break this time up in any way you like. Remember, if you are new to exercise start slowly and check with your GP if you have any concerns.

Marie (91), Bilberry Place, Bromsgrove, West Midlands, says, "I have a passion for fitness, so I fill my days with classes like Pilates and Legs, Bums and Tums. I only took up exercise in my 60s, but it just goes to show that it's never too late. Exercise helps me stay fit and flexible, so I feel as happy and young now as I did in my 60s."
Seven moderate intensity exercises to get you started.
Walking (at a brisk pace)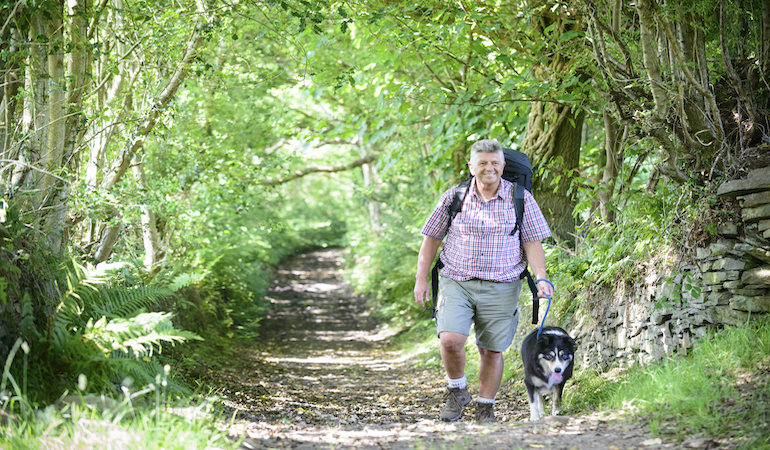 Flexible and free, walking is a great way to get fit, boost your mood, see new sights and meet new people. It is much gentler on the joints than running and an effective weight bearing exercise too, building healthy bones and helping to prevent osteoporosis.
To get started:
Take the stairs instead of lifts or escalators where possible
Leave the car at home or get off the bus one stop earlier
Plan to do a longer walk with friends. If you'd like some inspiration, we've compiled a list of our favourite walks in England
Join a walking group – Ramblers is a great place to start and offers short Wellbeing Walks for beginners too
Consider getting – or borrowing – a dog as an eager walking companion.
Swimming and aqua aerobics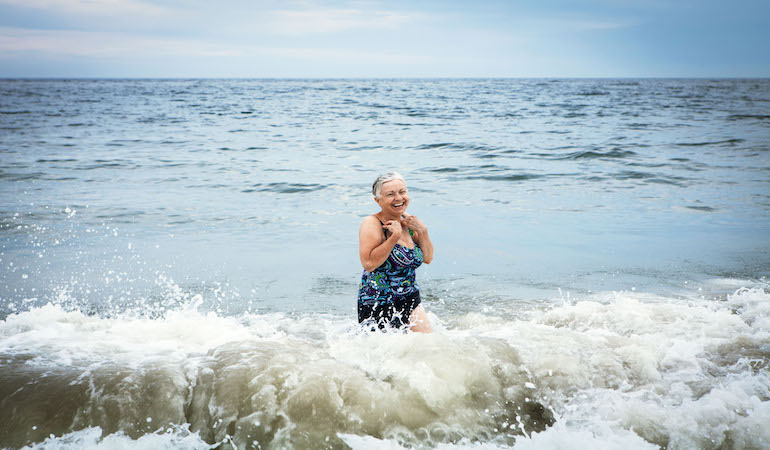 Swimming builds muscle and cardio strength and as around 90% of your body weight is supported by the water it is often suitable for people with painful joints or mobility issues. Can't swim? It's never too late to learn – ask your local leisure centre about lessons.

If you don't fancy swimming lengths, then aqua aerobics is a fun alternative. Many leisure centres offer classes specifically for older people.

Confident swimmers also might want to consider wild swimming – fans claim that a refreshing dip in the great outdoors can help with everything from depression to long Covid and it can be very sociable.
Cycling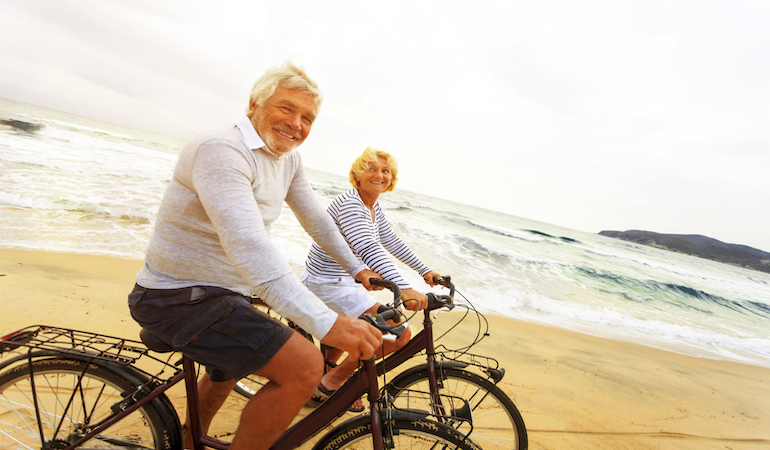 Whether you use your bike for shopping trips or just enjoy exploring local green spaces, cycling is a great workout for your heart, lungs and muscles, and gentle on the joints, so usually suitable for people with arthritis.
The National Cycle Network
offers over 16K miles of safe car-free cycle paths to discover and there are social groups you can join for all abilities too.
Tennis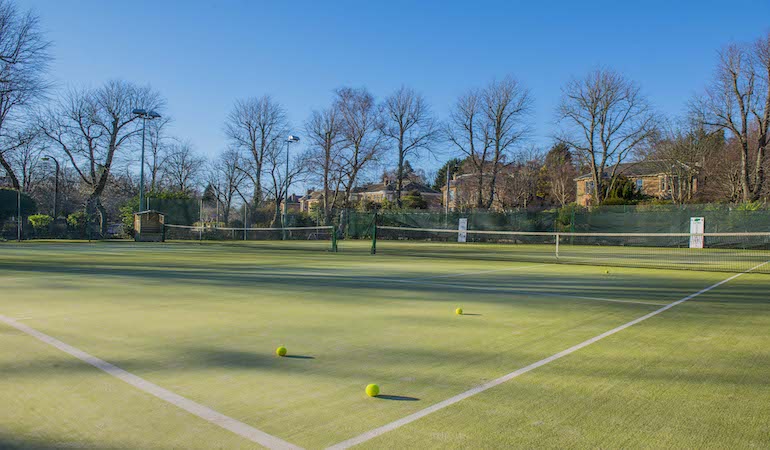 Tennis is active, competitive and sociable. It can also help you improve your balance, coordination and flexibility. Plus, the creativity and agility required keeps your brain active.
Seniors Tennis GB
hold competitions throughout the year.
While golf is often considered 'light' exercise, it depends how you do it. If it involves brisk walking over hilly terrain, then it counts. Golf also improves balance and concentration, providing a brain workout as well as a physical one and it is sociable.
Read about our favourite golf courses
.
Join a local gym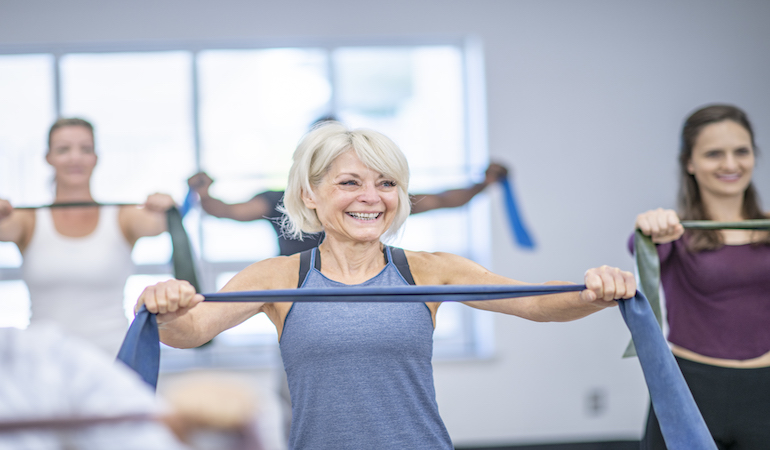 A gym is a great place to build your fitness whatever the weather – and to make new friends too. Many gyms have personal trainers that can give you advice tailored to your goals. Most offer a variety of fitness classes to suit your tastes from Zumba to Boxfit, and you'll often find specialist classes for the over 60s, too.
Yoga and Pilates
Yoga and Pilates do not count as a 'moderate-intensity activity', but they are fantastic for strength and improving flexibility, coordination, posture, bone density and balance - reducing your risk of falls. You should find classes at your local leisure centre or community halls. You can also do yoga at home – try the popular free online classes from Adriene. Find more yoga tips.
Five ways your health improves with age
While there are many ailments associated with ageing, it's not all doom and gloom. Here are five ways your health may improve in retirement.
1. Fewer colds
'Immune memory' means that you are better able to fight off the common cold as you age. So, while young adults can expect to catch three colds a year, over 50's should only get one or two. Covid19 and flu are exceptions though – be sure to get your vaccinations to protect yourself.
2. Less stress
"Levels of stress hormones such as cortisol and epinephrine become lower as we age," says Dr Emma Derbyshire, an award winning public health nutritionist. "We may also begin to feel more laid-back and less stressed about things that normally would have bothered us."
3. A sharper brain
We might process and retrieve information more slowly as we get older, but if you use your memory regularly, it can actually improve with age. Women in their 40s, 50s and 60s tend to score higher on vocabulary and verbal memory tests than younger women.
4. Milder allergies
"Changes in body physiology mean that we are more likely to experience milder allergies after the age of 50, as our bodies don't react as strongly to antigens," says Dr Derbyshire. So, if you suffer with allergies, such as hay fever, your symptoms might lessen. Food allergies may reduce, too, unless they are very severe.
5. Fewer migraines (for women)
If you are a woman who suffers from migraines, they may become less severe and may stop altogether. This could be due to the menopause, as oestrogen is a common migraine trigger but it may also be because stress levels drop.
Take positive action for better mental health
If you feel 'young at heart', your positive attitude is helping you to stay mentally – and physically – fitter. While exercise improves mental health, conversely a positive outlook also makes you more likely to stay active and try new things.

Carole Ann Rice, one of the UK's leading life coaches says, "Managing your mindset is incredibly important. This is because having a positive outlook makes us happy and being happy leads to us doing things that can help make us feel younger, such as partaking in exercise, being of service to others (helping out neighbours or children/grandchildren) and feeling purpose in what we are doing."

She suggests that retired people should maintain "a routine, including times for waking, eating and sleeping. Set the alarm at a decent hour: You don't have to get up at the crack of dawn, but if you wake up late every day, you'll lose structure. Many people find it useful to keep a diary of events… actively seek to have an interesting week ahead of you."

As well as regular exercise, there are plenty of other steps you can take to keep busy and maintain a positive mindset.
Six steps for better mental health
1. Maintaining and building friendships
Keeping up with friends old and new is vital to a happy and fulfilled life. If you're feeling isolated then Retirement Living can help, as can getting out there and joining clubs and societies. Margaret, Milward Place, Redditch says about her home, "There's such a great community here and I have fantastic friends. This means I never feel lonely and there's always someone around for a coffee and a chat when I fancy one. I love the events and they make me feel younger… I'm really excited about all the things I can get involved with and share."
2. Get out in the great outdoors
Research shows that spending time in nature causes electrochemical changes in the brain that boost your personal, emotional and physical wellbeing. So, whether it's a spot of gardening, walking your dog, popping to the park or volunteering with the National Trust. try to spend some time outside amongst greenery every day.
3. Update your IT skills
New technology and the internet have opened up a whole world of communication, convenience, connection, creativity and entertainment – all available on your smartphone or device. Keeping your skills up to date can help you to fully participate – try courses with the University of the Third Age. Read our advice on staying safe online.
4. Take up a new hobby or join a club
From painting to palaeontology, chess clubs to choirs, there really is a hobby or club for everyone – try your local community centre or library to find out what's on in your area.
5. Get involved in charity work
Taking part in volunteering, community projects and fundraising activities are all brilliant ways to keep a sense of purpose and make new friends too.
6. Plan an adventure
Ann (70), a homeowner at Waterman House, Dorset, says, "When I moved into my McCarthy Stone property, I made a new best friend called Dorothy (80). Now, we plan to go to South Africa together! … We have such a great adventure planned and we can't wait to see 'the big five'." You adventure doesn't have to be as dramatic as a safari but planning to do or go somewhere new, or to fulfil an ambition, gives you something to look forward to. Looking for inspiration? Read about some of our homeowners' retirement adventures.
Keep active and enjoy the time of your life
According to research by the Royal Voluntary Service, 63% of people over the age of 70 feel more content than at any other point in their lives, so there is plenty to look forward to. By staying active, physically and mentally, you'll maximise your chances of enjoying everything that retirement has to offer.