Only 5 remaining apartments book your one to one appointment to view today!
Balshaw Court has one 1-bedroom and four 2-bedroom apartments, exclusive to the over 70s and conveniently located close to Leyland town centre. These stunning retirement apartments are available for sale, part buy part rent or shared ownership and incorporate intelligent design, giving you gorgeous, yet practical living spaces.
This stunning development has a spacious communal lounge with beverage wall and a bistro offering mouthwatering dishes freshly cooked daily. There are private landscaped gardens with a homeowner gardening club, a hotel style guest suite for visiting friends and family, along with regular events such as book club to film nights, where you can catch up with friends and meet new people.
Each and every apartment is designed to the highest specification, some with Juliette balconies, while features will be incorporated to ensure your day-to-day life is as easy as possible, such as raised sockets and ovens to minimise bending and non-slip bathroom flooring.
The care provisions at all of our Retirement Living PLUS developments are totally flexible. Your care package will be tailored to you and you'll pay only for the support you need and use. A 24-hour emergency call system and a camera entry security system will be installed to ensure you feel safe and secure in your new home. Plus, we guarantee accessibility throughout, with lifts to all floors.
You will find a bus stop within a two minute walk from Balshaw Court, there will be onsite car parking and a scooter room, so you won't have any trouble getting around. What's more, less than a mile away is Leyland town centre, where you'll find three supermarkets, a leisure centre, a library, a medical centre and a whole host of shops and eateries.
Development Highlights
Retirement Living PLUS - exclusively to the over 70s

On-site chef-run bistro with changing seasonal menus plus wine, tea, coffee and cakes

Tailored domestic support and personal care available should you need it

Staff on-call 24/7 and dedicated Estate manager to handle day-to-day running of the community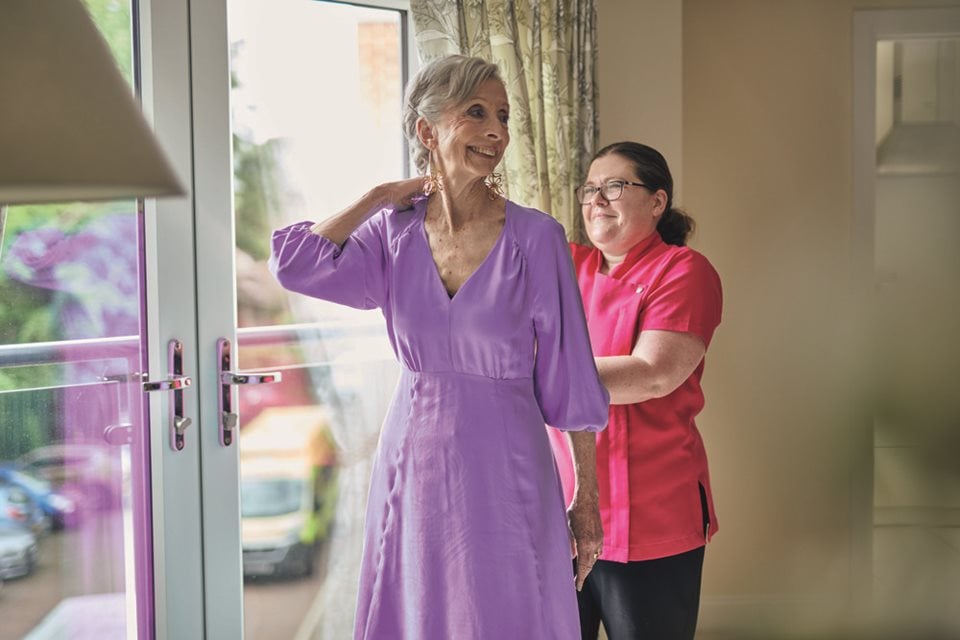 What is Retirement Living PLUS?
Exclusive to the over 70s, you'll enjoy your own private apartment with thoughtful assisted living services on the doorstep, including a subsidised restaurant and optional personal care packages.
Key Features
Bistro

Estates Manager

24 hour staffing

Camera entry system

Communal lounge

Guest suite

Lifts to all floors

Lounge Wi-Fi access

Private rear gardens

Pets allowed

Care provisions

Car parking
Interactive Site Plan
Our interactive site plan allows you to easily find available retirement properties. Click the tabs to view each floor. You'll see that one-bedroom homes are in yellow and two-bedroom homes are in purple. When you click on a property, you'll find out whether it is available for sale, rent or shared ownership, as well as pricing. Click on 'view property' to find out more. Retirement homes shown in red are already reserved, sold or rented out, but may be available on our Resales website.
Explore properties
Featured Properties
Great Homes for Sale
Occupancy options
Found a property that takes your fancy? Find out more about the practical details including information on service charge and FAQS.
The properties at this development are leasehold properties with a term of 999 years from and including 01/01/2021
You can buy part of your home and pay rent on the rest, so you can move in and enjoy the benefits of the McCarthy Stone lifestyle without committing to outright purchase. The Shared Ownership scheme is run in conjunction with Homes England, our government approved partner.
Electricity, heating and lighting (communal areas)

Water and sewage (communal areas and apartments)

Professional fees

Maintenance of building and gardens

Emergency call system

Building insurance

Income to guest suites and sundry income

Development staff

Future maintenance fund

Restaurant

Domestic assistance
What's not included?
Electricity, heating and lighting (apartments)

Home and contents insurance

Council Tax

Phone / broadband

TV licence / TV service
You can enjoy the McCarthy Stone lifestyle without paying the full purchase price.
Buying a percentage share of the property allows you to manage your finances to cater for possible future needs.
If you buy 75% of the value of the property, there is no rent to pay on the outstanding share.
If you buy 50% of the value of the property, you will pay rent on the outstanding share.
You could claim up to £500 a year to help with essential repairs in the first 10 years.
With this scheme, you can purchase up to 75% of the value of your property – and if you own 75%, you won't pay any rent on the outstanding 25% share. It provides a more affordable way to buy one of our retirement properties.
What is Shared Ownership and who are Homes England?
Shared Ownership is when you buy part of your property and rent the rest. It enables customers to enjoy a McCarthy Stone property without committing to purchase 100% of the property value. Homes England is the government approved provider of Shared Ownership schemes which enables us to deliver the ownership option. They regulate rental charges and fees applicable to the homes within this scheme.
Is Shared Ownership available at all your locations?
No, Shared Ownership is available at selected developments and exclusions do apply. Speak to a Sales Consultant to find out more.
Who will own the share of the property I don't buy?
McCarthy & Stone (Shared Ownership) Limited will become your landlord on the share you don't buy.
Do I need financial advice?
Before entering into the Shared Ownership agreement, we recommend that you obtain independent financial advice so you know what your new home will cost and that you can afford it.
Will a financial review be needed?
If you take up our Shared Ownership offer, we require you to have a financial assessment with an Independent Advisor to make sure you can afford the ongoing costs both today and if your circumstances change. We will put you in contact with an advisor who has experience of Shared Ownership schemes and can assess your eligibility.
What will it cost upfront?
You should plan for some one-off costs associated with your purchase, including, but not limited to the following:
• Reservation deposit (which is deducted from your final purchase)
• Solicitors Fees and disbursements
• Stamp Duty Land Tax (SDLT) in England.
Your solicitor will be able to tell you if the tax applies and how much it will be
• Estate Agent fees if selling a current property
Can I purchase a parking space?
Car Parking spaces are available at some developments. Please ask the Sales Consultant for more details.
What does the £500 essential repairs include?
This covers items in the home that supply water and electricity such as basins, baths, toilets and also cables, but not fixtures, or appliances such as ovens or washing machines. Pipes and drainage items for heating and hot water are also included.
You can buy properties on this development. If you'd like to own your retirement property, we can help make the move as stress-free as possible, including support with packing and removals. If you have a home to sell, we can even act as a cash buyer, so you'll avoid chains and estate agent fees.
Electricity, heating and lighting (communal areas)

Water and sewage (communal areas and apartments)

Professional fees

Maintenance of building and gardens

Emergency call system

Building insurance

Income to guest suites and sundry income

Development staff

Future maintenance fund

Restaurant

Domestic assistance
What's not included?
Electricity, heating and lighting (apartments)

Home and contents insurance

Council Tax

Phone / broadband

TV licence / TV service
Is it more expensive to live in one of your apartments than my current home?
Many of our homeowners are pleased to find that the service charges for their apartment tend to work out at less than what they were paying in like-for-like costs at their previous property.

Energy bills often turn out to be lower thanks to the modern construction methods we use at all our developments. Your new apartment is also likely to be a more manageable size and so cheaper to run.

When Customers discuss the purchase of a McCarthy Stone apartment with us, they receive a service charge leaflet and our Sales Executive sits down with them to help them fill in the costs, review what is covered in the management services and compare them to day-to-day running costs in their current home. Our Sales Executive ensures that they have a detailed knowledge of ongoing costs before a sale is completed
How long from putting down a deposit do I have to purchase the apartment?
Usually this can take between 12 to 16 weeks. We understand that some customers may have a time period that will more suitable for them and we aim to be as flexible as we can.
Do you offer Part Exchange?
Yes. If you want a quick, simple way to sell your home and move into one of our retirement properties, then Part Exchange could be the answer. For more information please click here.
We have an expert resales team for people selling our retirement properties, with an extensive database of customers waiting to move in. This helps us to sell faster and at a better price than traditional estate agents. On average the McCarthy Stone Resales team achieve a net price increase on the retirement properties they sell. For example, for properties bought new in the last three years and since resold, the net increase averages 6%. View resale retirement homes.
You can rent a retirement home on this development. Renting is an easy, flexible and quick way to enjoy life in a McCarthy Stone community. Did you know? Our retirement rental prices include the service charge.
Reservation deposit*
£500.00
* To be offset against your initial payment and fully refundable should your tenancy not proceed
Communal area costs inc. electricity, heating and lighting

Future maintenance fund

Water and sewage (communal areas and apartments)

Maintenance of building and gardens

Emergency call system

Building insurance

Active social calendar of events and exclusive discounts

Dedicated on-site team

Weekly domestic assistance

Use of the on-site restaurant
What's not included?
Electricity, heating and lighting (apartments)

Phone / broadband

Council Tax

TV licence / TV service

Home and contents insurance
What is an Assured Tenancy?
Assured Tenancy means that you agree to rent the property for a minimum term of 12 months, but after that you can leave at any time as long as you give two months written notice. We can't ask you to leave unless you have broken the terms of the agreement.
I want to rent. What checks do you carry out and what do I need to prepare?
We'll ask you to complete a Rental Application Pack and an Income and Expenditure form to get the information we need to do standard background checks. You'll be asked for proof of income, savings and/or pensions, along with copies of your last three months' bank statements. You'll be asked to provide identification documentation that complies with the latest Government Right to Rent regulations – our sales consultants will talk you through what you need.
Do I need to pay a reservation deposit?
Yes, you will need to pay a small refundable reservation deposit to reserve the property. You will also have to pay a security deposit equivalent to five weeks rent when you move in.
What do I have to pay before moving in?
Before you can move into your property, you will need to pay the first month's rent together with your security deposit, minus the reservation deposit you've already paid.
The security deposit is equivalent to five weeks rent. Don't worry, we'll make sure you know the exact amount you need to pay in plenty of time.
McCarthy Stone is part of the Tenancy Deposit Scheme, membership number G10625. Download the Tenancy Deposit Scheme leaflet.
What date are rental payments due?
All rental payments are due on the 1st of each month and must be paid by direct debit. Your rent includes all of the development's service charges, ground rents and property maintenance.
Shared Ownership Explained
Video
Living at Balshaw Court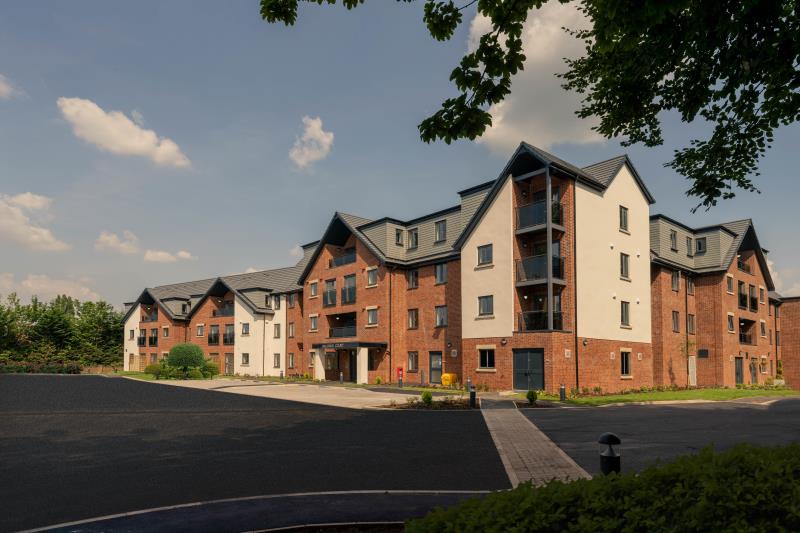 Send me a brochure
Tell us how you would like to receive your brochure: by Email, Post or PDF download.
Send me a brochure
Join us at one of our events
Join us at our Festive Open Week

Balshaw Court, Burlington Gardens, Leyland PR25 3EX

Join us at our Festive Open Week between Tuesday 5th to Saturday 9th December from 2pm - 4pm.

Our festive Open Week is the perfect opportunity to pop in and see the benefits of Retirement Living at Balshaw Court.

You can enjoy a festive tipple and a mince pie and meet our friendly homeowners.

Our team will be on hand to show you around and answer any questions you may have.

Call and book your place today on 0800 201 4811.

Open House Saturday

Every Saturday

Next event: 9th Dec

Balshaw Court, Burlington Gardens, Leyland PR25 3EX

We're delighted to invite you to Balshaw Court for our Open House Saturdays!

Pop in and enjoy a slice of cake, and a tea or coffee in the beautiful Communal lounge, you're more than welcome to brings friends and family too.

Please call 0800 201 4811 to let us know you're coming.

WELCOME WEDNESDAY COFFEE MORNINGS

Every Wednesday

Next event: 13th Dec

Balshaw Court, Burlington Gardens, Leyland, Lancashire, PR25 3EX

Join us at our Open House Coffee Morning every Wednesday at 10.30am.

Come and experience life here at Balshaw Court. Enjoy tea or coffee and a slice of cake in the communal lounge and discover the McCarthy Stone Lifestyle.

You'll meet Deborah, the Estate Manager and have the opportunity to chat some of the homeowners who already call Balshaw Court home. While you're here, you may wish to take a tour of our stunning show apartments. Feel free to bring your family and friends along too.

We look forward to welcoming you, no appointment necessary, however if you would like a one to one appointment with the Sales Consultant call 0800 201 4811.

Fizz Fridays

Every Friday

Next event: 15th Dec

Balshaw Court, Burlington Gardens, Leyland PR25 3EX

Join us at Balshaw Court for our Fizz Friday afternoon between 1pm till 3pm.

It's a fabulous opportunity to relax in the lounge, chat with our homeowners and enjoy a glass of fizz.

You can also see the amazing features that Balshaw Court has to offer, from the on-site Bistro to the stylish Guest suite, plus you can take a tour of the beautiful show apartments too.

Call and let us know you're coming on 0800 201 4811.

We look forward to seeing you!
Hello, My name is Deborah Christopher, I am the Registered Estate Manager at Balshaw Court. I have great knowledge and understanding of both Care services and building maintenance, and absolutely love my job, I have a many years of experience in both fields.

Together with my staff team, we look forward to welcoming new homeowners to Balshaw Court and supporting with any additional services you may require.
THE LOCAL AREA
Living in Leyland
As well as a thriving town centre, Leyland is home to Worden Park, a large park of mature woodlands and open meadows. The park is just half a mile from the development site and features many well-marked paths for quiet strolls, a beautiful Georgian walled garden and a delightful little café. Plus, if you have family coming to visit, there's a large children's play area, crazy golf and even a hedge maze.
For both seasoned and new golfers alike, Leyland Golf Club is also under a mile away. As well as the 18-hole parkland course, a large practice area is available, with a practice bunker, chipping facilities and a 9-hole putting green. The club is happy to accept new members and also welcomes visitors.
Also in Leyland is the British Commercial Vehicle Museum. From horse-drawn vehicles of the 1880s and the first steam-driven wagons to modern lorry cabs, the museum has over 60 historic vehicles on display. A meander through this small museum may take longer than you might expect, with so much to explore. Climb aboard a vintage fire engine, discover how developments in motor vehicles have made the roads safer today and even see the Pope-mobile, specially built for Pope John Paul's visit in 1982.
In the nearby town of Chorley is Astley Hall. Dating back as far as the 1570s, with major additions in the 1600s and 1820s, the hall is a Grade I listed building with a fascinating history, with William Shakespeare and Oliver Cromwell both having stayed here. It houses a museum and art gallery brimming with items of local historical interest. Visit the hall to discover more of its history, full of plots and religious turmoil. Marvel at the hall's stunning architectural features and admire the beautiful artwork and furniture on display, most of which were collected by the families who lived here.