Has the pandemic made Brits' relationships with their neighbours stronger?
In such a turbulent, uncertain period of history we're living through, small sparks of hope, optimism and faith in the human race have begun to shine though. And while a hopeful post-pandemic future is on the horizon, another kind of silver lining has revealed itself during the last 12 months, and it all comes down to the goodwill of those living closest to us: our neighbours.
Not only have neighbourly bonds emerged stronger, but 15% of the nation revealed that their neighbours saved their life in the last year. On top of that, 25% of the country said that their neighbours had gone above and beyond for them, and 18% announced that they wouldn't have made it through the challenging period without their neighbours.
With people forced to spend more time at home, throughout the varying stages of national lockdown, relationships with neighbours have grown stronger, closer and the pandemic has led people to reach out and help each other in times of need.
In our recent survey we conducted of 2,000 adults across the nation, we found that more than a third (36%) of the UK spent money on their neighbours during the pandemic.
But what is all this money spent on? Are we simply buying spontaneous treats for our nearest? Or are we helping them in times of specific needs?
According to our survey results, money gifted was divided into categories, with an average amount spent on the following: £20.86 on neighbours' bills, £19.96 on groceries, £19.51 on their rent, £16.19 on presents for them and £16.17 on car insurance, with these making up the top five expenses from neighbours during the pandemic period.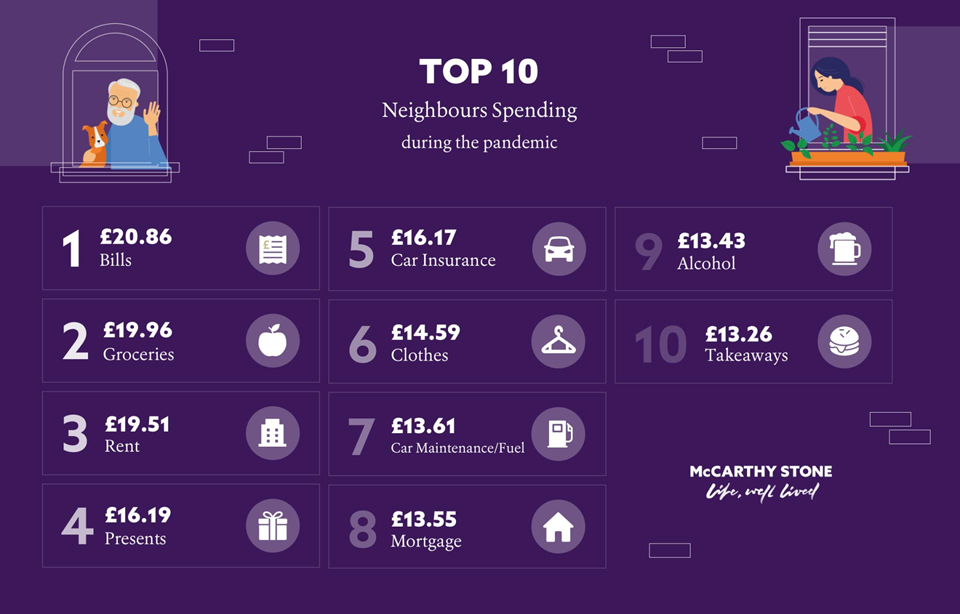 Home is where the heart is: Brits are generally nice to their neighbours
While these statistics may seem surprising, it's hard to ignore the heart-warming feeling knowing that the nation's neighbours are looking out for each other. No wonder many thought nothing of parting with money, after all, it was in return for such crucial acts.
In fact, all of this kindness and generosity paid off, as over a third (37%) of Brits surveyed said that they felt they had a 'strong community spirit', and 62% said they felt safe with their neighbours. To prove their position, 46% of satisfied local residents said that they would trust their neighbours with a key, and close to a third (31%) said that the relationship they had with their neighbours made them wish to stay put forever.
Kind words across the nation's neighbours
We can all think of plenty of ways to describe the pandemic, of different ways to express our collective discontent and sadness at the challenges the past year has brought the world, but what words would you use to describe your neighbours recently?
According to 39% of Brits polled, their neighbours are 'nice', followed closely by 36% that complimented their neighbours as 'polite', followed by 29% who said that they had kind neighbours.
With over a third of the UK saying that their neighbours were nice, the regional figures also make for interesting reading. Over half of respondents (53.2%) in Southampton said their nearest were nice, making it the city with the nation's nicest neighbours. In second place, for neighbourly niceness, was Plymouth with 47.8%, followed very closely by Glasgow in third place (47.6%).
Interestingly, the niceness of those living the closest to us looks to be geographically spread evenly across the UK, meaning that whichever part of the country you live in, you're never too far from a helping hand. Further down the list, we had Brighton (44.8%) in fourth place, with Northern cities Manchester and Liverpool following with 40.2% and 40%, respectively. Our capital, London (39%), followed closely as Britain's seventh in line for nicest neighbours, and then taking us through positions eight to 10 were Leeds, Belfast and Birmingham with 38.1%, 38% and 37.5% respectively.
Good karma pulled communities together through Covid
All of these compliments got us thinking about how comforting it can be to live in an area where you know you can rely on those around you. As we dug a little deeper into our findings, we were able to find out what acts of kindness, before and during the pandemic, had led people to compliment their neighbours so much.
The top helpful favour will no doubt come as no surprise, which is that 35% of the nation's neighbours sign for each other's parcels and deliver them, 22% look after their neighbour's pets and 19% will take their bins out. This all sounds like a dream situation for many, and I'm sure plenty of readers will be wondering just where they can find these helpful neighbours!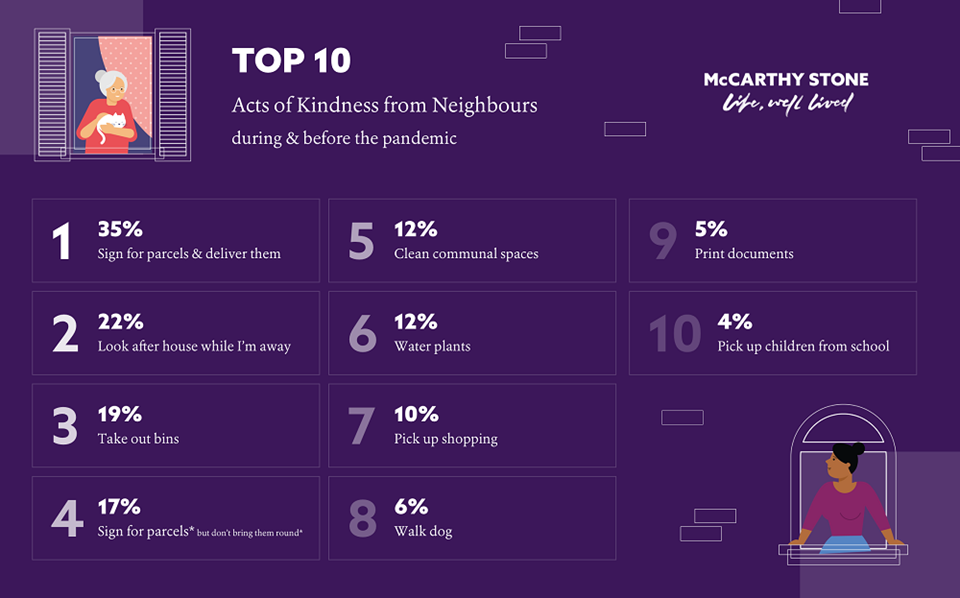 Looking for your perfect neighbours? Why not simply dream them up?
Disregarding the pandemic for a second, we asked people who their dream neighbours would be. It isn't always a case of finding out where your perfect neighbours are, although we believe everyone can find their ideal home, whether it's somewhere owned, rented or both. Sometimes, as our survey revealed, you can simply dream your perfect neighbours up. Absolutely no one will be disappointed to hear that Sir David Attenborough has been ranked the UK's no.1 dream next-door neighbour, with 8% of Brits wanting to live nearby to the national treasure, closely followed by desired neighbours Bradley Walsh, Holly Willoughby and the cast of Friends. On the other hand, a staggering 22% of the country said that Donald Trump was their nightmare neighbour, with fellow politician Boris Johnson not far behind, with 6.6% proclaiming their strong feelings of not wanting to live too close to our Prime Minister. Next time you offer to take out your neighbour's bins or pick up some shopping, better to leave politics out of it.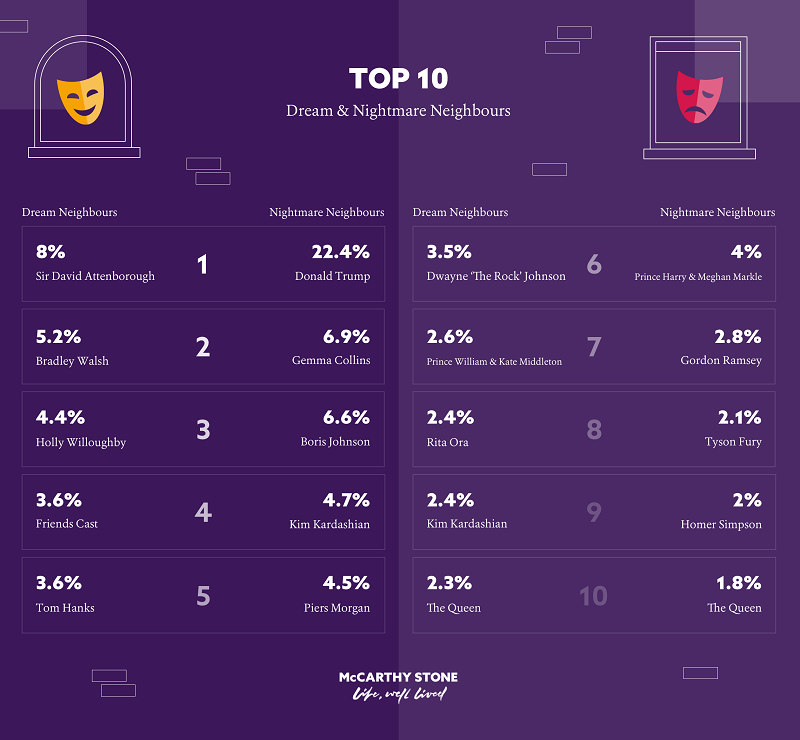 McCarthy Stone
McCarthy Stone are the UK's leading retirement housebuilders. We have over 51,000 apartments and bungalows nationwide and if you'd like to find out more about what we currently have available, take a look at our properties to rent or buy outright.
About the research
The McCarthy Stone survey was commissioned through Censuswide and surveyed 2,000 UK adults in February 2021. The survey asked respondents what their experience had been of neighbour support during the pandemic as well as questions on their relationship with their neighbours, prior to, and including the period of the pandemic.