Grow a butterfly garden in a smaller space


Helen Bostock shares tips on how to grow your own butterfly garden by making the most of your outside space, no matter its size.
We don't have to travel far to enjoy wildlife in the summer. Sit out on a balcony or patio on a warm, calm day (with the obligatory Pimms and lemonade to hand) and see what flies by. With just a few planted pots all manner of hoverflies and bees will stop to take their turn on the flowers.
But perhaps the most beautiful of our flying visitors are the butterflies. The Holly Blue with its azure flash, the dashing red, white and black of the Red Admiral, or the dazzling multi-coloured eye-spots and wing markings of the Peacock butterfly, to name but few. Just a little know-how of which plants they like and you'll have an instant butterfly garden.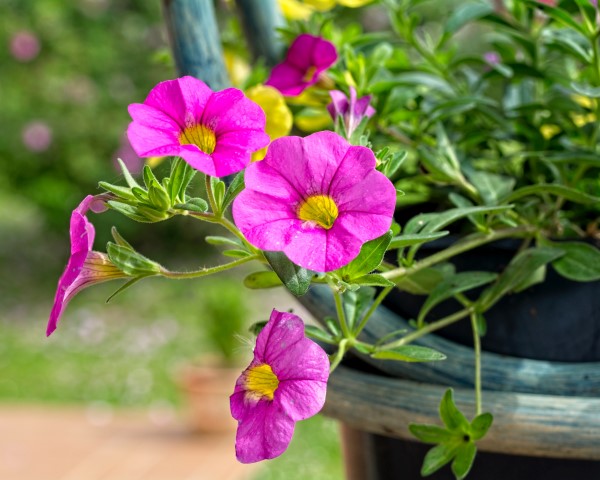 Plant pots with plenty of colour
Adult butterflies only feed on nectar; the sugary liquid produced by many flowers. The long tongues of butterflies mean they can access nectar even from long, tubular shaped flowers such as honeysuckle but they will also happily sup from flatter flowers if the nectar is there.
It is best to choose butterfly summer favourites such as red valerian, echinacea, asters and purple verbena and a decent sized pot will take pretty white, purple or blue buddleia. Look for more compact patio forms such as 'Blue Chip' or the 'Buzz®' series - perfect for late summer colour.
Another idea is to train wonderfully fragrant honeysuckle up an obelisk in a larger planter, or simply pack some lavender and marguerites in a window box. Whatever you choose, a quality compost such as John Innes No.2 for longer-term planters or a peat-free one for seasonal pots is key to ensure the best growing environment.
Herbs – a lepidoptera's best friend
Rather than buying herbs from your supermarket, why not grow your own? Not only will it add a zing to your summer salad, growing a few herbs is a clever way to attract butterflies to your outside space. Although don't get too carried away with the cutting – making sure you leave some in the container or pot will keep the butterflies happy by providing them something to fed on too. Keep a watch for what species you attract!
Take oregano as a great example. This is a doddle to grow in a container, coming back year after year. In spring and early summer, a lush mound of small rounded leaves form. Shoot tips can be nipped off between fingers and thumb or scissors to add to tomato and pasta dishes or on pizzas.
But leave part of the plant alone and hey presto, by midsummer the stems have pushed up into pretty pinky-purple flowering spikes. These will be loved by the butterflies.
Don't forget moths in your butterfly garden
A pot of mint will be sufficient to attract a day-flying little moth called the Mint Moth. This is found all over the country except for the north of Scotland and can be recognised by its small size – not much bigger than a 1 pence piece – dark reddish-brown upper wings and black lower wings, all of which have a distinct yellow spot on them. So, there's every chance you will spot it on mint or related plants such as basil, deadnettle (Lamium), catmint and Agastache.
Top tips for making a bountiful potted butterfly garden
Here are some tips to get the most from your butterfly garden
Choose butterfly favourites such as lavender, verbena and oregano
Water daily to prevent soil drying out as this will result in the flowers to stop producing nectar
Consider adding water-retaining gel to the compost of smaller pots
When flowering begins, use a liquid feed once a week
Stop cutting at least some of your herbs to let them flower
Position containers in the sunniest part of your balcony or sitting out area
Pick off faded flowers to encourage more to come
Get a butterfly field guide to discover which butterflies are visiting your patch
Find a comfy chair to sit out and watch the wildlife in
And start a plant wish list to make an even bigger, better butterfly garden next year!
Find more information on attracting butterflies to your garden on the RHS website.
Gardening made easier with McCarthy Stone
Our award-winning retirement living communities offer beautifully landscaped gardens, perfect for relaxing, socialising and admiring the butterflies, bees and birds. These gorgeous green grounds are maintained for you to make life that bit easier, but it doesn't mean you have to relinquish your green thumb. Many of our retirement apartments come with patios and balconies - perfect for making your own butterfly garden, and some offer potting sheds and areas for gardening clubs to enjoy growing things in too.

Want to take a look around? Browse our open days for events near you. Alternatively call our friendly team on 0800 201 4811 or use the contact us form to get in touch.