Dating for over 50's – Top Tips
The prospect of dating can be daunting if you've been out of the scene for a while. Read our top tips on dating for over 50s.
If you've been married for some years and then divorced or widowed, the idea of going on a date is probably quite scary. But if you do want to get back out there, there are so many new ways to meet people – including of course online dating. With these tips you'll soon be ready to give love another chance. And, while you may associate dating with youth, there are benefits to being a bit older.
Three benefits of dating when you're over 50
You know how to be yourself. People over 50 generally feel comfortable with who they are. You no longer feel the need to pretend to be something you're not.
You know what you want. If you've had serious relationships and/or been married before, you know what you like in a partner (and what you don't) so you don't waste time on people who don't make the cut.
There's less pressure. In your 20s and 30s you might have been looking for 'the one' – a person to build a home and raise a family with. Now that you're over 50, you can concentrate on having fun and enjoying each other's company.
Five tips for getting back into dating for over 50s
Only date if you're really ready. If you're still heartbroken or grieving a former partner through bereavement or divorce, then you're probably not ready - yet. If you're struggling, talk it through honestly and openly with friends until you start to feel better - or speak to a therapist.
Persevere. Don't let bad dates put you off. Not ever date is likely to go well and it can take practice to get back into the art of making small talk. Keep an open mind and keep trying.
Be positive. Edit the more difficult aspects of your history for early dates – instead concentrate on what you'd like to do in your future.
Don't put too much pressure on the date. See your initial ventures into dating as opportunities to get an insight into other people's lives and to make new friendships. Ask lots of questions and enjoy the conversation even if there's no immediate spark.
Be yourself! Who cares about grey hair or the odd wrinkle! Remember you are truly unique, so feel proud of who you are and what you have to offer.
So how do you meet people to date in your 50s and beyond?
Join clubs/social events. Joining community groups, clubs and volunteering are all good ways to meet new people – which is fundamental to any search for romance. You may find there are local social events specifically aimed at older singles too. These can be anything from speed dating to walking groups. Try MeetUp to see if there are any suitable events in your area.
Go on a 'singles' holiday. There are all sorts of holidays, from city breaks to savanna tours, aimed at single travellers of a certain age, so you can combine an exciting new adventure with the potential for finding a suitor. Try Solo Holidays.
Ask friends and family to set you up. Be bold and ask your friends and family if they know any single people you might like - they'll have a good idea of your taste and at least you'll know your blind date comes highly recommended.
Join a retirement community, like McCarthy Stone! It may not be the main reason behind a move to one of our beautiful retirement properties, but for many the idea of being part of a sociable community of remarkable individuals and friendly neighbours is a big plus. Many of our homeowners have found love too (there's some examples later on). Search for a McCarthy Stone retirement property for sale or rent in your area. Who knows what might happen!
Embrace the world of online dating. It's estimated that a third of relationships now start online and this will grow to over 50% by 2035, so it's a great way to meet potential partners.
Dating websites let you view likely matches in your area, and when you find a match, you can talk online before agreeing to meet up. There's no pressure to arrange face-to-face dates.
When it comes to choosing the right online dating site, you need to work out what it is you're looking for. Are you keen to meet a new long-term partner, or hoping to play the field and enjoy being single again? Different dating websites tend to attract people who are looking for different things, so do your research.
If you're not feeling confident ask a friend or family member to help you out. There are even sites like My Single Friend, where they can post your profile for you.
Is online dating for you?
We asked eHarmony's relationship expert, Rachael Lloyd for her thoughts on online dating in later life and why she thinks it's an excellent option for everyone.
"I have a first-hand understanding of how online dating can benefit people of every age. And you may be surprised at the rise of over 60-year-olds finding love online.
While most people on eHarmony are in their 30s, we also have plenty of over 60s – and their numbers are set to rise. According to our study with Imperial College London, while only 12% of those aged 65 to 85 currently use online dating sites, by 2050 almost 80% will do so. One of the reasons for online dating becoming more popular with over 60s is that they are seeing how effective it is."
Online dating is not just about romance...
"The joy of online dating is that it encourages everyone to get offline and go and meet people. It's social, and even if you don't find love right away, you've got a great opportunity to make new friends and meet in interesting new places, like museums, art galleries and parks."
Is online dating safe?
"If you're worried about safety, invest in a reputable and secure dating site like eHarmony as we specialise in compatibility-matching. Plus, always meet someone new in a public place for a first or even second date. If your date seems dishonest or you feel uncomfortable about them in any way, leave."
You can find more advice on safely using online dating apps here.
Be honest about who you are
"Don't succumb to the temptation to shave a few years off your age or put over-filtered pictures of yourself on your dating profile. Authenticity and confidence are very attractive traits." Rachael adds, "There are so many older singles out there looking for love and friendship through online dating. So, what are you waiting for?"
Matches made at McCarthy Stone
It's perhaps not surprising that our sociable retirement communities are often a hot bed of romance. After all, you're surrounded by people at a similar stage of life and, with a calendar packed with clubs and events, there's plenty of opportunity to get to know everyone.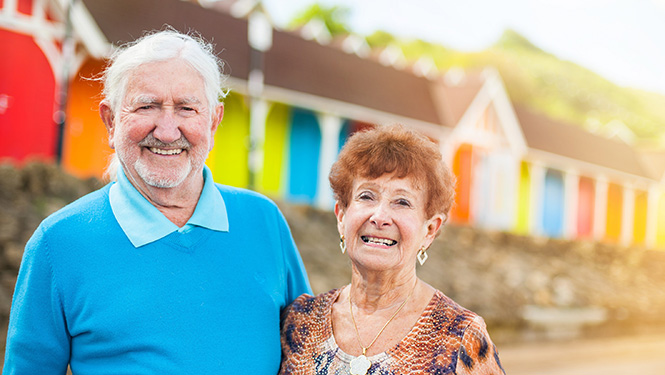 Jean and Peter found love through laughter
Jean Ellis, 82, lives with her partner Peter Wilgeroth, 86, in a McCarthy Stone development in Yorkshire.
"After Fred died, Peter was the first person who made me laugh. He walked in, said something and I just roared with laughter. When Peter first asked me if I'd like to go out for a meal, I was so shocked I replied, "I don't think so!" But, back at home, I thought, "You silly old fool, what have you got to lose? He's lovely." The following week, I told him I'd changed my mind – luckily, he hadn't changed his!
We've been together eight years now, moving in together two years ago, and I feel so blessed that our relationship has progressed to love. Our families are very happy that we've found each other – it stops them worrying about us being on our own."
Ellen and David's whirlwind romance
David, 83, says, "My son was encouraging me to move closer to him and his family, so we decided to view the retirement development around the corner at Catherine Court, Eastleigh, Hampshire. Ellen was one of the first homeowners I met. She was in the office and very cheekily suggested I purchased an apartment near hers. So I did just that!"
In February 2019, he moved into a one-bedroom apartment. "Once I'd unpacked, the first thing I did was invite Ellen over for a coffee," he adds. Ellen says, "After 56 years of marriage, I never thought I'd meet anyone I'd have a romantic connection with. I was very flattered when David plucked up the courage to ask me out. We didn't stop chatting the whole time. Later, David invited me to dinner which he cooked and from there the rest is history."
David says, "I thought Ellen was just wonderful. She is a very kind and caring person, with a great sense of humour. I knew quite early on I was falling in love with her."
Ellen says, "Since David came into my life, I've never been happier. I feel like a teenager again! Our friends and family are delighted for us both, they say it's the happiest they've seen me in years. My pet budgie, Kevin and I have now moved into David's apartment. It doesn't make sense for us to have two properties, so I'm considering selling mine through the McCarthy Stone resales service. Ellen smiles, "I can't thank McCarthy Stone enough for bringing us together."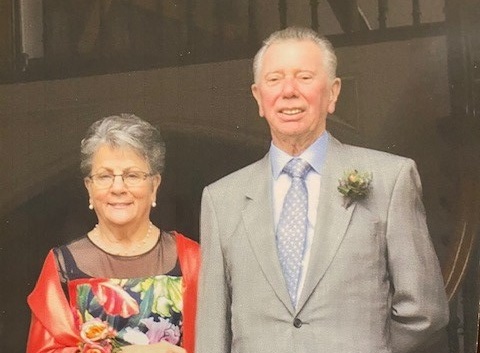 Ian and Jean find true love at Darroch Gate
Ian was married for 58 years, but when his wife sadly died, he decided to move to Darroch Gate, Blairgowrie, Perthshire and then went travelling in Australia. He says, "It was June that I returned to Darroch Gate. There were a few people in the lounge watching tennis. Later on Jean came in and when the game finished people started to leave. Eventually Jean and I were left and got into conversation. I then invited her for lunch the following Sunday. I spent the following week wondering how to go about it as it was nearly sixty years since I'd asked a lady out!"
Jean moved in in March 2018 and explains, "I settled in well and made friends … I heard about Ian and his adventurous trip to Australia. He was 80 years old and backpacking (in an upmarket way) and driving as far as he could! It took him some time to pluck up the courage to ask me out to dinner at a lovely local hotel. Our next visit there was to get married. I am so very happy here with 'the love of my life', Ian!"