Apartment 8 is a two-bedroom, South-East facing property, located with Wisteria Place in the village of Bulcote. The apartment is on the Ground Floor, measures 76 square metres and incorporates a Master Bedroom with Walk-In Wardrobe and En-Suite Shower Room, Second Bedroom with Walk-In Wardrobe, Shower Room off the internal Hallway with a Utility Cupoard with Washer / Dryer. The Living Room leads to a separate fully-fitted Kitchen.
Floorplan
Floor Plan
Energy Performance Certificate (EPC)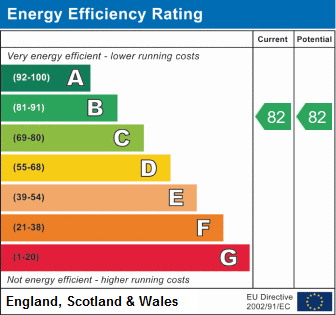 Energy Performance Rating
The graph shows the current energy efficiency of your home. The higher the rating the lower your fuel bills are likely to be. The average energy efficiency rating for a dwelling in England and Wales is band B (rating 60). The EPC rating shown here is based on standard assumptions about occupancy and energy use and may not reflect how energy is consumed by individual occupants.
Features
A modern living space
Fitted kitchen

We provide a range of quality appliances, including waist height oven, ceramic hob and integral fridge/freezer. Everything is laid out to make cooking and cleaning as effortless as possible.

Bedroom

Luxury and comfort are at the core of our bedrooms. We provide generous storage with either a walk-in wardrobe or fitted wardrobe to the main bedroom.

Living Room

Our spacious living rooms are both light and neutral décor, making it is easy to add your own personal touches to your living area.
Service Charges
What you can expect to pay
Did you know? Our retirement rental prices include service charge and ground rent.
Take a look through our Retirement Living service charge costs.
Each year, we help residents set the budget that they need for retirement. Although we cannot guarantee that our Retirement Living service charges will remain the same for year to year, our many statutory safeguards will remain in place, to ensure that your opinions are recognised and acknowledged when defining budgets.
*Please note that not all the listed costs below apply for our Retirement Living properties. Also, our charges are calculated on an average sized development. You can find more information on our service charges here and for full details on a specific development please speak to your sales consultant.