FROM LIVING IN ARMY QUARTERS TO BINGLEY'S NEW FLAGSHIP RETIREMENT DEVELOPMENT: TWENTY-TWO HOUSE MOVES LATER, SUE CROSS HAS FOUND A NEW PASSION FOR CRAFTS.
"Throughout my life, I've been a part of a variety of communities, from my time as a young girl in the army to my later years volunteering at local charities. But without a doubt, the community that's being formed at Whitelock Grange is second to none!"
When the doors opened at McCarthy Stone's Whitelock Grange Retirement Living development in Bingley last October, Sue Cross, aged 67 and her husband Ken were one of the first to move in.

"We've been here right from the start. When we saw the development being advertised, we were instantly interested. We looked around another McCarthy Stone development that was already built and decided to reserve our Whitelock Grange apartment off-plan that day. The rest is history!" Sue explained.

With 22 house moves under her belt, Sue's life has taken her all over the world. Born in Walsall, West Midlands, Sue left there to join the army when she was 18 years old, in 1972.

"I did 14 years in the Army, including the Falklands just after the conflict. I was a store receipts controller and moved around bases in the UK, including Donnington, Bicester and Kineton. When I got married, my husband and I moved to Germany, and then after a few years, we moved back and bought a house in Shipley, UK. Shortly after that, my husband got his commission, so we went back into quarters. All in all, I think our move to Whitelock Grange is our 22nd!"

After her years in the Army, Sue went into care work and later volunteered for various charities including the British Legions. Aged 67 Sue is now retired, and her husband is self-employed.

"Ken works away in the week and has one full week at home a month. Living in a community like the one that's being formed at Whitelock Grange is perfect, I'm surrounding myself with like-minded people with similar interests and life stories." Sue says.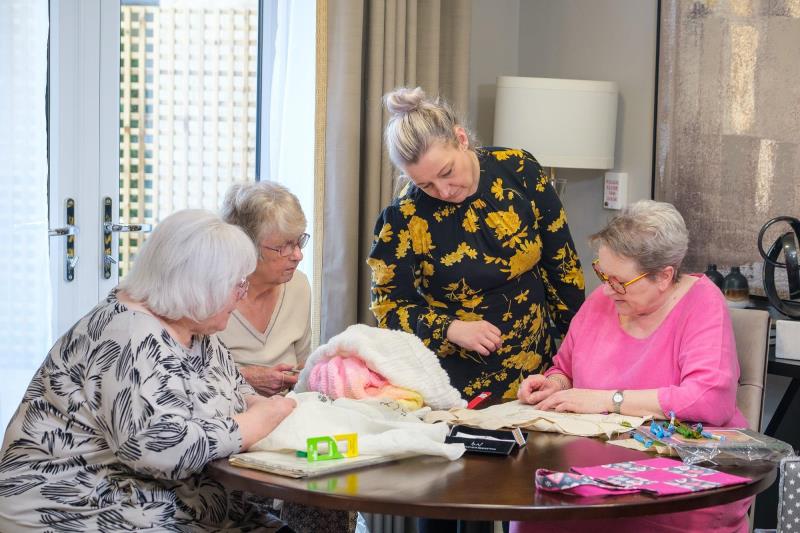 In the last few years, Sue has taken up crafting, from embroidery to patchworking to sowing. When moving to Whitelock Grange, Sue took her sewing machine with her, and within a couple of months had set up a Friday afternoon Crafts Club.
"When I moved in, I met a few other ladies who are equally interested in crafts. After a few ad hoc meetups, we decided to make it a regular occurrence and this started the Friday afternoon Crafts Club.
"We're all working on a variety of pieces; I'm currently working on material coasters and a patchwork bag. One of our ladies knits blankets for premature babies and babies that are born sleeping. It's much nicer for us to get together and do the things we enjoy, rather than solo in our apartments. The club is an open invitation to all of the current and future homeowners at Whitelock Grange."

Having not been open for six months yet, Whitelock Grange already boasts a range of clubs and activities that homeowners can get involved in. From scrabble to pilates to fish and chips supper on a Friday, there is something for everyone.

Sue explains, "in such a short amount of time we've managed to form a close-knit community, and I believe this is testimony to the activities and clubs McCarthy Stone has helped us start. Our book scheme is proving popular, where homeowners can take a book from the shelf to read and replace it with another. We've also just added a note on the notice board asking people if they'd be interested in going for meals out, and so far we've had a great response."

To help the Crafts Club grow, McCarthy Stone has kindly donated £200 to the members, to use in whatever way they see fit.

"We'll probably use the money to get supplies, including wool for the neonatal blankets. We're extremely grateful for the donation and hope that by getting more supplies we can encourage other homeowners to join us!" Sue said, optimistically.