Property 18 is a beautiful two-bedroom apartment measuring 820 square feet, ideally located on the first floor boasting a North East aspect.

The spacious living room is decorated in a natural tone creating a bright and airy feel. The living area opens out to a walk out balcony, perfect for soaking up the summer sun.

The fitted kitchen comes complete with cleaver storage solutions and integrated appliances including a waist height oven, ceramic hob, stainless steel cooker hood, glass splashback and fridge-freezer.

The stunning master bedroom benefits from a walk-in wardrobe fitted with hanging rails and shelving units. The large second bedroom could be used as an ideal space for guests or quiet study room, the choice is yours.

Finally, the shower room is complete with slip resistant flooring and a level access shower, a chrome towel radiator and a fitted mirror.

This fantastic apartment comes complete with fitted flooring throughout. Don't miss out call, to find out more today.
Floorplan
Property 18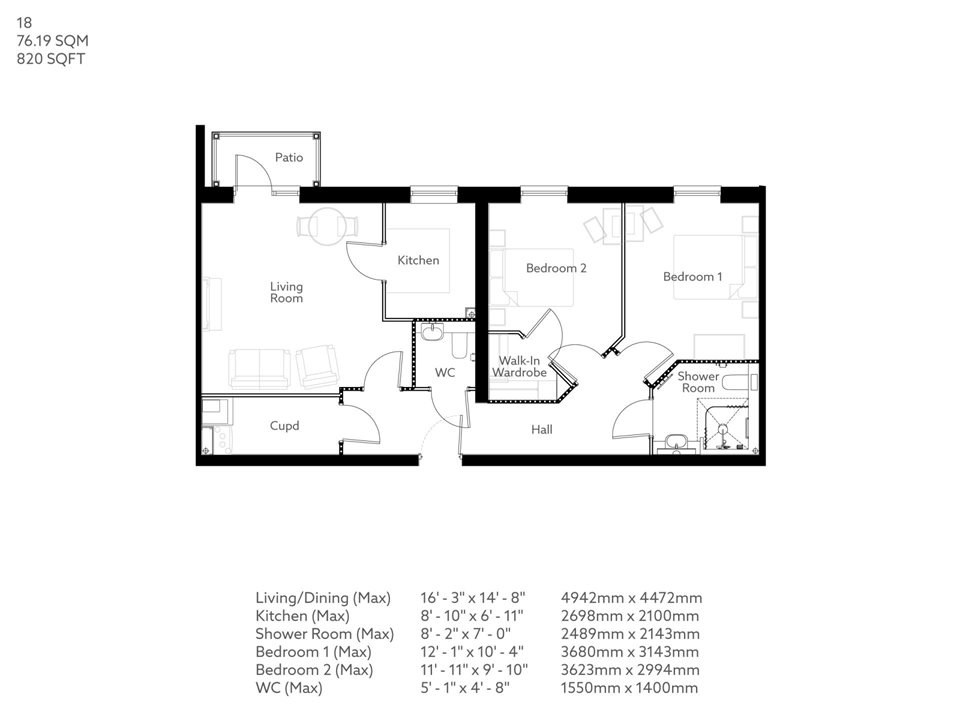 Shared ownership
| | | |
| --- | --- | --- |
| Example share | Purchase Price | Rent Price |
| 50% | £160,000 | £367 pcm |
| 75% | £240,000 | No Rent |
This property is available to purchase via the Homes England Older Persons' Shared Ownership scheme. Tailored to your individual circumstance, Shared Ownership allows you to buy part of your home and pay rent on the rest, so you can enjoy the benefits of the lifestyle and retain home ownership. It also allows you to manage your finances for possible future needs.
Please speak to our dedicated Sales Consultant to find out more.
Wheatley Place Property 18 - Shared Ownership Key Information
Energy Performance Certificate (EPC)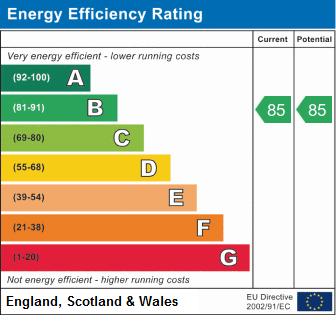 Energy Performance Rating
The graph shows the current energy efficiency of your home. The higher the rating the lower your fuel bills are likely to be. The average energy efficiency rating for a dwelling in England and Wales is band B (rating 60). The EPC rating shown here is based on standard assumptions about occupancy and energy use and may not reflect how energy is consumed by individual occupants.
Features
A modern living space
Fitted kitchen

We provide a range of quality appliances, including waist height oven, ceramic hob and integral fridge/freezer. Everything is laid out to make cooking and cleaning as effortless as possible.

Bedroom

Luxury and comfort are at the core of our bedrooms. We provide generous storage with either a walk-in wardrobe or fitted wardrobe to the main bedroom.

Living Room

Our spacious living rooms are both light and neutral décor, making it is easy to add your own personal touches to your living area.
Occupancy options
Found a property that takes your fancy? Find out more about the practical details including information on service charge and FAQS.
This is a leasehold property with a term of 990 years
Council Tax Band: D
You can buy part of your home and pay rent on the rest, so you can move in and enjoy the benefits of the McCarthy Stone lifestyle without committing to outright purchase. The Shared Ownership scheme is run in conjunction with Homes England, our government approved partner.
Electricity, heating and lighting (communal areas)

Water and sewage (communal areas and apartments)

Professional fees

Maintenance of building and gardens

Emergency call system

Building insurance

Income to guest suites and sundry income

Development staff

Future maintenance fund

Restaurant

Domestic assistance
What's not included?
Electricity, heating and lighting (apartments)

Home and contents insurance

Council Tax

Phone / broadband

TV licence / TV service
You can enjoy the McCarthy Stone lifestyle without paying the full purchase price.
Buying a percentage share of the property allows you to manage your finances to cater for possible future needs.
If you buy 75% of the value of the property, there is no rent to pay on the outstanding share.
If you buy 50% of the value of the property, you will pay rent on the outstanding share.
You could claim up to £500 a year to help with essential repairs in the first 10 years.
With this scheme, you can purchase up to 75% of the value of your property - and if you own 75%, you won't pay any rent on the outstanding 25% share. If you purchase a lower share of the property, you will pay rent on the outstanding share. It provides a more affordable way to buy one of our retirement properties.
What is Shared Ownership and who are Homes England?
Shared Ownership is when you buy part of your property and rent the rest. It enables customers to enjoy a McCarthy Stone property without committing to purchase 100% of the property value. Homes England is the government approved provider of Shared Ownership schemes which enables us to deliver the ownership option. They regulate rental charges and fees applicable to the homes within this scheme.
Is Shared Ownership available at all your locations?
No, Shared Ownership is available at selected developments and exclusions do apply. Speak to a Sales Consultant to find out more.
Who will own the share of the property I don't buy?
McCarthy & Stone (Shared Ownership) Limited will become your landlord on the share you don't buy.
Do I need financial advice?
Before entering into the Shared Ownership agreement, we recommend that you obtain independent financial advice so you know what your new home will cost and that you can afford it.
Will a financial review be needed?
If you take up our Shared Ownership offer, we require you to have a financial assessment with an Independent Advisor to make sure you can afford the ongoing costs both today and if your circumstances change. We will put you in contact with an advisor who has experience of Shared Ownership schemes and can assess your eligibility.
What will it cost upfront?
You should plan for some one-off costs associated with your purchase, including, but not limited to the following:
• Reservation deposit (which is deducted from your final purchase)
• Solicitors Fees and disbursements
• Stamp Duty Land Tax (SDLT) in England.
Your solicitor will be able to tell you if the tax applies and how much it will be
• Estate Agent fees if selling a current property
Can I purchase a parking space?
Car Parking spaces are available at some developments. Please ask the Sales Consultant for more details.
What does the £500 essential repairs include?
This covers items in the home that supply water and electricity such as basins, baths, toilets and also cables, but not fixtures, or appliances such as ovens or washing machines. Pipes and drainage items for heating and hot water are also included.