PINK HAIR, TREASURED MEMORIES AND A VIBRANT LIFE…WHY THE FUTURE IS BRIGHT FOR ONE RETIRED TEACHER FROM SOUTH SHIELDS
With accents of pink in her locks and an undeniable zest for life, Patricia Rigg certainly lives each day to the full and believes wholeheartedly that age is just a number.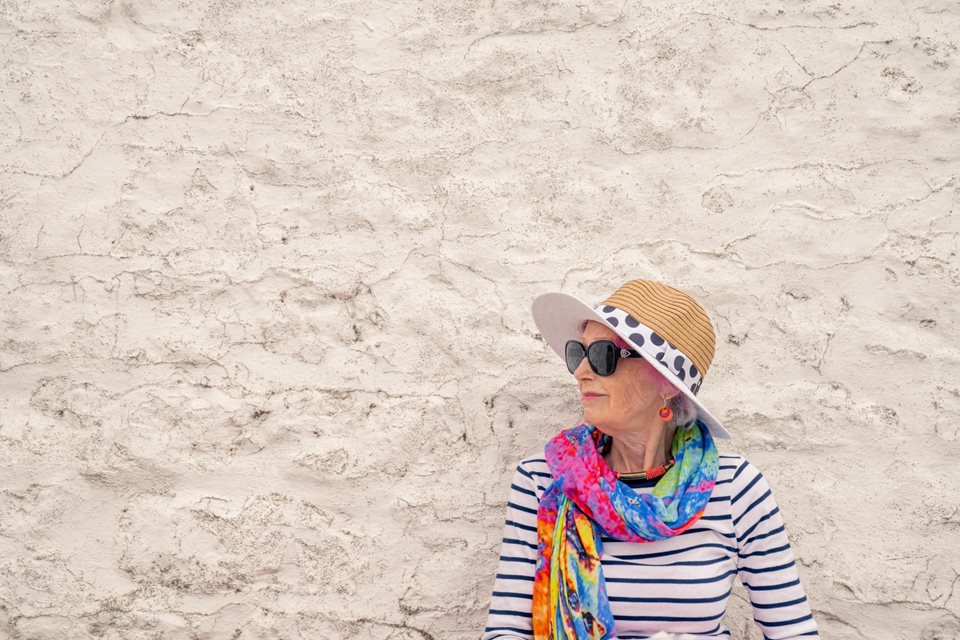 Pat is joyous about life. She likes to embrace the past, make exciting plans for the future, and live for now. Pat says: "Every day is a gift and I hope to stay happy and healthy, laugh a lot and delight in my golden years."

Pat, now in her seventies, lives in a beautiful apartment in Seymour Court, a McCarthy Stone Retirement Living development in South Shields. "After I was widowed 12 years ago, I knew it was time to move. The Lincolnshire village where I lived, was too far from most amenities and my house and garden were fairly large. They needed plenty of upkeep. That's when I decided to move back to the North East, first to Cleadon Village, and then, a few years later, to Seymour Court. Here I could be nearer to old friends, make new ones, and feel safe while enjoying the shops, restaurants and beach on the doorstep; and all in the place where I was born."

Pat, a teacher of Art and History, worked in Germany for nine years, five of which were spent in the north of the country, in Wilhelmshaven, at Prince Rupert School. This was a boarding school for the children of those associated with the British Forces in Germany. "The special, unique, unforgettable Prince Rupert School", recalls Pat.

Surrounded by water, the school and its site had been, up until the end of the Second World War, a base for U-boats of the German navy. After the war it became HMS Rupert, and then in 1947, Prince Rupert School. Her years in Wilhelmshaven teaching as well as being part of the duty staff in one of the girls' houses, were such happy times; full of special memories for everyone who was there, and the school is still fondly remembered today.

Pat met her future husband Brian at Prince Rupert School. They were married at the British Consulate in Hanover and spent 40 very happy years together. During World War Two, Brian an Intelligence Officer with the Fourth Indian Division, was at the Battle of Monte Cassino. When the war was over, he returned to life as a schoolmaster at Worksop College, in Nottinghamshire. Brian joined Prince Rupert School in the early sixties, with his family, to open a junior boys' house, and, by the time Pat met him, he was Deputy Head.

On her first day at Prince Rupert School Pat found herself locked out of her flat and Brian came to the rescue by climbing through an open window. With his infectious smile and a twinkle in his eye, he was definitely a knight in shining armour.

Her time in Germany is something Pat will always hold very dear. She has remained friends with many of her ex-pupils. "My treasured friend Eve; we were close for many years before she sadly passed away in 2011. I adored her. She thought the world of Brian too. She joked, later, that she was the 'Cilla Black' of Prince Rupert School. Eve used to invite Brian and me for Sunday lunch, cooked by her in his kitchen, to try a spot of match-making. It worked!"

After Eve's father was posted away, the friends lost touch for a number of years and were reunited through The Wilhelmshaven Association, started by a former pupil of Prince Rupert School. "I remember the day Eve walked through our front door. It was as if no time had passed. Eve gifted me a pair of earrings then, and I still wear them now. They're priceless to me," adds Pat.

Brian and Pat shared a love of travel and spent many summers driving from Germany to Greece, to visit Brian's family in Thessaloniki, plus time in Athens and Istanbul. Visits to different parts of Europe, especially Italy and France, were, also, always enjoyed. They loved to relax during their time away, appreciating local culture, cuisine and wine.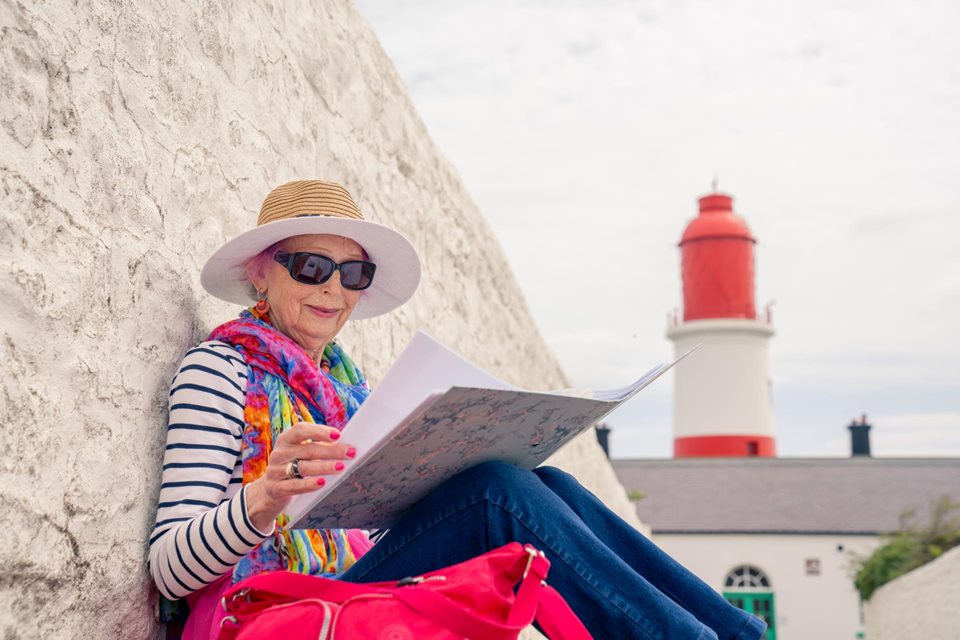 One of Pat's fondest memories was "watching the fireflies dance in Italy during the month of May – just magical." She'll also never forget "the sun setting over Mount Olympus in Greece – a truly beautiful sight."

After Brian retired in 1976, the couple moved to a village in Lincolnshire, where they spent 33 happy years. "I took a job as a supply teacher in Scunthorpe, for two days and stayed for 14 years," says Pat. "We shared our home and garden with our slightly eccentric budgie, Socrates, who had a penchant for gin and tonic! Also, over the years, we had Dandie Dinmont Terriers called Taki and Gladstone, along with our Yorkshire Terrier, Tuppence – they certainly kept us busy." Brian and Pat loved taking their dogs on long, country walks. Lincolnshire, famous for its potatoes and vegetables, was, also, the home of delicious cheeses and Lincolnshire sausages – all very much enjoyed.

After Brian passed away in 2009, Pat downsized and moved north, re-locating to a new apartment at Seymour Court in South Shields. In her new life, she became involved in walking and creative writing groups, researched family and local history, enjoying many activities and starting as she meant to go on. Pat believes "you get out of life, what you put in", and is loving life at Seymour Court. Back in the North East, she has met some wonderful people, also young at heart, who share her passion for life and is happy to have found such a great place to live.

She has also kept on travelling…Iceland, the Lofoten Islands, St Petersburg, Greece, Germany and more. "Almost a month in New Zealand was one memorable experience, especially a visit to Cape Reinga – Te Rerenga Wairua, a sacred place from where all Maori spirits begin their final journey. At the northern end of North Island, a lovely lighthouse and an ancient Pohutukawa tree mark this special place, where two oceans meet, the Tasman Sea and the Pacific Ocean. Watching dolphins and their babies at the Bay of Islands – another memory to treasure", recalls Pat.

Having time to reflect over the last few years, Pat decided to follow through her desire to research her husband's World War Two journey and uncover the true story behind his military experiences. This took her to Italy where she explored the tough Battle of Monte Cassino through battlefield tours and the official society which she is a member of and learned much also, of the fierce landings at Salerno and Anzio. "My husband never really talked about his experiences in Italy," explains Pat. "Having done the research I realise now; they were harrowing times and I can see why he was reluctant to dwell on them. I've made it my mission to spread awareness about the Battle of Monte Cassino and give the men who fought in it the recognition and respect they deserve. Through my love of writing I've penned a poem called 'Old Soldier' which is dedicated to the World War Two veterans, just a small way of giving thanks," adds Pat.

"I have had some fun with my writing too, I took on the persona of my Dandie Dinmont Terrier, Gladstone, who loved to put pen to paper although he obviously needed a little help with his grammar! He even appeared on TV after entering a poetry competition. He was a regular contributor to the Dandie Dinmont Terrier Club magazine. Not bad for a wee dog from Lincolnshire! Then there was Froddie Flitter, a cartoon character who waged war on litter. It was created by one of my pupils at the time, Kazu Ichimura. I liked the character so much, I decided to make a story of Froddie. I wrote it as part of an anti-litter campaign that local schools could get involved in, and Kazu, with the help of two of his friends, illustrated it."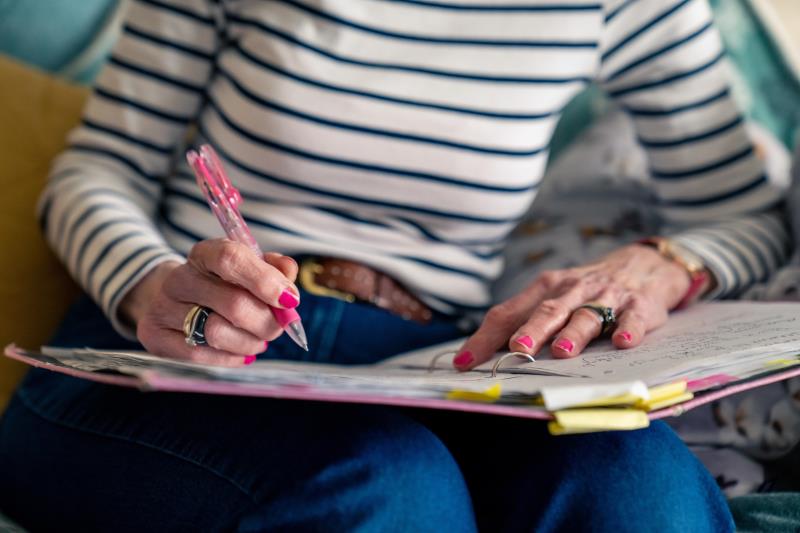 Creative writing is something Pat plans to do more of and she's currently composing a tribute called 'The Lure of the Lighthouse,' based on a much-loved National Trust local landmark, Souter Lighthouse, which is celebrating 150 years since it began its working life in 1871. "I'm hoping to sell some of my work and raise much-needed funds for the lighthouse. It's my favourite place to visit in the area and I want to give something back," remarks Pat.

Believing that fate played a part in her move to Seymour Court, Pat remembers the first time she went to view her apartment, "When I walked in the first thing I noticed was a picture of Souter Lighthouse. It instantly gave me a feeling of familiarity and the thought that perhaps this was where I was meant to be."

"I like to think I'm aging like a fine wine! Wearing vibrant colours and accessorising my outfits helps me to feel young. I even have pink streaks in my hair. Why not?"

"I've made quite the impression since moving to South Shields, you know," jokes Pat. "I was on a bus once and I saw a leaflet; the bus company was running a competition asking people, 'How do you make the most of your bus-pass?' You could win £100, so I entered and was one of the prize-winners. Another part of the prize was having a very large photo of yourself on the back of a Stagecoach bus. I think that's my claim to fame having my face emblazoned on a bus for all to see! My friends and I used to look out for it and spot 'Pat's bus'. We had a lot of fun doing that. One friend actually had a near miss. She was driving in town when she saw the bus for the first time and almost hit it!"

On what the future holds, Pat reveals she plans to see more of the world and stay young at heart. "I also want to enjoy my time at Seymour Court and get really involved in the community, it's such a great group of people and I feel very fortunate to have met them."