SADEEM LEADS HIS FIRST EVER DEVELOPMENT IN MIDDLEWICH
McCarthy Stone is celebrating the fantastic achievements of Sadeem Khan, who is currently heading up his first development as sole site manager at Roman Court in Middlewich.
Sadeem, 37, from Bolton, has clocked up an impressive 10 years with McCarthy Stone where he first joined as a construction apprentice in 2007 while studying at university, before being offered a full-time position as an assistant finishing manager in 2012. Since then, he has worked his way up through the business to the position of site manager, currently overseeing the construction of the Roman Court development.
While studying Construction Management at John Moores University in Liverpool, Sadeem took a gap year in 2007 which was when he first decided he would get some hands-on experience in construction and was lucky enough to assist on a number of developments in the North West for McCarthy Stone. He enjoyed his time so much that after graduating he was delighted to be approached by the company with an offer of a permanent contract.
Over the years McCarthy Stone has supported Sadeem to achieve his career development goals, including all the relevant qualifications and courses from first aid to management training, whilst he worked on sites across the north-west region, honing his skills in creating new, quality homes for older people to lead an active, independent lifestyle in their retirement years.
On his path to becoming site manager at Roman Court, Sadeem has played a key role in some award-winning teams at flagship developments including The Cedars in Malpas, and Portland Grange in Leek. During his time in Malpas, Sadeem and the team scooped the Health and Safety award in the Company. In 2021, he was also a part of the Leek team who achieved the Highly Commended award form NHBC.
In May 2021, Sadeem reached a career milestone in his journey, seeing him promoted to site manager and handed his first development to see through from beginning to end Roman Court.
As part of his role as site manager, Sadeem must ensure that the construction of the development runs on time, and to regulation and planning, while working closely with inspectors to ensure the safety of the public and all teams on site. Sadeem is now passing on the baton himself by working closely with his assistant site manager, Jason Carter, 49, and helping to train even more members of the McCarthy Stone team to follow in his similar footsteps.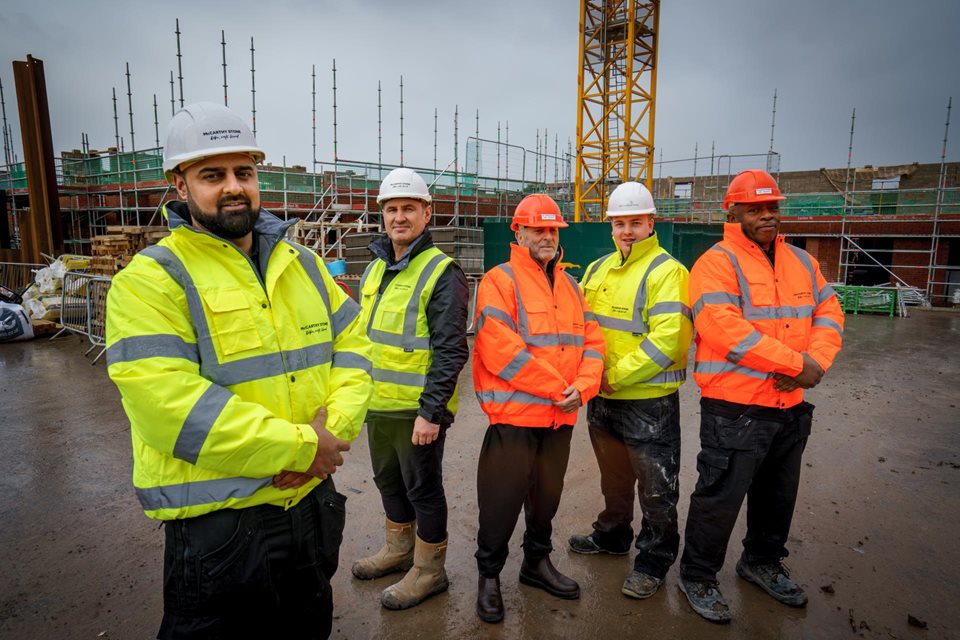 With this year marking a decade since Sadeem joined McCarthy Stone full-time, and with Roman Court due to be completed in September, 2022 looks to be quite the landmark year for him.
Looking back on his decade with McCarthy Stone, he acknowledges what a learning curve it has been for him presenting real opportunities on his way to becoming site manager. Reflecting on his time, Sadeem added: "I've been a part of some really great teams and have had the pleasure of working closely with our construction director, Ian Fleming. I would like to thank all my colleagues across the North West, for a fantastic 10 years so far. I look forward to helping McCarthy Stone develop more retirement living properties over the years to come to help address the shortage of quality retirement housing currently in the UK."
He continued: "Anyone who is considering a career in construction must have great organisation and personnel skills. McCarthy Stone has allowed me to flourish and hone my people and problem-solving skills whilst on site. Its motto 'Life Well Lived' doesn't just relate to the homeowners and their community, it's runs all the way through the company at every stage, from finding the perfect location, to the design, build and final finish to when we hand over that first set of keys to our excited customers. McCarthy Stone is such a great company to be a part of. I really feel like the work I do is making a difference."
Not resting on his laurels, Sadeem has already set his sights on becoming a senior site manager for McCarthy Stone within the next three years.