FLIRTING WITH MICHAEL KEATON, DINING WITH MICHAEL CAINE … IT'S ALL IN A DAY'S WORK FOR DOT
"I like to think I gave Ant and Dec their big break and paved the way for their golden TV career," jokes 67 year old TV Script Supervisor retiree Dorothy (Dot) Connolley, who now resides at Riverwood, a McCarthy Stone Retirement Living development in Milngavie near Glasgow.
With her infectious giggle and a mischievous twinkle in her eye, it's easy to see why Dorothy had an extraordinarily happy and successful career behind the camera in TV production and proved a huge hit with everyone on set from actors to directors.

"When I look back on my career, I often think to myself 'not bad for a girl from Sunderland who left school at 16 with only five O levels to my name!" says Dot. "I think a mix of working hard and playing hard, determination coupled with a sense of humour, has got me far!"
Dorothy began her 40+ year career in TV production at BBC Newcastle, where she worked on the hit children's show Byker Grove and remembers candidly helping audition the then unknown Geordie duo Ant and Dec. "I think even back then the crew all knew we had found special talent, there was something about them that was fascinating, they were raw, relatable and above all funny. Turns out we were right!" adds Dot.

Coming from a very close-knit family of hard-grafting Northerners, Dot adored her mum and dad and younger sister Anne who now lives in Greece. "It was a very difficult few years when I lost my dad in 2016 and my mum in 2020, I miss them every day and remember so fondly my childhood full of wonderful happy memories. I will never forget watching The Beatles live in 1963 when I was just nine; they were incredible! I'm close to my sister and can't wait until I can get on a plane and go and visit her so we can put the world to rights over a glass of local vino or three." Dot ponders.

At age 36, after seeing an advert for a role at BBC Scotland, Dot applied for it, got the job and upped sticks from her native Sunderland, relocating to Glasgow, having never been there before and without knowing a soul. "It was pretty brave really when I think about it, maybe a bit daft, but that's me, I take risks, I believe in fate and actually, it was the best thing that happened to me", recalls Dot.

While at BBC Scotland Dot worked on Strathblair, a popular TV drama set in the 50s on a remote farm in Perthshire where she would work long days on location. "I definitely burnt the candle at both ends," laughs Dot, "we all did. Some days we'd finish at 11pm having started early, but we'd always manage to squeeze in a few drams at the hotel bar! Being on location you become like an extended family and we had such fun, raucous nights and made some terrific memories."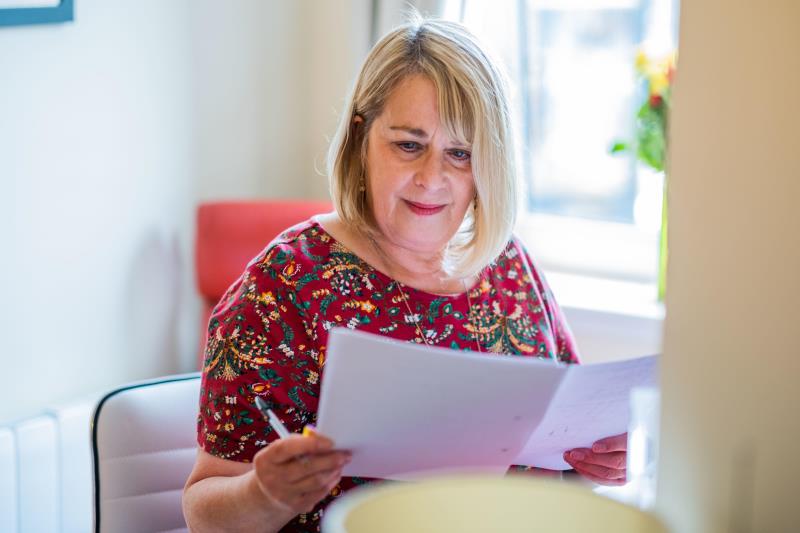 After her one year contract at BBC Scotland ended she took the decision to go freelance and worked, amongst lots of other programmes, on more than 44 episodes of Scottish detective TV series Taggart. "I was the Script Supervisor, primarily responsible for continuity. For instance, on Taggart every scene was shot out of sequence, so it was my job to oversee the continuity of the picture; including wardrobe, props, set dressing, and the actions of the actors during a scene. It was a fabulously rewarding job seeing all the scenes run seamlessly together and I loved my time working on Taggart," recalls Dot.

Dot also worked on a total of eight series of the hit Irish-British television sitcom created by Brendan O'Carroll, Mrs Brown's Boys, including its Christmas specials. "The cast is made up of several friends and family members so it was a real hoot to film! I definitely felt like part of the family for that time, and for a lot of it, it didn't even feel like work", says Dot.

As a well-respected freelancer Dot was lucky enough to travel all over the world and spent four months in Nice, the cultural capital of the French Riviera. She was on location there to shoot a movie and worked with some very respected actors. "My time in Nice seems like a dream sometimes! At one point I was with Michael Keaton and Michael Caine in a hotel room going through their scripts. Later I even dined with them at a rooftop restaurant with the deep blue waters of the Cote d'Azur providing the dramatic backdrop, I had to pinch myself!" reminisces Dot.

She continues: "I used to daydream about getting glammed up and walking arm in arm with Michael Keaton down the red carpet at the Oscars – that was a wonderful way to pass the time on set. However, I soon snapped back to reality when Michael's statuesque model girlfriend sashayed in!"

Fast forward to today and a retired Dot recently decided it was time for a change. Now, in the prime of her 60s she made the decision to sell her three storey property in Milngavie which she has lived in for more than 15 years and move to a one bedroom apartment at Riverwood, a McCarthy Stone Retirement Living development in Milngavie near Glasgow.
"It was a case of now or never, my house needed work doing so I decided I'd rather sell than pour more money into it. I wanted to release some of my equity and move into a home where I would be part of a community, feel safe and have stacks of facilities on my doorstep. Riverwood ticked all the boxes for me and I haven't looked back, it really is living made easy. I love being surrounded by friendly neighbours and there's a fabulous sense of kindness and community spirit," remarks Dot.
"I really want to travel more while I'm still feeling sprightly! With my real zest for life spurring me on, I did a road trip along Route 66 in the USA with my friend Heather for my 60th. We drove through eight states in over four weeks; it was absolutely fantastic, we were free as birds and I'd like to do more of that. My love of TV and film has given me the cinema bug and my friend Lorna and I adore a trip to the movies to watch the latest release. Friends are for life and mine are the best, one of my favourite things to do is enjoy a lovely meal with them and just chat the night away."
Dot hasn't felt a moments regret since making the move to Riverwood. She explains: "It's an absolute riot living at Riverwood, we have such good fun. I've made friends for life, we laugh a lot and share our stories over 'drinkie poos' on a Friday night and coffee on a Tuesday morning. We just generally enjoy the 'here and now'.
"Fabulous accommodation, a kindred community, surrounded by friends and with all the cafés, restaurants, pubs and shops of Milngavie on my doorstep; what's not to love? I've lived a colourful life and I'm not stopping now! I'm 67 and fabulous and I intend to embrace, enjoy and celebrate every second of my new life at Riverwood."