Property 25 (Plot 26 on the site plan) is a beautiful second floor two bedroom retirement apartment that is South East facing. There are two spacious bedrooms with the master bedroom featuring a walk-in-wardrobe. The living room features a balcony and there is a fully fitted modern kitchen and separate shower room.
Floorplan
Property 25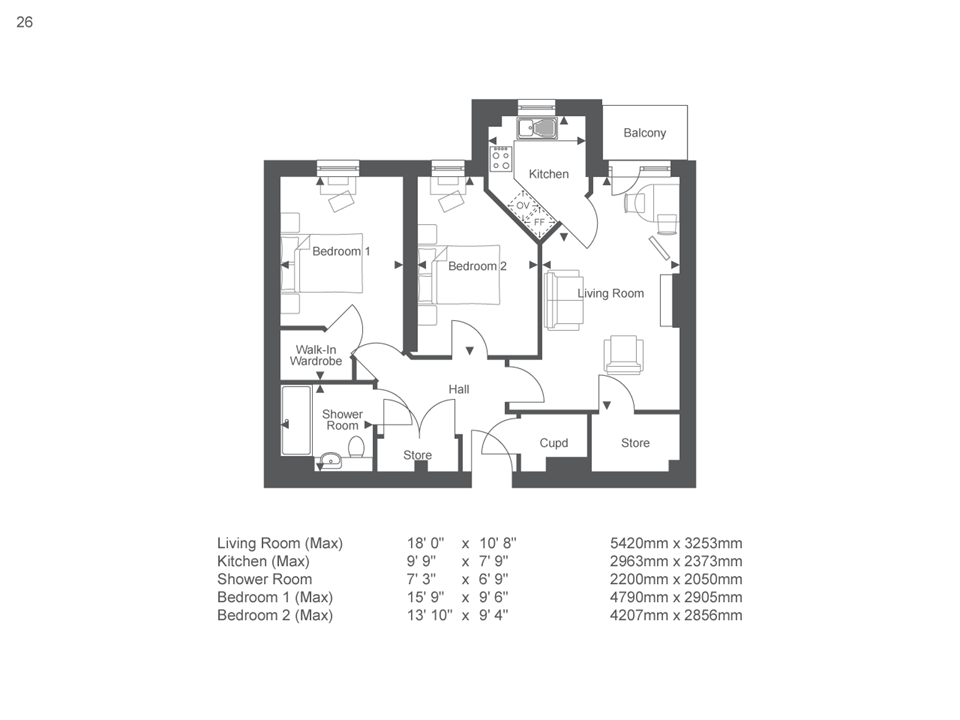 Energy Performance Certificate (EPC)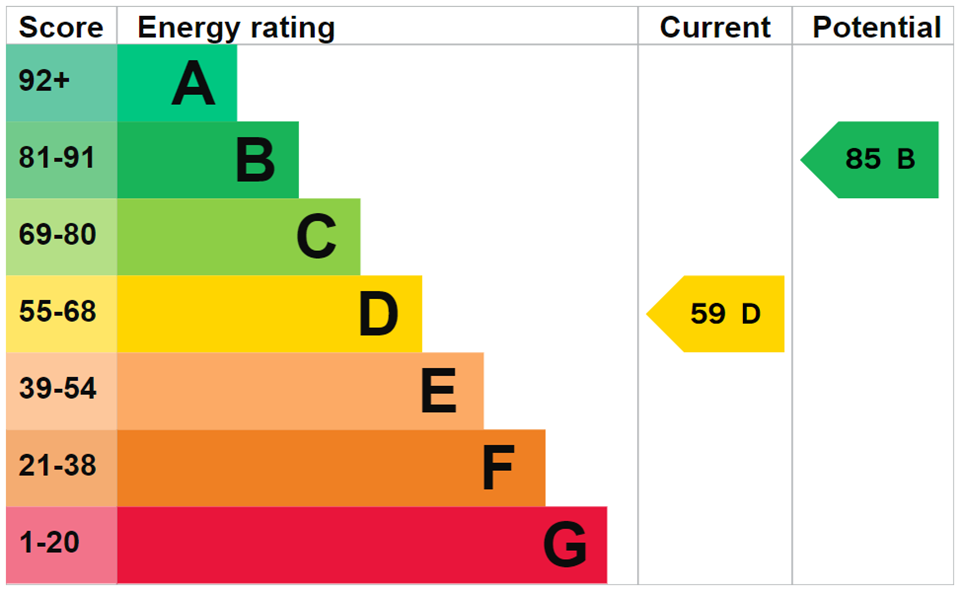 Energy Performance Rating
The graph shows the current energy efficiency of your home. The higher the rating the lower your fuel bills are likely to be. The average energy efficiency rating for a dwelling in England and Wales is band B (rating 60). The EPC rating shown here is based on standard assumptions about occupancy and energy use and may not reflect how energy is consumed by individual occupants.
Features
A modern living space
Fitted kitchen

We provide a range of quality appliances, including waist height oven, ceramic hob and integral fridge/freezer. Everything is laid out to make cooking and cleaning as effortless as possible.

Bedroom

Luxury and comfort are at the core of our bedrooms. We provide generous storage with either a walk-in wardrobe or fitted wardrobe to the main bedroom.

Living Room

Our spacious living rooms are both light and neutral décor, making it is easy to add your own personal touches to your living area.
Occupancy options
Found a property that takes your fancy? Find out more about the practical details including information on service charge and FAQS.
This is a leasehold property with a term of 999 years from and including 01/01/2018
New build - Council tax band to be determined
You can rent a retirement home on this development. Renting is an easy, flexible and quick way to enjoy life in a McCarthy Stone community. Did you know? Our retirement rental prices include the service charge.
Reservation deposit*
£500.00
Security deposit**
£2596.15
* To be offset against your initial payment and fully refundable should your tenancy not proceed
** Equivalent to 5 weeks rent of the apartment only, excludes any parking space rent
Communal area costs inc. electricity, heating and lighting

Future maintenance fund

Water and sewage (communal areas and apartments)

Maintenance of building and gardens

Emergency call system

Building insurance

Active social calendar of events and exclusive discounts

Dedicated on-site team

Weekly domestic assistance

Use of the on-site restaurant
What's not included?
Electricity, heating and lighting (apartments)

Phone / broadband

Council Tax

TV licence / TV service

Home and contents insurance
What is an Assured Tenancy?
Assured Tenancy means that you agree to rent the property for a minimum term of 12 months, but after that you can leave at any time as long as you give two months written notice. We can't ask you to leave unless you have broken the terms of the agreement.
I want to rent. What checks do you carry out and what do I need to prepare?
We'll ask you to complete a Rental Application Pack and an Income and Expenditure form to get the information we need to do standard background checks. You'll be asked for proof of income, savings and/or pensions, along with copies of your last three months' bank statements. You'll be asked to provide identification documentation that complies with the latest Government Right to Rent regulations – our sales consultants will talk you through what you need.
Do I need to pay a reservation deposit?
Yes, you will need to pay a small refundable reservation deposit to reserve the property. You will also have to pay a security deposit equivalent to five weeks rent when you move in.
What do I have to pay before moving in?
Before you can move into your property, you will need to pay the first month's rent together with your security deposit, minus the reservation deposit you've already paid.
The security deposit is equivalent to five weeks rent. Don't worry, we'll make sure you know the exact amount you need to pay in plenty of time.
McCarthy Stone is part of the Tenancy Deposit Scheme, membership number G10625. Download the Tenancy Deposit Scheme leaflet.
What date are rental payments due?
All rental payments are due on the 1st of each month and must be paid by direct debit. Your rent includes all of the development's service charges, ground rents and property maintenance.