Visit our friendly Information Centre in Nantwich
Find information on all our McCarthy Stone retirement properties for sale or for rent in the beautiful counties of Staffordshire and Cheshire.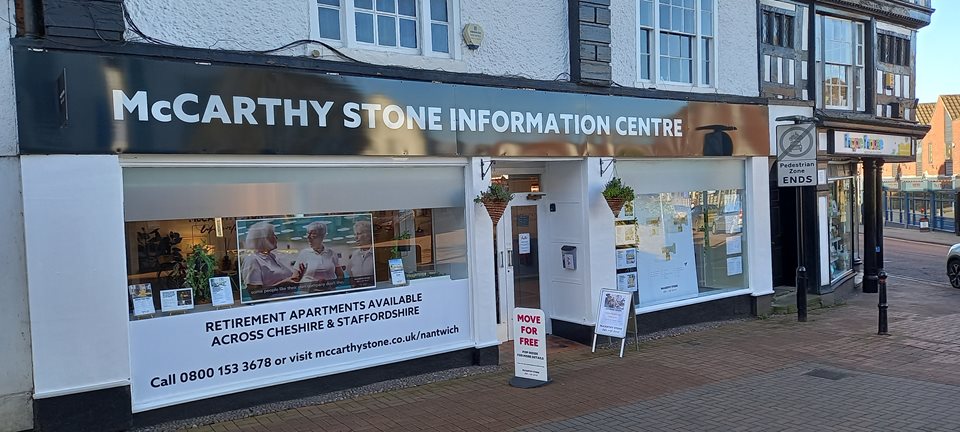 Pop in for coffee & meet the team
Visit us to find information on all our McCarthy Stone retirement properties for sale or rent in the beautiful counties of Staffordshire and Cheshire. Whether you're looking for a retirement property that you can lock up and leave while travelling, a beautiful new home with flexible support and on-site facilities, a picturesque village location, or a lively town, you'll be spoilt for choice. Sit and relax with a coffee while you thumb through a brochure, chat to the team about our range of services and find out about our special offers and how we can help to take the hassle out of moving. If you find a retirement development you'd like to view, we can book that for you too.
Find us on the High Street
Our address: McCarthy Stone Information Centre, 16 High Street, Nantwich CW5 5AR
We are open Tuesday - Saturday 10:30am - 5pm - If you want to know more about the information centre or to arrange a visit, please call us on: 0800 201 4811.
If you want to know more about the information centre call us on: 0800 201 4811
Life, well lived
One of the greatest benefits of being a McCarthy Stone homeowner is becoming part of a community of remarkable individuals, who embody a 'life, well lived'. It's about new experiences. New adventures. Looking forwards, while making the most of the here and now. That's what McCarthy Stone is all about.

83% of McCarthy Stone homeowners experience a sense of community in their retirement property.

Explore retirement properties in Cheshire and Staffordshire
Cheshire is conveniently located the heart of the UK, close to the borders of Shropshire and Staffordshire.
You'll find plenty of things to do in the Cheshire area. Its beautiful countryside is dotted with pretty villages like medieval Malpas, home to the charming Cholmondeley Castle and gardens, or Audlem nestled on the banks of the Shropshire Union Canal.
Chester is popular with visitors. It has a Roman amphitheatre, a racecourse, river cruises and a famous Zoo.
Nantwich itself is a lovely place for a spot of shopping with independent boutiques selling everything from high fashion to fine wines and traditional sweets. It's also home to Britain's only inland saltwater swimming pool, Nantwich Outdoor Brine Pool.
Stunning Staffordshire is also nearby. You can explore the famous potteries in Stoke on Trent. Or visit historic Anglo Saxon Stafford, with its wealth of cultural attractions and interesting buildings like the Ancient High House. Then there's lovely Leek close to the Churnet Valley Railway and on the edge of the Peak District.
This area makes a brilliant base from which to explore Northern England and North Wales and the M6 connects it to the rest of the UK. You can be in the great cities of Liverpool or Manchester within an hour, reach Snowdonia National Park in two hours and the Peak District National Park in one hour 20 minutes.
Developments at this centre
Retiring to Nantwich - Frequently asked questions
Where is the best place to retire in Cheshire?
Looking for retirement homes in Cheshire and Staffordshire? Talk to McCarthy Stone. We have retirement developments in prime including the pretty villages of Malpas, Audlem or the market towns of Alsager, Stafford and Leek, all ideally placed to make the most of the gorgeous countryside and interesting places to visit.
Is Cheshire a good place to retire?
Cheshire is ideally located in the heart of the UK and offers easy access to North Wales, Liverpool and Manchester. With a friendly community, a rich history, glorious rolling countryside, a myriad of cultural attractions and a thriving food scene including famous cheeses – it's home to the International Cheese and Dairy awards, this area is ideal for retirement living.
How much money do you need to retire?
There are lots of variables that make this a difficult question to answer, but one simple tip is to multiple the amount you'd like to live on every year (say £24,000) by 25 (in this case the answer is £600,000). That is the amount you'd need to save. However this figure doesn't consider things like your annual state pension, benefits, tax, or the equity you might hold in your home. Talk to McCarthy Stone about flexible retirement living options.