SILENT ACHIEVEMENTS
Violet Foot who lives at Hewson Court, was just four years old when she was evacuated from London to live with strangers in South Wales. Some years later, after the War had ended, she would return to her forgotten family in England, aged nine, where she was one of 10 siblings – all daughters; her youngest three sisters of whom she had never met.
But tragedy struck when meningitis left her profoundly deaf. It was just before Christmas 1946. Violet left for school in the morning and was deaf by the afternoon. She explains: "The doctor took one look at me from the doorway and said 'Meningitis!'. He might as well have signed my death warrant. That was how deadly it was then (and still is today).
"From there my life was to change forever. First to Wales and a foster-family, now it was the time of the big silence."
Violet was sent to Romford Isolation Hospital in Essex where her Mother and Father had to don white coats and masks to enter her room, and where the curtains were drawn. She was in the dark quite literally she explains: "I wasn't aware of my deafness at first! It was only when a nurse came in one day and I couldn't understand what she was saying, that the penny dropped. I screamed blue murder! I thought at that age they had removed my hearing because I was poorly and I demanded they give it back to me!"
She adds: "Being young, not knowing anything about deafness, nor having met an actual deaf person, I was ignorant to my fate."
In 1947, at age 11, Violet was signed into the School for the Deaf in London. At 13 Violet would pass the entrance exams that would see her accepted to the Mary Hare Grammar School for the Deaf in Berkshire. Here she attended the boarding school for four of the happiest years of her life. As Violet could already speak before she lost her hearing, this enabled her to keep her speech and she would play sports including hockey and lacrosse, and make companions that have remained friends to this day.
On leaving school Violet's first job was working in the out-post office at the Reader's Digest. Violet explains: "They'd never had a deaf person work for them before. They used to stand behind me scrunching paper to see if I could hear it. Of course I couldn't! Once they realised I could be trusted (being young and also deaf, I was odd you see. I had to earn their trust!), I was moved to in-post, but travelling on the London Underground each day made me feel unwell, so I left."
Violet continues: "After that when I was looking for work, I kept being told that because I was deaf belonged in a factory. I didn't have anything against factories, none whatsoever, but I was an educated girl. I wanted to use my education. I wanted a career of my own.
"I would say repeatedly. I am deaf. I am not stupid. But the workplace was very different for people like me back then."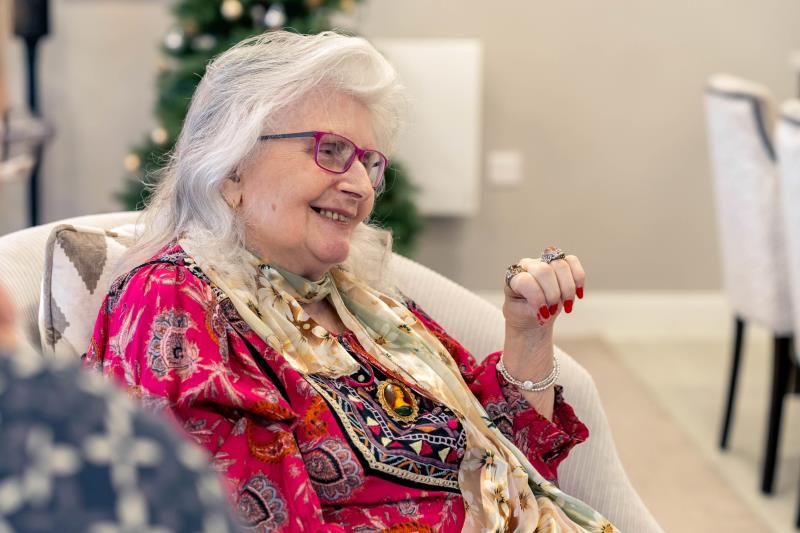 For many years Violet worked various temporary jobs, mostly clerical or working in factories as a clothing machinist to get by. Violet says: "Permanent employment was hard to come by if you were deaf as you couldn't answer the telephone. We were good enough for so long but then we were left behind. It's not like now where it's all computers and digital. In my generation, there were no interpreters, no helpers and no modern gadgets to aid any of us after we left higher education.
"I like to think the workplace is a kinder more understanding place for deaf people now. Although sometimes I'm not so sure."
Later Violet would meet the love of her life, Fred, at a Hard of Hearing Club, who she would marry and have two children. While they were dating Violet suffered a collapse on the bus on her way to work. She was taken to The London Hospital where she became unable to walk or talk. Doctors ran X-rays and tests on her brain, even took her in her pyjamas on a bed one day into a room of medical students so they could discuss her condition.
"It was a scary time for me", says Violet. "I didn't know what was happening!" Violet was yet again kept in the dark about her diagnosis.
Violet explains: "My Consultant Sir Russell Braine turned to me and said: 'Violet, I know a house where we can take you and you will be looked after for the rest of your life.'
"He was kind but he meant an institution. I said, 'I'm not going there! I'm a career girl, I'm educated.' He held up a piece of chalk and drew a line down the long ward floor. He said: 'Violet, if you can walk from one end of this line to the other by yourself, I won't ask you to go.' I looked at that chalk line like my life depended on it. One foot followed the other all the way before I collapsed in his arms. He said: 'Violet, you've got guts!'"
Violet returned home and a few years later, in 1948, the National Health Service was formed which saw the first, free body-worn hearing aid. It was worn with an ear insert and the wearer had to carry around a heavy battery pack which was in a leather bag.
Violet says: "It wasn't made for the shape of your ear so it was uncomfortable and despite my best efforts to hide the microphone in my bra, and the battery pack in the band of my skirt, I felt very self-conscious wearing it in public. People would stare at me and whisper. It's not like now where it's normal for people to wear headphones when they're out and about."
Several years after her collapse on the bus, Violet would finally discover the reason for her illness. Her doctors and her husband Fred had hidden it for so long she says, "to protect her." She explains: "I opened a letter one day that I shouldn't have, which was from my doctor to a specialist he was referring me to, and I was shocked for hours afterwards to see it written in black and white – 'Multiple Sclerosis'. I wasn't angry or upset I was relieved. Finally, things began to make sense."
Violet has never let her disability stop her from achieving her goals. Her love for reading and literature saw her work for 14 years as a Library Assistant in various London libraries where taught evening classes and qualified in teaching lip reading. She also taught basic sign language to hard of hearing adults. Among her students were even some rock stars!
Overnight Violet became something of a star herself, where she was appointed as the first deaf Churchill Fellow in 1972. She went on to appear on Thames and Bristol television to honour Churchill's 100th anniversary, and was interviewed on BBC Woman's Hour about her experiences as a deaf woman. She took a solo trip with the Fellowship to the USA and Canada where she visited 11 States in two months, giving talks as a passionate advocate for the deaf community, both at schools and hospitals and to help serving military who had fought in the Vietnam War and become hard of hearing, to learn about lip reading and sign language.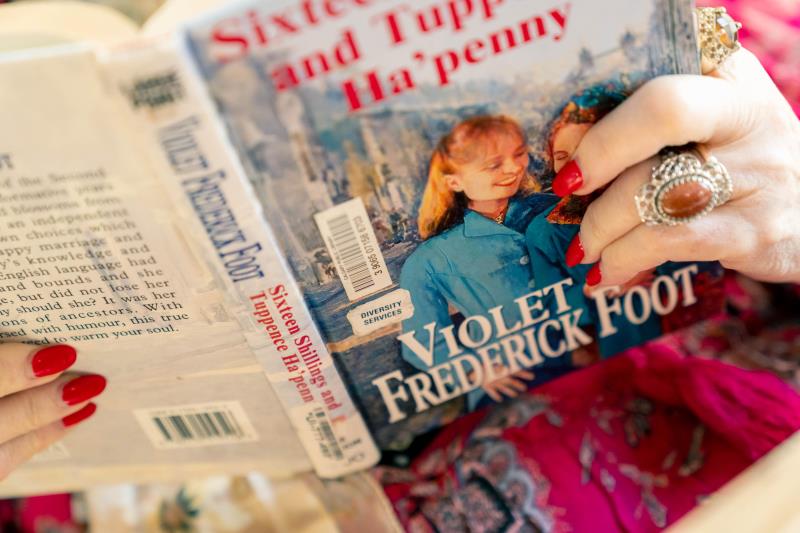 Since moving to Hewson Court, a McCarthy Stone Retirement Living development in Hexham, to be closer to family and grandchildren, Violet has found a new community where she feels entirely at home. The independent living set-up allows Violet to come and go as she pleases – Hexham high street and all its amenities within easy distance, and with the assistance of a House Manager who oversees the development's day-to-day running.
Violet comments: "Everyone at Hewson Court has been so welcoming and friendly, especially the House Manager, Cat Bell. My apartment is beautiful and so modern and comfortable. I couldn't be in a better location and I have the peace of mind that support is on hand should I ever need it. Getting to know my new neighbours has been a joy – I instantly felt such warmth and understanding, and McCarthy Stone supported me throughout the sales process catering to my needs and going the extra mile to make it as easy as possible."
Now a published author, Violet has written a novel: 'Sixteen Shillings and Tuppence Ha'penny' under her pen name Violet Frederick Foot, and an autobiography of her life as a deaf person: 'Mother's Seventh Daughter'. Violet continues to use her voice to inspire others and strengthen communication within the deaf community.
She says: "Take it from someone older and wiser. Being deaf doesn't need to define you. Silenced but persevere in life to try and adapt and overcome.
"You can lead a normal life. You can try to achieve whatever you set your mind to."
Testament to this, several of the students who attended the Mary Hare Grammar School with Violet, from 1946 to the early 1950s, before the internet or before interpreters even existed, have made some similarly remarkable achievements in their lives. Violet included a sample of these in her book as she wanted to shine a light on the accomplishments of others from her generation, whom she says "society had all but written off."
Here is a small selection of names taken from that:
Tony Boyce: awarded a BSC degree in maths and physics in 1961. Became a chess champion in the same year and a Fellow of the Gemmological Association in 1972.
Ian Stewart: a qualified quantity surveyor and lecturer in Deaf Studies (Hons) at Reading University.
Elaine Lavery: the first deaf lay reader in the Church of England and an Auxiliary nurse on the children's ward at two London hospitals for 11 years.
Colin Robb: worked at British Aerospace as a metallurgist for 40 years.
Donald Brown: scientist.
Jeanne Brown: fully qualified Chiropodist to the NHS.
Charles Barker: design engineer and principle technologist at Rolls-Royce.
Violet concludes: "Miss Mary Hare must be looking down on us with pride. We did not fail. We are all professionals in our chosen field of life.
"It has been a long journey, very eventful. But I'm pleased I made it. Although the hearing world isn't as scary a place as it once was for the deaf people of my generation, there is still much room for improvement. One thing I remain truly passionate about is empowering deaf and hard of hearing people, and helping to educate others about deaf culture"