CONSTRUCTION MINISTER ANNE-MARIE TREVELYAN VISITS INNOVATIVE RETIREMENT COMMUNITY IN HEXHAM
Construction Minister Anne-Marie Trevelyan was in Hexham on Thursday 29th July to visit Hewson Court – a new flagship retirement community under construction from the UK's leading manager and developer, McCarthy Stone. High specification, modern homes for older people are being created in Hexham in which a new eco-friendly Modern Method of Construction (MMC) is being piloted – a first in the country for the developer.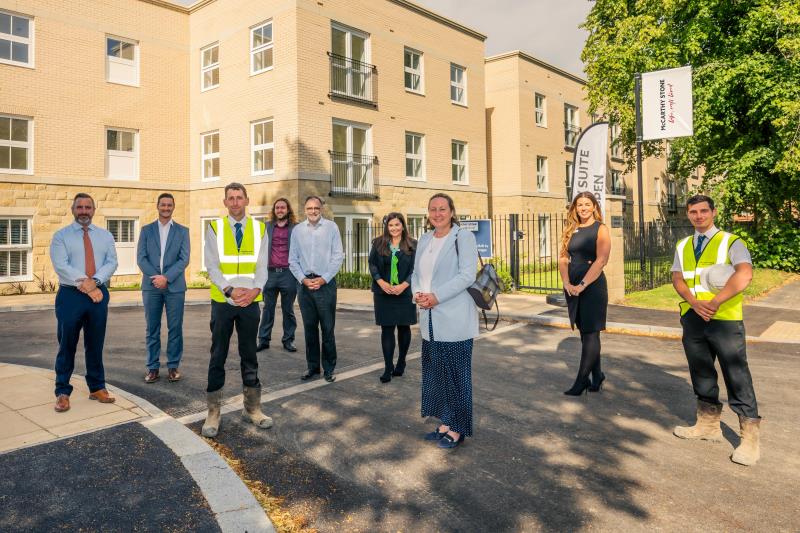 MMC is revolutionising the housing market by using cutting-edge technologies to deliver much needed homes that are greener, safer and cheaper. McCarthy Stone plans to build c.25% of its developments using the light gauge steel frame MMC approach in the future.
During her visit the Minister took a tour of the innovative development which has a Gross Development Value (GDP) of £11.1 million. She was able to see how MMC is helping to fast-track the delivery of high-quality housing for the UK's increasingly ageing population, which despite the demand, is currently undersupplied.
McCarthy Stone worked in partnership with specialist Leeds-based company Sigmat to pilot the new housebuilding technique that uses an innovative light gauge steel frame. This allowed it to be manufactured offsite and then assembled onsite, increasing the speed of build by 11+ weeks in Hexham versus traditional solutions.
Once fully complete, the improved thermal performance of the MMC approach is also expected to reduce heating bills for homeowners compared to a traditional UK home.
Anne-Marie Trevelyan, Construction Minister, comments: "Innovation from McCarthy Stone is paving the way for the construction industry to build back greener and safer.
"The development of cleaner, cheaper construction methods is critical for the sector's drive towards net zero and our ambition to deliver high-quality housing that meets the UK's needs."
John Tonkiss, Chief Executive at McCarthy Stone, comments: "Hexham is the next generation in an increasing portfolio of McCarthy Stone projects to benefit from the use of this form of construction.
"To have this recognised by the Minister is a really important step, and we were very proud to show off the work of the team here and our partners Sigmat, in Hexham, and to be able to discuss with the Minister the many challenges facing the retirement housing sector today.
"At McCarthy Stone we work hard to create homes that older people can live independently and thrive in, and where location and design are key to ensuring each one of our developments are beautiful places to live.
"We are now committed to trial schemes in all of our divisions across the country and we have set ourselves a target for producing 25% of our developments with MMC.
"Together we have sown the seed of a more sustainable, efficient and high-quality future for McCarthy Stone's communities."