HEXAM'S HEART-WARMING HERO CAT BELL IS CELEBRATED FOR EXCEPTIONAL COMMITMENT TO LOCAL COMMUNITY.
Cat Bell, 54 from Hexham is a true unsung hero who is making a phenomenal difference to the lives of so many in her local community.
A Hexham Golden Gnome winner, committed MENCAP supporter, tireless grafter and devotee to her local town, Cat is being celebrated for her lifelong dedication to helping others and going above and beyond for anyone in need.
Cat, who has recently started work as House Manager at McCarthy Stone's, new Retirement Living development, Hewson Court, in Hexham, began her remarkable career as a nurse and has devoted her life to caring for others ever since.

According to the latest Happy at Home Index, Hexham is the happiest place to live in Great Britain and with extraordinary locals like Cat Bell residing there, it's not difficult to understand why.

"I trained as a nurse originally, then worked in various care positions, ran nurseries, became a nanny and ran wrap-around care for a local school. I love to help other people, always have and always will" says Cat.

It was while looking after children at before and after school club, that Cat discovered she had a precious gift: "We had so many different children to care for, different ages, personalities and some with additional needs. I have a very fortunate ability to be able to see the person first and treat everyone as individuals and equals. This is a skill that I have relied on throughout my entire professional and private life and one I feel truly blessed to have."

Using her specialist talent, Cat initially worked for WECAN (We Enable Children with Additional Needs), before moving to Dilston college, a specialist college for adults wit learning disabilities, in 2013. Following a diagnosis of thyroid cancer in 2017, Cat moved it MENCAP supporting adults in the community.

When the pandemic hit in early 2020, not even Cat realised the extraordinary lengths she could go to help others. "I was supporting MENCAP and living with an Autistic lady for a few days each week when the first lock-down was introduced. It was a Monday and I was still there on the Saturday while things were worked out for her care, I certainly wasn't going to leave her on her own."

Redundancy and financial difficulties saw Cat welcome back her two grown-up daughters along with their partners, who moved into her home which she shares with her partner. "There were six adults and four dogs so it was a bit of a squash and a squeeze," laughs Cat. "But I wouldn't have had it any other way, it's always been family first."

Despite continuing with her work for WECAN and MENCAP and looking after her family both emotionally and financially, Cat pledged to do more for the community of Hexham during such desperate times and what she did was nothing short of astonishing. It was her outstanding level of care, which earned her a Golden Gnome award for being a 'Lockdown Legend' in Hexham.

"I worked all hours during lockdown making as much money as I could to help my family. Then I'd finish work, get on my bike and deliver food to people who needed it. There were 12 houses I'd visit regularly and they really relied on people like me. It was such a difficult time for so many and the community of Hexham really pulled together. When I was awarded a Golden Gnome I really was overwhelmed, I certainly didn't expect it. It now sits in pride of place on my mantelpiece."

With the money she saved from all her working hours, Cat decided she would use it to help her two girls: "I gave my daughters enough money to set them up with a property each and that's why I did it, it wasn't for me it was for them."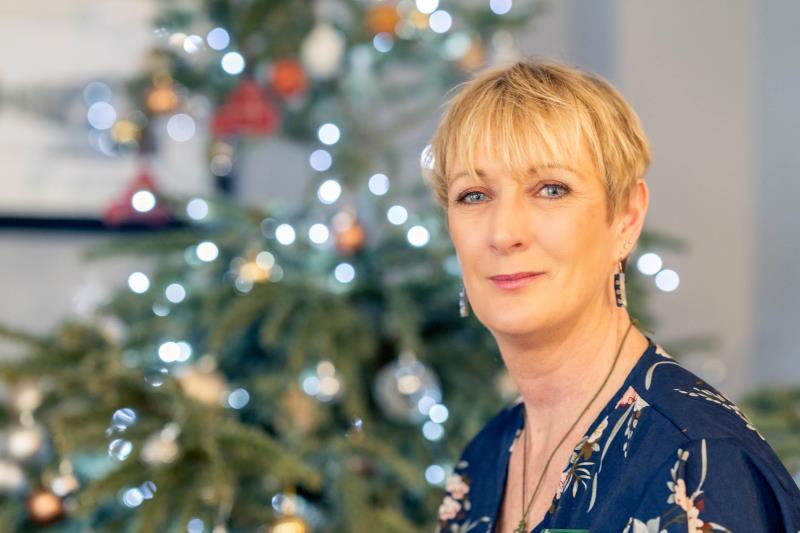 Living just down the road and watching Hewson Court - McCarthy Stone's new retirement living community being built, Cat felt she could offer retirees in Hexham much love, care and support and wanted to be involved. Since it's opening in October, she has been the much-loved House Manager there and is already cherished by both residents and staff: "I really wanted to be part of helping older people restart their lives - when they move to Hewson Court it's a huge moment in their lives. Some of them have lived in the same house for years and years and this is a new chapter, so they need a lot of care, assistance and encouragement from the whole team here to settle in.

"It's a fabulous community and I absolutely love my job. I'm never ever too busy to have a coffee with anyone, homeowners or employees. My motto is 'the skirting boards can wait!'' Take time for others, be kind and you won't go far wrong."

Even the Christmas tree which stands proud in the communal lounge at Hewson Court is a thought provoking and emotional melting pot. "I wanted the tree to mean something to everyone here, especially as it's the first Christmas in their new home for all the residents. So I arranged a little get together and asked all the homeowners to bring a sentimental bauble or decoration to hang on the tree, which they did and it looks absolutely wonderful and holds so many memories."

Alongside her new role, Cat still works with MECAP, supporting a lady in her mid-30s. "When lockdown happened her partner was staying with her and lived there during those months by default really. When things opened up he was supposed to move out and they would have been forced to live apart, but they were so happy that I wanted to help. Things worked out and I helped them move into a flat together and now they're getting married! Guess who's doing a lot of the wedding planning?" laughs Cat.

Determined not to rest on her laurels, Cat is a co-founder of the Hexham Re-Use & Recycle Facebook group which now boasts 2.5k members. "It's about sharing what we have with others, someone else might benefit from an item we've finished with and it saves it going to landfill. It's a great community hub and is well-liked by everyone in Hexham.

"At Hewson Court we have so many cardboard boxes left over from the house moves, so we work with our Go Local Food initiative, which uses them on their allotments, to cover the food they grow for local foodbanks."

With a jam-packed life there's not much time to spare for lovely local hero Cat, but she still manages to fit in a little time for fun: "I Zumba each week and I love it! It's great fun. I cycle and walk a lot with my two dogs. My mum is 81 and she's a huge part of my life so I see her every day. My children Annie and Jessica keep me on my toes too!

"Even when I'm out and about I can't walk on by if someone looks like they need a helping hand," admits Cat. If I spot someone sleeping rough and I can take them a sleeping bag, I will. If I can buy
someone a bite to eat, I do. We are a tight-knit and exceptionally kind community here in Hexham, it really is the happiest place to live and I wouldn't want to be anywhere else."